---
BILL
JACKAMEIT'S
STUDEBAKER
PAGE
---
Welcome fans of the pride of South Bend. I am a long-time Studebaker fan and Studebaker Driver's Club member, having owned a 57 Silver Hawk in high school and a 59 Lark Regal Hardtop in college. Since then, I have owned other Studes as hobby cars including a 62 Champ Pickup, a 64 Canadian Commander Special, a 62 GT Hawk, a 60 Lark Regal 4-door, and my present 57 Silver Hawk (not the same one I owned in high school -- that one I wrecked). If you have any suggestions or comments, please send me a message. Both text and image contributions are welcome.
---
STUDE OF THE MONTH
May 1996

1964 Gran Turismo Hawk Hardtop

This picture was taken in the Studebaker National Museum a couple of years ago. The Gran Turismo Hawk received a mild facelift for 1964. Changes included a revised grille with a vertical Hawk emblem in the center and a smooth truck lid with no aluminum rear panel. A new half vinyl roof was optional for 1964 only. The "Super Hawk" option which included a choice of Avanti engines engines and other performance enhancements was continued from the previous year. Only 1,767 Hawks were built for the 1964 model year before production ended in December 1963. This was the final variation of the landmark 1953 Studebaker "Loewy Coupe" design.
---
MORE NEAT STUDES
1960 Studebaker Hawk Coupe

A Second View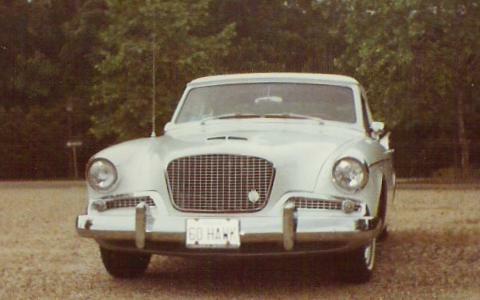 The 1960 Hawk Coupe was little changed in appearance from the 1959 Silver Hawk. However, "Silver" was dropped from the name and the 289 cubic inch V8 was made standard. From 1960 on, six cylinder engines were only available in export market Hawks. Total Hawk production for 1960 was 4,507 units so they are relatively rare birds. These pictures were taken at the Colonial Virginia meet in Yorktown several years ago. I don't know who owns this fine Hawk, but I really like the "60 HAWK" Virginia license plates.
1963 Lark Sedan

The Lark received what at first glance appeared to be a mild facelift for 1963. Additional vertical and horizontal bars were added to the grille and the roof line and trim were revised. A curved windshield replaced the wraparound windshield of the earlier models which had fallen out of vouge. An entirely new and much nicer dash with a full set of gauges completed the major changes. In reality, the 1963 Lark was changed more than first appeared. This did not help sales which declined significantly from the preceding year.
---
* * TEST YOUR STUDEBAKER KNOWLEDGE * *
TAKE THE STUDEBAKER QUIZ.
---
---
Contact the Pagemaster here.
---
Published May 1996