---
BILL
JACKAMEIT'S
STUDEBAKER
PAGE
---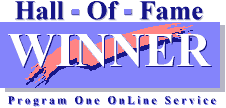 ---
NO FRAMES!! JUST GOOD STUFF!!

* * 10TH ANIVERSARY EDITION * *
---
Welcome fans of the pride of South Bend. I am a long-time Studebaker fan and Studebaker Driver's Club member, having owned a 1957 Silver Hawk in high school and a 1959 Lark Regal Hardtop in college. Since then, I have owned other Studes as hobby cars including a 1962 Champ Pickup, a 1964 Canadian Commander Special, a 1962 GT Hawk, a 1960 Lark Regal 4-door, and a 1957 Silver Hawk (not the same one I owned in high school -- that one I wrecked). My current Stude is a 1949 Champion Starlight Coupe. I will build this page as time allows. If you have any suggestions or comments, please send me a message. Both text and image contributions are welcome.
---
STUDE OF THE MONTH
OCTOBER 2005
1951 Studebaker Champion Street Rod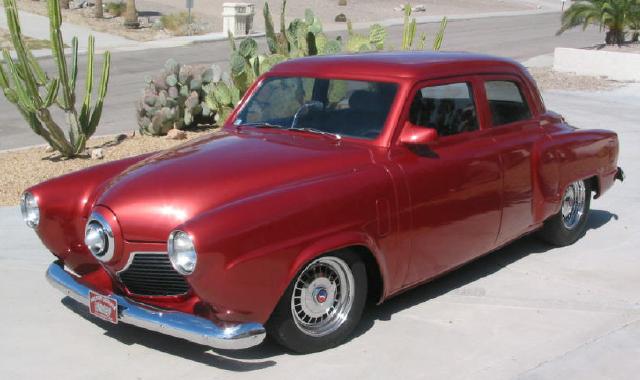 Rear Angle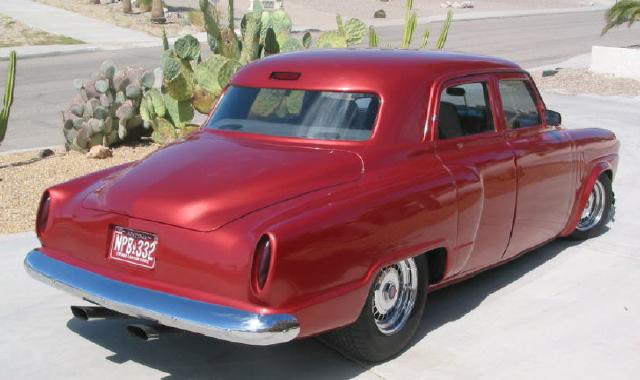 Sharp Interior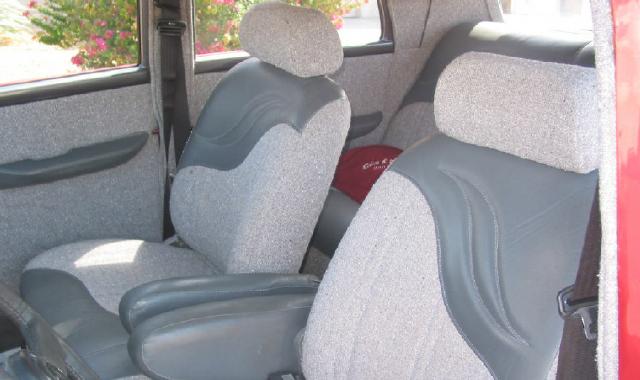 Cool Dashboard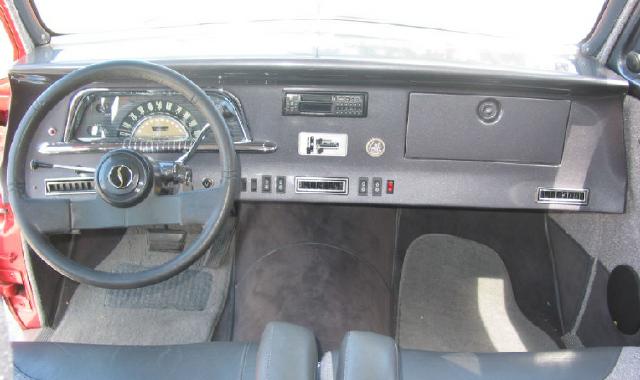 Under the Hood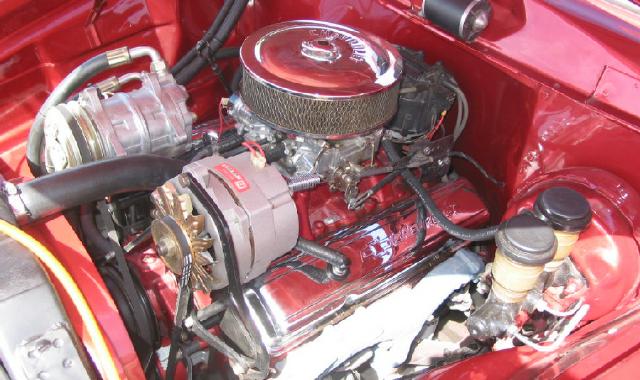 Here is the first ever repeat "Stude of the Month." This outstanding 1951 Studebaker Champion Street Rod belongs to Bill Junge of Lake Havasu City, Arizona. Bill's rod was completed in 1994 and it appeared on this page as "Stude of the Month" in July 1997. This neat car is powered by a Chevrolet 350 V8 mated to a GM Turbo Hydramatic 350 transmission and S-10 Chevy Blazer rear end. Body modifications include frenched headlights and taillights, shaved door handles, pancaked deck lid, raised rear wheel openings, and a third light over the rear window. Paint is Dodge Neon "Strawberry Pearl." Amenities include in-dash air conditioning, GM tilt steering column, and a modern sound system with nine speakers and a 12 disc CD player. Bill's car has won numerous awards and appeared in an episode of the "Brotherly Love" television show. I am pleased to feature Bill's car for a second time. He is a long time contributor to this page and has been instumental in keeping the page in new material.
Bill has his own web site called "Bullet Nose Paradise" which is dedicated to 1950 and 1951 Bullet nose Studebakers. The complete story of the building of Bill's rod is included on that site.
If you own or once owned a Studebaker or related vehicle and would like to see your car as "Stude of the Month" or in the "Cool Studes" section, or if you have other pictures or material that you would like to contribute to this page, please e-mail me here. I can accept either electronic or hard copy images.
---
Many of the previous Monthly Main Pages have been reposted and are available for viewing. There is a link at the bottom of each Main Page that will take the reader to the previous Main Page. In the process of reposting these pages, I have made corrections and revisions as needed, and in some cases added material that was not used at the time the page was originally posted due to download speed and file storage limitations. If your car was featured on one of the older pages and you have better or newer pictures, I would be pleased to post them in the appropriate place. Older Main Pages that have not been reposted will be added as time allows. A list of reposted Main Pages with direct links to each is located here.
---
MORE COOL STUDES
1938 Studebaker Commander Street Rod



This sharp 1938 Commander Street Rod belongs to Carrol and Billie Bushong of Dayton, Virginia. The Commander was dropped after 1935 but returned in 1938 to take the place of the discontinued Dictator in the Studebaker lineup. Apparently someone at Studebaker realized that "Dictator" was not a great choice for a car name in the era of Hitler and Mussolini. The Bushong's Pontiac powered Commander is a 7A model with conventional pod headlights. The more expensive 8A model used a unique headlight style as seen in this picture of a 1938 Commander languishing in Brazil. The front end design of the 8A was intended to mimic the design of a Raymond Loewy designed streamlined railway locomotive. The Bushong's Commander is a regular at car shows in Central Virginia and the Shenandoah Valley.
1957 Studebaker President Station Wagon

This picture of a beautiful 1957 Studebaker President Broadmoor 4-Door Station Wagon was taken by Bill Hower at a meet in Las Vegas, Nevada some time ago. Only 1,330 of these were built so it is a relatively rare vehicle. Studebaker did not offer a 4-door wagon until 1957. This put them at a competitive disadvantge. When the Lark came out in 1959, the 4-door wagon was discontinued, but was revived again in 1960 using the same basic center section as the 1957 model. The Broadmoor was the top of the line model and was equipped with the 289 cubic inch Studebaker V8 as indicated by the crossed flags emblem on the front fender. Some people like station wagons, and some don't. I happen to like them, and I really like this one. The two tone color scheme with the contrasting color on the roof and in the fender flash is particularly nice. Thanks to Bill Hower for taking the picture and Bill Junge for sending it in.
1941 Champion "Delux-Tone" Champion Sedan

This great looking 1941 Champion 2-Door Sedan belongs to Esteban Martinez. The optional two-tone color scheme with contrasting color accent panel was called "Delux-Tone" by Studebaker. Pre-War Champions were relatively light cars weighing in at about 2,400 pounds. The 1941 Champion six displaced 170 cubic inches and was rated at 80 horsepower. This is basically the same engine that is in my 1949 Champion. Estaban is looking to sell this car. He can be reached here.
---
JAMES TEFFT'S ANTIQUE STUDES
1926 Studebaker Big Six Fire Truck


1927 Studebaker Model EW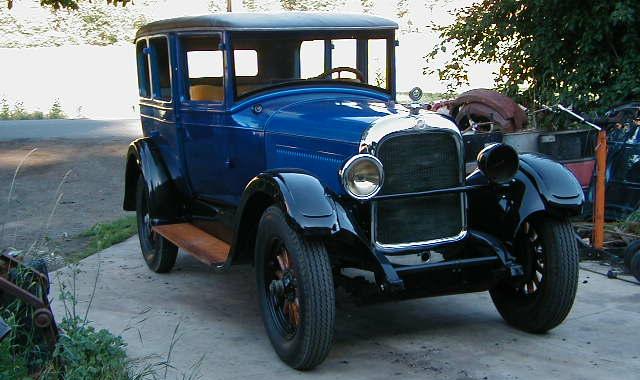 1925 Studebaker Duplex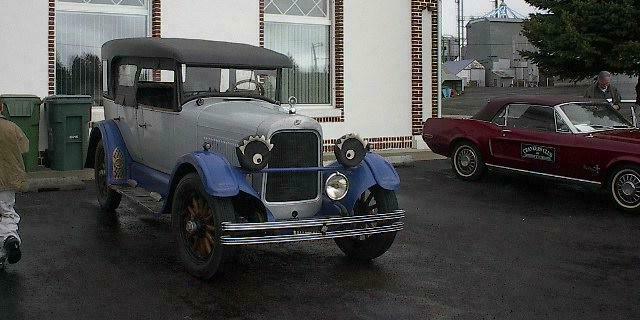 James Tefft from outside Lewiston, Idaho sent in these pictures of his antique Studebakers. The 1926 Big Six Fire Truck had only 3,600 miles on the clock when James acquired it. It is fitted with 4-wheel hydraulic brakes and it now has 6,000 miles on the odometer. James says that it "runs like new and can stay close in traffic." The 1927 Model EW 5-Passenger Sedan with GB Big Six engine has been retrofitted with 4-wheel hydraulic brakes from a 1925 model. This car needs to have the upolstery done. The 1925 Studebaker Duplex is mostly original but has Chevy 350 rod bearings and a full flow oil filter. James has driven it since 1982, and it now has 26,000 miles on the odometer. It also has "dents and scratches from all over Washingon, Idaho, and Canada." The Duplex was a unique Studebaker design that featured a permanently fixed top on an open car body. The intent was to build a closed car at lower cost than a conventional sedan. James also owns a 1937 Studebaker Coupe Express Pickup.
---
MORE GRAVEYARD PICTURES
1962 Studebaker Lark Sedan


1965 Daytona Sport Sedan Interior

Here are two more pictures from the Kentucky roadside graveyard series sent in by Daniel Minchen. The first car is a 1962 Lark 4-Door Sedan that has seen happier days. That looks to be the remains of a GT Hawk radio antenna on the trunk lid. As far as I know, this type of antenna was not a factory option on Larks. I would guess that it was ordered from the dealer parts department and installed by the dealer or the owner. The second picture shows the interior of a 1965 Daytona Sports Sedan. An exterior shot of this car appeared on this page several issues ago. The 1965 Daytona Sport Sedan had a classy interior. The standard bucket seats and center console look to be in good shape. This was a well equipped example, with automatic transmission, air conditioning, and push-button radio. The standard vanity compartment inside the glove box is visible in the picture. This completes the Kentucky series of Stude graveyard pictures.
---
Did you know that Michael Kelly's New Avanti Motor Corporation signed a deal to produce the VW based Brazilian Puma Sports Car? I didn't think so! The deal fell through when Kelly ran out of money. To learn more about the Puma, visit my Puma Sports Cars Site.
---
STUDEBAKER MEMORIES
1953 Studebaker Commander Starlight Coupe

Gary Talbert of Westwood, Kansas sent in these two great pictures. The first picture was taken in 1957 when Gary lived in Danville, California. Gary was the founder and President of the "East Bay Studies" which was the first Studebaker Club on record at SDC. The club was exclusive to 1953 and up "C" and "K" body Studebakers. To the uninitiated, that means 1953 and up Starlight Coupes and Starliner Hardtops and their successors in the Hawk series. Club members ranged in age from 18 to 72 years young. The original club plaque still hangs in Vic Hubbard's Speed Warehouse in Hayward, California. The East Bay Studes held meets and picnics and was active in drag racing in and around the San Francisco-Oakland Bay area.
1956 Studebaker Sky Hawk

Fast forward to 1976. This picture shows Gary with his 1956 Studebaker Sky Hawk. At the time, Gary's Hawk had travelled over 392,000 miles. The picture was taken just before Gary moved to the Kansas City area. Gary currently maintains the 1956 Sky Hawk Register.
---
STUDEBAKER MISCELLANY
1964 "R1 Clone" at the Drags

Richard Rike of Ivy, Virginia sent in this picture of his dechromed 1964 Studebaker Cruiser "RI clone." This is the same car that appeared burning rubber on this page in January 2003. That was before most of the trim removed, a 1968 Dodge Dart hemi hood scoop was grafted on, and the car received new paint. Richard says that he built this car "just to beat on" but he also has all the old parts to return it to original some day. This car has an interesting history. It was the second Lark type built for the 1964 model year and was used a car shows around the country. For now, it has a built Studebaker R1 engine mated to a GM Turbohydramatic 350 race transmission. It sure looks like Ruchard is out ahead of the late model Camaro in the picture.
Cuban 1951 Studebaker Station Wagon

Jason Vogel of Rio de Janeiro, Brazil sent in this picture of a Cuban 1951 Studebaker Station Wagon. Now, as far as I know, there is no such thing as a metal body 1951 Studebaker sation wagon, but here it is. It appears that it is being used as a taxi. My understanding of how things work in Cuba is that only cars that were in private hands before the Revolution can continue to be privately owned. This has resulted in extreme measures being taken to keep these old cars on the road. It has also resulted in some interesting modifications and hybrids such as Studebakers with Nissan engines. I would guess that this interesting station wagon is another example of Cuban ingenuity in the face of automotive adversity. Thanks to Jason for his continued contributions to this page.
---
STUDE TOY OF THE MONTH
Ideal Toys 1949 Studebaker Wind-up Sedan



The feature toy this month is an old Ideal Toys 1949 Studebaker Wind-up Sedan from my Stude toy collection. These were made in several colors. This example still works, just wind it up, set it down, pull back a bit, and off it goes. More toy Studes can be found in the Stude Stuff area of this page and on my Studebaker Toys Home Page.

Click here for information on ordering hard to find Studebaker toys made by manufacturers such as Johnny Lightning, Racing Champions, Hot Wheels, Muscle Machines, and EKO.
---
---
---
---
* * This Page On Line Since October 1995 * *
---
Published 10/1/2005