'


---
BILL
JACKAMEIT'S
STUDEBAKER
PAGE
---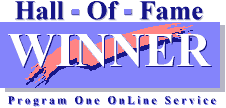 ---
THESE PAGES BEST VIEWED AT 800 BY 600 SCREEN RESOLUTION

---
Welcome fans of the pride of South Bend. I am a long-time Studebaker fan and Studebaker Driver's Club member, having owned a 1957 Silver Hawk in high school and a 1959 Lark Regal Hardtop in college. Since then, I have owned other Studes as hobby cars including a 1962 Champ Pickup, a 1964 Canadian Commander Special, a 1962 GT Hawk, a 1960 Lark Regal 4-door, and a 1957 Silver Hawk (not the same one I owned in high school -- that one I wrecked). My current Stude is a 1949 Champion Starlight Coupe. I will build this page as time allows. If you have any suggestions or comments, please send me a message. Both text and image contributions are welcome.
---
STUDE OF THE MONTH
JUNE 2007
1952 Commander Street Rod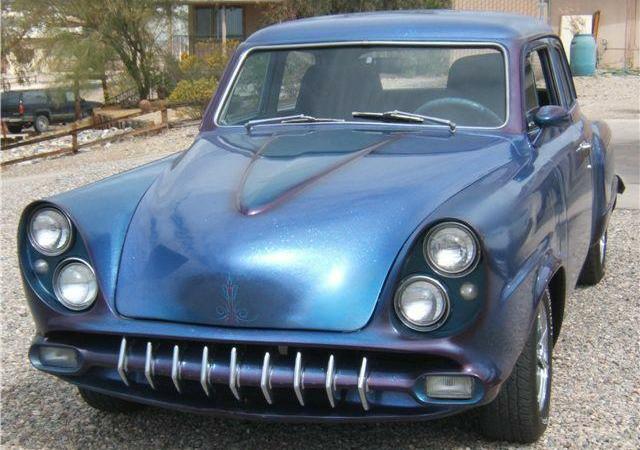 Rear View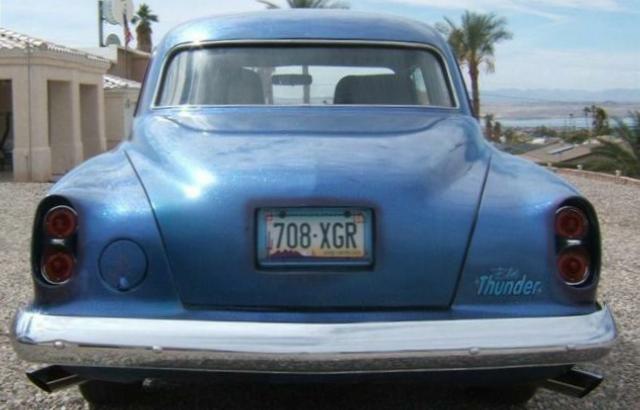 From the Side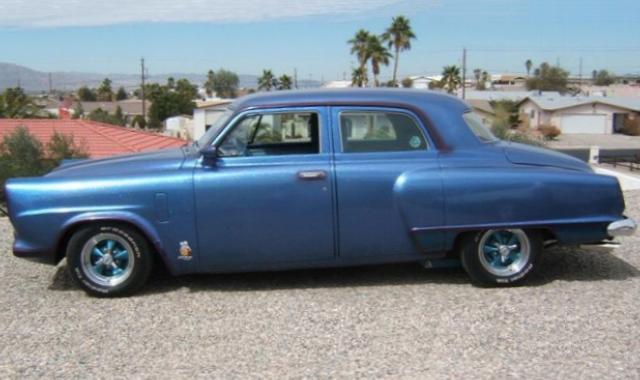 In the Trunk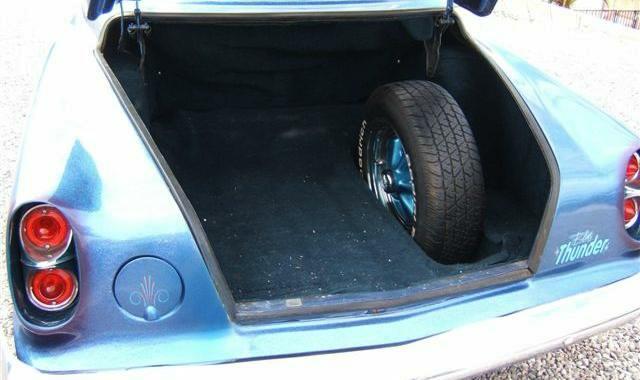 Interior and Dash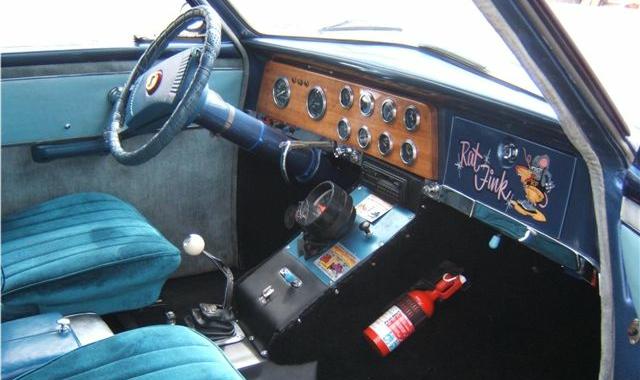 Under the Hood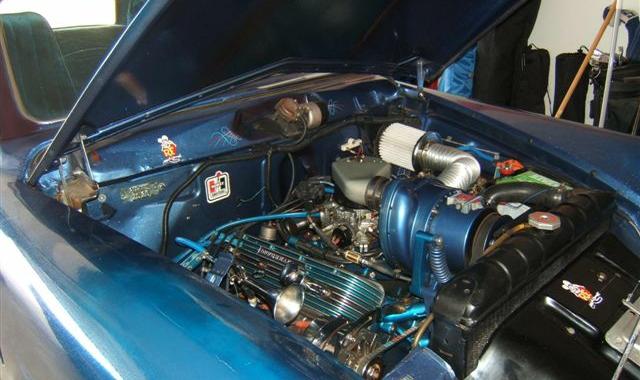 This cool 1952 Studebaker Street Rod was recently acquired by Rich Edwards of Lake Havasu City, Arizona. Rich indicates that it was built in the early 1980's in Cape Cod, Massachusetts. The front grille is 1954 Chevy with extra teeth and the tail lights are 1958 Chevy Bel Aire. Quad headlights angled in a manner similiar to those used on 1961 Chryslers and DeSotos have been fitted into a raised front fender line. The hood and truck are shaved and the rear door handles and most of the stock trim have been removed. The fuel filler has been relocated to the rear and the radio antenna is frenched into the passenger side back fender. Interior features include front bucket seats with a center console and a full set of round Stewart Warner instruments. The engine is a Stude 289 V8 with a McCulloch blower driving through a Borg Warner four-speed manual gearbox with a Hurst shifter. Other modifications include traction bars, Crager wheels with spinner bars, and a dual exhaust system. The electrical system has been upgraded to 12 volt with an alternator and a sound system with cassette deck is installed. Thanks to Rich for providing the pictures and information about his car and to Bill Junge for forwarding the material.
If you own or once owned a Studebaker or related vehicle and would like to see your car as "Stude of the Month" or in the "Cool Studes" section, or if you have other pictures or material that you would like to contribute to this page, please e-mail me here. I can accept either electronic or hard copy images.
---
All of the previous Monthly Main Pages have been reposted. In the process of reposting the pages, I have made corrections and revisions as needed, and in some cases added material that was not used when a page was first posted due to download speed and file storage limitations. A list of reposted Main Pages with links to each is located here.
---
MORE COOL STUDES
1950 Commander Convertable



Bill Junge sent in these pictures of a drop dead gorgeous 1950 Commander Convertible. Studebaker production reached its all-time peakin 1950 at more than 320,000 units. Nevertheless, the 1950 Commander Convertible is relatively rare with only 2,867 being produced. This was the first year of the bullet nose design and the last year for the Commander six. The Commander had a longer wheelbase than the high volume Champion and a generally higher level of trim across the line. All of the extra length was ahead of the cowl so Commanders and Champions had the same interior space. The pictures were taken at an April 2007 car show in Laughlin, Nevada.
1963 Studebaker Avanti



Bill Junge also sent these pictures of a sharp 1963 Studebaker Avanti Coupe. These photos were also taken at the 2007 Laughlin, Nevada car show. Here is a rear view of this neat car. Other than the wheels and the cool feather design on the seats, this car appears to be stock inside and out. Studebaker produced 3,834 Avantis for 1963 and an additional 809 for 1964 before production was shut down. The Avanti could be ordered with an optional supercharged engine or with air conditioning but not with both. That meant you could go fast, or you could stay cool, but not both. This certainly did not help sales. Most Avantis were equipped with the "Powershift" automatic, but a four-speed manual transmission was also available in addition to the standard three-speed manual which was used to keep the base price down.
Bill Junge has his own excellent web site called Bullet Nose Paradise which is dedicated to 1950 and 1951 Bullet Nose Studebakers. Thanks again to Bill for helping to keep this page in new material.
---
TEST YOUR STUDEBAKER KNOWLEDGE!
---
STUDE IN THE ROUGH
1964 Daytona Convertible





Frank Drumheller sent in these pictures of a rusting 1964 Studebaker Daytona Convertible. A 1990 inspection sticker on the windshield suggests that it has been sitting for at least 17 years. Only 703 Daytona Convertribles were produced for the 1964 model year so this is a rare car. Frank indicates that it seems to be all there, just piled inside and in the trunk. However, as Frank notes, if it sits where it is much longer, there won't be enough left of it to restore. The car has a manual transmission and the absence of V8 emblems on the front fenders suggests that it is a six cylinder. With its "triple black" body, top, and interior, this was a sharp car in its time. Thanks to Frank for his continuing contributions to this page.
---
STUDE MISCELLANY
Studebaker Military Weasel

Leonard Shephard, President of the Greater Virginia Chapter of SDC, took this picture of Paul Cook's Studebaker M29 Weasel cargo and personnel carrier at the Chapter's May 2007 meeting in Amelia County, Virginia. Paul is driving, with, from left to right, passengers Frank Drumheller, Gary Hearn, and Gerald Hiter. The Weasel was powered by a Studebaker Champion engine adapted for military use. One interesting feature of the Weasel was a compartment located above the engine and transmission designed to hold dynamite and a detonator that could be used to destroy the vehicle. Paul Cook is a member of the Military Vehicle Preservation Association and the Virginia Military Vehicle Association. He has two additional Weasels in storage, one of which is a parts vehicle. Approximately 15,000 Weasels were produced for the U.S. military between 1943 and 1945. Although originally designed for use in the snow, the Weasel could go virtually anywhere including the jungle as this World War II Studebaker ad suggests.
---
CARDBOARD STUDEBAKERS
1963 Avanti Coupe


1950 Starlight Coupe


1953 Starliner Hardtop


1956 President Classic

Mark Crowel of Mattawan, Michigan sent these pictures of cardboard Studebaker models that he built from scratch. Mark drew the plans and make the patterns used to make these models. The models were built from chipboard, which is a lightweight cardboard that is commonly found on the back of legal pads. Mark describes the construction method as "strip and panel." The center section and side sections or fenders are each made of two chipboard panels drawn and cut to each section's profile shape. Each pair of panels is then joined together by cardboard strips glued edge-to-edge along the panel's profile. For color, Mark uses colored paper, posterboard, or crayon on white paper. Here is a 1959 Lark that Mark built. He has also tried his hand building a 1956 Golden Hawk and a 1951 Starlight Coupe. Mark has written a book, Introduction to Homemade Model Cars, to guide those who wish create their own cardboard models. The book is available on his Papercraft Model Hobby Books web site. Thanks to Mark for the pictures and information.
---
Did you know that Michael Kelly's New Avanti Motor Corporation signed a deal to produce the VW based Brazilian Puma Sports Car? I didn't think so! The deal fell through when Kelly ran out of money. To learn more about the Puma, visit my Puma Sports Cars Site.
---
STUDE TOY OF THE MONTH
Marusan Studebaker Stake Truck



This excellent Marusan 1950's Studebaker C Cab Stake Truck showed up on eBay a month or so ago at a starting bid of $124.95. Marusan also issued this model with a tanker back. Marusan is still in business and has a U.S. distributor. The company's web site includes pictures of Marusan tin vehicles, other toys, and a company history. Based on the information on the company web site, the opening price was not out of line for an older Marusan toy in excellent condition. Marusan makes limited edition releases of 1950's vehicles with new tooling but does not make reproductions of old Marusan toy cars. The new releases are not inexpensive, as evidenced by a recently issued 1957 Cadillac Eldorado that lists for $280. More toy Studes can be found in the Stude Stuff area of this page and on my Studebaker Toys Home Page.

Click here for information on ordering hard to find Studebaker toys made by manufacturers such as Johnny Lightning, Racing Champions, Hot Wheels, Muscle Machines, and EKO.
---
---
---
---
* * This Page On Line Since October 1995 * *
---
Published 5/31/2007