---
BILL
JACKAMEIT'S
STUDEBAKER
PAGE
---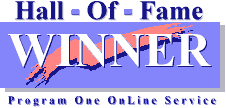 ---
---
Welcome fans of the pride of South Bend. I am a long-time Studebaker fan and Studebaker Drivers Club member, having owned a 1957 Silver Hawk in high school and a 1959 Lark Regal Hardtop in college. Since then, I have owned other Studes as hobby cars including a 1962 Champ Pickup, a 1964 Canadian Commander Special Sedan, a 1962 GT Hawk, a 1960 Lark Regal 4-door, a 1957 Silver Hawk (not the same one I owned in high school -- that one I wrecked) and a 1949 Champion Starlight Coupe. My current Studes are a 1964 Challenger Wagonaire Station Wagon with sliding roof and a 1964 Daytona Sedan. I will build this page as time allows. If you have any suggestions or comments, please send me a message. If you expeience a problem with the e-mail link, the address is wj2d44@gmail.com. Both text and image contributions are welcome.
---
STUDE OF THE MONTH
APRIL 2018
1953 Commander Starliner Hardtop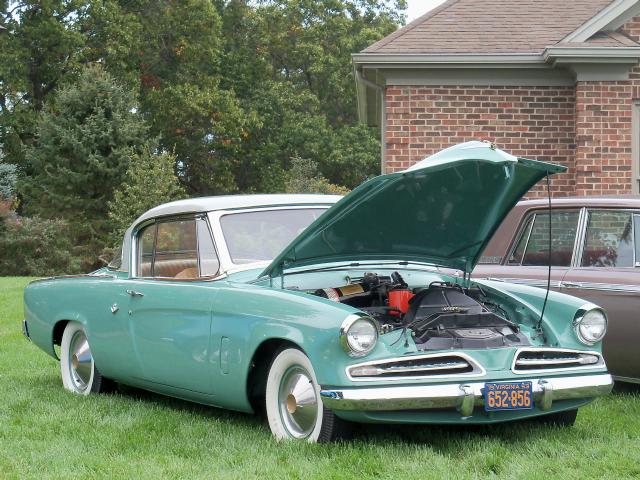 Rear Angle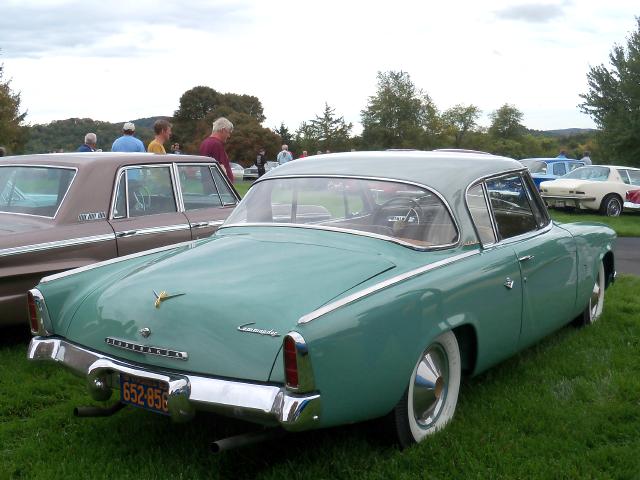 Rear View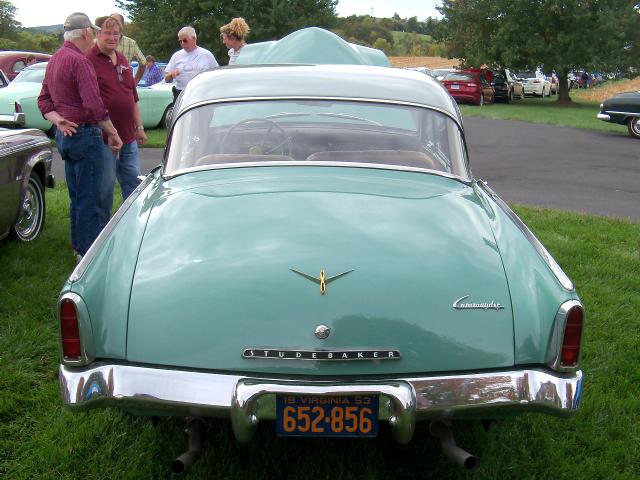 Driver Side Angle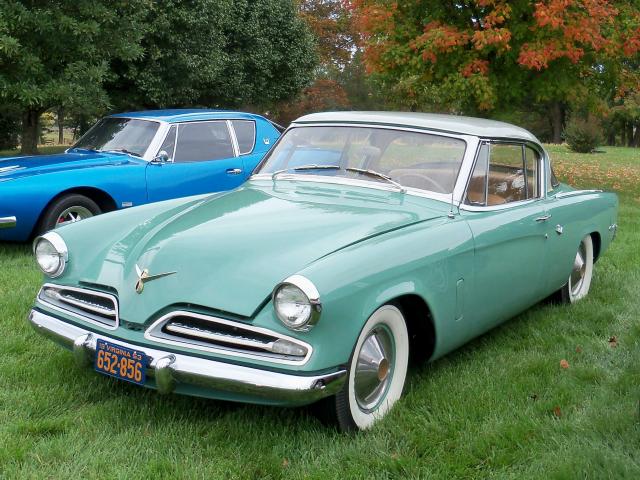 Interior and Dash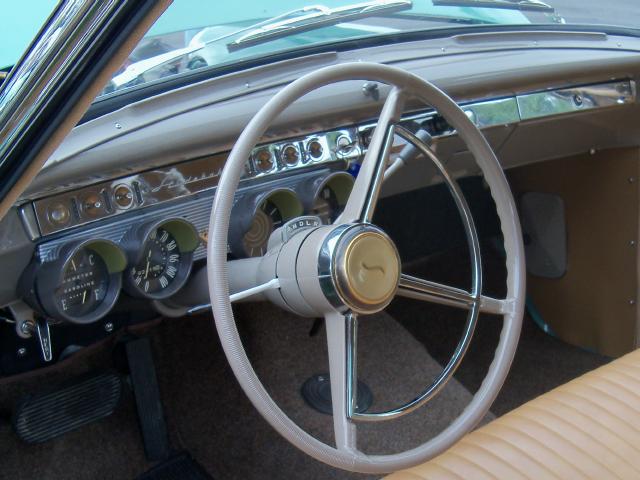 Under the Hood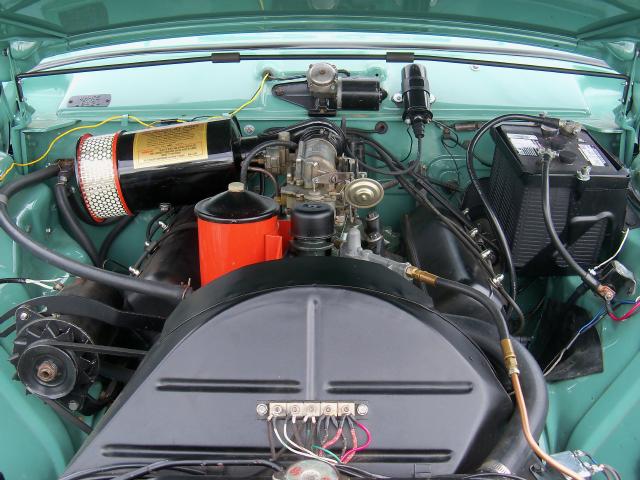 This beautiful 1953 Studebaker Commander Starliner Hardtop belongs to Tom Morith of Winchester, Virginia. Tom has owned this car for about twenty years. The car has undergone a complete restoration and it appears as new. Virtually every nut, bolt, and panel has been refurbished or replaced. All of the parts needed were either new or taken from a parts car purchased to support the restoration. The car has been repainted in authentic Studebaker Monterey Beige over Chippewa Green. The interior including the pleated vinyl seats and door panels have been beautifully redone in the correct pattern. Authentic 1953 Virginia license plates add a nice finishing touch.
Tom's Stariner has an automatic transmission with manual steering. It retains its 6 volt electrical system but has been completely rewired. The original 232 cubic inch V8 engine has been rebuilt and bored to 259 cubic inches and 1955 specifications. A dual exhaust system as introduced in 1955 has replaced the single exhaust used in 1953. As seen in this picture the Stromberg two-barrel carburetor has a 90 degree bend on the air horn to allow the use of a remote air cleaner to accomodate the low hood. The engine detailing down to the decal on the air cleaner is superb. The car rides on period correct bias ply Firestone wide whitewall tires.
Designed by Bob Bourke of Raymond Loewy Associates, the 1953 Studebaker Starliner won numerous awards and is considered by many to be the best styled American car of the 1950's. The basic body of the 1954 Starliner carried through to the 1964 Gran Turismo Hawk. The fenders and rear quarter panels on the 1953 Starliner and the 1964 GT Hawk are essentially identical and are interchangable. The Starliner and its companion Starlight five-window coupe were designed with streamlining in mind. As such, this design has proven popular to this day in salt flats racing and in the Carrera Panamericana race.
The pictures of Tom's Commander were taken at the October 2017 Studebaker Meet at the home of Chester and Nancy Bradfield in Bridgewater, Virginia. This event has no entry fee and no judging, just lots of interesting cars, typically from several states. In addition to many Studebakers, it has welcomed street rods from the Valley Cruisers and "Brand X" cars belonging to local AACA members. Unfortunately, the 2017 event will be the last. Thanks to Chester and Nancy for once again opening their home for this great event.
If you own or once owned a Studebaker or related vehicle and would like to see your car as "Stude of the Month" or in the "Cool Studes" section, or if you have other pictures or material that you would like to contribute to this page, please e-mail me here at wj2d44@gmail.com. I can accept either electronic or hard copy images. The Main Page is issued every other month so the next edition will be June 2018.
---
All of the previous editions of the Main Page going back to October 1995 have been reposted. In the process of reposting the pages, I have made corrections and revisions as needed, and in some cases added material that was not used when a page was first posted due to download speed and file storage limitations. A complete list of Main Pages and Studes of the Month with links to each is located here.
If you have a particular interest in Bullet Nose Studebakers, visit Bill Junge's Bullet Nose Paradise which is dedicated to the 1950 and 1951 Bullet Nose models.
---
2014 INTERNATIONAL MEET
DOVER, DELAWARE
BONNEVILLE SPEED WEEK
STUDEBAKER SALT FLATS RACERS
STUDEBAKER NATIONAL MUSEUM
PICTURES FROM MY VISIT
VIRGINIA MUSEUM OF
TRANSPORTATION STUDEBAKERS
---
TEST YOUR STUDEBAKER KNOWLEDGE!
---
ALSO AT BRIDGEWATER
1961 Studebaker Lark VIII Sedan


Rear Angle


Side View


Passenger Side Angle


Rear View


Interior and Dash

This 1961 Lark VIII Sedan belongs to Michael Karalevicz of Broadway, Virginia. Michael's Lark was purchased by his father over 30 years ago and it has been in his family ever since. The "VIII" on the front fenders and rear panel indicates that this car is equipped with a V8 engine, in this case a 259 cubic inch V8 with a two barrel carburetor and single exhuast rated at 180 horsepower. Michael's Lark also has the optional Flightomatic automatic transmission. The car is all original including the paint and interior. It has been well maintained but has not been restored.
Michaels's Lark is a Regal trim model with standard dual headlamps, stainless steel rocker panel trim, backup lights, and full wheel covers but no factory radio. Studebaker dealers typically ordered cars without factory radios in the event buyers might not want a radio and it was profitable for the dealer to install one if the buyer did want a radio. For whatever reason, Studebaker stylists raised the side trim piece above the crease on the front fenders and side of the car for 1961. The hood, trunk, roof line, front grille, and tail lamps were also modified from the previous year's model.
This is actually a fairly rare car with only 3,202 Lark VIII Regal 4-door sedans being produced for the 1961 model year. This compares to 7,343 Lark VIII Custom 4-door sedans and 5,232 Lark VIII Cruiser 4-door sedans. The introduction of the long wheel base Cruiser cut into sales of the short wheel base Regal as customers opted for either the less expensive Custom trim or the upmarket Cruiser. Studebaker production was down significantly for 1961 as competition in the compact car market intensified.
Michael recently joined the Greater Virginia Chapter of SDC. His cars also include a 1960 Champ Pickup and a 1950 Packard. Thanks to Michael for providing the information on his well kept 1961 Lark.
I'll include more pictures from the 2017 Bridgewater Meet in future editions of this page as space allows.
---
DAN'S STUDEBAKER CROSSWORD PUZZLES
Dan Armstrong from Mansfield, Texas has created a number of crossword puzzles and games for car nuts. These are available on-line at Dan's Extreme Car Puzzles. Dan has a strong interest in Studebakers, particularly the 1956 Sky Hawk, the performance equipped 1963 Lark Daytona, and the performance equipped 1963 and 1964 GT Hawks. The Studebaker crosswords are copyright by Dan Armstrong and are used with his permission. Thanks to Dan for providing the link and the downloadable Studebaker crossword puzzles for readers of this page to enjoy.
---
Nick Bodemer's Studebaker Dealer Inventory Project was started in June 2011 and includes a growing number of pictures, articles, ads, and other items related to former Studebaker dealerships. Well worth a visit. If you have a Google account you can join the site through Google Friend Connect.
---
STUDE MISCELLANY
1963 Champ Pickup Redo


Tailgate Repaired


Fresh Piant


Job Done


Front View

Mark Prazak of Fridley, Minnesota sent pictures of his sharp 1963 Studebaker 8E7 Champ Pickup from before, during, and after its recently completed restoration. The truck was acquired in December 2012 from a family in Broken Arrow, Oklahoma. Mark is the third owner of the truck the first being the Studebaker dealer in Tulsa, Oklahoma. Mark's understanding is that the dealer had a camper top on the truck. The 8E7 designation indicates that the truck is a V8 powered half-ton model.
The first picture shows the truck in its unrestored state. The cab, front fenders, and cargo box were all in good shape but the floorboards, rocker panels, and taigate needed work. In the process of a frame-off restoration, new floors and rocker panels were installed and the tailgate was repaired. As can be seen in the front view picture, the front bumper has been raised to follow the shadow line of the front clip. My opinion is that this looks much better than the stock bumper position.
Mark's truck is equipped with the very desirable combination of a Studebaker 289 cubic inch V8 with manual shift and overdrive. The engine was rebuilt and the truck's interior and headliner were redone as part of the restoration. Here is a picture of the engine and transmission out during restoration and here is a picture of the tailgate being lettered. The paint is a Porsche color that was used because it closely matches the Studebaker Shoshone Red of a 1954 Champion that Mark once owned.
Mark Prazak also owns a 1966 Daytona Sport Sedan with V8 and overdrive. Thanks to Mark for sending the pictures and information on his very sharp truck.
---
Did you know that Michael Kelly's New Avanti Motor Corporation signed a deal to produce the VW based Brazilian Puma Sports Car? I didn't think so! The deal fell through when Kelly ran out of money. To learn more about the Puma, visit my Puma Sports Cars Site.
---
STUDE PROMOTIONAL MODELS
1950's Hardtops and Coupes


Three Lark Hardtops and a Convertible

Al Krodel of Big Rock, Illinois sent some pictures of Studebaker promotional models from his extensive toy car and model collection. The first picture from left to right shows a 1956 Golden Hawk, 1955 Commander, 1954 Commander, 1952 Starlight Coupe, and 1950 Starlight Coupe. The second picture shows a 1960 Lark Hardtop in Light Blue, 1961 Lark Hardtop in red, 1962 Lark Convertible in brown, and 1959 Lark Hardtop in yellow.
All of the Studebakers in the first picture were made by AMT and all of the Larks in the second picture were made by Jo-Han. All are 1:25 scale and all have flywheel drive motors except for the 1950 Starlight which has a wind-up motor with a spring. These are all original dealer promotional models produced during their respective model years.
Al Krodel is a long-time Studebaker fan whose real Studes include a 1964 Cruiser, 1957 Transtar two-ton truck, and a 1955 Studebaker half-ton pickup. Thanks to Al for sending the pictures and information on his collection of Studebaker promotional models.
---
---
STUDE TOY OF THE MONTH
Signature Models 1963 Studebaker Avanti







This 1:32 scale Signature Models 1963 Studebaker Avanti Coupe is a recent addition to my collection. This model has also been produced in black. It comes securely packed in a window box and is attached to a plastic display stand by two small screws. The doors and hood are secured by a clear plastic strip to prevent damage. The model is nicely done with opening doors and a fully detailed interior and dashboard. The hood opens to reveal a detailed R2 engine complete with supercharger and the chassis is detailed underneath the car. Chrome Strato-Vue exterior rear view mirrors sit atop the front fenders in the correct location.
Signature Models produces diecast American and Euopean classic vehicles in 1:18 scale and 1:32 scale. The 1:32 scale series includes a 1963 Studebaker Avanti, a 1957 Golden Hawk, a 1937 Studebaker Coupe Express Pickup, and a 1928 Studebaker Fire Truck. The 1:18 scale series includes a 1963 Avanti in several colors including white, gold, red, and blue. The 1:32 scale models sell for around $15 while the 1:18 scale Avanti sells for considerably more. Given the level of detail the 1:32 scale Signature models are an excellent value.
Signature Models should not be confused with the Road Signature line of diecast cars and trucks from Yat Ming. Signature Models is a different company with its own production facilities and marketing channels. The company has distrubutors in North and South America, Europe, the Middle East, Africa, and the Asia Pacific region. Signature Models also makes a 1:43 scale "Premium Miniature" series of high-end classic European cars that is sold in Europe.
More toy Studes can be found in the Stude Stuff area of this page and on my Studebaker Toys Home Page.
Click here for information on ordering hard to find Studebaker toys made by manufacturers such as Johnny Lightning, Racing Champions, Hot Wheels, Matchbox, Muscle Machines, Maisto, and EKO.
Studebaker Toy Treasures Book

Jim Geary's book Studebaker Toy Treasures is the standard reference collectors of Studebaker Toys. This wonderful book has 294 pages of color pictures and details on hundreds of Studebaker toys. Publication date is 2004 and just about every Studebaker toy and model produced up to that time is pictured and cataloged. Jim is making the book available for $28 plus $10 for shipping. Jim will sign the book if requested. This is a must for the serious Studebaker toy vehicle collector. Jim can be contacted at sanjim76@live.com or send payment to Jim Geary, 181 Allendale Hills Road, Franklin, NC 28734.
---
---
---
---
* * * This Page On Line Since October 1995 * * *
---
Published 4/1/2018