---
BILL
JACKAMEIT'S
STUDEBAKER
PAGE
---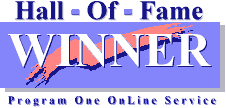 ---
---
Welcome fans of the pride of South Bend. I am a long-time Studebaker fan and Studebaker Drivers Club member, having owned a 1957 Silver Hawk in high school and a 1959 Lark Regal Hardtop in college. Since then, I have owned other Studes as hobby cars including a 1962 Champ Pickup, a 1964 Canadian Commander Special Sedan, a 1962 GT Hawk, a 1960 Lark Regal 4-door, a 1957 Silver Hawk (not the same one I owned in high school -- that one I wrecked) and a 1949 Champion Starlight Coupe. My current Studes are a 1964 Challenger Wagonaire Station Wagon with sliding roof and a 1964 Daytona Sedan. I will build this page as time allows. If you have any suggestions or comments, please send me a message. If you expeience a problem with the e-mail link, the address is wj2d44@gmail.com. Both text and image contributions are welcome.
---
STUDE OF THE MONTH
AUGUST 2021
1962 Studebaker Champ Pickup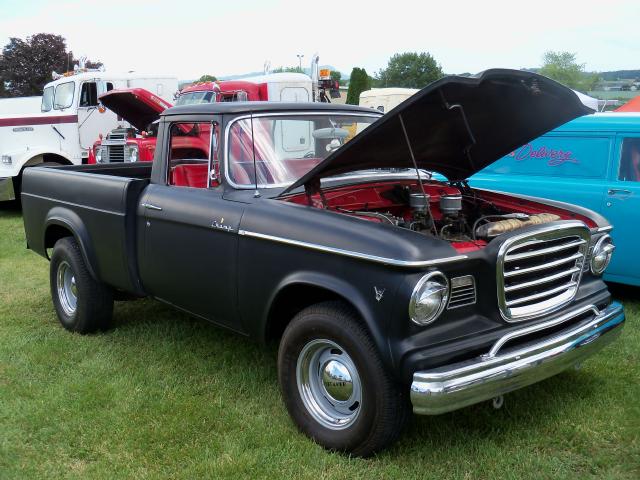 Rear Angle



Rear View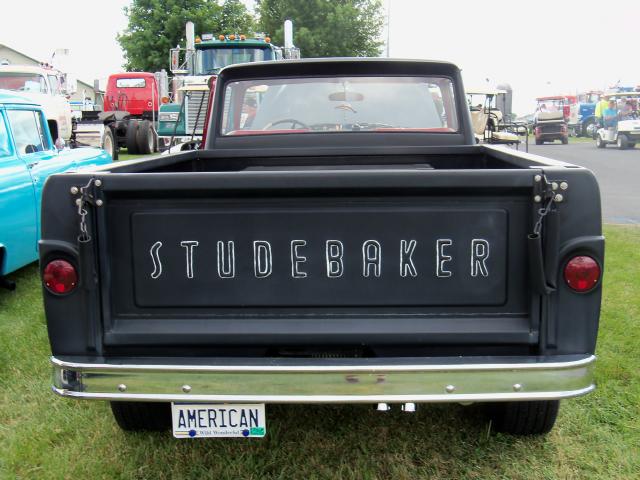 Tool Box in Bed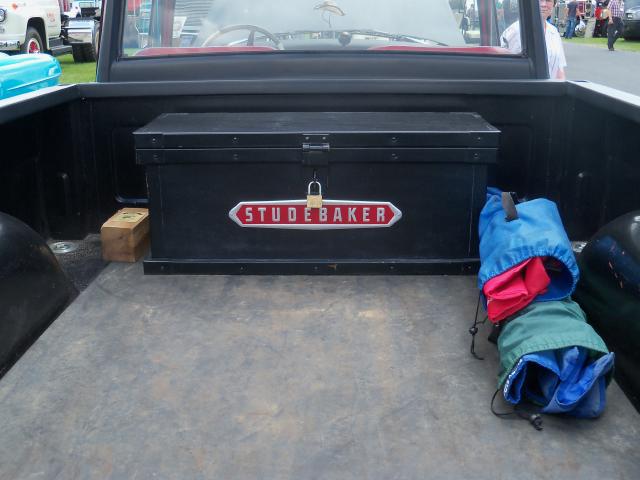 Corvette Rallye Steel Wheel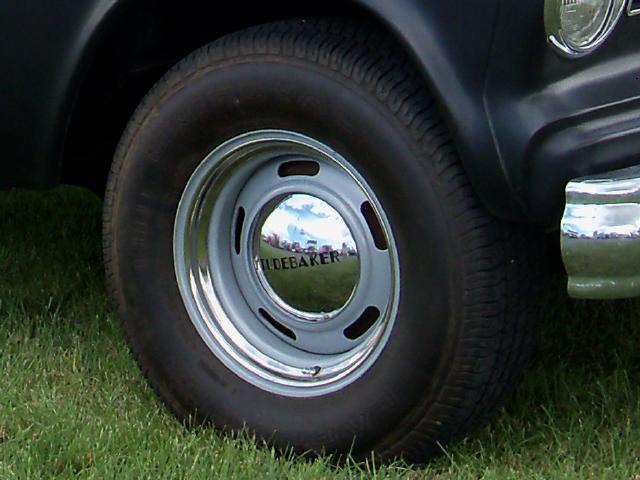 Interior and Dash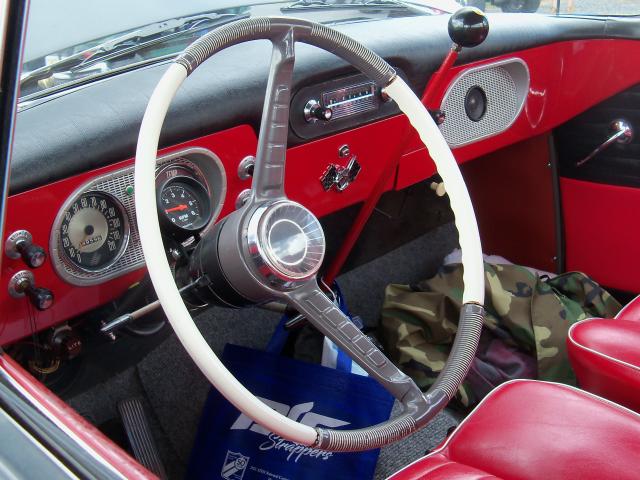 Under the Hood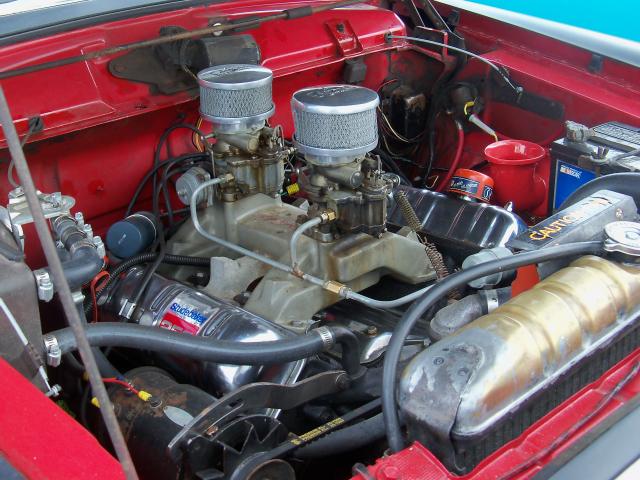 Edmunds Dual Carb Manifold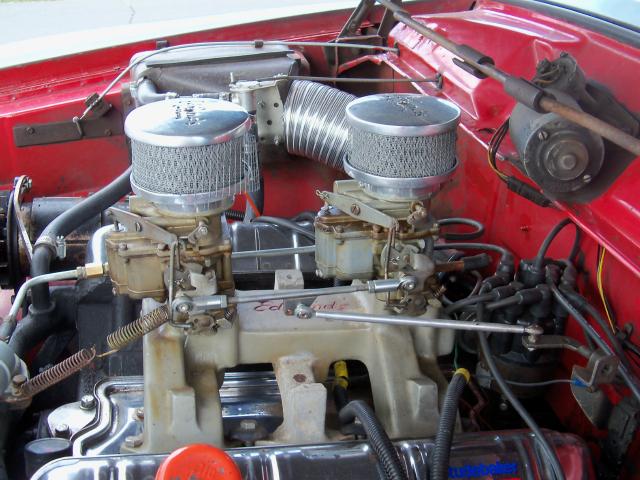 This custom 1962 Studebaker Champ 7E Pickup is owned by Rick Aguilar of Hansford, West Virginia. Rick has owned the truck for about two years. It was orginally a six cylinder with three-speed manual shift on the column. The previous owner swaped the six for a Studebaker 259 cubic inch V8 and four-speed floor shift truck transmission. Ricks Champ has Corvette Rallye steel wheels, Edmunds twin carburetor manifold, column mounted tachometer, front bumper over-rider bar, and headlamp visors. The reupolstered 1961 Hawk style bucket seats blend nicely with a rear center armrest assembly as used on 1957 Hawks serving as the center console. Here is a shot showing the seats and armrest. The V8 emblems on the fenders and dash are also Studebaker items.
Rick's Champ is painted satin black with white outlining on the tailgate lettering. The front bumper and factory optional rear bumper have been beautifully rechromed by Paul's Chrome Plating of Evans City, Pennsylvania. Shops that do rechroming have been disappearing at an alarming rate. Paul's is one of the best remaining shops having been in business since 1977. The Corvette wheels have late 1930's style Studebaker hubcaps as used on the Coupe Express Pickup and other models. Rick is currently running modern blackwall Uniroyal Laredo Cross Country Tour radial tires. The Champ is equipped with a truck Climatizer heater and defroster and factory manual tune AM radio and both are in working order. This is Rick's first Studebaker which he purchased after seeing it in an ad publication.
The Edmunds twin carburetor manifold on Rick's Champ is a fairly rare item. As the story goes, Eddie Edmunds started out making speed equipment for Model A Fords. After World War II he opened a factory in Los Angeles, California with a Reconstruction Finance Corporation loan. Eventually, he made a variety of manifolds, heads, and other speed equipment for numerous makes of Amercan cars. Part of Edmunds lore is that Eddie's wife hand lettered the Edmunds name in the casting bucks used to make the molds. A common Edmunds product was an intake manifold for twin two-barrel carburetors. These were produced for straight six and eight cylinder engines and for various V8 engines. After hitting hard times he was bought out by Fenton in the late 1950's.
The Champ was introduced in 1960 in an effort to provide a more contempory appearing light-duty truck. The chassis and drivetrain selections were basically unchanged fromn the 1959 E-Series but the cab section was all new being derived from the compact Lark. The nose panel, front fenders, hood, and doors were the same as used on the Lark. The main cab section was was basically a Lark four-door body cut just behind the front doors. A heavier grille with horizontal openings was used in place of the Lark grille. The dashboard and instruments were the same as in the Lark which also gave a more modern appearence. A full-width cargo box produced using former Dodge tooling was available staring in 1961. Trucks rated at one-ton and above continued to use the older style cab.
The pictures were taken in June 2021 at the American Truck Historical Society National Convention and Truck Show at the Rockingham County Fairgrounds near Harrisonburg, Virginia. Thanks to Rick for providing the information on his very cool truck.
If you own or once owned a Studebaker or related vehicle and would like to see your car as "Stude of the Month" or in the "Cool Studes" section, or if you have other pictures or material that you would like to contribute to this page, please e-mail me here at wj2d44@gmail.com. I can accept either electronic or hard copy images. The Main Page is issued every other month so the next edition will be October 2021.
---
All of the previous editions of the Main Page going back to October 1995 have been reposted. In the process of reposting the pages, I have made corrections and revisions as needed, and in some cases added material that was not used when a page was first posted due to download speed and file storage limitations. A complete list of Main Pages and Studes of the Month with links to each is located here.
If you have a particular interest in Bullet Nose Studebakers, visit Bill Junge's Bullet Nose Paradise which is dedicated to the 1950 and 1951 Bullet Nose models.
---
2014 INTERNATIONAL MEET
DOVER, DELAWARE
BONNEVILLE SPEED WEEK
STUDEBAKER SALT FLATS RACERS
STUDEBAKER NATIONAL MUSEUM
PICTURES FROM MY VISIT
VIRGINIA MUSEUM OF
TRANSPORTATION STUDEBAKERS
---
TEST YOUR STUDEBAKER KNOWLEDGE!
---
ANOTHER COOL STUDE
1957 Studebaker Golden Hawk


Rear View


Interior and Dash


Under the Hood

This cool 1957 Studebaker Golden Hawk Hardtop is owned by Keith Wahl of La Jolla, California. When Keith purchased the Hawk from Ben McClain and Ila Carroll it was located in Vacaville and had been a California car its entire life. Ila Carroll's late husband Shelby Carroll had owned the car and had done some restoration work a while back. Keith felt that he just had to buy this particular Golden Hawk because his grandaughter's name is also Ila.
After Keith acquired the car, he did some work on the power steering and installed electronic ignition, new fuel tank, and new fuel pump. He also addressed some ignition and electrical issues. Keith's Golden Hawk has Flightomatic automatic transmission and a factory push-button radio. After sorting out timing, fuel pump, ignition, and electrical issues he drove the car 1,000 miles round up and back to attend the 2019 Sacramento Zone Meet.
Keith's Golden Hawk is one of 4,356 produced for the 1957 model year. The Golden Hawk was introduced in 1956 with a Packard 352 cubic inch V8 engine rated at 275 horsepower. With the closing of the Detroit Packard plant, the Studebaker 289 cubic inch V8 with a Paxton supercharger was used in 1957 and 1958. The supercharged Studebaker V8 was also rated at 275 horspower and rendered the Golden Hawk somewhat less front heavy.
Keith's 1963 Avanti was Stude of the Month in April 2021 and his Avanti powered 1955 Studebaker Conestoga Station Wagon was Stude of the Month in August 2106. His custom 1953 Champion Starlight Coupe appeared in the Cool Studes section in February 2013. Keith once owned two near identical 1955 Conestoga Station Wagons. Keith sent the story with pictures of how he came to own the two wagons which is posted here.
Thanks to Keith for sending the pictures and information about his neat Golden Hawk.
---
DAN'S STUDEBAKER CROSSWORD PUZZLES
Dan Armstrong from Mansfield, Texas has created a number of crossword puzzles and games for car nuts. Dan has a strong interest in Studebakers, particularly the 1956 Sky Hawk, the performance equipped 1963 Lark Daytona, and the performance equipped 1963 and 1964 GT Hawks. The Studebaker crosswords are copyright by Dan Armstrong and are used with his permission. Thanks to Dan for providing the downloadable Studebaker crossword puzzles for readers of this page to enjoy.
---
Nick Bodemer's Studebaker Dealer Inventory Project was started in June 2011 and includes a growing number of pictures, articles, ads, and other items related to former Studebaker dealerships. Well worth a visit. If you have a Google account you can join the site through Google Friend Connect.
---
STUDE MISCELLANY
1961 Studebaker Transtar Stake Bed







This neat 1961 Studebaker Transtar Stake Bed Truck was spotted at the 2021 American Truck Historical Society National Convention and Truck Show. The window sign indicates that it is owned by John Good. This Transtar is a Model 6E13 with a 131" wheelbase, 259 cubic inch V8 rated at 180 horsepower, and four-speed manual floor shift transmission. The truck has a wood bed with hydraulic lift, dual rear wheels, and a truck Climatizer. The nice looking color is Green Jade. It was used as a grain truck in the Midwest and only has about 33,000 miles on the odometer.
Studebaker starting using the Transtar name in 1956. The name was used on most trucks in the Studebaker E-Series but not all. Exceptions include the 1958 and 1959 Scotsman Pickups and the 1960 to 1964 Champ Pickups. For some unknown reason, the Transtar name was not used in 1959. The 1956 models featured a revised hood with a supplemental grill. For 1957 the Transtar line received a new fiberglass grille with three vertical dividers that continued to the end of production. The Transtar was basically a C-Cab truck which first appeared in 1948 as a 1949 model.
1957 Studebaker Transtar Tow Truck





Ben Slatter of Twin Falls, Idaho sent in some pictures of his Model 1957 Studebaker Transtar Model 3E13 Tow Truck. Ben's truck is equipped with a 289 cubic inch V8, granny gear four-speed manual transmission, and PTO for the winch. It also has an electric fuel pump and electric parking brakes. When Ben purchased the truck it had a 1956 front grille as seen in the second picture. Ben has since replaced the 1956 style grille with the style grill used in 1957 and up. Here is another picture of Ben's truck before the older style front grill was changed out.
Ben has named his truck "TowBaker" and says that it is related to Tow Mator the famous movie star. There is definately a family resemblance. The truck spent most of its working life moving cars around a wrecking yard. TowBaker's full story is here. Ben also owns a 1950 Studebaker Champion Four-Door Sedan. Thanks to Ben for sending the pictures and information about his 1957 Studebaker Transtar Tow Truck.
Toy Studebaker Semi-Tractor Truck





Jim Geary of Franklin, North Carolina sent in some pictures of a very cool Studebaker Semi-Tractor Truck and Trailer that he built from various parts. This rig was made using a Marx Studebaker cab, Smith Miller dual axle chassis, Ny-Lint sleeper box, and Marx wheels. The trailer is a Marx Hi-Way Express Van Lines unit. Jim skillfully reworked these bits and pieces into a super nice model. Here is a before picture of this neat custom build.
Jim Geary is the author of Studebaker Toys and Models published in 1990 and Studebaker Toy Treasures published in 2004. These are standard references for serious collectors of Studebaker toys and models. Information on ordering Studebaker Toys and Treasures appears at the bottom of the page. Thanks to Jim for sending the pictures and information on this neat Studebaker rig.
---
STUDEBAKER MODEL RAILROAD DIORAMAS
---
STUDE TOY OF THE MONTH
Buccaneer Studebaker Coupe







This Buccaneer Studebaker Coupe is a recent addition to my personal collection. It is basically a copy of the Dinky Toys Number 39f Studebaker Commander with some differences. Unlike the Dinky version, the base has a drivetrain and exhaust system cast into it and an exhaust pipe that extends beyond the rear bumper. The "1937" cast into the base is not correct. The model has the 1939 style front end with a divided grille and headlamps in the front fenders. The axles on the Buccaneer model are flat on both ends and the ends appear as hub caps which is a nice touch compared to crimped axles. The running boards are painted black, the wheels are painted red, and the rubber tires are white. The Buccaneer model is relatively and heavy weighing almost twice as much as the Dinky. The seller indicated that this particular example was built from a kit and included the kit plastic bag package top with the model.
Buccaneer was a small company based in the UK that produced a series of early Dinky and Tootsietoy replicas during the 1970's and 1980's. The company was founded by Brian Harvey and the master patterns for the models were made by Colin Flannery. The Dinky replicas were made with the permission of Mecanno who owned Dinky Toys at the time. Most Buccaneer models were of American and European cars from the 1930's. Buccaneer models were made of white metal and were sold as both completed models and in kit form. Buccaneer models always had white tires. Here is the Buccaneer model with a De Agostini reproduction Dinky 1939 Studebaker Commander Coupe.
More toy Studes can be found in the Stude Stuff area of this page and on my Studebaker Toys Home Page.
Click here for information on ordering hard to find Studebaker toys made by manufacturers such as Johnny Lightning, Racing Champions, Hot Wheels, Matchbox, Muscle Machines, Maisto, and EKO.
Studebaker Toy Treasures Book

Jim Geary's book Studebaker Toy Treasures is the standard reference for collectors of Studebaker Toys. This wonderful book has 294 pages of color pictures and details on hundreds of Studebaker toys. Publication date is 2004 and just about every Studebaker toy and model produced up to that time is pictured and cataloged. Jim is making the book available for $28 plus $10 for shipping. Jim will sign the book if requested. This is a must for the serious Studebaker toy vehicle collector. Jim can be contacted at sanjim76@live.com or send payment to Jim Geary, 181 Allendale Hills Road, Franklin, NC 28734.
---
My Current 1964 Daytona Sedan on the
September 2018 Turning Wheels Back Cover.
---
---
* * * This Page On Line Since October 1995 * * *
---
Published 8/1/2021