---
BILL
JACKAMEIT'S
STUDEBAKER
PAGE
---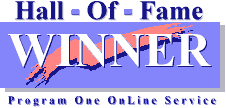 ---
---
Welcome fans of the pride of South Bend. I am a long-time Studebaker fan and Studebaker Drivers Club member, having owned a 1957 Silver Hawk in high school and a 1959 Lark Regal Hardtop in college. Since then, I have owned other Studes as hobby cars including a 1962 Champ Pickup, a 1964 Canadian Commander Special Sedan, a 1962 GT Hawk, a 1960 Lark Regal 4-door, a 1957 Silver Hawk (not the same one I owned in high school -- that one I wrecked) and a 1949 Champion Starlight Coupe. My current Studes are a 1964 Challenger Wagonaire with sliding roof, a 1964 Daytona Sedan, and a 1963 GT Hawk. I will build this page as time allows. If you have any suggestions or comments, please send me a message. If you expeience a problem with the e-mail link, the address is wj2d44@gmail.com. Both text and image contributions are welcome.
---
STUDE OF THE MONTH
FEBRUARY 2023
Custom 1951 Starlight Coupe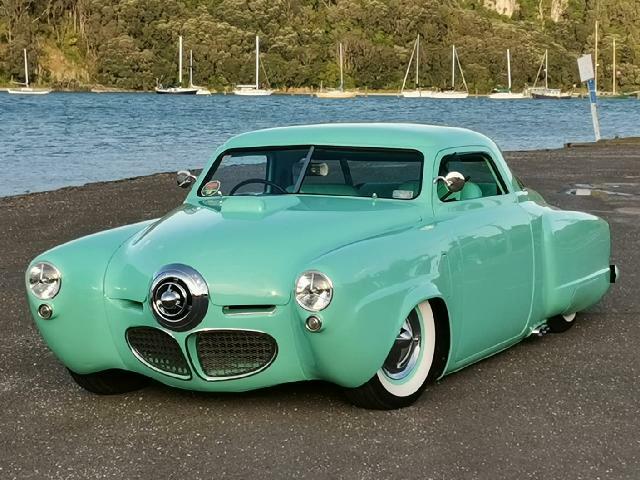 Side View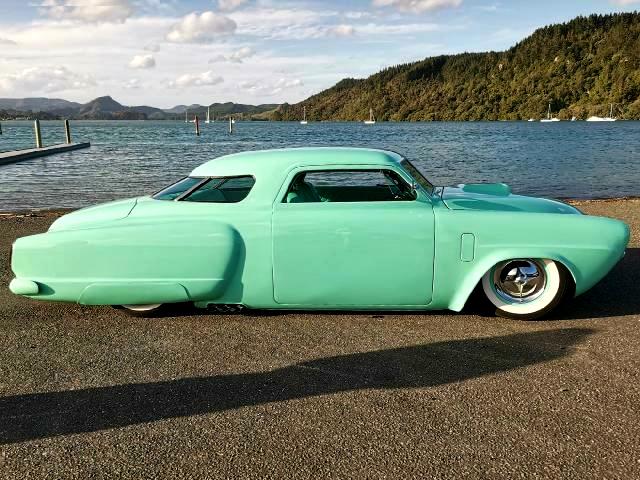 Front View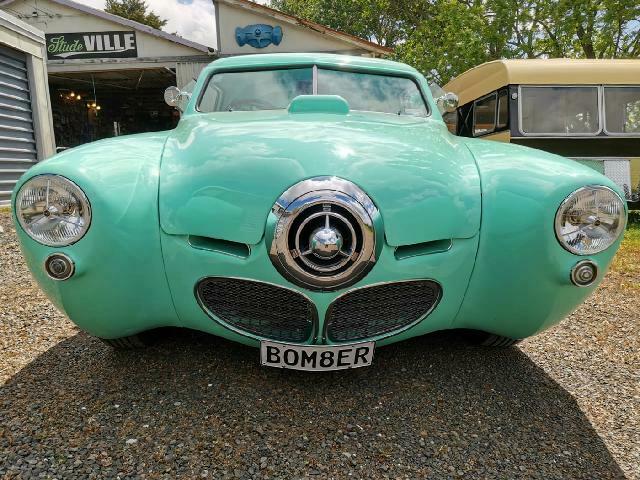 Rear Angle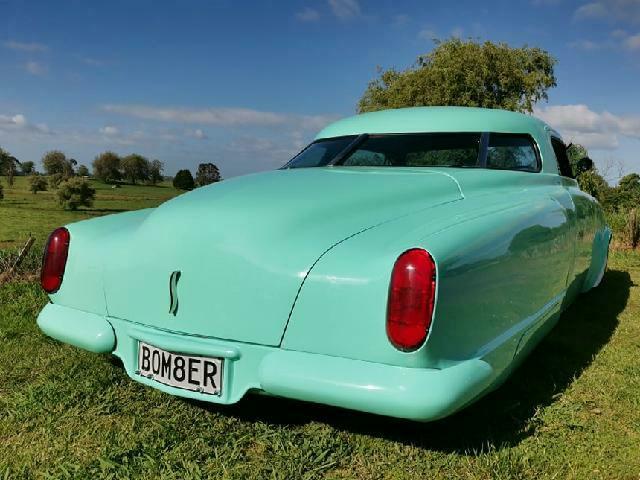 Trunk Area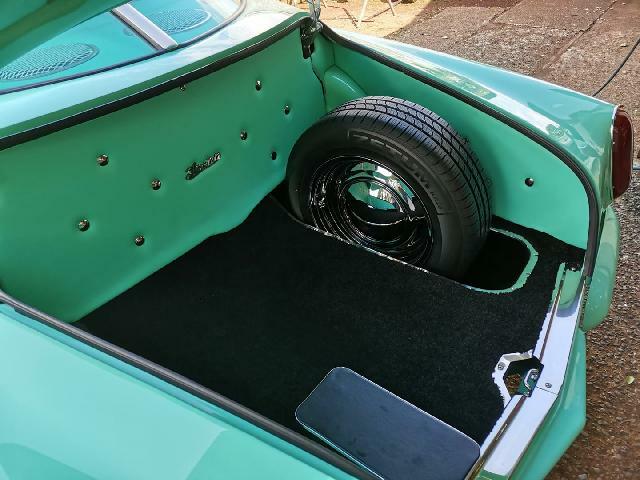 Interior and Dash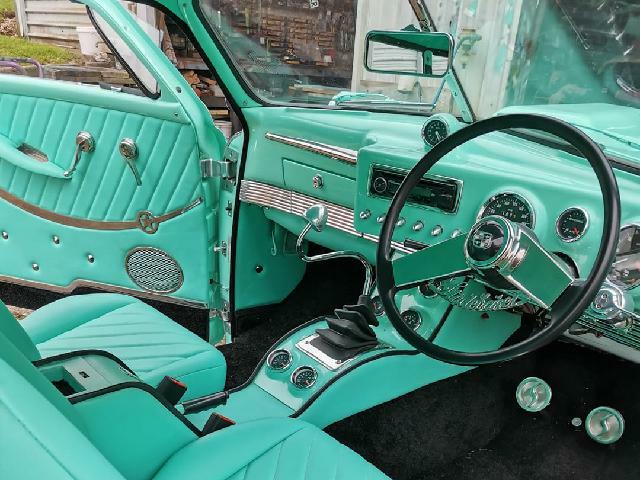 Rear Seat Area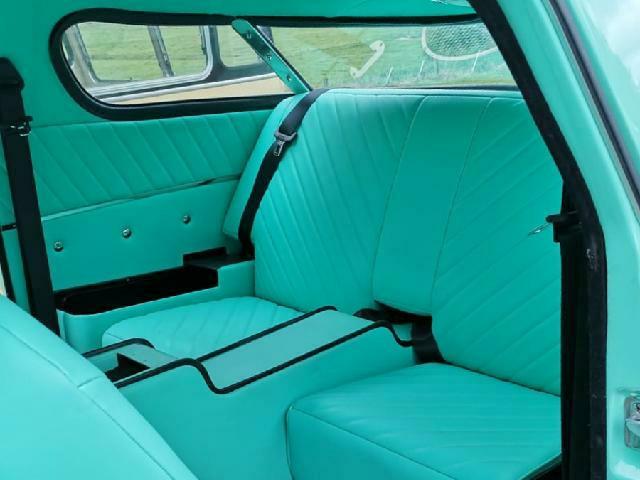 Door Panel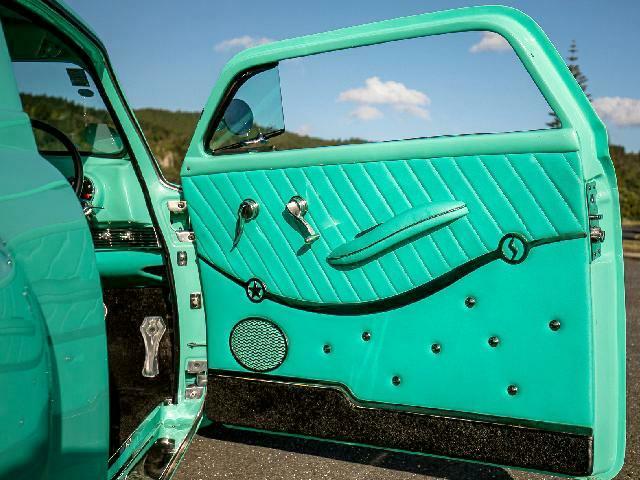 Under the Hood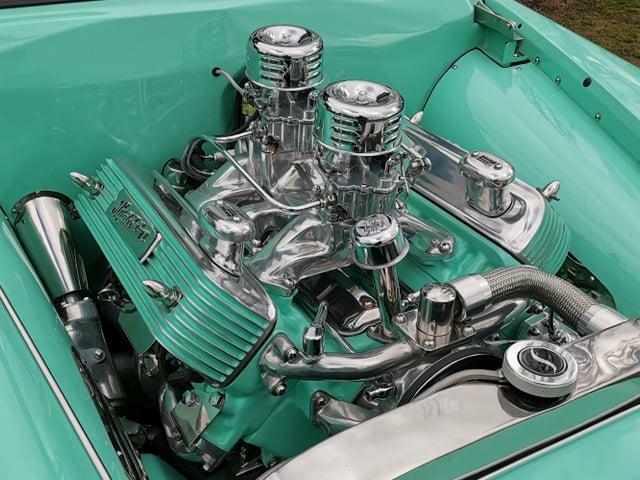 Under Construction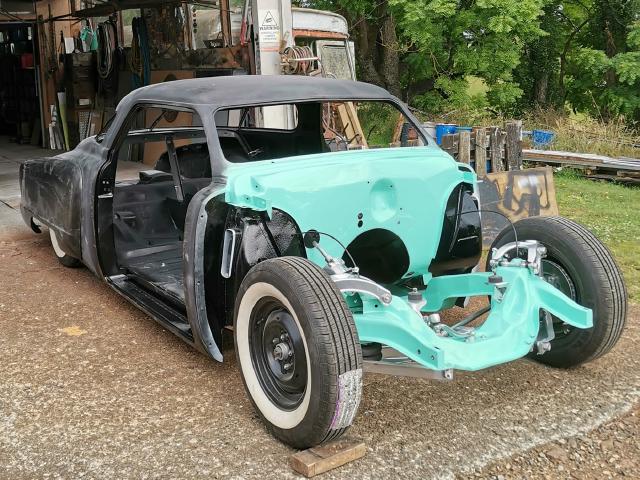 This super cool Custom 1951 Starlight Coupe was built by Trevor Halstead of Hamilton, New Zealand. The concept of this car was to build a traditional custom with as much Studebaker content as possible. The body shell has a roof chop of 4 1/2" at the front and 3 1/2" at the rear. The center of the roof was modified to accomodate a split windshield and the roof gutters have been removed. The front panel is from a 1950 Champion with the bumper holes welded in. The chrome bullet nose is from a 1951 Champion with a custom bronze center in place of the stock plastic. A flat firewall was fabricated to accomodate the motor and transmission and the rocker panels have been boxed on the inside to provide additional strength. The rear fenders were welded and molded to the body and the fuel filler has been relocated to the trunk. The outside door handles have been removed and replaced by remote electric operation. New glass was cut to suit and the teal lacquer paint is a custom mix.
The engine is a Studebaker 259 cubic inch V8 that has been bored and stroked to displace 299 cubic inches. The heads have stainless steel valves and heavy duty springs. Twin Stromberg WW two-barrel downdraft carbureators with mini air filters are mounted on a custom Edmunds intake manifold. The exhaust manifolds are polished Avanti R2 pieces with the exhaust exiting from triple outlets forward of the rear wheels. Avanti motor mounts were used to achieve a low profile. The transmission is a late model Borg Warner T86 three-speed manual with overdrive with a one piece modified Studebaker Hawk driveshaft and a narrowed Studebaker Dana 44 rear axle. The steering box is from a 1965 Studebaker Cruiser. The front disc brakes have Holden HQ calipers and Australian Ford Falcon rotors. The 15" steel wheels are Studebaker Hawk with wide whitewall radial tires and custom wheel covers.
The interior utilizes a 1947 Champion dashboard and a custom fabricated steel center console. The speedometer and tachometer are Jaguar XJ12 Smiths units, the analog clock mounted above the Sony stereo is also Smiths, and the subsidiary gauges are VDO. These inclue two air pressure gauges for the airbag suspension. The shift handle for the manual transmission was made in the form of a Studebaker "Lazy S." The light switches have hand made bullet alloy knobs. The door panels and arm rests were custom fabricated. Stainless steel was used to fabricate the speaker mesh and surrounds. The front bucket seats are from an older Honda and the rear seat is original Studebaker modified to fit the center console. The interior upholstery, which nicely matches the exterior of the car, was stitched by Greg Mather at Midnight Upholstery.
Trev Halstead is a professional restorer and builder of Studebakers and other makes. His Custom 1950 Studebaker sedan delivery was Stude of the Month in February 2002. A Custom 1950 Studebaker Champion 2-Door Sedan that he built for Ron and Lorraine Child was Stude of the Month in February 2020 and his beautifully restored 1956 Sky Hawk Hardtop was Stude of the Month in August 2019. His 1953 Starlight Coupe Street Rod was Stude of the Month in October 2014 and his 1951 Champion Street Rod appeared on this page in June 2019. The 1951 Champion in an earlier iteration and his award winning 1952 Commander appeared in an August 2008 story about New Zealand Studebakers.
Thanks to Trev and Diane Halstead for sending the pictures and information on Trev's latest build.
If you own or once owned a Studebaker or related vehicle and would like to see your car as "Stude of the Month" or in the "Cool Studes" section, or if you have other pictures or material that you would like to contribute to this page, please e-mail me here at wj2d44@gmail.com. I can accept either electronic or hard copy images. The Main Page is issued every other month so the next edition will be April 2023.
---
All of the previous editions of the Main Page going back to October 1995 have been reposted. In the process of reposting the pages, I have made corrections and revisions as needed, and in some cases added material that was not used when a page was first posted due to download speed and file storage limitations. A complete list of Main Pages and Studes of the Month with links to each is located here.
If you have a particular interest in Bullet Nose Studebakers, visit Bill Junge's Bullet Nose Paradise which is dedicated to the 1950 and 1951 Bullet Nose models.
---
STUDEBAKER TRUCKS AT THE
2021 ATHS NATIONAL MEET
2014 INTERNATIONAL MEET
DOVER, DELAWARE
BONNEVILLE SPEED WEEK
STUDEBAKER SALT FLATS RACERS
STUDEBAKER NATIONAL MUSEUM
PICTURES FROM MY VISIT
VIRGINIA MUSEUM OF
TRANSPORTATION STUDEBAKERS
---
ANOTHER COOL STUDE
1963 Gran Turismo Hawk


Rear Angle


Real Wood Dashboard


Under the Hood

This stunning 1963 Gran Turismo Hawk is owned by Brian Cochrane of St Johns, Newfoundland and Labrador. The exterior color is Blue Mist Poly and the interior is blue vinyl with matching inserts. Brian's GT Hawk is equipped with Flightomatic automatic transmission, power steering, power disc brakes, dashboard tachometer and clock, Climatizer, and a factory push button radio. The glove box door, radio surround, and instrument surround have been beautifully redone in real .28" solid walnut. The job was done over the winter a few years ago and required removing the entire dashboard. The result is nothing short of phenomenal.
The pictures above originally appeared in the Facebook Studebaker Hawk Group. Thanks to Brian for posting the pictures and for the additional information regarding his sharp 1963 GT Hawk.
---
TEST YOUR STUDEBAKER KNOWLEDGE!
---
STUDE MISCELLANY
Custom 1955 Conestoga Station Wagon Update





Keith Wahl's Avanti powered 1955 Studebaker Conestoga Station Wagon was Stude of the Month in August 2106. At one point Keith owned two near identical 1955 Conestoga Station Wagons. The story with pictures of how he came to own the both 1955 wagons is posted here. He has since sold the second Conestoga but he still owns the Avanti powered one. He recently changed from steel wheels with original style wheel covers to American Racing Salt Flat Wheels off an Avanti that he sold. Keith's supercharged 1955 Conestoga is also featured in the 2023 Haus of Volta Survivor Pinups Calendar.
Keith posted the pictures above to the Studebaker Station Wagon Owners and Fans group on Facebook. The group covers all years of Studebaker station wagons both stock and modified. This is a relatively new group that I started in November 2021. It is a public group so you don't need to have a Facebook account to visit the group or to view its contents. The group has grown rapidly to the point where there are over 1,900 members and hundreds of posts. The posts include numerous pictures, original print ads, video links, and other materials related to Studebaker station wagons.
Last Local Car Show for 2022



These pictures of my 1964 Challenger Wagonaire were taken on October 15, 2022 at the Augusta Lions Club Fight for Sight Car Show at Gypsy Hill Park in Staunton, Virginia. Nice show with plenty of cars on the field but as is often the case I had the only Studebaker. This show benefits the Lions Club leader dog program and local sight programs. The 2023 show will be held on Saturday, October 14 at the same location.
---
DAN'S STUDEBAKER CROSSWORD PUZZLES
Dan Armstrong from Mansfield, Texas has created a number of crossword puzzles and games for car nuts. Dan has a strong interest in Studebakers, particularly the 1956 Sky Hawk, the performance equipped 1963 Lark Daytona, and the performance equipped 1963 and 1964 GT Hawks. The Studebaker crosswords are copyright by Dan Armstrong and are used with his permission. Thanks to Dan for providing the downloadable Studebaker crossword puzzles for readers of this page to enjoy.
---
STUDEBAKER TOYS UPDATE
M2 Machines Auto-Drivers Studebaker Trucks



M2 Machines has issued numerous versions of its Studebaker C Cab Pickup Truck. The lower priced Auto-Drivers Series on blister cards are a Walmart staple. These come mounted on a black plastic base inside a clear plastic blister. They feature rubber tires and chrome trim but the hood on the Auto-Drivers models does not open to reveal an engine as on the more expensive issues.
Several versions of the M2 Machines C Cab have been featured as Stude Toy of the Month on this page. These include a 1954 3R Tow Truck in April 2011, a 1951 2R Utility Box Truck in December 2012, a 1951 2R Stake Bed in April 2013, a 1954 3R Pickup in December 2013, and a 1949 2R U.S. Army Tow Truck in December 2017.
---
STUDEBAKER MODEL RAILROAD DIORAMAS
---
STUDE TOY OF THE MONTH
Marx 1950 Studebaker Champion Sedan







This Marx 1950 Studebaker Champion Sedan is from my personal collection. This toy was usually found in conjunction with Marx O-Gauge train sets as a load on either a two-level four-car auto carrier or on a two-car flat car typically mixed with other toy cars. It measures just under 3 3/4" long and has the Marx Toy Company logo molded into the roof underneath although that is difficult to see in the picture. It is nominally 1:48 scale consistent with the scale of O-Gauge trains.
This toy was produced in several shades of blue, yellow, red, gray, silver, and olive drab military green. The wheels and axles were sometimes black and sometimes body color or another color. The later version was included in special military train sets. While large numbers of this toy car were made, it is difficult to find in like new condition because most have been played with. Nice original examples generally sell for $16 to $20 on eBay. I have yellow and medium blue examples in my collection.
Beware of poor quality reproductions of this toy that often appear on eBay as replacement loads for Marx O-Gauge rail cars. These are fairly easy to spot as they have a flat roof and odd side windows.
More toy Studes can be found in the Stude Stuff area of this page and on my Studebaker Toys Home Page.
Click here for information on ordering hard to find Studebaker toys made by manufacturers such as Johnny Lightning, Racing Champions, Hot Wheels, Matchbox, Muscle Machines, Maisto, and EKO.
Studebaker Toy Treasures Book

Jim Geary's book Studebaker Toy Treasures is the standard reference for collectors of Studebaker Toys. This wonderful book has 294 pages of color pictures and details on hundreds of Studebaker toys. Publication date is 2004 and just about every Studebaker toy and model produced up to that time is pictured and cataloged. Jim is making the book available for $25 plus $14 for shipping. Jim will sign the book if requested. It also comes with a CD of more toys than what is in the book. This is a must for the serious Studebaker toy vehicle collector. Jim can be contacted at sanjim76@live.com or send payment to Jim Geary, 181 Allendale Hills Road, Franklin, NC 28734.
---
My Current 1964 Daytona Sedan on the
September 2018 Turning Wheels Back Cover.
---
---
* * * This Page On Line Since October 1995 * * *
---
Published 2/1/2023