---
BILL
JACKAMEIT'S
STUDEBAKER
PAGE
---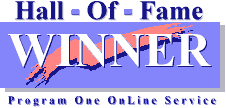 ---
---
Welcome fans of the pride of South Bend. I am a long-time Studebaker fan and Studebaker Drivers Club member, having owned a 1957 Silver Hawk in high school and a 1959 Lark Regal Hardtop in college. Since then, I have owned other Studes as hobby cars including a 1962 Champ Pickup, a 1964 Canadian Commander Special Sedan, a 1962 GT Hawk, a 1960 Lark Regal 4-door, a 1957 Silver Hawk (not the same one I owned in high school -- that one I wrecked) and a 1949 Champion Starlight Coupe. My current Studes are a 1964 Challenger Wagonaire Station Wagon with sliding roof and a 1964 Daytona Sedan. I will build this page as time allows. If you have any suggestions or comments, please send me a message. If you expeience a problem with the e-mail link, the address is wj2d44@gmail.com. Both text and image contributions are welcome.
---
STUDE OF THE MONTH
APRIL 2022
1964 Studebaker Champ Pickup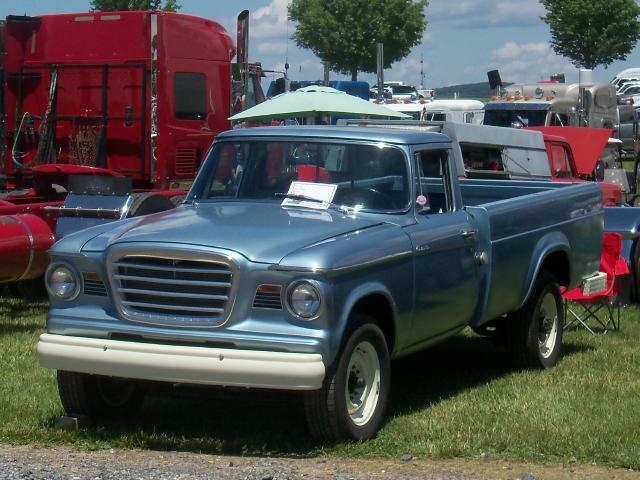 Rear Angle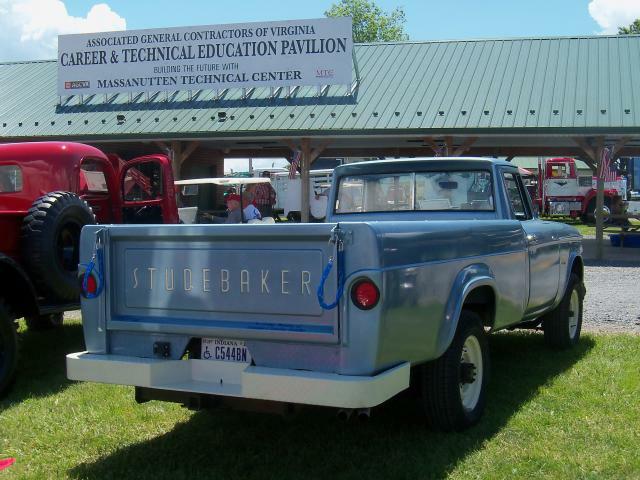 Passenger Side Angle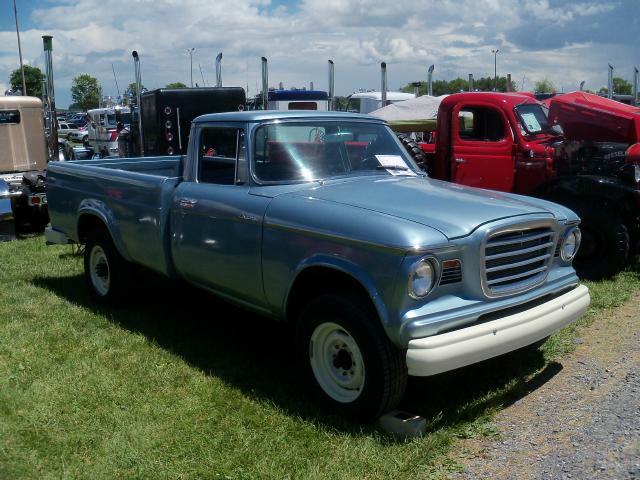 Interior and Dash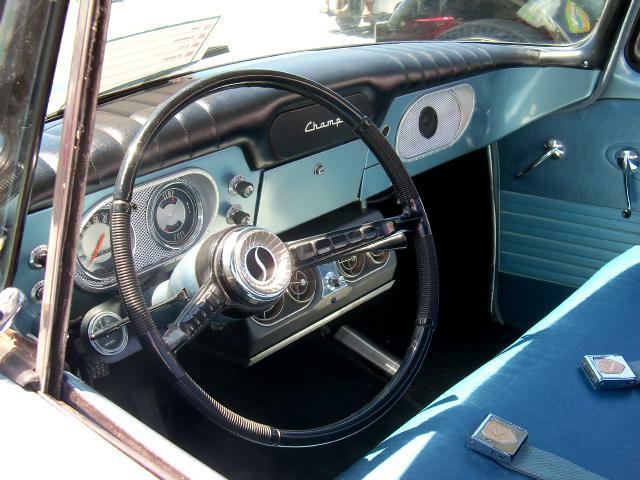 Nicely Detailed Engine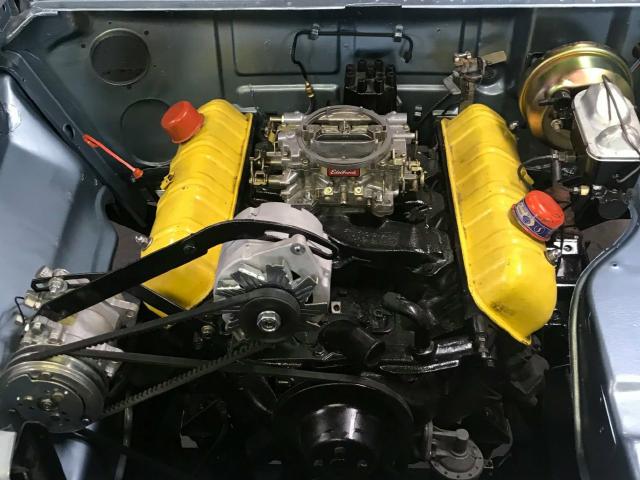 Eight Bolt Wheel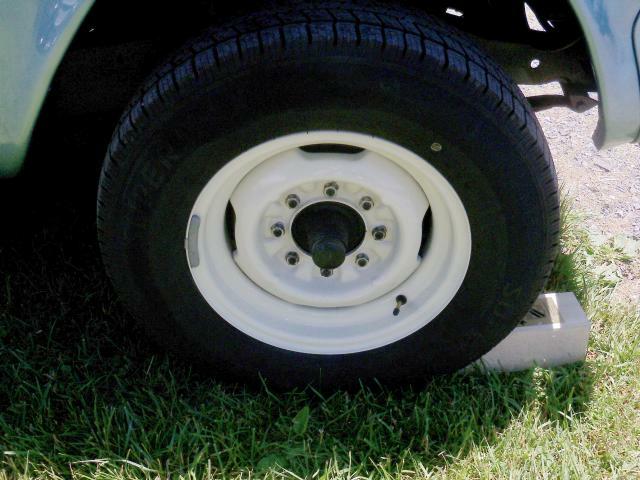 Work in Progress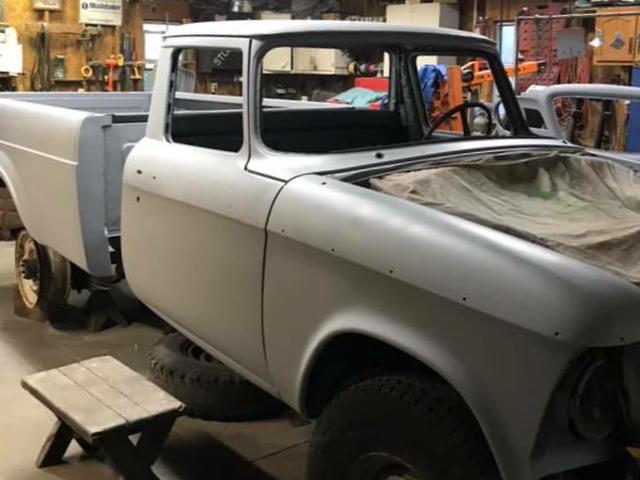 This beautifully restored 1964 Studebaker Champ 8E Pickup is owned by James Maxey III of South Bend, Indiana. It is a 3/4 ton model with an eight foot bed that was owned by his grandfather. James's dad Jim Maxey did most of the restoration work. It is powered by a modified Studebaker 289 V8 bored 3.75 to 320 cubic inches with large intake valves, R1 cam, and Edelbrock four-barrel carburetor. It has a Borg-warner T85 three-speed manual transmission with overdrive and a 4.10 Dana 60 rear end. The truck is equipped with eight bolt wheels a rear step bumper. It has a frame mounted Equil-i-zer hitch with sway controller and electronic brake controller. It also has air conditioning and the two-piece sliding back window. Here is a picture of the Champ pulling a large camper.
The body required extensive repair and restoration. The body was removed from the frame and the frame was cleaned and painted. Repairs were made to the floor boards, cab corners, and firewall. A mix of NOS and used parts were used in the project. The bed received an NOS floor and the cab received an NOS driver side door. Replacement 1961 front fenders had the unique to that model year trim holes filled and new trim holes drilled. The cab and bed were worked separately and then rejoined on the frame. The body was prepped, primed, and painted Laguna Blue. The tailgate lettering was nicely hand painted in white as a final touch. This picture gives some idea of how much work was needed to bring this truck to its current condition.
The Champ was introduced in 1960 in an effort to provide a more contempory appearing light-duty truck. The chassis and drivetrain selections were basically unchanged from the 1959 E-Series but the cab section was all new being derived from the compact Lark. The nose panel, front fenders, hood, and doors were the same as used on the Lark. The main cab section was was basically a Lark four-door body cut just behind the front doors. A heavier grille with horizontal openings was used in place of the Lark grille. The dashboard and instruments were the same as in the Lark which also gave a more modern appearence. A full-width cargo box produced using former Dodge tooling was available starting in 1961. Trucks rated at one-ton and above continued to use the older style cab.
Several of the pictures of James's Champ were taken in June 2021 at the American Truck Historical Society (ATHS) National Convention and Truck Show at the Rockingham County Fairgrounds near Harrisonburg, Virginia. Others are from Facebook posts by James Maxey III.
Thanks to James Maxey III for the additional pictures and information on his beautiful 1964 Champ.
If you own or once owned a Studebaker or related vehicle and would like to see your car as "Stude of the Month" or in the "Cool Studes" section, or if you have other pictures or material that you would like to contribute to this page, please e-mail me here at wj2d44@gmail.com. I can accept either electronic or hard copy images. The Main Page is issued every other month so the next edition will be June 2022.
---
All of the previous editions of the Main Page going back to October 1995 have been reposted. In the process of reposting the pages, I have made corrections and revisions as needed, and in some cases added material that was not used when a page was first posted due to download speed and file storage limitations. A complete list of Main Pages and Studes of the Month with links to each is located here.
If you have a particular interest in Bullet Nose Studebakers, visit Bill Junge's Bullet Nose Paradise which is dedicated to the 1950 and 1951 Bullet Nose models.
---
STUDEBAKER TRUCKS AT THE
2021 ATHS NATIONAL MEET
2014 INTERNATIONAL MEET
DOVER, DELAWARE
BONNEVILLE SPEED WEEK
STUDEBAKER SALT FLATS RACERS
STUDEBAKER NATIONAL MUSEUM
PICTURES FROM MY VISIT
VIRGINIA MUSEUM OF
TRANSPORTATION STUDEBAKERS
---
TEST YOUR STUDEBAKER KNOWLEDGE!
---
ANOTHER COOL STUDE
1964 Studebaker Daytona Convertible


Rear Angle


Side View


Interior and Dash


Custom Center Console

This sharp 1964 Daytona Convertible is owned by Keith Wahl of La Jolla, California. Keith purchased the car in October 2021 from Jay Svidal who had owned the car since 2003. Keith saw the car at a local car show and struck up a conversation with the owner. As its turned out, Keith had been looking for a Daytona Convertible, and Jay Svidal was looking to sell his car. After inspecting and driving the car, Keith decided it would be a good purchase. The car had only been driven about 2,000 miles since 2003. It is an early 1964 South Bend car with a final assembly date of August 24, 1963 and is one of only 702 Studebaker convertibles built for the 1964 model year. The very attractive color is Golden Sand.
The production order indicates that this is a high-optioned car. Optional equipment includes Flightomatic automatic transmission, power steering, disc brakes, and oil bath air cleaner. It also has the Climatizer heater and defroster, tinted glass on all windows, the rare factory push-button AM/FM radio, and padded sun visors. Exterior options include front and rear bumper guards and full wheel covers. Although they were relatively high trim cars, 1964 Daytonas came without bumper guards and small hub caps rather than full wheel covers were standard. The original white convertible top has been replaced with a black convertible top. The stainless steel rear fender stone shields are an accessory item.
Keith has put considerable effort the last few months into improving the car. The entire car has been rewired and oil leaks have been repaired. The barely used 20 year old tires were replaced and exhaust work adding rectangular outlets was done. Other upgrades include a custom console with supplemental gauges including a tachometer, fully carpeted truck, remote trunk release, blue tooth hands free stereo, and backup camera with disappearing screen. keith notes that about 25 percent of the 1964 Daytona converrtibles produced have been accounted for. Golden Sand is a relatively rare color, Bordeaux Red and Astra White being the most popular colors for 1964 convertibles.
A number of Keith Wahl's cars have appeared on this page. His 1963 Avanti was Stude of the Month in April 2021 and his Avanti powered 1955 Studebaker Conestoga Station Wagon was Stude of the Month in August 2106. His 1957 Golden Hawk appeared in the Cool studes section in August 2021 and his custom 1953 Champion Starlight Coupe appeared in the Cool Studes section in February 2013. Keith once owned two near identical 1955 Conestoga Station Wagons. Keith sent the story with pictures of how he came to own the two wagons which is posted here.
Thanks to Keith for the pictures and information about his 1964 Daytona.
---
DAN'S STUDEBAKER CROSSWORD PUZZLES
Dan Armstrong from Mansfield, Texas has created a number of crossword puzzles and games for car nuts. Dan has a strong interest in Studebakers, particularly the 1956 Sky Hawk, the performance equipped 1963 Lark Daytona, and the performance equipped 1963 and 1964 GT Hawks. The Studebaker crosswords are copyright by Dan Armstrong and are used with his permission. Thanks to Dan for providing the downloadable Studebaker crossword puzzles for readers of this page to enjoy.
---
STUDE MISCELLANY
1954 Starlight Coupe Update





Here is another example of long term ownership. Dave Lester's Custom 1954 Starlight Coupe first appeared on this page back in April 1999. Dave bought the car in July 1996, started the build in January 1997, and finished the build in January 1999. Under the hood is a Chevy 350 V8 shown here before installation. The transmission is a GM TH700R4 automatic with a Dodge 8 3/4" rear end. The front suspension is Mustang II with power disc brakes. The car rides on American Racing wheels with spinners and Studebaker emblems.
The interior features a Cadillac tilt and telescopic steering column, leather wrapped steering wheel, Buick Rivera seats, hand crafted center console, and a Chrysler Infinity stereo system. The seats are upholstered in vinyl with cloth inserts with matching door panels. Amenities include air conditioning from Vintage Air, power windows, power side mirrors, power door locks, cruise control, retracting antenna, remote entry, and an electric truck release. The paint is Chrysler Candy Apple Red.
Dave has kept his Starlight Coupe in immaculate condition. Thanks to Dave for providing the updated pictures and information on his cool 1954 Starlight Coupe.
Supercharged 1955 Conestoga Station Wagon



This Supercharged 1955 Studebaker Conestoga Station Wagon is owned by Steve Grant of Fredonia, New York. It is powered by what was originally an R1 engine that has been bored to 304 cubic inches and brought to R3 stage by installing the supercharger and other parts. The car was built to drag race as the trasmission has a high stall converter and the flanged rear axcle is gusset mounted. Steve indicates that it was a fun cruiser this past summer but he still has tinkering to do on his wagon.
Steve posted the pictures above to the Studebaker Station Wagon Owners and Fans group on Facebook. The group covers all years of Studebaker station wagons both stock and modified. This is a relatively new group started in November 2021 that I administer. It is a public group so you don't need to have a Facebook account to visit the group or to view its contents. The group has grown rapidly to the point where it has 1,050 members and hundreds of posts related to Studebaker station wagons.
Steve Grant operates Madd Doodler Collectibles which among other things produces a really neat Studebaker Calendar every year. I would usually pick one up at a swap meet but for 2022 I bought my copy on eBay. Steve is also the driving force behind the Studebakers at Dunkirk Swap Meet.
Thanks to Steve for the pictures and information on his cool Conestoga.
1963 Lark Daytona Wagonaire



This sharp 1963 Lark Daytona Wagonaire is owned by Jim Fowler of Carolina Shores, North Carolina. Jim bought this Wagonaire in May of 2018, sold it in 2020 when he sold his house and lost his garage, and bought it again in April 2021. Jim's Wagonaire has the 259 cubic inch V8 rated at 180 horsepower with a three-speed manual transmission and overdrive. It also has a folding tailgate step, roof rack, backup lights, and the optional oil bath air cleaner. I have the same air cleaner on my 1964 Daytona. No filters to buy but it does need to be drained, leaned, and refilled from time to time The very attractive color of Jim's Wagonaire is Green Mist Poly.
The Wagonaire was introduced for the 1963 model year in Regal and Daytona trim levels. Initially it was only offered with the unique sliding roof. A fixed roof option along with a lower trim Standard model were added mid-year. The fixed roof was available in all three trim levels and was priced $100 less than the sliding roof model. The Wagonaire was designed by famed Milwaukee designer Brooks Stevens who also responsible for the Jeep Wagoneer which likewise was introduced in 1963.
Jim is also a member of the Studebaker Station Wagon Owners and Fans group on Facebook. Thanks to Jim for providing the pictures and information on his Wagonaire.
---
STUDEBAKER MODEL RAILROAD DIORAMAS
---
STUDE TOY OF THE MONTH
U.S. Model Mint 1954 Conestoga Station Wagon







This 1:43 scale U.S. Model Mint 1954 Conestoga Station wagon is a recent addition to my personal collection. The color is given as Vienna Blue and the 'V8" emblem cast into the front fender vents would make it a Commander although it is not identified as such. It comes packed in a sturdy box with U.S. Model Mint identification and foam inner padding. The base is identifies the model as "1954 Studebaker Conestoga Station Wagon" and is also stamped "U.S. Model Mint MS-13" and "Made in England." The model is relatively heavy for its size weighing just under nine ounces. It has clear plastic windows all around and the interior includes front and rear seats and a dashboard with a steering wheel. The doors and tailgate do not open nor does the hood.
U.S. Model Mint is a line of 1:43 white metal models that initially was an independent brand based in Granger, Indiana. Brooklin Models bought the brand in 1995 and made it one of its series. Other U.S. Model Mint Studebaker models include a 1937 Coupe Express, a 1950 Semi-Tractor, a 1950 Wrecker, and a 1952 2R5 Pickup. They have also issued a 1947 Fruehuaf Trailer "Genuine Studebaker Parts" that can connect to the semi-tractor. The Riviera Blue 1954 Conestoga is an older issue made by Scale Model Technical Services (STMS) in England for the U.S. Model Mint before the line was acquired by Brooklin. The 1954 Conestoga model was also issued as an Ambulet.
More toy Studes can be found in the Stude Stuff area of this page and on my Studebaker Toys Home Page.
Click here for information on ordering hard to find Studebaker toys made by manufacturers such as Johnny Lightning, Racing Champions, Hot Wheels, Matchbox, Muscle Machines, Maisto, and EKO.
Studebaker Toy Treasures Book

Jim Geary's book Studebaker Toy Treasures is the standard reference for collectors of Studebaker Toys. This wonderful book has 294 pages of color pictures and details on hundreds of Studebaker toys. Publication date is 2004 and just about every Studebaker toy and model produced up to that time is pictured and cataloged. Jim is making the book available for $25 plus $14 for shipping. Jim will sign the book if requested. It also comes with a CD of more toys than what is in the book. This is a must for the serious Studebaker toy vehicle collector. Jim can be contacted at sanjim76@live.com or send payment to Jim Geary, 181 Allendale Hills Road, Franklin, NC 28734.
---
My Current 1964 Daytona Sedan on the
September 2018 Turning Wheels Back Cover.
---
---
* * * This Page On Line Since October 1995 * * *
---
Published 4/1/2022