---
BILL
JACKAMEIT'S
STUDEBAKER
PAGE
---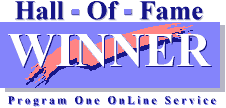 ---
NO FRAMES!! JUST GOOD STUFF!!

---
Welcome fans of the pride of South Bend. I am a long-time Studebaker fan and Studebaker Driver's Club member, having owned a 57 Silver Hawk in high school and a 59 Lark Regal Hardtop in college. Since then, I have owned other Studes as hobby cars including a 62 Champ Pickup, a 64 Canadian Commander Special, a 62 GT Hawk, a 60 Lark Regal 4-door, and my present 57 Silver Hawk (not the same one I owned in high school -- that one I wrecked). If you have any suggestions or comments, please send me a message. Both text and image contributions are welcome.
---
STUDE OF THE MONTH
JANUARY 2003
1953 Studebaker PanAmerican Race Car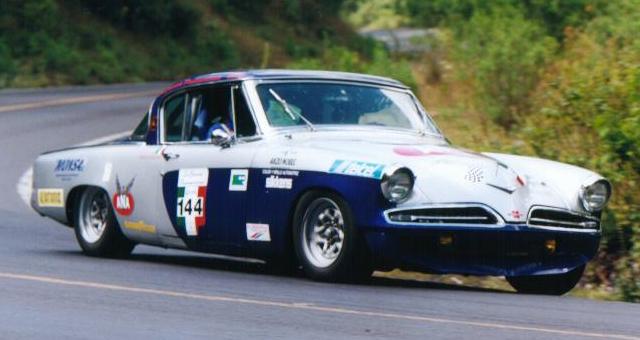 Front View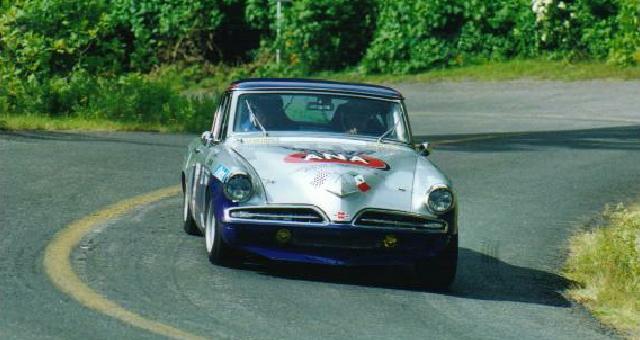 Rear View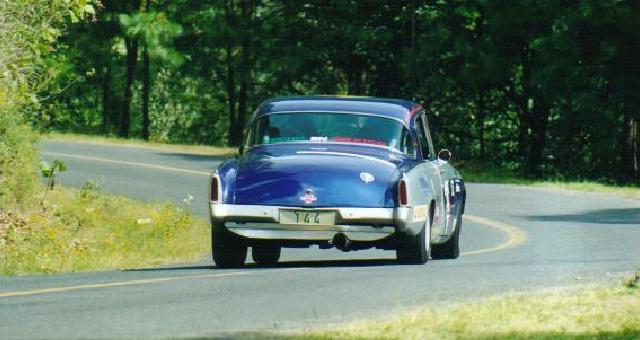 This beautiful 1953 Studebaker Starliner PanAmerican Race Car belongs to Luis Alberto Avelar of Mexico. Luis competes in the PanAmerican Race 3,100 km Oaxaca-Nuevo Laredo. He recently finished 18th of 82 competitors in his category (Turismo Mayor). There are a number of "lowboy" Starliner hardtops and Starlight coupes actively competing in Mexican road racing.
---
A GREAT TRANSFORMATION
1948 Champion Convertible "Before"


And "After"

This great looking 1948 Champion Convertible belongs to Gary Pettigrew. Gary indicates that is was it was badly rusted-out, so he parted-out a 1950 2-door sedan for the floor, front clip, and rear fenders. The front fenders were "pie-cut" in order to drop the nose 1 1/2". Power comes from a 1994 LT-1 (Corvette) engine with a 4L60E performance transmission and 9" rear.
Chassis of Gary's Convertible

---
MORE COOL STUDES
1963 Studebaker Lark


This fine looking 1963 Lark 2-Door Sedan belongs to Harold Poyner. The car had been sitting at his dad's home in Phoenix for 15 years. It needed minor body work and a complete interior, but the engine, transmission and rear end were in good shape. This Lark has a 6 cylinder engine and 3-speed manual transmission with overdrive. Harold drove the car to San Diego and spent a year and a half restoring it. Included were stripping the old paint, priming it three times with sanding between each prime coat, paint, clearcoat, color sanding, and polishing. The bumpers were straightened and rechromed by Equality Plating in La Mesa and the interior was redone at a shop in San Diego. The result is an outstanding Lark!
Studebaker C Cab "Dually" Pickup




Bill Junge sent along these pictures of a C Cab pickup with a late model Chevrolet "dually" bed. What a great looking truck! The pictures were taken at the 2002 "Run to the Sun" meet. Bill has his own web site called Bullet Nose Paradise which is dedicated to 1950 and 1951 Bulletnose Studebakers. Thanks again to Bill for helping to keep this page in new material.
Custom "Lowboy" Starlight Coupe


This photo was taken by Ed Ebach and sent in by Bill Junge. What a great looking car!
If you own or once owned a Studebaker or related vehicle and would like to see your car as "Stude of the Month" or in the "Cool Studes" section, or if you have other pictures or material that you would like to see in this page, please e-mail me here. I can accept either electronic or hard copy images.
---
Did you know that Michael Kelly's New Avanti Motor Corporation signed a deal to produce the VW based Brazilian Puma Sports Car? I didn't think so! The deal fell through when Kelly ran out of money. To learn more about the Puma, visit my Puma Sports Cars Site.
---
OTHER NEW STUDE STUFF
Seen in Roanoke

Twig Gravely sent in this picture of a 1957 Studebaker 2-door sedan which is sitting in a used car lot in Roanoke, Virginia. Twig didn't know what it was, but suspected that it was a Studebaker and sent in the picture for confirmation. Lawrence Young took the picture, and has sent along several more shots of the car, which I will post the next time I update this page. Anyone need a project?
1964 R1 Cruiser Burning Rubber

Richard (he didn't give his last name) sent in this "action photo" of his sharp modified 1964 R1 Studebaker Cruiser. This is also a Virginia car. Put the pedal to the Metal!
---
STUDE TOY OF THE MONTH
AMT 1953 Studebaker Starliner

This month I am featuring an AMT model kit that was built by Donald Sabo. Donald has done an oustanding job with this model. AMT also issued an Avanti model kit. Both the Starliner and the Avanti have been reissued a number of times. To see more toy Studes, visit my Studebaker Toys Home Page.

Click here for information on ordering a toy Frankenstude Hot Rod, 1960's Champ Truck, 1951 Starlight Coupe Hot Rod, or Modified 1953-54 "At-A-Tude" Starliner.
---
---
---
---
* * This Page On Line Since October 1995 * *
---
Published 1/1/2003