'


---
BILL
JACKAMEIT'S
STUDEBAKER
PAGE
---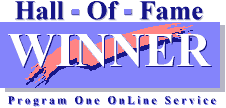 ---
NO FRAMES!! JUST GOOD STUFF!!

---
Welcome fans of the pride of South Bend. I am a long-time Studebaker fan and Studebaker Driver's Club member, having owned a 1957 Silver Hawk in high school and a 1959 Lark Regal Hardtop in college. Since then, I have owned other Studes as hobby cars including a 1962 Champ Pickup, a 1964 Canadian Commander Special, a 1962 GT Hawk, a 1960 Lark Regal 4-door, and a 1957 Silver Hawk (not the same one I owned in high school -- that one I wrecked). My current Stude is a 1949 Champion Starlight Coupe. I will build this page as time allows. If you have any suggestions or comments, please send me a message. Both text and image contributions are welcome.
---
STUDE OF THE MONTH
JUNE 2005
Custom 1947 Studebaker M Series Pickup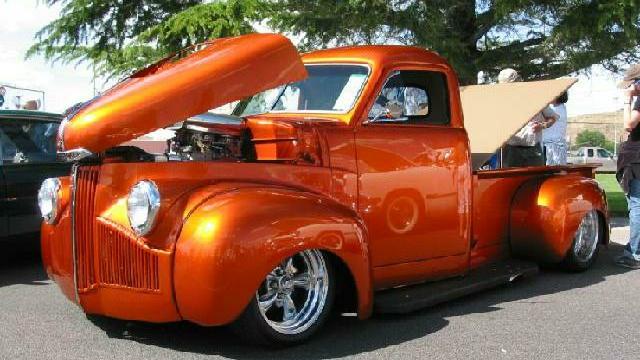 Front Angle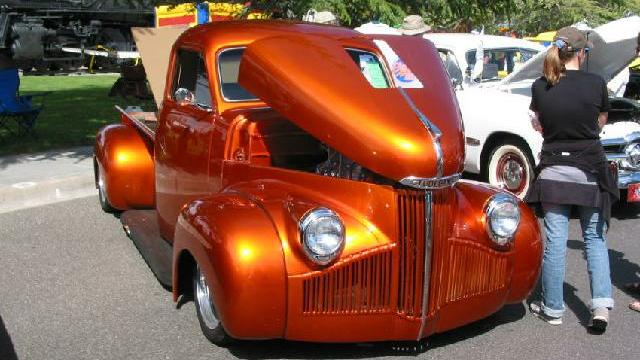 Side Angle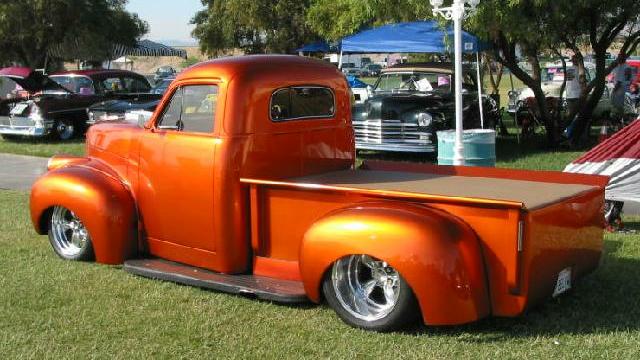 Cool Interior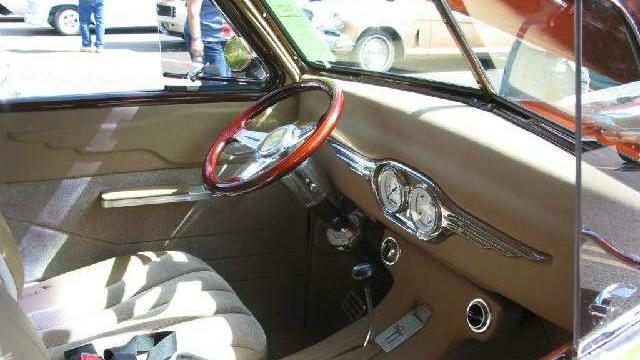 Under the Hood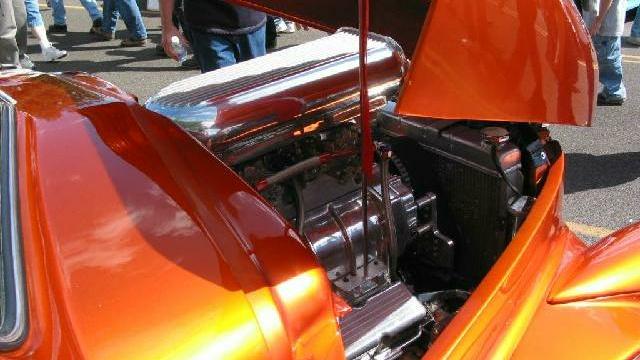 The Studebaker M Series first appeared in 1940 as a 1941 model. Relatively few were built before civilian truck production was suspended in 1942. Civilian truck production was resumed in May 1945, and the M Series was produced until early 1948, at which time it was replaced by the familiar 2R (C Cab) Series. An unusual aspect of the M Series is that the front and rear fenders on each side were designed to be interchangable. Standard duty models used the Champion six, and the larger Commander six was installed in heavy duty models. Peak production year for the M Series was 1947 with 67,811 being built.
This outstanding custom 1947 M Series Pickup belongs to Archie Green of Ontario, California. Archie indicates that when he bought the truck out of a farmer's field in Arizona it was in "pretty rough" condition. It has come a long way since then. The engine is a Chevy 383 V8 with a Mooneyham 671 blower and dual quads making about 500 horsepower. Archie's truck rides on Air Ride Technologies "ShockWave" bags and employs a Mustang 2 front end and a nine inch Ford rear running a 3.55 gear ratio. Modern upgrades include air conditioning, automatic transmission, power windows, power steering, and a DVD player installed in the front of the bed because Archie wanted to keep it out of the cab. Archie designed and fabricated the dash and console. The interior, which incorporates lap and shoulder belts and a modified Chevy S-10 seat, was beautifully done by Raul's Auto Trim. The frame is powder coated black and silver hammertone and the rear fenders are widened four and one-half inches to acommodate eleven and one-half inch wide wheels. The rear cover lifts up electronically for access to the DVD player. This is one cool truck! Bill Junge sent in the pictures which were taken at recent events in Arizona and Nevada.
Another 1947 M Series Truck



This neat 1947 Studebaker M Series Pickup with tilting bed belongs to Tee Taylor of Lake Havasu, Arizona. Bill Junge also sent these pictures. Bill has his own web site called "Bullet Nose Paradise" which is dedicated to 1950 and 1951 Bullet nose Studebakers. Thanks to Bill for his continuing contributions to this page.
If you own or once owned a Studebaker or related vehicle and would like to see your car as "Stude of the Month" or in the "Cool Studes" section, or if you have other pictures or material that you would like to see in this page, please e-mail me here. I can accept either electronic or hard copy images.
---
Many of the previous Monthly Main Pages have been reposted and are available for viewing. There is a link at the bottom of each Main Page that will take the reader to the previous Main Page. In the process of reposting these pages, I have made corrections and revisions as needed, and in some cases added material that was not used at the time the page was originally posted due to download speed and file storage limitations. If your car was featured on one of the older pages and you have better or newer pictures, I would be pleased to post them in the appropriate place. Older Main Pages that have not been reposted will be added as time allows. A list of reposted Main Pages with direct links to each is located here.
---
MORE STUDEBAKER CHAMP PICKUPS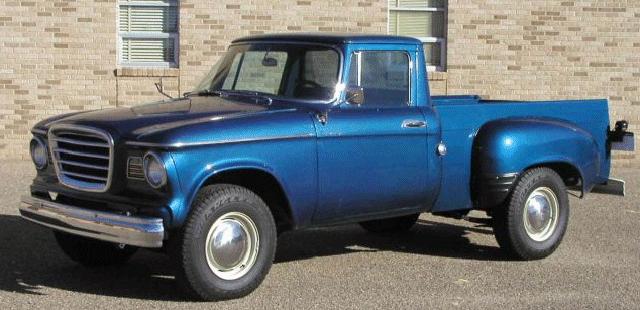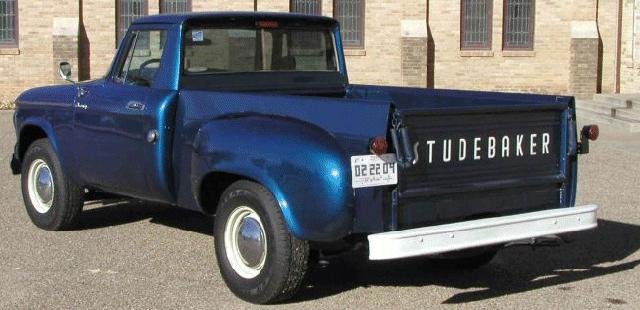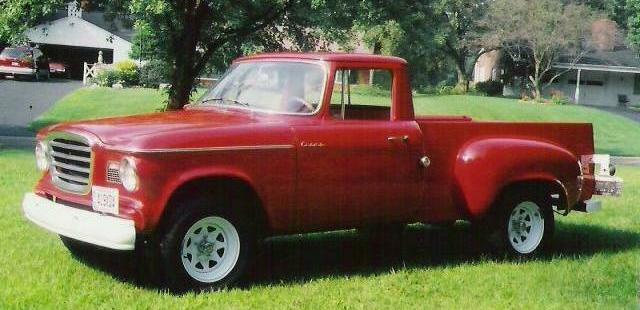 The Champ, also known as the T Cab, used the front sheet metal, windshield, and doors from the Studebaker Lark but was built on a truck chassis. When introduced in 1960, the Champ used the same cargo box as C Cab Pickup Trucks from 1949 to 1959. After the recent feature on 1962 Champ Pickups, I received these photos of two sharp 1960 Champ Pickups. The blue Champ belongs to Timothy Taylor of Alpharetta, Georgia and the red Champ belongs to Mike Flood of Canton, Ohio. Mike also owns a 1961 Hawk. These are both short bed trucks with the conventional narrow cargo box. The wide cargo box, which incorporates the rear wheels, was not introduced until the 1961 model year. The narrow cargo box continued to be available, but not many were sold after the wide box was introduced. Years later, the conventional narrow box with its separate rear fenders has gained in appeal. Today there is no difference in collector value between narrow box and wide box Champs, and those who favor one or the other seem to be about evenly divided. Champ production was much lower than either the M Series or the familiar C Cab Series, and good ones are relatively hard to find. Boy would I love to have my old Champ back!
---
MORE COOL STUDES
1956 Studebaker Flight Hawk

This beautiful 1956 Studebaker Flight Hawk belongs to Steve Salisbury of Dothan, Alabama. Steve also owns a 1962 Studebaker Champ Pickup. Flight Hawks used Studebaker's 185 cubic inch, 101 hp Champion six cylinder engine and were only made in 1956. The similiar 1956 Power Hawk used the 259 V-8 engine from the Commander. Both the Flight Hawk and the Power Hawk were replaced by the Silver Hawk in 1957. Only 4,389 Flight Hawk Coupes (with center pillar and flip-out rear windows) were produced for the 1956 model year. An additional 560 Flight Hawk Hardtops (with no center pillar and roll-down rear windows) were built for export.
1950 Champion Starlight Coupe

This 1950 Studebaker Champion Starlight Coupe belongs to George Hewett of Fresno, California. George indicates that he got the car through a trade with his car storage man. George is looking for a 1954 Champion Starlight Coupe, preferably with standard transmission and in at least driver condition. If anyone knows of such a car for sale, George can be contacted here.
Studebaker Lark Police Car from Uruguay



Jason Vogel of Rio de Janeiro, Brazil took these pictures of a Studebaker Lark police car while on vacation in Uruguay. The car is painted in the markings of the Policia Caminera (Highway Patrol). It appears to be a 1959 model with 1961 stytle tail lamps. The "V8" emblem on the rear is different from U.S. model 1959 Larks which used a "VIII" script. Jason indicates that vehicles in Uruguay have to work a lot before retirement, and that Uruguay is an interesting country for vintage car fans. Could this be the last remaining active Studebaker police car in the world? Thanks to Jason for his continuing contributions to this page.
---
Did you know that Michael Kelly's New Avanti Motor Corporation signed a deal to produce the VW based Brazilian Puma Sports Car? I didn't think so! The deal fell through when Kelly ran out of money. To learn more about the Puma, visit my Puma Sports Cars Site.
---
STUDEBAKER PROJECT CARS
1951 Champion Starlight Coupe



1962 Lark Daytona Hardtop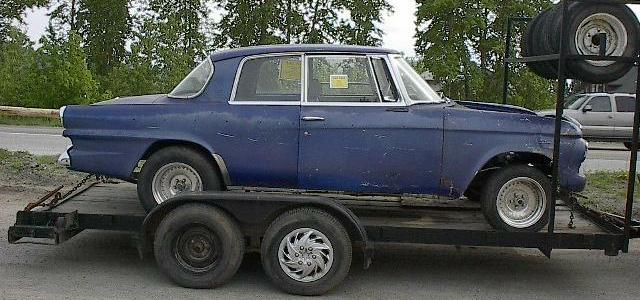 Tim Herzog of Post Falls, Idaho recently acquired two Studebaker projects. The first is a 1951 Champion Starlight Coupe that sat for 25 years on a local farm before being rescued. The VIN number indicates that this car was produced at Studebaker's Los Angeles plant. Tim's plans are to build a street rod out of it, but to keep the body stock with no chopping or other radical changes. The second is a 1962 Lark Daytona Hardtop that is set-up with a 383 MOPAR engine, transmission, and rear end. Plans for the Lark are to fix it up for drag racing and occasional street use.
1947 Champion Business Coupe

Tony Spinelli of San Carlos, California is building this car as a Pro-Street Business Coupe. In Tony's words, it has "a long way to go." Business coupes are a relatively rare body style. 1947 was far and away the best production year for the Champion Business Coupe, with 8,600 being produced. Lacking a rear seat, they could carry three passengers up front and featured an extra large trunk. Tony says he will provide updates on his project as it moves along.
---
STUDE TOY OF THE MONTH
Dinky Toys Studebaker Golden Hawk



The feature toy this month is the Dinky Toys DY169 1957 Studebaker Golden Hawk. This model was first issued in 1958 and was made in light brown with with red trim and in green with tan trim. The green version appears to be a bit less common. This example is from my personal collection. More toy Studes can be found in the Stude Stuff area of this page and on my Studebaker Toys Home Page.

Click here for information on ordering hard to find Studebaker toys made by manufacturers such as Johnny Lightning, Racing Champions, Hot Wheels, Muscle Machines, and EKO.
---
---
---
---
* * This Page On Line Since October 1995 * *
---
Published 6/1/2005