---
BILL
JACKAMEIT'S
STUDEBAKER
PAGE
---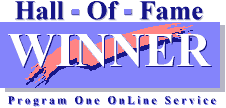 ---
THESE PAGES BEST VIEWED AT 800 BY 600 SCREEN RESOLUTION

---
Welcome fans of the pride of South Bend. I am a long-time Studebaker fan and Studebaker Driver's Club member, having owned a 1957 Silver Hawk in high school and a 1959 Lark Regal Hardtop in college. Since then, I have owned other Studes as hobby cars including a 1962 Champ Pickup, a 1964 Canadian Commander Special, a 1962 GT Hawk, a 1960 Lark Regal 4-door, and a 1957 Silver Hawk (not the same one I owned in high school -- that one I wrecked). My current Stude is a 1949 Champion Starlight Coupe. I will build this page as time allows. If you have any suggestions or comments, please send me a message. Both text and image contributions are welcome.
---
STUDE OF THE MONTH
JUNE 2006
1961 Studebaker Hawk Coupe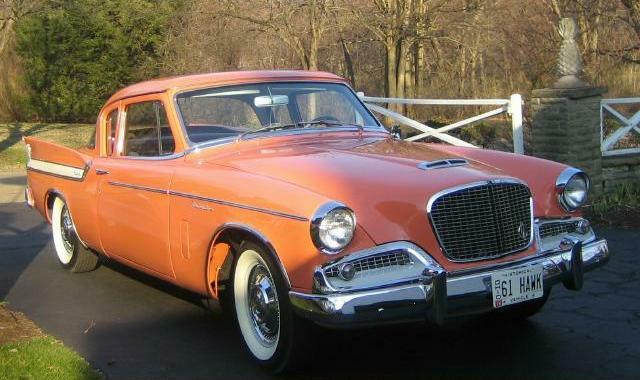 Rear View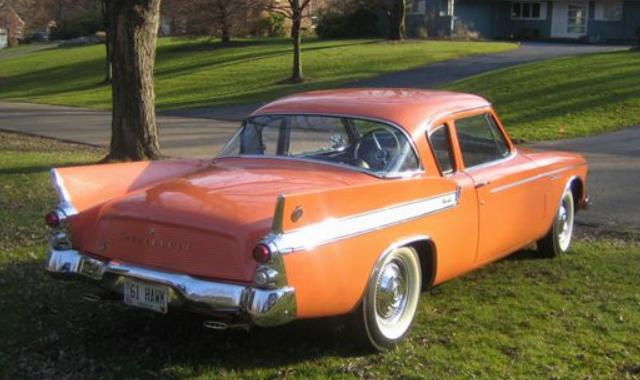 Lids Up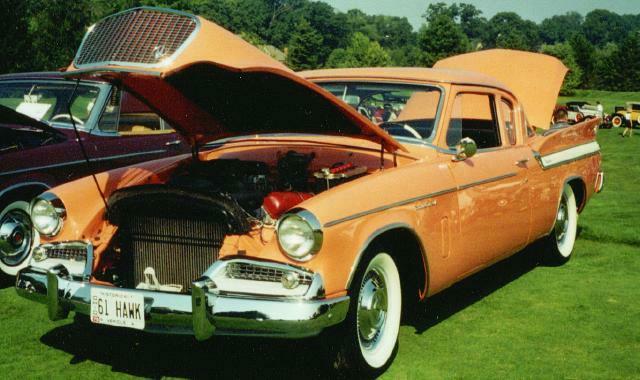 Interior and Dash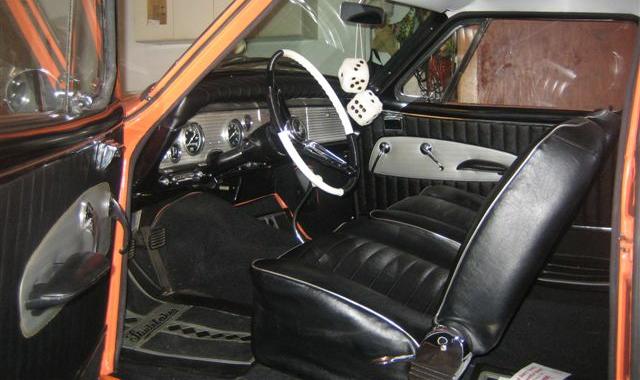 Under the Hood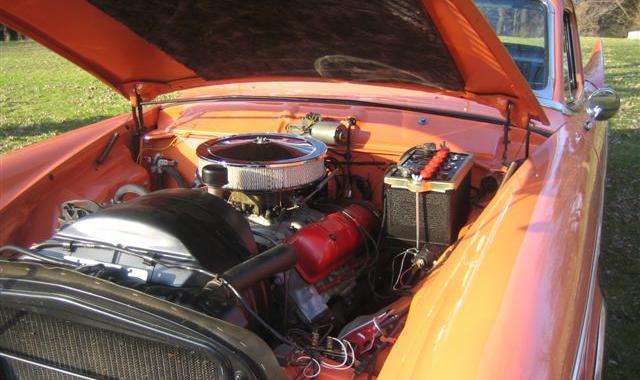 This sharp 1961 Studebaker Hawk Coupe belongs to Mike Flood of Canton, Ohio. The previous owner completed a meticulous restoration to the exact factory order specifications. Mike detailed the car and repaired the speedometer and the brake lights. This particular Hawk is equipped with the highly desirable factory four speed transmission option. The emblem on the lower left trunk lid indicates that this car also has the "Twin Traction" limited slip differential. The original factory color paint is "Flamingo" with a white accent stripe. Mike's Hawk is a consistant trophy winner and was featured on the back cover of the May 2002 edition of Turning Wheels. It has only been driven 900 miles since being restored. Mike's grandfather was a Studebaker dealer and his family always had Studebakers when he was growing up. Mike was not alone in lusting after a 1957 Golden Hawk while in high school. Mike's past Studebakers include a 1951 convertible and a 1955 coupe. He currently owns a sharp 1960 Champ Pickup in addition to the Hawk.
If you own or once owned a Studebaker or related vehicle and would like to see your car as "Stude of the Month" or in the "Cool Studes" section, or if you have other pictures or material that you would like to contribute to this page, please e-mail me here. I can accept either electronic or hard copy images.
---
All of the previous Monthly Main Pages have been reposted. In the process of reposting the pages, I have made corrections and revisions as needed, and in some cases added material that was not used when a page was first posted due to download speed and file storage limitations. A list of reposted Main Pages with links to each is located here.
---
MORE COOL STUDES
1955 Studebaker Champion Coupe



Ken McKenzie sent in these pictures of a 1955 Studebaker Champion Coupe that he took recently while working in Michigan. The car was parked at the side of the road and was for sale at an asking price of $9,500. This relatively clean looking coupe lacks the elaborate side trim used on Presidents and Regal model Champions and Commanders in 1955. As such, it is almost as slick as the 1953 and 1954 Starlight Coupe except for the massive chrome grille. Moreover, the 1955 model benefits by having the enlarged 185 cubic inch Champion six rated at 101 horsepower in place of the 170 cubic inch 85 horsepower version used in 1953 and 1954. If anyone is interested in this car, you can e-mail me at the link at the top of the page and I will provide the contact number that was posted on the "for sale" sign.
Here is a front view of this nice Stude.
1963 Lark Daytona Hardtop



These 1963 Studebaker Lark Daytona pictures were were taken at the October 2005 Greater Virginia Chapter Meet. I don't know who owns this sharp car. If someone can identify the owner I will add that information. The dual exhausts indicate that this is a V8 model. Only 3,763 Lark Hardtops were produced for the 1963 model year. I took about 60 digital pictures that day, so more will appear as space allows in future editions of this page.
Studebaker C Cab Pickup Street Rod

Bill Junge of Lake Havasu forwarded this picture of a Studebaker C Cab Street Rod that was taken by Dave Lindsay at the March 2006 Goodguys Rod & Custom Association Del Mar Nationals. The C Cab Pickup continues to be a popular vehicle among the street rod crowd. Many Studebakers that would otherwise have been lost have been saved by street rodders. An increasing number of Studebaker customs and street rods have appeared on this page over the years.
Here is a side view of this cool truck.
Bill has his own web site called Bullet Nose Paradise which is dedicated to 1950 and 1951 Bullet Nose Studebakers. Thanks again to Bill for helping to keep my page in new material.
---
THE STUDE QUIZ HAS BEEN UPDATED!
If you have never taken it, take it now!
---
THE LATEST FROM URUGUAY
Studebaker Champ Pickup



Oliver Henderson of Salto, Uruguay sent in these pictures of his Studebaker Champ Pickup. The truck has been restored with original parts. A surprising number of Studebakers and other historic vehicles are still in regular service in Uruguay. Witness the still active Lark Police Car that was featured on this page in June 2005. The need to keep these cars on the road has been driven by necessity. Cars were prohibitively expensive during the economic crisis and military dictatorship of the 1970's. As in Cuba, local mechanics became amazingly adept at keeping these old cars running. Foreign collectors soon discovered this treasure trove of old cars and a number were snapped up and exported to Europe, Brazil, and the United States. More recently, the Uruguayan government has declared these vehicles to be part of the "national patrimony" and has restricted their export. It will be interesting to see what happens to all of the old, mostly American made cars currently operating in Cuba if and when the polictical situation changes.
Here is a picture of Oliver's Champ before it was painted.
Oliver is looking for a set of four hubcaps to complete his restoration. If you can help, please e-mail me at the link at the top of the page and I will forward the information.
---
STUDES IN THE ROUGH
1942 Studebaker Commander Coupe



George Grimes of Kennewick, Washington sent in these pictures of a 1942 Commander Coupe that he is building into a street rod. This is a relatively rare car in that only 17,500 Commanders of all body types were produced for the 1942 model year. The pictures were taken the day that the car was pulled out of the weeds, where it had sat since the 1950's. George plans on installing a Chevy 305 V8 and GM 700 R-4 transmission with a Mustang II front end and a Chevy Nova rear end. This is another one of those cases where it would be impractical to restore the car to original condition but it will make a really cool street rod. I look forward to seeing the final result.
Bill has his own web site called Bullet Nose Paradise which is dedicated to 1950 and 1951 Bullet Nose Studebakers. Thanks again to Bill for helping to keep this page in new material.
1957 Studebaker C Cab Pickup



This "under construction" 1957 Studebaker Pickup belongs to 18 year old Sam Shull of Gooding, Idaho. The pictures were taken in March 2006 just before he left for WyoTech. Sam indicates that his truck is "not anywhere near being finished, but it will be in the near future." He further states that people either like his truck or they don't, and that he always gets mixed opinions on it. Those look to be 1958 Plymouth tail light assemblies. I am also looking forward to seeing how this one turns out.
Here is a front view of Sam's work in progress.
---
Did you know that Michael Kelly's New Avanti Motor Corporation signed a deal to produce the VW based Brazilian Puma Sports Car? I didn't think so! The deal fell through when Kelly ran out of money. To learn more about the Puma, visit my Puma Sports Cars Site.
---
STUDEBAKER MISCELLANY
1951 Studebaker Wrecker

Frank Drumheller sent in a several Studebaker truck pictures. The first is a 1951 2R16A Wrecker owned by Dale Early of New Hope, Virginia. Dale's truck is a a one and one-half ton model powered by the 102 horsepower 245 cubic inch flathead six that was also used in the Commander passenger car line through 1950. This durable six cylinder engine was not used in passenger cars after 1950, but continued to be available in Studebaker trucks through 1960.
Two Pre-War Studebaker Trucks

Both of these fine trucks belong to Chester Bradfield of Bridgewater, Virginia. The black truck is a 1938 K25 and the red truck is a 1940 K10. The K10 one ton model used the 226 cubic inch Studebaker six, while the K25 two and one-half ton model used a 320 cubic inch Hercules JXD six cylinder engine. The K Series was produced from 1938 to 1940 in both conventional and cab forward configurations. Load capacities ran from the K5 half ton Coupe Express to the three ton K30 which could be configured as a semi-tractor.
Here is a solo picture of Chester's K25 that appeared on this page in October 2003.
Thanks to Frank for sending in the pictures of these great trucks.
---
STUDE TOY OF THE MONTH
Corgi Toys 1957 Studebaker Golden Hawk



This is the 211S chrome version of the Corgi Toys 1957 Studebaker Golden Hawk. Features of this model included spring suspension and steerable front wheels. The chrome version is hard to find in decent shape in that the finsih tends to oxidize. The Corgi Number 211 Golden Hawk was also issued in blue and in gold. There is also a relatively rare white version designated 211M which had a friction motor. More toy Studes can be found in the Stude Stuff area of this page and on my Studebaker Toys Home Page.

Click here for information on ordering hard to find Studebaker toys made by manufacturers such as Johnny Lightning, Racing Champions, Hot Wheels, Muscle Machines, and EKO.
---
---
---
---
* * This Page On Line Since October 1995 * *
---
Published 6/1/2006