---
BILL
JACKAMEIT'S
STUDEBAKER
PAGE
---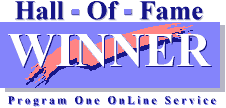 ---
THESE PAGES BEST VIEWED AT 800 BY 600 SCREEN RESOLUTION

---
Welcome fans of the pride of South Bend. I am a long-time Studebaker fan and Studebaker Driver's Club member, having owned a 1957 Silver Hawk in high school and a 1959 Lark Regal Hardtop in college. Since then, I have owned other Studes as hobby cars including a 1962 Champ Pickup, a 1964 Canadian Commander Special, a 1962 GT Hawk, a 1960 Lark Regal 4-door, and a 1957 Silver Hawk (not the same one I owned in high school -- that one I wrecked). My current Stude is a 1949 Champion Starlight Coupe. I will build this page as time allows. If you have any suggestions or comments, please send me a message. Both text and image contributions are welcome.
---
STUDE OF THE MONTH
APRIL 2006
1953 Commander Starliner Hardtop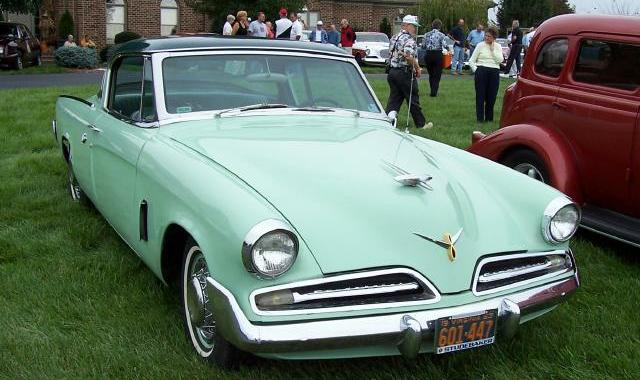 Side View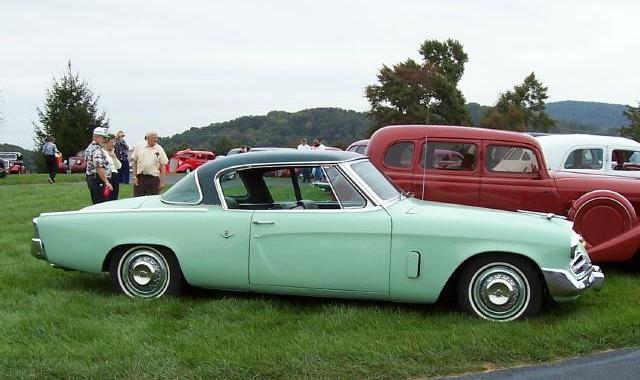 Rear Angle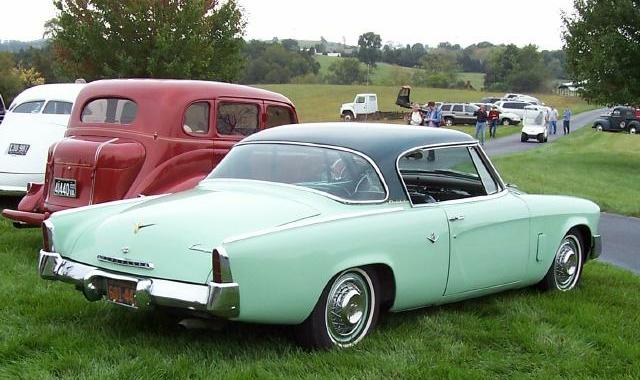 Interior and Dash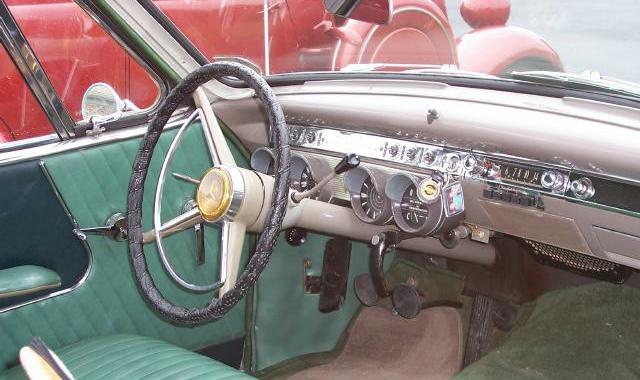 This beautiful 1953 Studebaker Commander Starliner Hardtop belongs to John Monroe of Edinburg, Virginia. John's Commander is equipped with the Studebaker 232 cubic inch overhead valve V8 rated at 120 horsepower and three speed manual transmission with optional overdrive. Other options include all vinyl pleated upolstery, push button radio, rollup antenna, bumper end guards, hood ornament, and wire wheel covers. This particular car was assembled in the U.S. and was sold new in Canada. John purchased the car from its Canadian owner and drove it back to the U.S. The fact that it was a U.S. assembled car made it easier to bring it in from Canada. Commander Starliner production for 1953 totalled 19,326. Relatively few of these have survived as original cars, so John's Starliner was a real find, and is a great addition to the local Studebaker scene.
These pictures of John's car were taken at the October 2005 Greater Virginia Chapter Fall Meet hosted by Chester and Nancy Bradfield at their home in Bridgewater, Virginia. A big "thank you" to Chester and Nancy for once again opening their home to area Studebaker fans.
If you own or once owned a Studebaker or related vehicle and would like to see your car as "Stude of the Month" or in the "Cool Studes" section, or if you have other pictures or material that you would like to contribute to this page, please e-mail me here. I can accept either electronic or hard copy images.
---
All of the previous Monthly Main Pages have been reposted. In the process of reposting the pages, I have made corrections and revisions as needed, and in some cases added material that was not used when a page was first posted due to download speed and file storage limitations. A list of reposted Main Pages with links to each is located here.
---
MORE COOL STUDES
1935 Studebaker Commander Coupe



This outstanding 1935 Commander Coupe belongs to Chester Bradfield of Bridgewater, Virginia. Chester has owned this car since 1978. The mechanical restoration was done by John Miller of Harrisonburg, Virginia and the body and paint were done by Gerry Early of Mount Sidney, Virginia. Power comes from a 250 cubic inch straight eight rated at 107 horsepower. Planar independent front suspension and hydraulic brakes were new on Commanders for 1935.
1932 Studebaker Dictator Roadster



Chester also owns this lovely 1932 Studebaker Dictator Eight Roadster. This car underwent a 6 year frame-up restoration by Ron Wenger of Chambersburg, Pennsylvania. Power comes from a 221 cubic inch straight eight rated at 85 horsepower. New Dictator features for 1932 included a synchromesh transmission and safety glass. The 1932 Dictator Roadster is one of the most desirable pre-War Studebakers.
These pictures of Chester's 1935 Commander and 1932 Dictator were taken at the October 2005 Greater Virginia Chapter Meet. I took about 60 digital pictures that day, so more will appear as space allows in future editions of this page.
1948 Studebaker Pickup Street Rod



Bill Junge of Lake Havasu, Arizona took these pictures of a 1948 Studebaker 2R Street Rod at a recent Saturday night cuise-in. The owner of this cool truck was not around so we don't know who owns it. Based on a window sign, it is powered by a Chevrolet 454 "Big Block" V8 engine connected to a GM Turbo Hydramatic 400 automatic transmission and a 9" Ford rear end. The body is all steel on a boxed frame with a Chevrolet Camaro front clip. Other features include a Griffin alumimum radiator, power steering, power brakes, VDO custom gauges, tilt steering wheel, louvered tailgate, and custom bed cover.
---
THE STUDE QUIZ HAS BEEN UPDATED!
If you have never taken it, take it now!
---
THE LATEST FROM CUBA
1956 Sky Hawk Hardtop



These pictures of a 1956 Studebaker Sky Hawk Hardtop were taken by Betsy Sullivan on a recent trip to Cuba. Our local Studebaker body expert Gerry Early believes the hood overhang results from someone having used sedan front fenders to repair the car. Otherwise, this rare Hawk looks to be in remarkably good condition and like many older American cars in Cuba is in everyday service. Thanks to Betsy for providing the pictures and to Preston Young for sending them in.
---
STUDE IN THE ROUGH
1955 Studebaker Conestoga Station Wagon



Bill Junge also sent in these pictures of a rusty 1955 Studebaker Conestoga Station Wagon that was for sale at the cruise-in mentioned above. I didn't think cars got that rusty in Arizona! Combined Champion and Commander Conestoga production for 1955 was only 11,685 units, so this is a fairly rare vehicle. Bill reports that the sign in the back window says "Runs Good." This is probably one of those cases where it would be impractical to restore the car to original condition but it could be made into a really neat street rod.
Bill has his own web site called Bullet Nose Paradise which is dedicated to 1950 and 1951 Bullet Nose Studebakers. Thanks again to Bill for helping to keep this page in new material.
---
Did you know that Michael Kelly's New Avanti Motor Corporation signed a deal to produce the VW based Brazilian Puma Sports Car? I didn't think so! The deal fell through when Kelly ran out of money. To learn more about the Puma, visit my Puma Sports Cars Site.
---
STUDEBAKER FIRE TRUCKS
1946 M16 Earlville, Iowa

Frank Drumheller sent in several pictures of Gary Hearn's 1946 M Series Fire Truck. This truck was built on a standard 1 1/2 ton chassis with a body of local manufacture. The odometer reads just over 2,600 original miles, so it has not been used much. Here is a picture of the right side of Gary's truck. A front angle view of this truck appeared on this page in February 2006.
Frank owns a 1948 M Series Fire Truck. This neat looking truck has a Boyer body and served with the Bloomington, Wisconsin Fire Department. Frank's truck was built on a heavy duty chassis and features a two speed rear axle and fishplated chassis rails.
1953 2R17 Litchfield, Connecticut

Frank also sent in this picture of 1953 Model 2R17 Fire Truck. This one was built on a 2 ton chassis. It was auctioned last year from the collection of the late Asa E. Hall. Frank indicates that as far as he knows this truck went to a museum in Florida. Thanks to Frank for sending in the pictures and information on these rare fire fighting Studebakers.
---
STUDEBAKER MISCELLANY
Skirted Lowboy Hardtop

Bill Junge sent in this picture of a Studebaker Starliner with rear fender skirts. It was spotted in an alley behind the location of a local car show. The front grills have been replaced with mesh so it is not clear whether this is a 1953 or 1954 model. Foxcraft made aftermarket fender skirts for 1953 to 1955 Studebaker coupes and hardtops, so these may be Foxcraft skirts. Studebaker did not offer factory skirts after 1952. Thanks to Bill for sending in this picture.
Handsome Threesome

The 1950 Land Cruiser on the left belongs to Melvin Wampler of Bridgewater, Virginia. Melvin's car was featured as Stude of the Month in February 1998. The 1951 Commander Convertible on the right belongs to Chester Bradfield also of Bridgewater, Virginia. Chester's car was featured as Stude of the Month in September 1997. The 1949 Champion Starlight Coupe in the center is my car, and was featured as Stude of the Month in January 2005. Here is a rear view of this handsome threesome.
---
STUDE TOY OF THE MONTH
Maisto 1953 Studebaker Starliner Hardtop



Given the Stude of the month, the Maisto 1:18 Scale 1953 Studebaker Commander Starliner Hardtop seemed like an appropriate choice for Stude Toy of the Month. This green with white top example is from my personal collection. This excellent quality model has also been issued in red with a white top and information is that a blue and white version is forthcoming. Both the green and red versions are available in stores and from several vendors on eBay. More toy Studes can be found in the Stude Stuff area of this page and on my Studebaker Toys Home Page.

Click here for information on ordering hard to find Studebaker toys made by manufacturers such as Johnny Lightning, Racing Champions, Hot Wheels, Muscle Machines, and EKO.
---
---
---
---
* * This Page On Line Since October 1995 * *
---
Published 4/1/2006