---
BILL
JACKAMEIT'S
STUDEBAKER
PAGE
---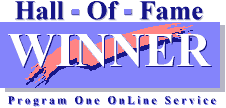 ---
THIS PAGE OPTIMIZED FOR 800 BY 600 SCREEN RESOLUTION

---
Welcome fans of the pride of South Bend. I am a long-time Studebaker fan and Studebaker Driver's Club member, having owned a 1957 Silver Hawk in high school and a 1959 Lark Regal Hardtop in college. Since then, I have owned other Studes as hobby cars including a 1962 Champ Pickup, a 1964 Canadian Commander Special, a 1962 GT Hawk, a 1960 Lark Regal 4-door, and a 1957 Silver Hawk (not the same one I owned in high school -- that one I wrecked). My current Stude is a 1949 Champion Starlight Coupe. I will build this page as time allows. If you have any suggestions or comments, please send me a message. Both text and image contributions are welcome.
---
STUDE OF THE MONTH
AUGUST 2008
1950 Studebaker Champion Street Rod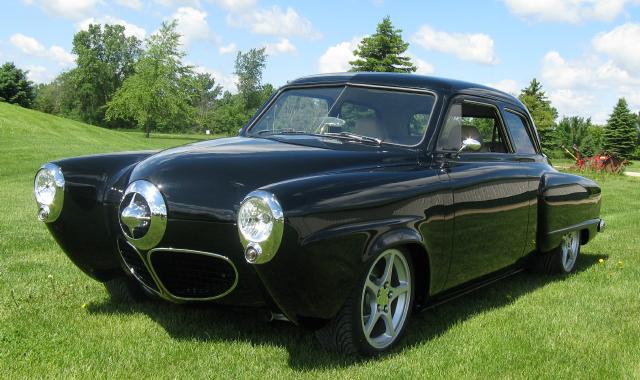 Rear View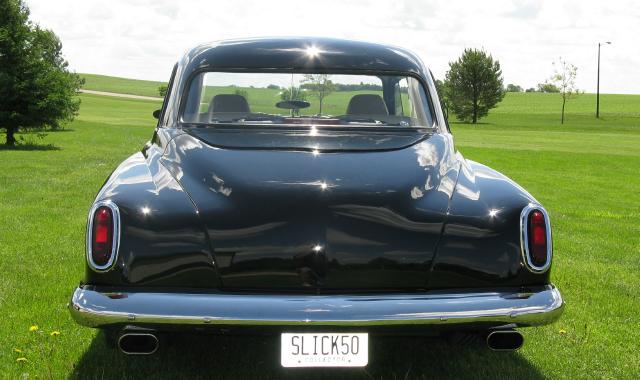 Passenger Side Angle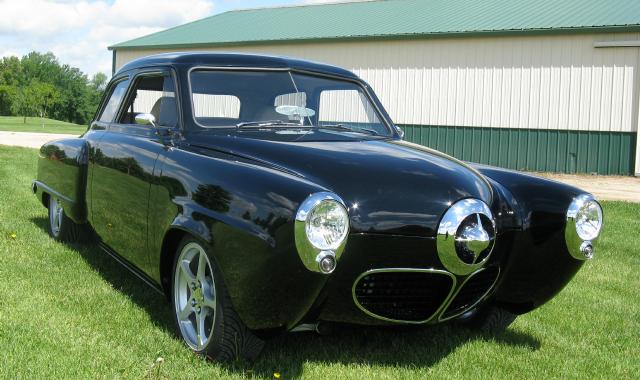 Very Cool Interior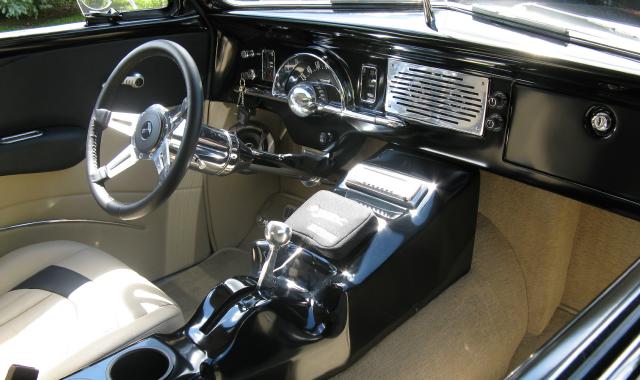 Another Interior View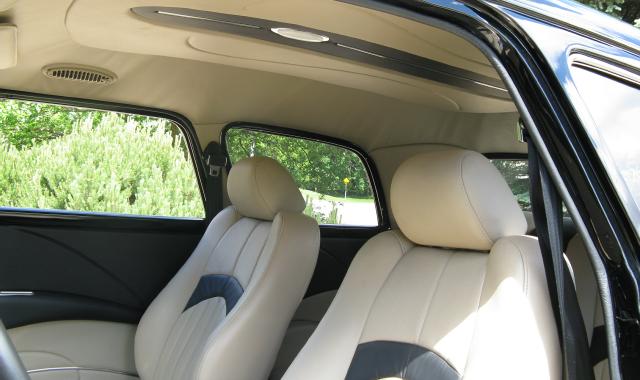 Under the Hood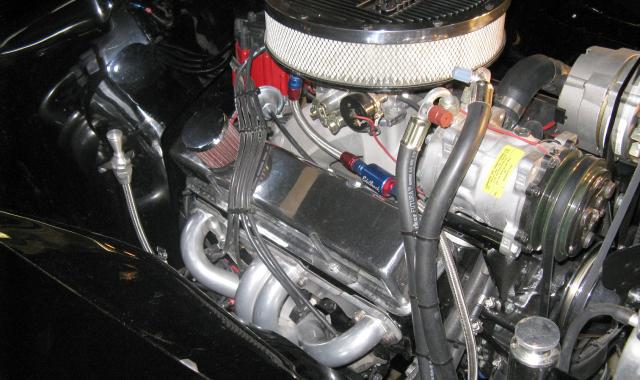 This sharp 1950 Studebaker Champion Street Rod belongs to Linda Broich of Pine Island, Minnesota. Updates on the building of this car appeared on this page in October 2007 and February 2008. Now we get to see the finished product, which has been aptly named "Slick 50."
Linda's husband Lennie had the car built for her because she wanted a fun car that "looked like a plane" and Lennie knew that she really meant a Bullet Nose Studebaker. The car was found in a field in Missouri with the help of eBay and was trucked to Minnesota. Lennie indicates that the car was "rusted everywhere" and that he soon wished he had purchased a car from the desert. But he pushed on with the restoration which took over two years and many hours of metal and body work. The car received a front clip, trunk lid, and one piece rear window from a 1951 Studebaker. The drip rails were removed and the rear fenders were widened two inches in order to accept larger rear tires. The doors, hood, and trunk lid were smoothed and the car was painted a "blacker than black" color. The body work was done by L&L Street Rods of Kasson, Minnesota which is owned owned by Kevin and Gordy Lubhan.
The interior is built around a custom hand formed console. The seats originated in a Toyota Solara and required width and height modifications to fit the car. The upolstery was done by Rapids Upolstery of Sauk Rapids, Minnesota. Owner Al Brendt designed the interior which is black and tan leather with matching tan carpeting. Amenities include air conditioning, power windows, tilt steering wheel, and a modern sound system. The speedometer has been recalibrated to 160 mph and the radio antenna is hidden above the headliner. Here is another shot of the interior that shows the recalibrated speedometer.
On the business end, a 450 plus horsepower Chevy V8 from Arizona connected to a Turbo Hydramatic 700R4 transmission from Florida provides more than ample go power. Corvette front and rear suspension from Oklahoma, drilled and slotted rotors from California, and C5 Corvette wheels from Iowa provide for handling and stopping power.
Lennie says that Linda is proud of and happy with her car. It was her decision not to chop the top, since she likes the original lines. Thanks to Lennie for sending the pictures and information on his wife Linda's car.
If you own or once owned a Studebaker or related vehicle and would like to see your car as "Stude of the Month" or in the "Cool Studes" section, or if you have other pictures or material that you would like to contribute to this page, please e-mail me here. I can accept either electronic or hard copy images. The Main Page is issued every other month so the next edition will be October 2008.
---
All of the Monthly Main Pages going back to October 1995 have been reposted. In the process of reposting the pages, I have made corrections and revisions as needed, and in some cases added material that was not used when a page was first posted due to download speed and file storage limitations. A complete list of Main Pages with links to each is located here.
---
MORE COOL STUDES
1962 Studebaker Lark Deluxe Sedan


Rear Angle View


Interior with Split Front Seat


Under the Hood

This 1962 Studebaker Lark Deluxe 2-Door Sedan belongs to Eddie Mitchell of Waco, Texas. Eddie has owned three Studebakers over the course of 34 years. His first was an all-original 1952 Champion 4-door sedan with overdrive bought at the Pate Swap Meet in 1974 that he owned until 1980. The second was a 1960 Lark VI 4-door sedan that he bought in 1995 from a friend in the Studebaker Drivers Club Club and kept for two years. Eddie's current 1962 Lark was bought at the Pate Swap Meet this year. It has 22,400 original miles and was repainted once. The car is equipped with a 259 cubic inch V8, standard shift with overdrive, Twin-Traction differential, Hillholder, factory push-button radio, and split front reclining seats. Here is another shot of Eddie's Lark. Thanks to Eddie for sending the pictures and information on his car.
Another 1950 Champion Street Rod


Tilting Hood and Engine

Rich Edwards of Lake Havasau City, Arizona sent in these pictures of his 1950 Studebaker Champion Street Rod and matching golf cart. Rich's ride features a 350 cubic inch Chevrolet V8 driving through a Turbo Hydramatic 350 automatic tranmission, 9" Ford rear end, and tilting hood for easy access. Rich also owns a 1985 Chevy El Camino which has been made into a "Studemino" using a kit from Retro Trucks of Orlando, Florida. The kit, which includes a complete front body clip and rear fenders, is made from vinyl ester, a resin that is used extensively in the marine industry and for homebuilt aircraft due to its superior strength. The kit came with a reproduction plastic bullet that Rich has replaced with the real thing since that is the focal point of 1950 Studebaker styling. This picture shows all three of Rich's vehicles. Thanks to Rich for sending the pictures and information about his Stude flock.
---
NEW ZEALAND STUDEBAKERS
1959 Silver Hawk


Three from the Rear


Two from the Front


Chopped Top Street Rod

Carey Hill sent these pictures from the recent New Zealand Studebaker Drivers Club Waikato Branch annual "Hillholder Trophy" event which is a fun weekend car rally. The event was won by Trevor Halstead who is the owner of the yellow 1952 Commander in the "three from the rear" picture. Trevor is a full-time restorer of Studebakers who also owns the black chopped top street rod which is powered by a big block Chevy V8. The 1961 Lark Hardtop and 1962 GT Hawk are both recent imports from the U.S. The 1961 Lark belongs to Phil Kindberg who completed a full restoration on the car after having it imported. Carey Hill owns the 1963 Lark in the "two from the front" picture. Carey's car appeared on this page in October 2007. The 1965 Cruiser parked next to Carey's car was recently rebuilt after it was "T-boned" by a four-wheel drive. The 1959 Silver Hawk which has its original colors is owned by Ian and Robyn Van Houtte.
I don't know how many Studebaker owners there are in New Zealand but my latest Studebaker Drivers Club Membership Roster lists some two dozen New Zealand members with cars ranging in age from a 1930 Dictator to two 1965 Cruisers. Studebakers were exported to New Zealand and were also assembled in New Zealand from knock down kits. The 1959 Hawk, 1963 Lark, and 1965 Cruiser in the pictures above are New Zealand assembled cars. Look closely at the pictures and you can see that all three have the steering wheel on the right side of the car to facilitate driving on the left side of the road. Thanks to Carey for sending the pictures and information on the event and the fine New Zealand Studes.
---
TEST YOUR STUDEBAKER KNOWLEDGE!
---
STUDE MISCELLANY
1950 Bullet Nose Street Rod Update

Bill Junge sent in another picture of the radical open wheel 1950 Bullet Nose Street Rod that was pictured on this page in June 2008. This is probably a more recent picture because egg crate style grilles have been added to the front openings. Bill notes that the car has suicide doors and he believes that it started life as a 4-door sedan. This means that the front door area has been cut out and the rear doors are now the front doors. In any event, it is clear that a great deal of work went into to building this cool car. If anyone has more pictures of or information about this car I would be pleased to post it on this page.
If you have a particular interest in Bullet Nose Studebakers, visit Bill Junge's Bullet Nose Paradise which is dedicated to the 1950 and 1951 Bullet Nose models.
1958 Studebaker Golden Hawk

This pristine 1958 Golden Hawk belongs to Joe Parsons of Raleigh, North Carolina. Joe's father sold this car new in 1958 as a Studebaker Dealer in East Liverpool, Ohio. The car came back to the dealership as a trade-in and Joe's uncle bought the car. When his uncle passed away in 1967, Joe inherited the car and it sat in storage until 1999. Between 1999 and 2003, the Hawk underwent a complete frame-up restoration with all NOS parts. The body colors are Shadowtone Red and Jewel Beige as new. Studebaker only produced 878 Golden Hawks for the 1958 model year. Thanks to Joe for sending the picture and information on this rare and beautiful car.
Joe is coordinating a register of all 1958 Golden Hawks. The register is hosted by the 1956 Golden Hawk Owners Register and can be accessed from a link on that page or directly here.
---
Did you know that Michael Kelly's New Avanti Motor Corporation signed a deal to produce the VW based Brazilian Puma Sports Car? I didn't think so! The deal fell through when Kelly ran out of money. To learn more about the Puma, visit my Puma Sports Cars Site.
---
STUDE TOY OF THE MONTH
Johnny Lightning John Deere 1961 Studebaker Champ



This is a recent variation in a long line of Johnny Lightning Studebaker Champ models. It is part of the limited edition John Deere collection of diecast vehicles which sell for around $5.00 each. This relatively high price for a nominal 1:64 scale model is partly justified by its relatively elaborate packaging. The truck comes on a blister card with an identification card both of which are packaged inside a protective plastic blister. I have seen these at Toys "R" Us and on eBay but I have not seen them in the big discount stores. Chances are these won't be around in stores for long so snatch one up now if you find one. More toy Studes can be found in the Stude Stuff area of this page and on my Studebaker Toys Home Page.

Click here for information on ordering hard to find Studebaker toys made by manufacturers such as Johnny Lightning, Racing Champions, Hot Wheels, Matchbox, Muscle Machines, and EKO.
---
---
---
---
* * * This Page On Line Since October 1995 * * *
---
Published 8/1/2008