'


---
BILL
JACKAMEIT'S
STUDEBAKER
PAGE
---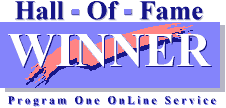 ---
THESE PAGES BEST VIEWED AT 800 BY 600 SCREEN RESOLUTION

---
Welcome fans of the pride of South Bend. I am a long-time Studebaker fan and Studebaker Driver's Club member, having owned a 1957 Silver Hawk in high school and a 1959 Lark Regal Hardtop in college. Since then, I have owned other Studes as hobby cars including a 1962 Champ Pickup, a 1964 Canadian Commander Special, a 1962 GT Hawk, a 1960 Lark Regal 4-door, and a 1957 Silver Hawk (not the same one I owned in high school -- that one I wrecked). My current Stude is a 1949 Champion Starlight Coupe. I will build this page as time allows. If you have any suggestions or comments, please send me a message. Both text and image contributions are welcome.
---
STUDE OF THE MONTH
FEBRUARY 2008
1954 Starliner Street Rod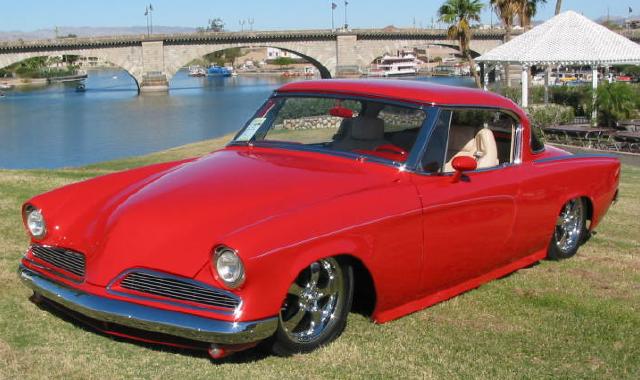 Rear Angle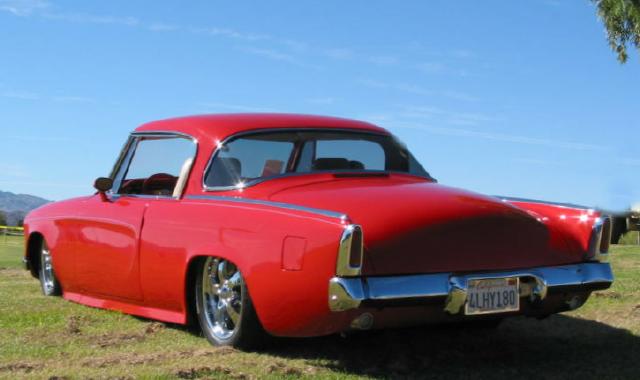 Modernized Dashboard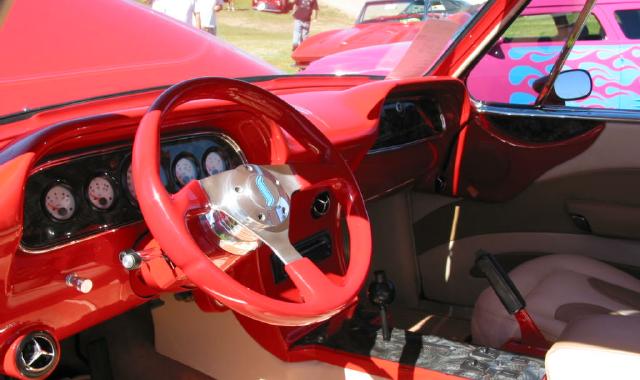 Nicely Finished Trunk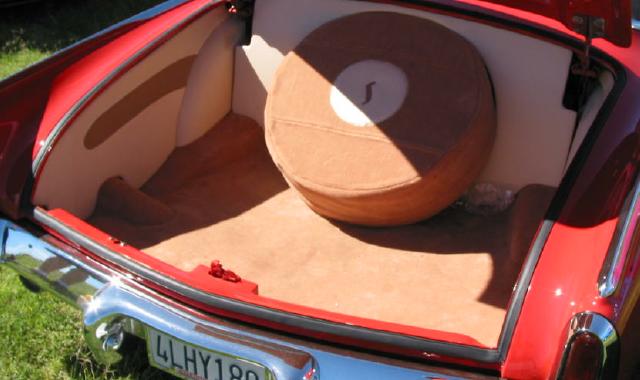 Under the Hood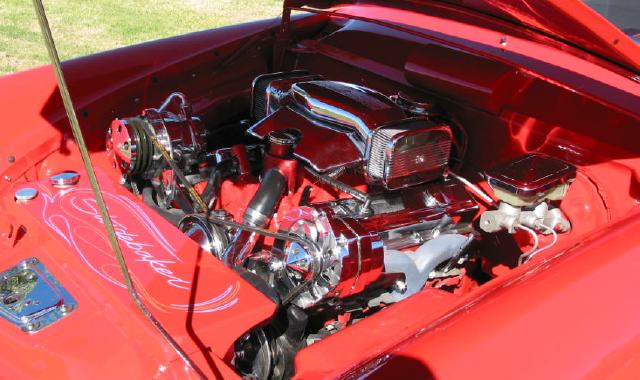 Bill Junge of Lake Havasu, Arizona sent in these pictures of Jason Belcher's 1954 Studebaker Starliner Hardtop Street Rod. Jason's cool ride is powered by a small block Chevy 350 cubic inch V8 engine driving through a GM Turbo Hydramatic 350 automatic transmission and custom four-link rear suspension with a 1984 Chevy rear end. Other features include a Fatman front frame clip, lowered cowl, extended hood, and recessed door latches. Interior features include a dashboard from a Chevy Corvair fitted with VDO gauges, a Pontiac Firebird tilt steering column, Chevy Camaro front console, and a custom made rear console. The front bucket seats are from a 1996 Chrysler Sebring and the individual rear seats are from a Ford Mustang. Here is a picture of the rear seat area. Amenities include air conditioning, power steering, power brakes, power windows, power door locks, and power trunk release. The car rides on 17" wheels and the rear fenders are extended down 2" with added ground effects. Headlights are from a 1976 Jaguar and back-up lights are Ford Mustang set in a custom roll pan. Three generations of Belchers were involved in the building of the car including Ernie Senior, Ernie Junior, and Jason. Thanks to Bill for sending the pictures and information on this outstanding custom Stude.
Some of you may recognize London Bridge behind Jason's car in the first picture above. As the story goes, by the early 1960's, London Bridge was literally falling down. The bridge was built in 1831 and simply couldn't handle the flow of traffic across the Thames River. The British government decided to put the bridge up for sale, and Robert McCulloch, Chairman of the McCulloch Oil Corporation and founder of Lake Havasu City, submitted the winning bid of $2,460,000. The bridge was dismantled and each stone was numbered. It was then shipped some 10,000 miles to Long Beach, California and taken by truck to Lake Havasu City. Reconstruction began in September 1968 and the relocated London Bridge was officially opened in October 1971.
Bill Junge has his own web site called Bullet Nose Paradise which is dedicated to 1950 and 1951 Bullet Nose Studebakers. Thanks again to Bill for helping to keep this page in new material.
If you own or once owned a Studebaker or related vehicle and would like to see your car as "Stude of the Month" or in the "Cool Studes" section, or if you have other pictures or material that you would like to contribute to this page, please e-mail me here. I can accept either electronic or hard copy images.
---
All of the previous Monthly Main Pages have been reposted. In the process of reposting the pages, I have made corrections and revisions as needed, and in some cases added material that was not used when a page was first posted due to download speed and file storage limitations. A list of reposted Main Pages with links to each is located here.
---
MORE COOL STUDES
1990 Avanti 4-Door Touring Sedan


New 383 Cubic Inch Engine



This sharp 1990 Avanti Touring Sedan belongs to Richard Morris of Renton, Washington. The car recently received a new small block Chevy 383 cubic inch V8 engine replacing the original Chevy 305 cubic inch V8. The car's Turbo Hydramatic 200-4R transmssion was rebuilt to withstand the power increase. The car also received new springs, shocks, and polyuethane bushings to improve handling and drilled and slotted rotors for improved braking. Richard says that the car is "wicked fast and loads of fun." Only 90 Avanti Touring Sedans were produced so this is a very rare car. The 4-door Avanti Touring Sedan was built on a Chevy Caprice chassis with a Kevlar reinforced fiberglass body. Richard also owns a 1964 Avanti R1 that was featured as Stude of the Month on this page in June 2004.
1964 Avanti R1 Coupe

This picture shows Richard's 1964 Avanti Coupe in the lobby of the Bellevue Arts Museum in Bellevue, Washington. The Museum hosted the "Raymond Loewy: Designs for a Consumer Culture" exhibit for a ten week period in 2007. The exhibit was first shown at the Museum of Design in Atlanta, Georgia in November 2005 and will wrap up its three year tour at the Museum of the Rockies in Bozeman, Montana in September 2008. Additional information on the exhibit tour is available on the Official Web Site of Raymond Loewy.
1933 Rockne Model 10 Sedan



Brad Johnson of Pine Grove Mills, Pennsylvania has owned this 1933 Rockne for going on 20 years. Brad's car is as original as they get with just under 56,000 miles on the odometer. It has never been repainted, reupholstered, or had the engine apart. Brad says that it runs great and is a joy to drive. The Rockne was named for legendary Notre Dame University head football coach Knute Rockne. During Rockne's 13 year tenure as head coach, Notre Dame won 105 games, lost only 12 games, tied five times, and captured six national championships. The Rockne car did not fare as well, lasting only two model years. Rocknes were built in the old EMF plant in Detroit rather than in South Bend. They were nicely equipped but entered the market at the height of the Great Depression which did not help matters. The Rockne was marketed as an upscale small car but it cost $150 more than a Model A Ford which limted sales. Studebaker considered moving Rockne production to South Bend but instead replaced it with a revived Dictator model in 1934.
---
MORE FROM BRIDGEWATER
1957 Packard Clipper Town Sedan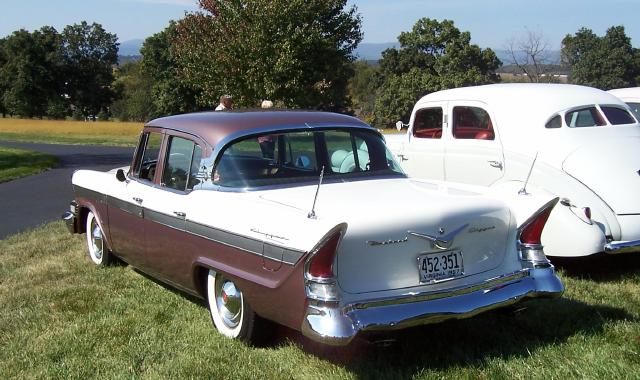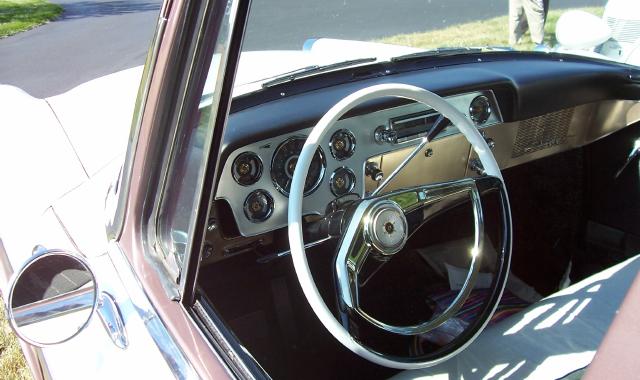 This beautifully maintained 1957 Packard Clipper Town Sedan is owned by Hal and Kathy Hermann of Fairfax, Virginia. The Detroit Packard plant closed after the 1956 model run and Packard production was shifted to South Bend using Studebaker bodies and engines. The 1957 Clipper was based on the Studebaker President and used the supercharged 275 horsepower 289 cubic inch V8 from the Studebaker Golden Hawk. This kept horsepower the same as on the Packard engined 1956 Clipper. Interiors were upgraded and Packard styling features including front bumper bullets and 1956 Clipper tail lamps were added to the body. The result was quite handsome and tasteful compared to other mid-priced cars of the period. A Country Sedan station wagon based on the new for 1957 Studebaker President Broadmoor 4-door station wagon was also available. Although most 1957 Clippers were equipped with automatic transmissions, manual shift with overdrive was also available. The Hermann's car including an under the hood shot appeared on this page in October 1998. It is every bit as pristine today as it was a decade ago.
1960 Studebaker Lark Convertible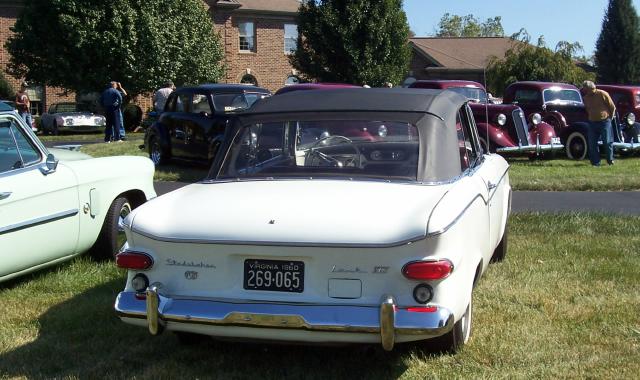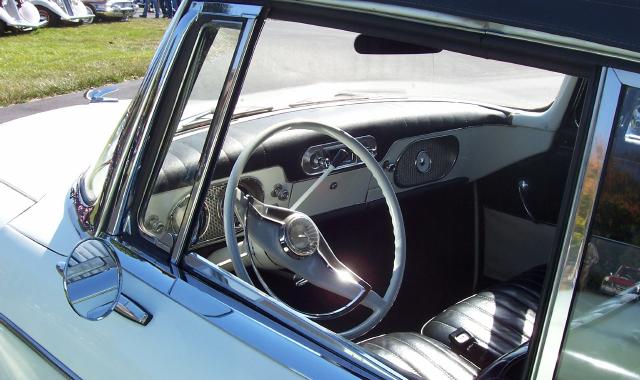 This sharp 1960 Lark Convertible is a V8 model equipped with an optional "Twin Traction" limited slip differential as indicated by the "TT" emblem on the rear deck panel. Studebaker did not build production convertibles from 1953 to 1959. The success of the Lark in 1959 allowed the company to add a convertible to the line in 1960. Sales were good with 8,571 Lark convertibles being produced for the 1960 model year. All 1960 convertibles had the high level Regal trim and the majority were equipped with Studebaker's 259 cubic inch V8 engine. A "Power Pack" option was available including a 4-barrel carburator and dual exhausts that raised horsepower from 180 to 195. The car above is equipped with an accessory hood ornament and optional back-up lights. Although this is a Virginia registered car, I have not been able to identify the owner. If someone can provide that information, I will update this section. More pictures from the October 2007 Bridgewater meet will appear in future updates of this page.
---
TEST YOUR STUDEBAKER KNOWLEDGE!
---
STUDE MISCELLANY
1950 Street Rod Project Update



Lennie Broich sent these pictures of the interior of a 1950 Studebaker Street Rod that he is having built. The upolstery was done by Rapids Upolstery of Sauk Rapids, Minnesota. The bulk of the build work is being done by L&L Street Rods of Kasson, Minnesota. Lennie says that the car is for his wife. She is certainly one lucky lady! Here is a picture of the car's really cool headliner. Earlier pictures of Lennie's project appeared on the page in October 2007. Hopefully Ernie will send in pictures of the finished product to share with the readers of this page.
---
Did you know that Michael Kelly's New Avanti Motor Corporation signed a deal to produce the VW based Brazilian Puma Sports Car? I didn't think so! The deal fell through when Kelly ran out of money. To learn more about the Puma, visit my Puma Sports Cars Site.
---
STUDE TOY OF THE MONTH
Gasquy Septoy 1950 Studebaker Commander



This rare Gasquy-Septoy 1950 Studebaker Commander Coupe was recently auctioned on eBay. Gasquy-Septoy was a Belgian producer of diecast toys dating from the late 1940's. The company manufactured a number of American cars of the period in 1:43 scale. The example shown above sold for a successful bid of $203.50. More toy Studes can be found in the Stude Stuff area of this page and on my Studebaker Toys Home Page.

Click here for information on ordering hard to find Studebaker toys made by manufacturers such as Johnny Lightning, Racing Champions, Hot Wheels, Matchbox, Muscle Machines, and EKO.
---
---
---
---
* * This Page On Line Since October 1995 * *
---
Published 2/1/2008