'


---
BILL
JACKAMEIT'S
STUDEBAKER
PAGE
---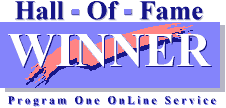 ---
THIS PAGE OPTIMIZED FOR 800 BY 600 SCREEN RESOLUTION

---
Welcome fans of the pride of South Bend. I am a long-time Studebaker fan and Studebaker Driver's Club member, having owned a 1957 Silver Hawk in high school and a 1959 Lark Regal Hardtop in college. Since then, I have owned other Studes as hobby cars including a 1962 Champ Pickup, a 1964 Canadian Commander Special, a 1962 GT Hawk, a 1960 Lark Regal 4-door, and a 1957 Silver Hawk (not the same one I owned in high school -- that one I wrecked). My current Stude is a 1949 Champion Starlight Coupe. I will build this page as time allows. If you have any suggestions or comments, please send me a message. Both text and image contributions are welcome.
---
STUDE OF THE MONTH
DECEMBER 2008
1952 Studebaker Champion Sedan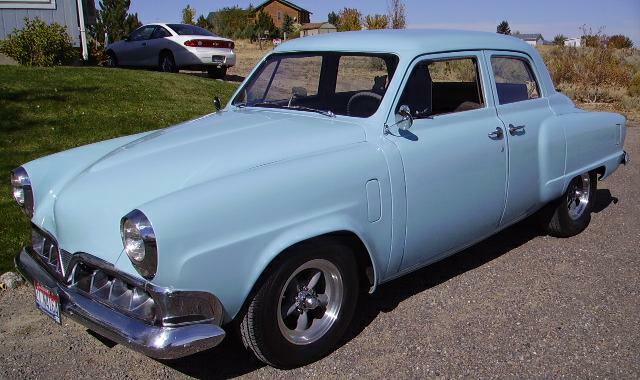 Rear Angle View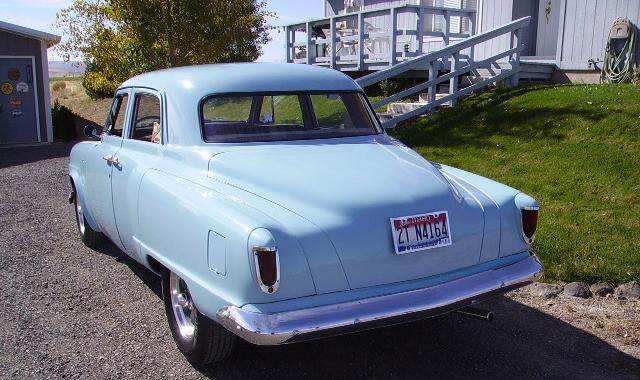 Interior and Dash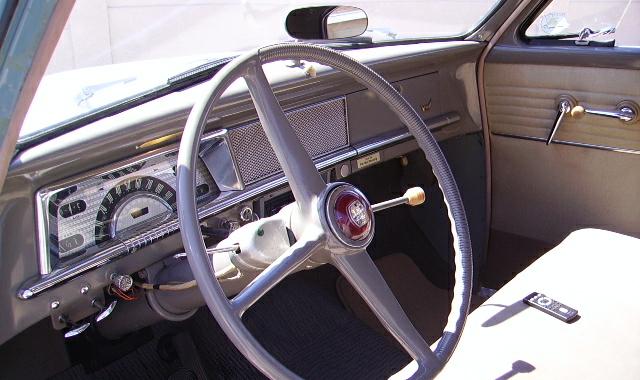 Rear Seat Area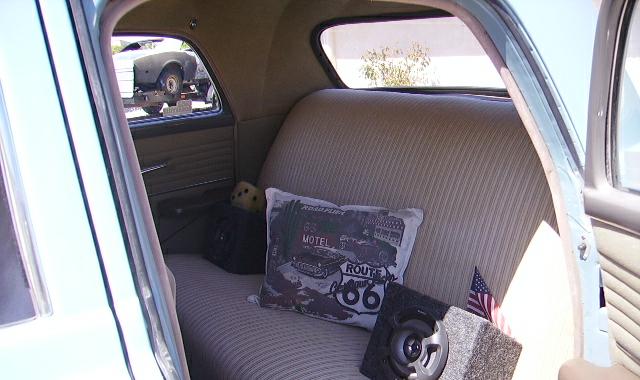 Under the Hood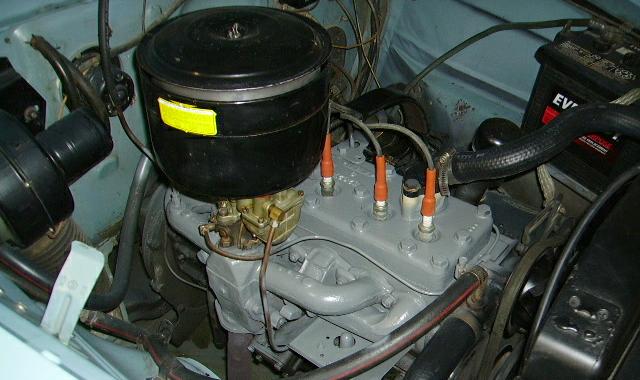 This sharp 1952 Studebaker Champion Sedan belongs to Ron Werner of Lake Havasau City, Arizona. Before moving to sunny Arizona Ron lived in Twin Falls, Idaho. The car has one repaint and is lowered three inches in the front. The paint is single stage Dupont acrylic enamel with hardner added and Ron did the prep and painting himself. The car has its original 170 cubic inch 6 cylinder with three speed overdrive transmission. Ron says that the little six sounds neat breathing out through 2" pipes into a 26" single glass pack. The interior appears to be original and is in excellent condition. A modern radio with cd player has been installed in the factory radio mounting position and four speakers are located in the back seat area and on the floor so nothing was drilled to install them. The car is equipped with a factory heater and defroster and turn signals, either of which were standard items back in 1952. The odometer shows 43,000 miles which is believed to be true. The hood and trunk lid are shaved and all emblems have been removed. The wheels are American Racing 5 spoke mags with modern blackwall radial tires. Ron recently added some pinstriping to his car. Thanks to Ron for providing the pictures and information about his neat car.
If you own or once owned a Studebaker or related vehicle and would like to see your car as "Stude of the Month" or in the "Cool Studes" section, or if you have other pictures or material that you would like to contribute to this page, please e-mail me here. I can accept either electronic or hard copy images. The Main Page is issued every other month so the next edition will be February 2009.
---
All of the Monthly Main Pages going back to October 1995 have been reposted. In the process of reposting the pages, I have made corrections and revisions as needed, and in some cases added material that was not used when a page was first posted due to download speed and file storage limitations. A complete list of Main Pages with links to each is located here.
---
ANOTHER COOL STUDE
Custom 1949 C Cab Pickup


Interior View


Under the Hood

Bill Junge sent these pictures of a cool custom 1949 Studebaker Pickup owned by Sam Woods of Pahrump, Nevada. Sam's truck was custom built by Hart Hot Rods of Ventura, California. Here is a work in progress picture of Sam's truck from the Hart Hot Rods project gallery. Power comes from a 502 cubic inch Chevy V8 with fuel injection driving through a GM Turbo Hydramatic 400 automatic transmission. The alloy wheels are Boze Stingers with B.F. Goodrich low profile "g-Force" radial tires. Stopping power comes from a Wilwood high performance disc brake system. Sam's truck also features a tube chassis and an Air Ride Technologies air suspension system. Here is a shot of the nicely done information sign Sam uses when displaying his truck. As the sign says, nothing was left untouched in the building of this truck. Thanks to Bill for sending the pictures and information about Sam's cool ride.
Bill Junge has his own web site called Bullet Nose Paradise which is dedicated to 1950 and 1951 Bullet Nose Studebakers. Thanks again to Bill for helping to keep this page in new material.
---
STUDEBAKER DRIVERS CLUB
ATLANTIC ZONE MEET
JUNE 19 THROUGH 21, 2009
Harrisonburg, Virginia
Sponsored by the Greater Virginia and Central Virginia Chapters
* * Click here for further information * *
---
INTERNATIONAL MEET PICTURES
1964 Lark Marshall


1951 Gotham City Police Car


1954 Commander Starliner Hardtop


Rare 1964 Studebaker Tractor Trailer


Custom Crew Cab Pickup


1954 Champion Starlight Coupe
Mark Carson and Myno Van Dyke provided pictures taken at the Studebaker Drivers Club International Meet held in Lancaster, Pennsylvania in September 2008. The 1964 Lark Marshall is owned by Dave Dow of Windsor, Vermont. Dave's car is one of only two 1964 Lark Marshalls equipped with a four-speed manual transmission. Thirty Lark Marshalls powered by Avanti R1 engines were built in September 1963. Five are known to have survived of which this is the only four-speed. The 1951 Studebaker Starlight Coupe Gotham City Police Car is painted in the official Gotham City colors of blue and black and has a "Batman" license plate. It is not a "real" police car but it is certainly very cool. Bullet Nose Studebakers were used as police cars in a couple of the Batman movies. The 1954 Commander Hardtop Starliner Hardtop belongs to Alan and Kathy Mendie of Hummelstown, Pennsylvania. The 1964 Tractor Trailer is owned by Greg and Karen Hellmoth of Montrose, Pennsylvania. The Custom Crew Cab Pickup belongs to Ed and Beulah Warner of Judson, Texas. The 1954 Champion Starlight Coupe is owned by Bob Suszek of Oshawa, Ontario, Canada. Bob's pristine car appears stock from the outside but is equipped with a Studebaker 289 V8 and a Ford Mustang five-speed manual transmission. A one-piece driveshaft has replaced the original two-piece unit and the rear end is Studebaker Avanti. The main body color is "Pagan Gold" with a metallic black roof. Thanks to Mark and Myno for providing the pictures particularly since I had to cancel my plans to attend the meet.
---
PROJECT CAR OF THE MONTH
1965 Studebaker Cruiser

Eli Catalan of Austin, Texas sent this picture of his recently wrecked 1965 Studebaker Cruiser. This was a show car before the brakes went out. Fortunately no one was hurt in the ensuing accident. There are not many of these around as total 1965 Studebaker model year production was only 19,415 units. Eli indicates that the car is good from the front door panels back and that it has the original V8 engine. It has an automatic transmission and is also equipped with air conditioning. Ideally, this Cruiser be restored by someone who has the necessary skills. If not, the parts can be used for another Cruiser. Interested parties can contact Eli by phone at (646) 671-9775 or by e-mail here.
---
TEST YOUR STUDEBAKER KNOWLEDGE!
---
STUDES IN THE ROUGH
Studebaker US6 Military Trucks





T.J. Wheelman of Anchorage, Alaska sent these pictures of some of his Studebaker US6 Military Trucks. The Studebaker US6 was a class of trucks manufactured by Studebaker during World War II. The US6 was powered by a Hercules JXD six-cylinder gasoline engine rated at 94 horsepower and was fitted with a five-speed manual transmission and two-speed transfer box. Studebaker built approximately 195,000 of these trucks and REO built another 22,000 under license. Large numbers of Studebaker US6 trucks were sent to the Soviet Union under the Lend-Lease program. Here is a shot of several Studebaker US6 Trucks with one GMC CCKW in the foreground and another with several of each type. The CCKW was used mainly by U.S. forces while the US6 was supplied mainly to U.S. allies. T.J. has both US6 and CCKW trucks in his collection and is a self-described military truck junkie. He says that the US6 has a certain mystique about it that the CCKW does not. T.J. drives a semi-tractor during the week and playing with these old trucks is his weekend hobby. Here is a shot of a restored 1944 Studebaker US6 owned by Richard E. Antram of Somerset, Pennsylvania taken by Myno Van Dyke at the 2008 International Meet. Thanks to T.J. for sending the pictures and information about his trucks.
---
Did you know that Michael Kelly's New Avanti Motor Corporation signed a deal to produce the VW based Brazilian Puma Sports Car? I didn't think so! The deal fell through when Kelly ran out of money. To learn more about the Puma, visit my Puma Sports Cars Site.
---
STUDE TOY OF THE MONTH
Atlas "Spirou et Fantasio" 1953 Starliner Hardtop



I bought this 1:43 scale Atlas of France 1953 Starliner Hardtop on eBay from a dealer in China. Spirou et Fantasio (Spirou and Fantasio) is a classic French language comic strip about two adventurous journalists. Spirou is an investigative reporter with a strong sense of justice and Fantasio, his best friend and co-adventurer, is a reporter with a hot temper. The stories feature a succession of interesting cars and Atlas has issued a whole series of these including the 1953 Starliner. Le Dictateur et le Champignon -- the Dictator and the Mushroom -- is a story about a ruthless dictator whose plans of conquest are foiled by a mushroom-based gas that melts metal. Here is the Dictator's 1953 Starliner in its display box. This is not an expensive model and can usually be found on eBay for around $15 plus shipping. More toy Studes can be found in the Stude Stuff area of this page and on my Studebaker Toys Home Page.

Click here for information on ordering hard to find Studebaker toys made by manufacturers such as Johnny Lightning, Racing Champions, Hot Wheels, Matchbox, Muscle Machines, and EKO.
---
---
---
---
* * * This Page On Line Since October 1995 * * *
---
Published 12/1/2008