'


---
BILL
JACKAMEIT'S
STUDEBAKER
PAGE
---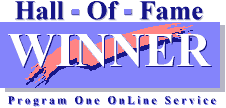 ---
THIS PAGE OPTIMIZED FOR 800 BY 600 SCREEN RESOLUTION

---
Welcome fans of the pride of South Bend. I am a long-time Studebaker fan and Studebaker Driver's Club member, having owned a 1957 Silver Hawk in high school and a 1959 Lark Regal Hardtop in college. Since then, I have owned other Studes as hobby cars including a 1962 Champ Pickup, a 1964 Canadian Commander Special, a 1962 GT Hawk, a 1960 Lark Regal 4-door, and a 1957 Silver Hawk (not the same one I owned in high school -- that one I wrecked). My current Stude is a 1949 Champion Starlight Coupe. I will build this page as time allows. If you have any suggestions or comments, please send me a message. Both text and image contributions are welcome.
---
STUDE OF THE MONTH
OCTOBER 2008
1967 Avanti II Coupe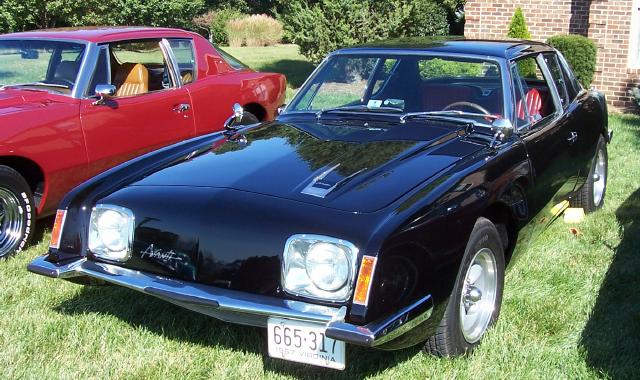 Rear Angle View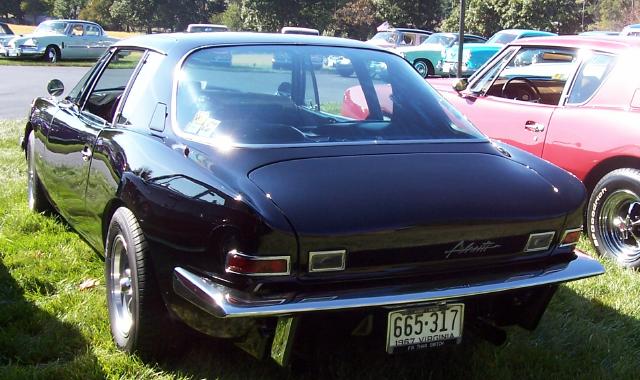 Interior and Dash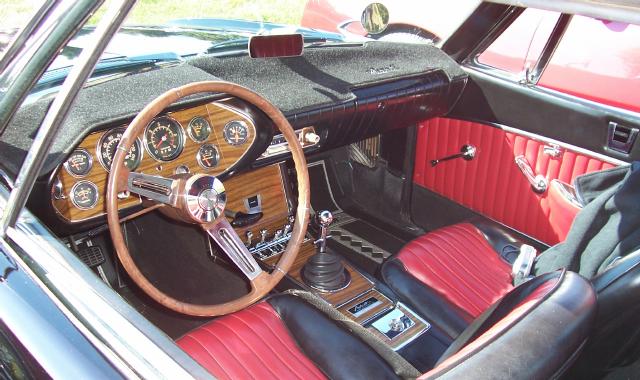 Rear Seat Area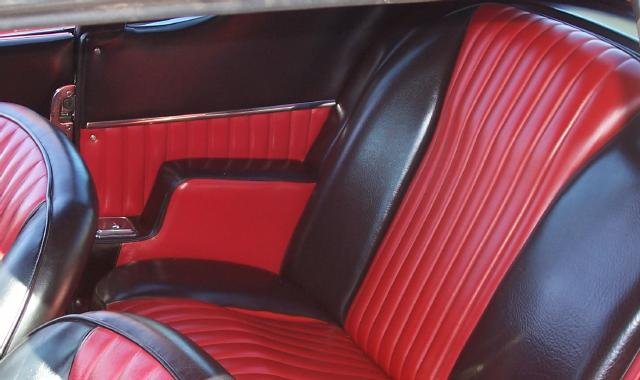 Under the Hood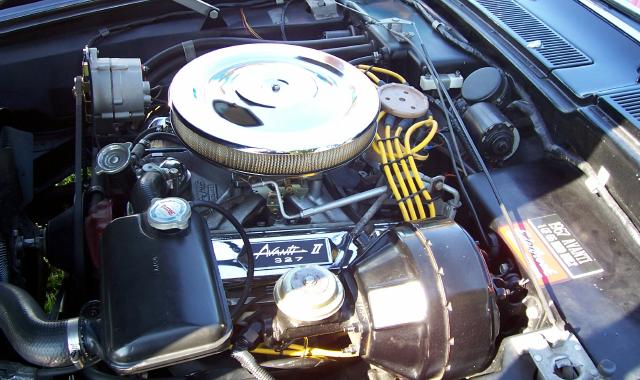 This rare 1967 Avanti II Coupe belongs to Ralph Quimby of Harrisonburg, Virginia. Ralph has owned the car for about four years having purchased it just up the road in New Market, Virginia. The previous owner, who was from Vermont, did a frame off restoration about 15 years ago. Ralph's car is one of only 66 Avanti II's produced in 1967 and one of a handful that were built with a four-speed manual transmission. Early Avanti II's such as Ralph's car were equipped with a Chevrolet 327 cublic inch V8 rated at 300 stock horsepower. Ralph indicates that the motor was rebuilt to 350 horsepower at the time the car was restored. This car is from the days when Nate Altman lovingly built Avantis in a section of the old South Bend plant and the high quality level of this car is obvious. Nothing looks jury-rigged or tacked on as is the case with later Avantis. I drove this car when it was for sale and I can tell you that it is one sweet ride. Ralph has not done anything major to the car since he acquired it. The pictures were taken at the October 2007 Greater Virginia Meet in Bridgewater, Virginia. Thanks to Ralph for providing the information about his car.
If you own or once owned a Studebaker or related vehicle and would like to see your car as "Stude of the Month" or in the "Cool Studes" section, or if you have other pictures or material that you would like to contribute to this page, please e-mail me here. I can accept either electronic or hard copy images. The Main Page is issued every other month so the next edition will be December 2008.
---
All of the Monthly Main Pages going back to October 1995 have been reposted. In the process of reposting the pages, I have made corrections and revisions as needed, and in some cases added material that was not used when a page was first posted due to download speed and file storage limitations. A complete list of Main Pages with links to each is located here.
---
MORE COOL STUDES
1953 Commander Starlight Street Rod


Rear Angle View


Interior View


Under the Hood

This cool 1953 Studebaker Commander Starlight Coupe Street Rod belongs to Bill Buchanan of Palmdale, California. Bill has owned his car since 1974 and used it as stock until 1988. The car currently runs a Chevy 350 with four Weber carburators driving through a Turbo Hydramatic 400 transmission and a 9" Ford axle and employs a Fat Man Fabications front clip and front suspension. Here is another shot of the highly detailed engine. Body modifications and paint were done by the House of Customs Auto Body and the interior was done by Randy's Custom Upolstery, both located in Lancaster, California. Bill's cool ride won best of show at the September 2007 Fourth Saturday Cruise in Palmdale, California. A big advantage of the Starlight Coupe over the similiar Starliner Hardtop is the added rigidity of the center roof pillar. Plus the push-out rear windows on the Starlight are just plain cool. Thanks to Bill Junge who took the pictures and to Bill Buchannan for providing the information about his car.
1950 Champion Starlight Coupe


From the Side


Interior View

Rick Hawkins of Wellington, Colorado sent in these pictures of a sharp 1950 Studebaker Champion Starlight Coupe that belongs to his spouse, Sue Bordwell. The car underwent a two-year total restoration including a repaint in the original dark cherry color, albeit to a higher standard than original. Rick and Sue are in the auto restoration business and their company Wellington Classics did the restoration. Their speciality is Chevy Camaro, Chevelle, and Nova but any classic car from the 1950's and 1960's can make its way to their shop. The interior was done exactly as original using NOS fabric from SMS Auto Fabrics in Canby, Oregon. SMS claims to have the world's largest inventory of automobile cloth and vinyl, and says they can supply auto upholstery for every American car made from 1940 through 1990. It is really great to see a first class stock of a bullet nose Champion Starlight Coupe. Sue's car took best of class in the 2007 Northern Plains Car and Truck Show. Here is a closeup shot of the bullet nose. Thanks to Bill Junge for forwarding the pictures and information from Rick.
If you have a particular interest in Bullet Nose Studebakers, visit Bill Junge's Bullet Nose Paradise which is dedicated to the 1950 and 1951 Bullet Nose models.
---
PROJECT CAR OF THE MONTH
1950 Champion Street Rod


Front Clip

Darrell Lawrence of Barss Corner, Nova Scotia, Canada sent these pictures of his 1950 Studebaker Street Rod project. Darrell indicates that the car is in the final reassembly stage. The custom built boxed frame and running gear have been painted gloss black and the body has been painted Sunset Carizzma Orange. The interior floor and underside have been sprayed with a Rhino Coat. The body has been chopped 3" and concave rockers beneath the doors will house full-length 4" side pipes. Here is a picture of the custom frame before the body was installed and here is a picture of the body in primer before it was painted. Power comes from a Chevy 355/350 equipped with a Weiand 144 blower and Holley 700 CFM four-barrel carburetor driving through a Turbo Hydramatic 350 racing transmission. Clearly this is one serious piece of machinery. The interior will feature Infiniti tan leather seats and a complete set of VDO gauges. Other features will include a rolled pan in place of the rear bumper and the fuel filler will be hidden under the left tail light bezel that will be set up to swivel out of the way for access. I hope to feature the finished product on a future edition of this page. Thanks to Darrell for sending the pictures and information on his car.
---
TEST YOUR STUDEBAKER KNOWLEDGE!
---
STUDES IN THE ROUGH
1947 Studebaker M Seies Pickup



Bob Crellin of Las Vegas, Nevada sent these pictures of a 1947 Studebaker M Series Pickup that he will be making into a street rod. Bob's company, Vegas Strippers Racing, is involved with drag racing and car shows. The truck was found in South Dakota. The M Series was introduced in 1941 but production was suspended during World War II. Production resumed in 1945 and continued through 1949 when it was replaced by the R Series. A unique feature of the M series is that the front and rear fenders on each side are interchangeable. Here are head on and rear angle shots of Bob's project truck. He will be keeping only the body and frame for his project, so everything else including the motor, transmission, bumpers, etc. is for sale. Bob can be reached by e-mail at bcrellin43@hotmail.com.
1961 Studebaker Champ Pickup



Jodi McClinton sent these pictures of her Dad's 1961 Studebaker Champ Pickup. The truck does not run but it appears to be restorable. Jodi indicates that her Dad would like to know what the truck is worth and anything else about it. The truck is equipped with the wide cargo box that was new for 1961. Studebaker purchased the tooling for the wide box from Dodge and adapted it to the Champ. The front fenders, hood, doors, and dashboard are basically the same as on the 1959 and 1960 Studebaker Lark passenger car. Champ production for 1961 numbered about 5,500 units. Here is a picture of the tailgate which has surface rust but has not rusted through at the bottom. Jodi can be contacted at jodi_m22@yahoo.com.
---
Did you know that Michael Kelly's New Avanti Motor Corporation signed a deal to produce the VW based Brazilian Puma Sports Car? I didn't think so! The deal fell through when Kelly ran out of money. To learn more about the Puma, visit my Puma Sports Cars Site.
---
STUDE TOY OF THE MONTH
French Dinky Toys M Series Pickup



This is one of several versions of the DY25 Studebaker M Series Pickup issued by the French branch of Dinky Toys. It seemed appropriate to use these pictures this month to keep with the theme of Studebaker Pickups in the rough. This model is often found with a matching covered farm trailer. It was also issued as a milk truck, dump truck, and tow truck. These appear on eBay from time to time and generally sell for between $50 and $200 depending upon condition. More toy Studes can be found in the Stude Stuff area of this page and on my Studebaker Toys Home Page.

Click here for information on ordering hard to find Studebaker toys made by manufacturers such as Johnny Lightning, Racing Champions, Hot Wheels, Matchbox, Muscle Machines, and EKO.
---
---
---
---
* * * This Page On Line Since October 1995 * * *
---
Published 10/1/2008