'


---
BILL
JACKAMEIT'S
STUDEBAKER
PAGE
---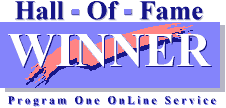 ---
THIS PAGE OPTIMIZED FOR 800 BY 600 SCREEN RESOLUTION

---
Welcome fans of the pride of South Bend. I am a long-time Studebaker fan and Studebaker Driver's Club member, having owned a 1957 Silver Hawk in high school and a 1959 Lark Regal Hardtop in college. Since then, I have owned other Studes as hobby cars including a 1962 Champ Pickup, a 1964 Canadian Commander Special, a 1962 GT Hawk, a 1960 Lark Regal 4-door, and a 1957 Silver Hawk (not the same one I owned in high school -- that one I wrecked). My current Stude is a 1949 Champion Starlight Coupe. I will build this page as time allows. If you have any suggestions or comments, please send me a message. Both text and image contributions are welcome.
---
STUDE OF THE MONTH
FEBRUARY 2009
1964 Studebaker Gran Turismo Hawk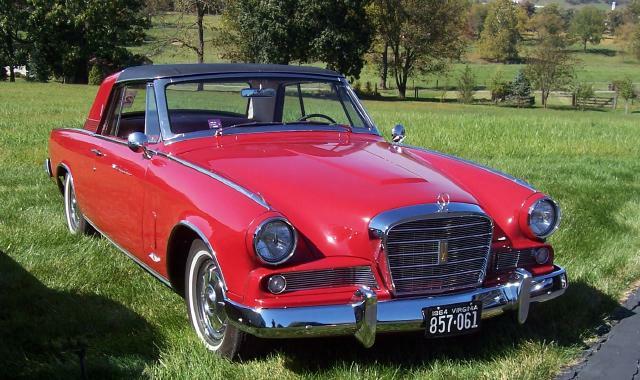 Rear Angle View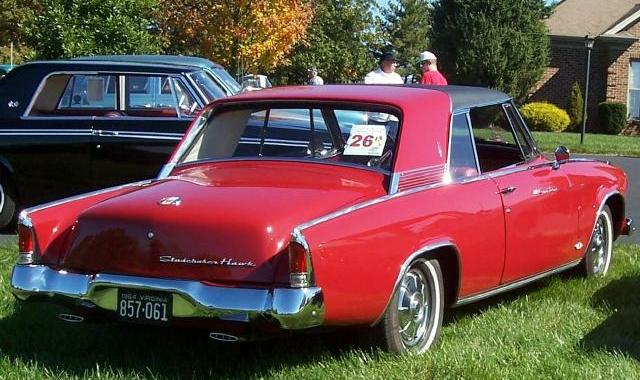 Revised Trunk Lid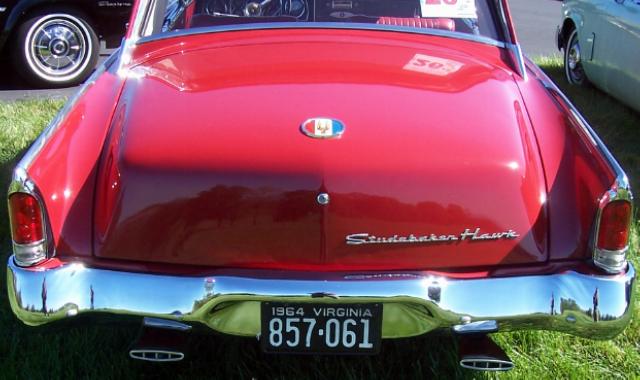 Interior and Dash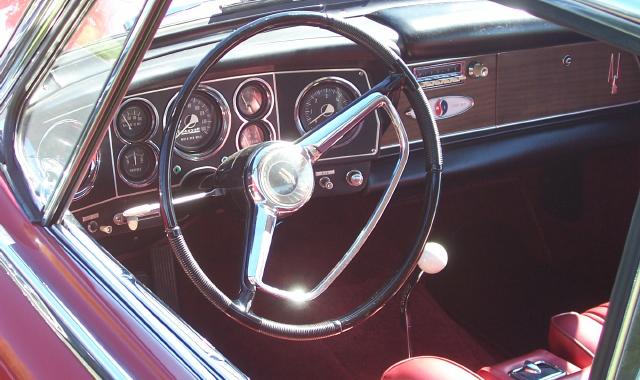 Under the Hood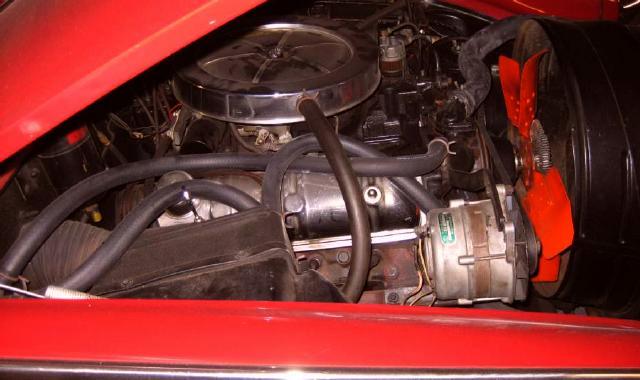 This sharp 1964 Studebaker Gran Turismo Hawk belongs to Chester and Nancy Bradfield of Bridgewater, Virginia. It was purchased in 2004 from the estate of noted Studebaker collector and author Asa E. Hall. The Bradfield's late model Hawk is factory equipped with an Avanti R1 V8 engine and Borg Warner T-10 four-speed manual transmission. This car is not a trailer queen. Chester and Nancy are members of the Veteran Motor Car Club of America (VMCCA) and have taken the Hawk on tours to Kentucky, Maine, and Pennsylvania in the last two years. The number "26" on the rear window is from the June 2008 VMCCA Chrome Glidden Tour out of Bar Harbor, Maine. On that particular tour the Bradfield's Hawk traveled over 750 miles and visited five museums and several private collections. The 2009 Chrome Glidden Tour will be June 7 through 12 starting in Waynesboro, Virginia and ending in Cherokee, North Carolina. Only 1,767 GT Hawks were produced for the 1964 model year before production ended in December 1963. The biggest change to the GT Hawk for 1964 was the revised trunk lid with no aluminium insert that is unique to that model year. The half vinyl roof and the front grille mesh with center Hawk emblem and circle-S hood ornament on the grille shell are also 1964 only features. Here is another shot of this outstanding GT Hawk. Thanks to Chester for providing the information about this great car.
If you own or once owned a Studebaker or related vehicle and would like to see your car as "Stude of the Month" or in the "Cool Studes" section, or if you have other pictures or material that you would like to contribute to this page, please e-mail me here. I can accept either electronic or hard copy images. The Main Page is issued every other month so the next edition will be April 2009.
---
All of the Monthly Main Pages going back to October 1995 have been reposted. In the process of reposting the pages, I have made corrections and revisions as needed, and in some cases added material that was not used when a page was first posted due to download speed and file storage limitations. A complete list of Main Pages with links to each is located here.
---
ANOTHER COOL STUDE
Custom 1948 C Cab Pickup


Rear Angle


From the Side

Bill Junge sent these pictures of a sharp custom 1948 Studebaker Pickup owned by Phillip Romero of Las Vegas, New Mexico. I didn't know that there was a Las Vegas in New Mexico but you learn something new every day. Phillip's truck is powered by a small block Chevy 350 V8 driving through a GM Turbo Hydramatic 350 automatic transmission. This is an early Series 2R C Cab that is technically a 1949 model but was likely built and titled in 1948. Designed by Robert Bourke, production of C Cabs started in Spring 1948 as 1949 models. Many states at that time titled vehicles by year of manufacture rather than by model year. The C Cab stayed in production through 1959 for light duty trucks and through 1964 for heavy duty trucks one ton and larger. Phillip's cool truck appeared on the Classic Trucks website in their coverage of the 2008 Goodguys Colorado Nationals in Loveland, Colorado. Thanks to Bill for sending the pictures and information about Phillip's fine ride.
Bill Junge has his own web site called Bullet Nose Paradise which is dedicated to 1950 and 1951 Bullet Nose Studebakers. Thanks again to Bill for helping to keep this page in new material.
---
STUDEBAKER DRIVERS CLUB
ATLANTIC ZONE MEET
JUNE 19 THROUGH 21, 2009
Harrisonburg, Virginia
Sponsored by the Greater Virginia and Central Virginia Chapters
* * Click here for further information * *
---
MORE INTERNATIONAL
MEET PICTURES
1951 Studebaker Street Rod


1958 Commander Starlight Hardtop


1932 Commander Eight


1956 Golden Hawk Hardtop


1960 Studebaker Hawk Coupe


Custom Conestoga Station Wagon



This is the second round of pictures taken by Mark Carson and Myno Van Dyke at the Studebaker Drivers Club International Meet held in Lancaster, Pennsylvania in September 2008. The 1951 Studebaker Street Rod belongs to Yvan Cote of Shefford, Quebec, Canada. The 1958 Commander Hardtop is owned by Bruno Salerno of Bloomfield, New Jersey. The Starlight Hardtop was a one year only model available as a President or Commander in the U.S. and as a Champion six for export only. The Starlight name did not appear anywhere on the car, but was used in print advertisements such as this one and this one. The 1932 Commander Eight belongs to Paul and Sue Wichterman of Langhorne, Pennsylvania. A synchromesh gearbox was new on Commanders in 1932. The 1956 Golden Hawk belongs to Joe Bacon of Indianapolis, Indiana. This was the only year that the Golden Hawk was powered by a Packard V8. The 1960 Hawk is owned by William and Catherine Mulholland of Becket, Massachusetts. Studebaker's 289 cubic inch V8 was made standard on 1960 Hawks after a one year absence. All five of these fine cars took a first in class at the international meet. The Conestoga Station Wagon appears to be a 1954 or 1955 model with a 1953 front clip. Studebaker did not make factory station wagons for the 1953 model year. The 2009 SDC International Meet will be held July 12 through 18 in Cedar Rapids, Iowa. Thanks again to Mark and Myno for providing the pictures, particularly since I had to cancel my plans to attend the meet.
---
TEST YOUR STUDEBAKER KNOWLEDGE!
---
STUDE MISCELLANY
South African Champ Pickup



Gerald Massyn of South Africa sent these pictures of his right hand drive 1962 Studebaker Champ Pickup. This particular Champ has a V8 engine with manual transmission but no overdrive. Gerald indicates that is a "good runner" and that it only needs wheel trim rings and hubcaps to make it complete. The body appears to be rust free but Gerald says that the paint needs some attention. Here is another shot of Gerald's truck. I dont't know how many Champs are in South Africa but there is at least one other as shown in the picture gallery on the Studebaker Car Club of South Africa web site. Thanks to Gerald for sending the pictures and information about his truck.
1951 Studebaker 2R16 Truck



Lanny Wallis of Saint James, Missouri sent in these pictures of a 1951 Studebaker 2R16 that he is interested in selling. The 2R16 designation indicates that this is a one and one-half ton truck powered by a Commander six cylinder engine. This particular example is equipped with a four speed manual transmission, single speed rear end, 20" five bolt wheels and tires, and has a 12' bed with oak floor and pine sides. Lanny indicates that the truck is in good running condition with about 48,000 miles showing on the odometer. The front end is tight and a title is included. The headlight rings appear to be missing the picture above but they are included. The asking price is $3,000 and offers will be considered. This truck appears to have great potential and is in need of a new home. Interested parties can contact Lanny by phone at (573) 578-9278 or by e-mail here.
---
Did you know that Michael Kelly's New Avanti Motor Corporation signed a deal to produce the VW based Brazilian Puma Sports Car? I didn't think so! The deal fell through when Kelly ran out of money. To learn more about the Puma, visit my Puma Sports Cars Site.
---
STUDE TOY OF THE MONTH
Solido Elegance 1957 Silver Hawk Coupe



This is the "Elegance" version of the Solido of France 1:43 scale 1957 Studebaker Silver Hawk Coupe. Solido issued the 1957 Silver Hawk as both a coupe and a hardtop. Studebaker experts will know that 1957 Silver Hawk Hardtop was for export only. The main body of the model is metal but the roof section is plastic. This version takes the light green body of the hardtop with a dark green roof and combines it with the dark blue roof of a coupe with a light blue body. The result is a somewhat unusual combination of light green body and dark blue roof. This picture shows these three variations. Here is the attractive metal tin in which the model is packed. Solido also made the hardtop in gold with a black roof and the coupe in very rare all black. The Elegance version of the Solido Silver Hawk is a relatively late issue and is one of the harder variations to find. More toy Studes can be found in the Stude Stuff area of this page and on my Studebaker Toys Home Page.

Click here for information on ordering hard to find Studebaker toys made by manufacturers such as Johnny Lightning, Racing Champions, Hot Wheels, Matchbox, Muscle Machines, and EKO.
---
---
---
---
* * * This Page On Line Since October 1995 * * *
---
Published 2/2/2009