'


---
BILL
JACKAMEIT'S
STUDEBAKER
PAGE
---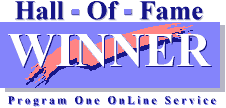 ---
NO FRAMES!! JUST GOOD STUFF!!

---
Welcome fans of the pride of South Bend. I am a long-time Studebaker fan and Studebaker Driver's Club member, having owned a 57 Silver Hawk in high school and a 59 Lark Regal Hardtop in college. Since then, I have owned other Studes as hobby cars including a 62 Champ Pickup, a 64 Canadian Commander Special, a 62 GT Hawk, a 60 Lark Regal 4-door, and my present 57 Silver Hawk (not the same one I owned in high school -- that one I wrecked). If you have any suggestions or comments, please send me a message. Both text and image contributions are welcome.
---
STUDE OF THE MONTH
MARCH 2003
1958 Studebaker Scotsman Station Wagon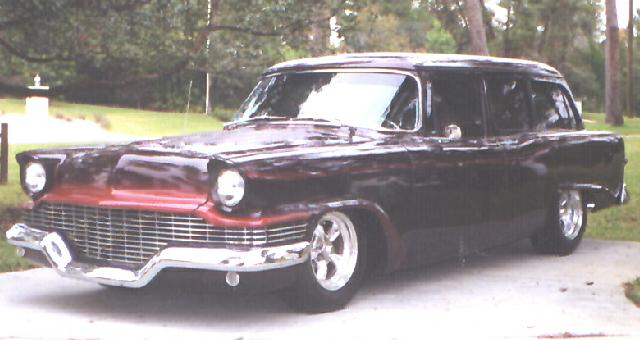 Rear View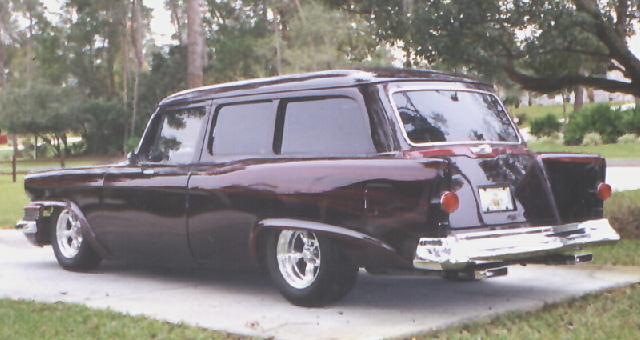 Under the Hood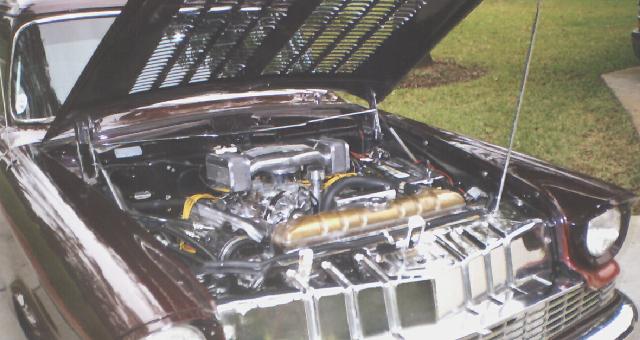 And the Interior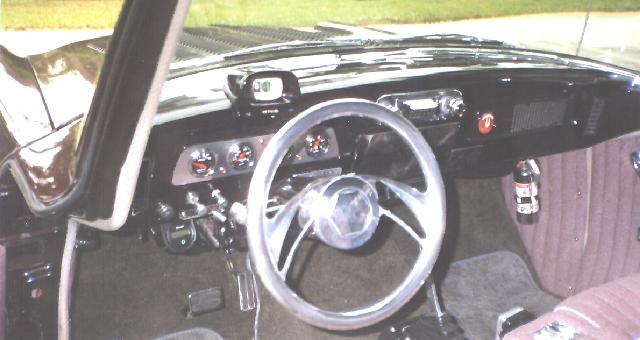 This beautiful 1958 Studebaker Scotsman Station Wagon belongs to Roy Buchanan of Spring Hill, Florida. Under the hood is a Studebaker racing motor built by Bob Beach with R3 headers, cam, and a Holley 4 barrel carburator. The car has GM power steering and a Ford 9" rear end. The wheels are American Racing mags and the car has been lowered 3 inches. And there are lots of louvers in the hood. Those are VDO guages in the dash, and the paint is Black Cherry with ghost graphics. It is really great to see a hot rod Stude wagon with Stude power to boot!
---
MORE COOL STUDES
1951 Studebaker Starlight Coupe


Under the Hood

Rick Mannas sent along these updated pictures of the 1951 Starlight coupe he is working on. To this point, Rick has shaved the body lines and Frenched the head lights. His next step is to French 1954 Studebaker tail lights into the rear. Hopefully, we will get to see the finished product on this page.
1950 Studebaker Starlight Coupe


This picture was taken by Roger Bass at the 2001 Studebaker International Meet. Bill Hower sent it to Bill Junge who sent it to me. What a beautiful car!
Another Junkyard Picture


Here is another shot from the group of pictures Bill Junge sent along of a Studebaker wrecking yard in British Columbia. Bill has his own web site called Bullet Nose Paradise which is dedicated to 1950 and 1951 Bulletnose Studebakers. Thanks again to Bill for helping to keep this page in new material.
If you own or once owned a Studebaker or related vehicle and would like to see your car as "Stude of the Month" or in the "Cool Studes" section, or if you have other pictures or material that you would like to see in this page, please e-mail me here. I can accept either electronic or hard copy images.
---
Did you know that Michael Kelly's New Avanti Motor Corporation signed a deal to produce the VW based Brazilian Puma Sports Car? I didn't think so! The deal fell through when Kelly ran out of money. To learn more about the Puma, visit my Puma Sports Cars Site.
---
MORE 1957 SEDAN PICTURES
Front View


Right Side


And the Interior


As promised, here are more pictures the 1957 Studebaker 2-door sedan which is sitting in a used car lot in Roanoke, Virginia. Lawrence Young took the pictures. The car was originally called to my attention by Twig Gravely. Anyone need a project?
---
STUDE TOY OF THE MONTH
1953 Studebaker PanAmerican Racer

Luiz Augusto Tinoco sent in this picture of a 1:43 scale 1953 Studebaker Starliner PanAmerican race car from Provence Moulage. This a a great follow-on to the "real" Studebaker PanAmerican race car that was featured as Stude of the Month in January. Provence Moulage manufactures high quality resin kits for the serious modeler. To see more toy Studes, visit my Studebaker Toys Home Page.

Click here for information on ordering a toy Frankenstude Hot Rod, 1960's Champ Truck, 1951 Starlight Coupe Hot Rod, or Modified 1953-54 "At-A-Tude" Starliner.
---
---
---
---
* * This Page On Line Since October 1995 * *
---
Published 3/1/2003