---
BILL
JACKAMEIT'S
STUDEBAKER
PAGE
---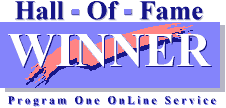 ---
---
Welcome fans of the pride of South Bend. I am a long-time Studebaker fan and Studebaker Drivers Club member, having owned a 1957 Silver Hawk in high school and a 1959 Lark Regal Hardtop in college. Since then, I have owned other Studes as hobby cars including a 1962 Champ Pickup, a 1964 Canadian Commander Special Sedan, a 1962 GT Hawk, a 1960 Lark Regal 4-door, a 1957 Silver Hawk (not the same one I owned in high school -- that one I wrecked) and a 1949 Champion Starlight Coupe. My current Studes are a 1964 Challenger Wagonaire Station Wagon with sliding roof and a 1964 Daytona Sedan. I will build this page as time allows. If you have any suggestions or comments, please send me a message. If you expeience a problem with the e-mail link, the address is wj2d44@gmail.com. Both text and image contributions are welcome.
---
STUDE OF THE MONTH
DECEMBER 2019
1964 Studebaker Cruiser Sedan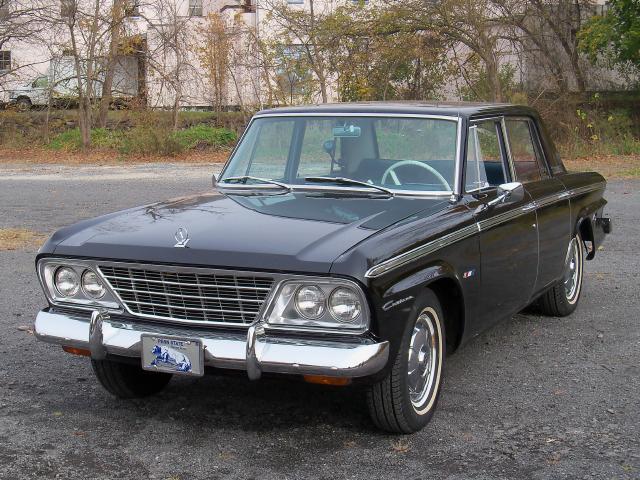 Rear Angle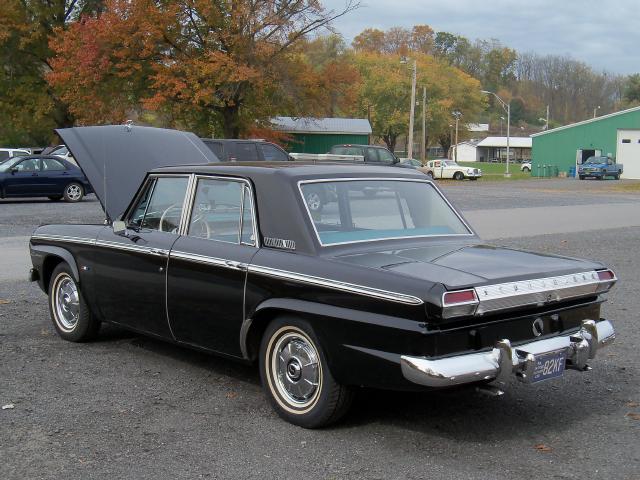 Passenger Side Front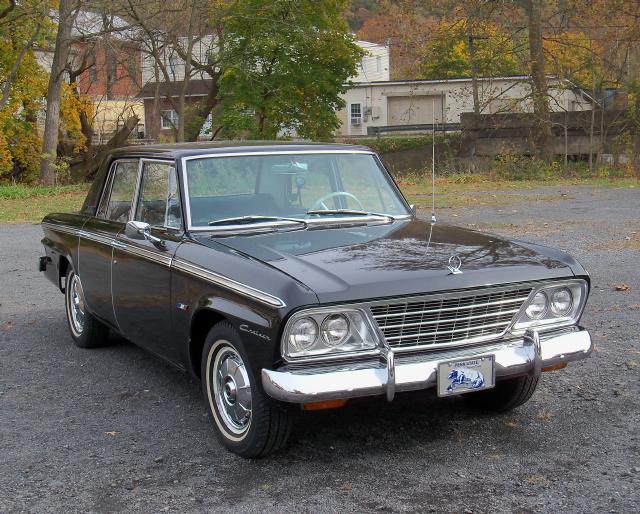 Passenger Side Rear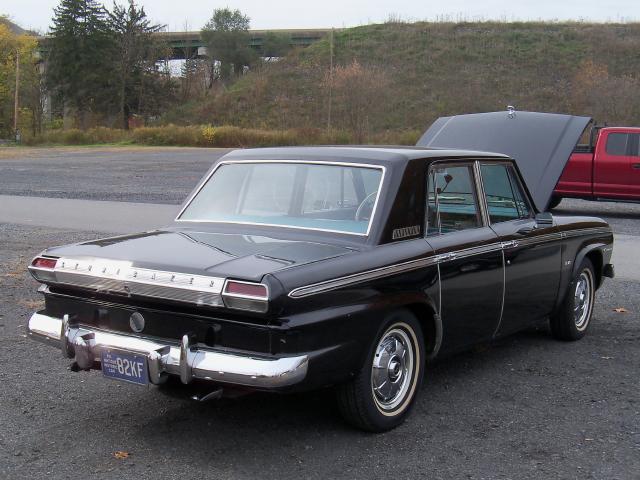 Front View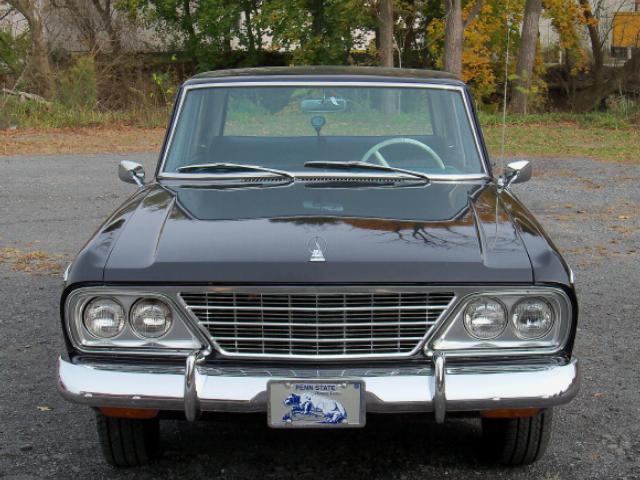 Rear View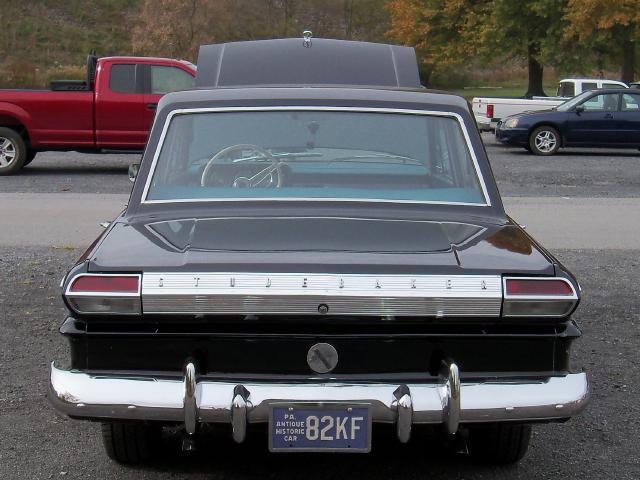 Side View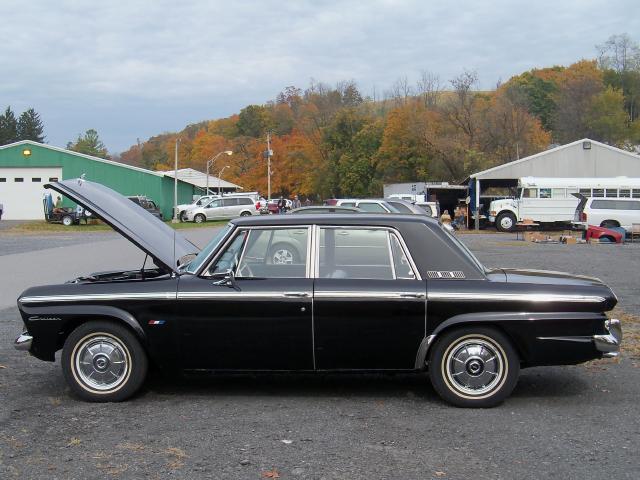 Interior and Dash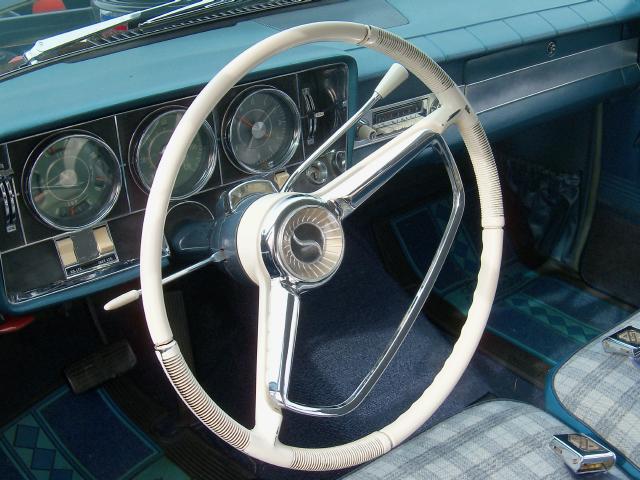 Under the Hood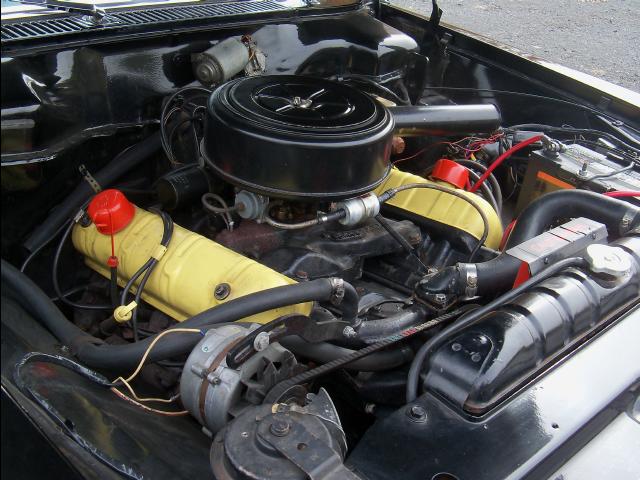 This sharp 1964 Studebaker Cruiser Sedan is owned by Dave Potts of Camp Hill, Pennsylvania. It is a Canadian built car as evidenced by the solid steering wheel. Factory options on Dave's Cruiser include Flightomatic automatic transmission, power steering, and an all transistor push button radio. The car has a few tasteful modifications that would likely not be noticed by those who don't know Studebakers. The front fender V8 emblems have been painted red on one end and blue on the other end keeping red to the front on both sides and the stainless steel rocker panel trim mouldings have been removed. The interior has been reupolstered in an attractive plaid pattern that looks contemporary to the car replacing the original cloth upholstery that tends to wear and fade over time.
Dave likes to drive his car and has put about 7,000 miles on it since he purchased it at the Studebaker York Swap Meet several years ago. Total mileage currently stands at about 60,000. The car has modern radial tires which Dave says considerably improve its ride and handling. With Studebaker's 289 cublic inch V8 the car is quite capable of keeping up with Interstate traffic. Although 1964 Cruisers came equipped with the 289 V8 a single exhaust was standard. Dave's car has dual exhausts that were a factory option and which were often added later by owners. Dave's car has the correct turned-down style exhaust pipes which are sometimes replaced with straight pipes. Opening rear vent windows were a nice feature unique to the Cruiser.
Designer Brooks Stevens did a masterful job of making the 1964 Lark-type Studebakers look new while retaining the basic structure of the 1963 model. The rear quarter panels on 1963 and 1964 sedans are the same even though the 1964 has a very different look at the rear. The 1964 models received new front fenders, a new trapezoidal grille, new hood, revised roof line, new trunk lid, and new tail lamps with integrated backup lights. Wagonaires received the new front end but were unchanged from the windshield back except for side and rear trim. Two-door sedans, hardtops, and convertibles were on a 109" wheelbase and four door sedans and wagons were on a 113" wheelbase.
The pictures were taken at the October 2019 Mifflin County Studebaker Swap Meet in Reedsville, Pennsylvania. Dave drove his Cruiser to the meet which is about a 130 mile round trip from his home. Attendence at the meet appeared to be down this year at least on Friday but I was able to purchase some items at great prices. I also took a number of pictures of Studes at the meet which I will use in future editions of this page as space allows. Current information is that the meet will be held once again in 2020 on October 20 and 21 at the Mifflin County Youth Park.
Thanks to Dave Potts for some great conversation and for providing information on his very nice 1964 Studebaker Cruiser.
If you own or once owned a Studebaker or related vehicle and would like to see your car as "Stude of the Month" or in the "Cool Studes" section, or if you have other pictures or material that you would like to contribute to this page, please e-mail me here at wj2d44@gmail.com. I can accept either electronic or hard copy images. The Main Page is issued every other month so the next edition will be February 2020.
---
All of the previous editions of the Main Page going back to October 1995 have been reposted. In the process of reposting the pages, I have made corrections and revisions as needed, and in some cases added material that was not used when a page was first posted due to download speed and file storage limitations. A complete list of Main Pagesand Studes of the Month with links to each is located here.
If you have a particular interest in Bullet Nose Studebakers, visit Bill Junge's Bullet Nose Paradise which is dedicated to the 1950 and 1951 Bullet Nose models.
---
2014 INTERNATIONAL MEET
DOVER, DELAWARE
BONNEVILLE SPEED WEEK
STUDEBAKER SALT FLATS RACERS
STUDEBAKER NATIONAL MUSEUM
PICTURES FROM MY VISIT
VIRGINIA MUSEUM OF
TRANSPORTATION STUDEBAKERS
---
TEST YOUR STUDEBAKER KNOWLEDGE!
---
ANOTHER COOL STUDE
1927 Studebaker President Limousine


Interior and dash


Under the Hood


Another View

This beautifully restored 1927 Studebaker President Model ES Seven Passenger Limousine is owned by Joe Bordelon of Salt Lake City, Utah. Joe located the car in New York and had it trucked to Salt Lake City. The body was in relatively good shape but the drivetrain needed considerable work. Parts were gathered from around the country and a set of manuals was purchased on eBay. The car was restored over a several year period including a complete rebuild of the engine and braking system. The main body is a deep blue with black fenders and lower body area. Joe had previously helped a friend restore a 1927 Studebaker Commander so he had some familiarity with Studebakers of this era before taking on this project.
The President was introduced in 1927 and in its first year was powered by Studebaker's 354 cubic inch six cylinder engine rated at 75 horsepower. This was the same engine used in the smaller and less expensive 1927 Commander. The 1927 President was a large car with a wheelbase of 127" and a weight of 4,050 pounds. In Limousine form it was a four-door touring sedan with jump seats. Features incuded four-wheel brakes and disc wheels. President production for 1927 was 9,405. For 1928 the President received a new 313 cubic inch 100 horsepower straight eight engine that increased in displacement and horsepower over the next several years and set a number of speed and endurance records.
Joe Bordelon is a member of the Wasatch Mountain Chapter of SDC and the Antique Studebaker Club. The pictures of Joe's President were taken by Bill Junge at the October 2019 Run to the Sun Car Show in Lake Havasu City, Arizona. Thanks to Bill for sending the pictures and information about this fine car.
---
DAN'S STUDEBAKER CROSSWORD PUZZLES
Dan Armstrong from Mansfield, Texas has created a number of crossword puzzles and games for car nuts. These are available on-line at Dan's Extreme Car Puzzles. Dan has a strong interest in Studebakers, particularly the 1956 Sky Hawk, the performance equipped 1963 Lark Daytona, and the performance equipped 1963 and 1964 GT Hawks. The Studebaker crosswords are copyright by Dan Armstrong and are used with his permission. Thanks to Dan for providing the link and the downloadable Studebaker crossword puzzles for readers of this page to enjoy.
---
Nick Bodemer's Studebaker Dealer Inventory Project was started in June 2011 and includes a growing number of pictures, articles, ads, and other items related to former Studebaker dealerships. Well worth a visit. If you have a Google account you can join the site through Google Friend Connect.
---
STUDE MISCELLANY
1964 Challenger Wagonaire Update

This picture of my 1964 Challenger Wagonaire was taken in October 2019 at Glenn Koogler's place in Raphine, Virginia. The 50 mile round trip from Staunton to Raphine was the Challenger's first outing after installation of a new fuel pump. Glenn opened his garage which is full of automobilia including signs, toys, tools, displays, literature, and other period items for the Greater Virginia Chapter of SDC October meeting and drive. He also had cars from his collection which includes two Packards on display for the club. Only a portion of the collection is shown in the picture. It was a real treat to be able to view this wonderful collection. Thanks to Glenn for hosting the club at his neat place.
1964 Daytona Sedan Update


This picture of my 1964 Daytona Sedan was taken at the October 2019 Lost in the 60's Car Show and Nostalgia Drag Races at Eastside Speedway in Waynesboro, Virginia. This was a large event with around 200 cars on the show field including two other Studebakers. Numerous trophies were awarded in several categories including best of show. Cars were classed by the judging team so it was not entirely clear what criteria applied to some of the classes. The Daytona received a large trophy for "Best Survivor" that was a different class from "Best Original" which was another award. Here is another view of the Daytona at Eastside Speedway.
---
PACKARD CORNER
1954 Packard Convertible


Front View


Interior and Dash


Continental Kit

This sharp 1954 Packard Convertible is owned by Glenn Koogler of Raphine, Virginia. Glenn's Packard Convertible is powered by a 359 cubic inch straight eight cylinder engine rated at 212 horsepower. Packard Convertible production for 1954 included 750 standard models and 400 Caribbean sport models. All 1954 Packard Convertibles used the same 212 horsepower engine. Options on Glenn's car include a continental kit and wire wheels both of which were standard items on the Caribbean. Glenn's car is also equipped with Packard's Ultramatic automatic transmission. This was the last year for the Packard straight eight with a new V8 being introduced for 1955.
Studebaker and Packard merged in 1954 to form the Studebaker-Packard Corporation. Studebaker was the larger company but Packard was in a better financial position. The idea was for Studebaker to be a volume producer is the lower price fields and for Packard to be a luxury car maker competing with Cadillac and Lincoln. Packard production continued in Detroit through the 1956 model year. Starting in 1957 Packards were built in South Bend and were essentially restyled Studebakers with 1958 being the final model year. In 1962 "Packard" was dropped from the company's legal name.
The pictures were taken at the October 2019 Greater Virginia SDC drive to Glenn's Garage. Glenn is active in the Old Dominion Packard Club and enjoys driving his 1954 Packard on tours and to events. Thanks again to Glenn for hosting the club and opening up his great collection for our viewing and enjoyment. Glenn's 1958 Packard Hawk appeared on this page in December 2006.
---
STUDEBAKER MODEL RAILROAD DIORAMAS
---
TOY OF THE MONTH
Welly 1953 Packard Caribbean Convertible







The 1953 Welly Packard Caribbean Convertible in yellow just seemed to be a natural choice for a featured toy this month given its similarity to Glenn Koogler's 1954 Packard Convertible. According to Welly's web site this model is part of the company's extensive 1:34 to 1:39 scale series. It is available in raised top and top down versions both of which are sold loose for $5 each at Dollar General Stores. A buyer should carefully inspect the model when purchasing one loose as they are sometimes damaged or missing parts from handling. When sold loose this model comes in yellow or green and has a pull-back friction motor as it is being marketed primarily as a child's toy. At the price it is a very nice diecast model for those interested in Packard cars.
A collector issue of this model packed in a picture box is available from other sources. The collector issue version comes in red as well as yellow and green. The collector issue has a back seat rather than the box like enclosure that hides the pull-back spring motor. The pull-back motor enclosure on the toy version also covers part of the chassis detail. All versions of this model feature opening doors. I purchased a boxed red collector issue on eBay for about $13 including shipping from a seller in Poland. Welly also makes a larger more detailed 1:24 scale model of the 1953 Packard Caribbean in both top up and top down versions. The 1:24 scale model features an opening hood with a nicely detailed engine and a very detailed interior.
More toy Studes can be found in the Stude Stuff area of this page and on my Studebaker Toys Home Page.
Click here for information on ordering hard to find Studebaker toys made by manufacturers such as Johnny Lightning, Racing Champions, Hot Wheels, Matchbox, Muscle Machines, Maisto, and EKO.
Studebaker Toy Treasures Book

Jim Geary's book Studebaker Toy Treasures is the standard reference collectors of Studebaker Toys. This wonderful book has 294 pages of color pictures and details on hundreds of Studebaker toys. Publication date is 2004 and just about every Studebaker toy and model produced up to that time is pictured and cataloged. Jim is making the book available for $28 plus $10 for shipping. Jim will sign the book if requested. This is a must for the serious Studebaker toy vehicle collector. Jim can be contacted at sanjim76@live.com or send payment to Jim Geary, 181 Allendale Hills Road, Franklin, NC 28734.
---
My Current 1964 Daytona Sedan on the
September 2018 Turning Wheels Back Cover.
---
---
---
* * * This Page On Line Since October 1995 * * *
---
Published 12/1/2019