---
BILL
JACKAMEIT'S
STUDEBAKER
PAGE
---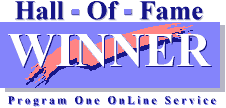 ---
---
Welcome fans of the pride of South Bend. I am a long-time Studebaker fan and Studebaker Drivers Club member, having owned a 1957 Silver Hawk in high school and a 1959 Lark Regal Hardtop in college. Since then, I have owned other Studes as hobby cars including a 1962 Champ Pickup, a 1964 Canadian Commander Special Sedan, a 1962 GT Hawk, a 1960 Lark Regal 4-door, a 1957 Silver Hawk (not the same one I owned in high school -- that one I wrecked) and a 1949 Champion Starlight Coupe. My current Studes are a 1964 Challenger Wagonaire Station Wagon with sliding roof and a 1964 Daytona Sedan. I will build this page as time allows. If you have any suggestions or comments, please send me a message. If you expeience a problem with the e-mail link, the address is wj2d44@gmail.com. Both text and image contributions are welcome.
---
STUDE OF THE MONTH
OCTOBER 2019
1953 Commander Starliner Hardtop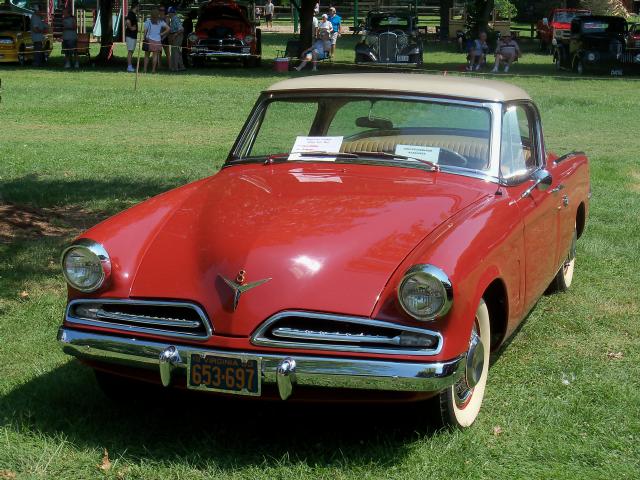 Rear Angle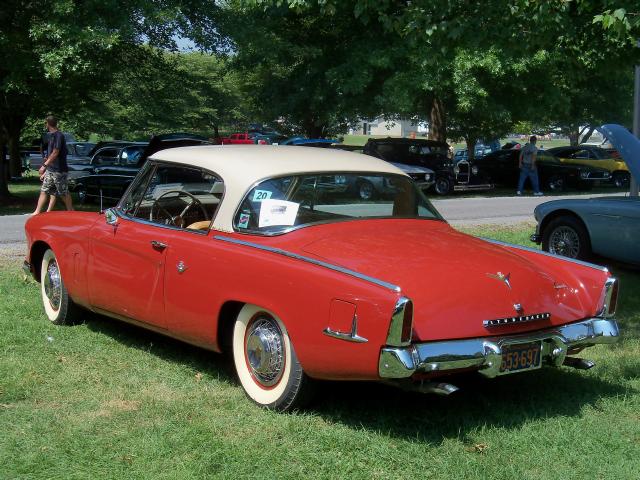 Passenger Side Front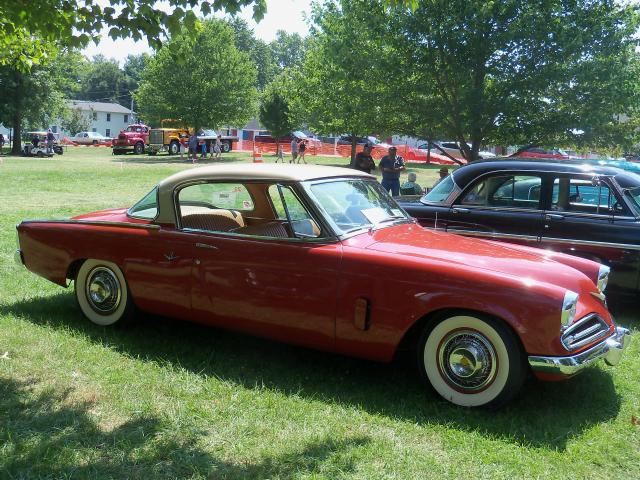 Passenger Side Rear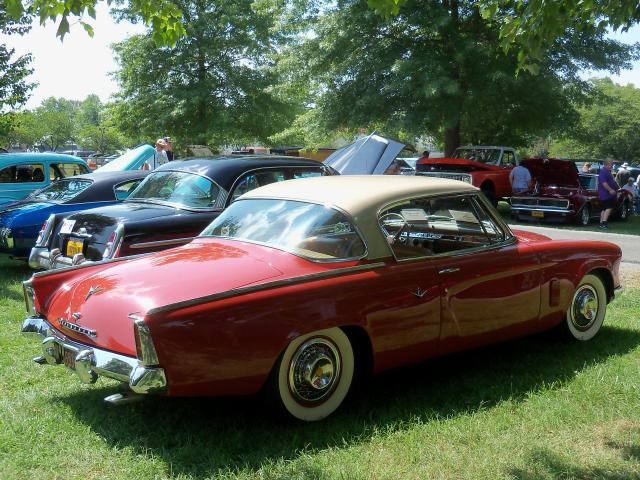 Front View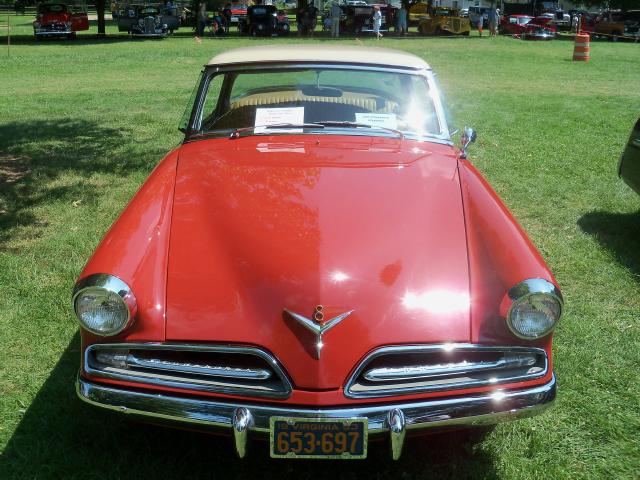 Rear View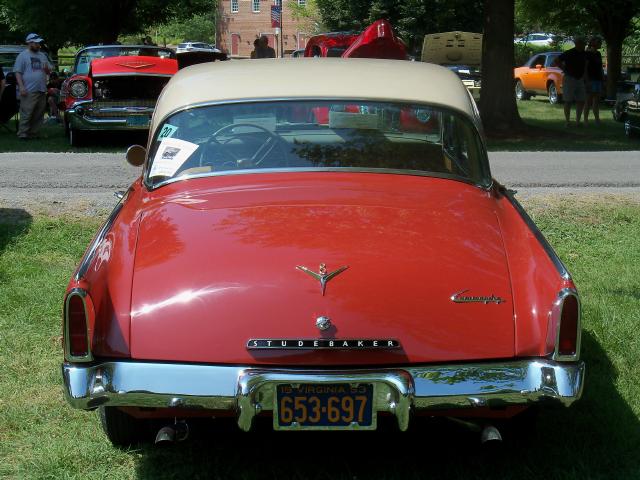 Interior and Dash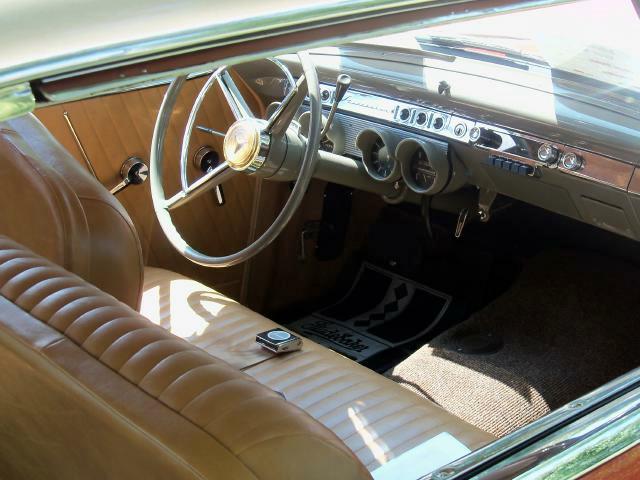 Rear Seat Area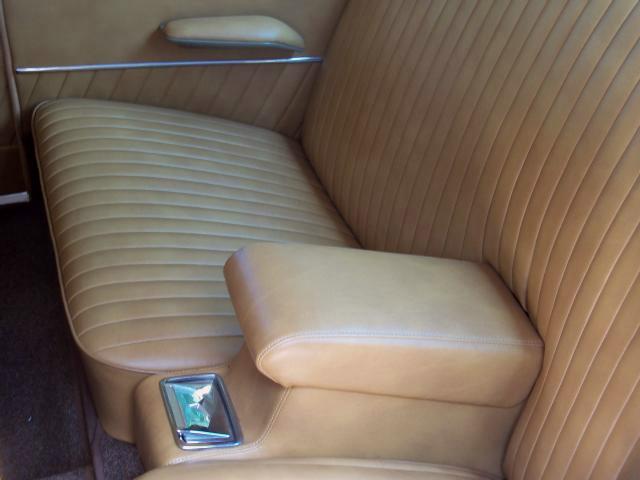 Under the Hood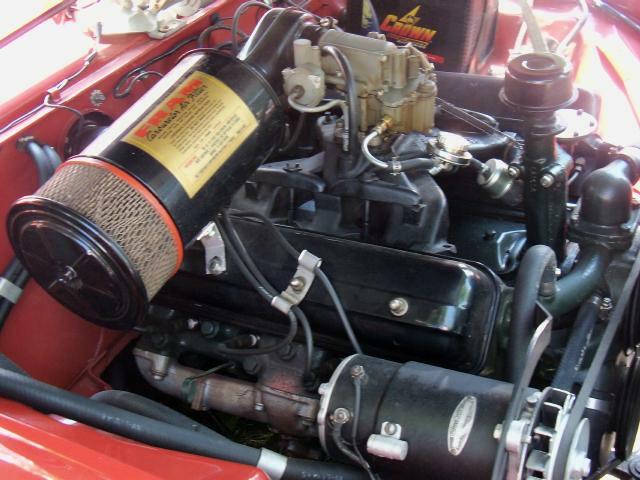 This beautiful 1953 Studebaker Commander Starliner Hardtop is owned by Chester and Nancy Bradfield of Bridgewater, Virginia. Chester was restoring a manual shift 1953 Starliner but his wife and family said they would prefer one with an automatic transmission. The Bradfields found this car fully restored in Nebraska, purchased it, and brought it to Virginia. It has the early 1953 tri-star hood ornament that was later changed due to protests from Mercedes-Benz. It also has optional bolt-on wire wheel covers and a factory push-button radio. All 1953 Starliner Hardtops were high trim Regal models. The only change from stock is the dual exhaust system which was not available from the factory until the 1955 model year. Here are close-up pictures of the 1953 Virginia license plate and the early tri-star hood ornament.
All 1953 Studebaker Commanders were powered by a 232 cubic inch V8 rated at 120 horsepower. A three-speed manual transmission was standard with overdrive and an automatic tranmission optional. The automatic transmission was supplied by Borg-Warner and was a popular option on Commanders. The Starliner Hardtop was also available as a Champion six. Production of 1953 Starliners was 19,326 Commanders and 13,058 Champions. Early problems with the new body kept production down and resulted in lost sales. Studebaker also badly misjudged the demand for the Starliner and its companion Starlight five-window coupe relative to sedans.
Designed by Bob Bourke of Raymond Loewy Associates, the 1953 Studebaker Starliner won numerous design awards and is considered by many to be the best styled American car of the 1950's. The basic body of the 1953 Starliner carried through to the 1964 Gran Turismo Hawk. The fenders and rear quarter panels on the 1953 Starliner and the 1964 GT Hawk are essentially identical and are interchangable. The Starliner Hardtop and Starlight Coupe coupe were designed with streamlining in mind. As such, this design has proven popular to this day in salt flats racing and in the Carrera Panamericana road race across Mexico.
The pictures were taken at the July 2019 Bridgwater Volunteer Fire Company Lawn Party Car Show. Chester and Nancy own a number of fine Studebakers including several which have appeared as Stude of the Month on this page. Thanks to Chester for providing information regarding this beautiful 1953 Commander Starliner Hardtop.
If you own or once owned a Studebaker or related vehicle and would like to see your car as "Stude of the Month" or in the "Cool Studes" section, or if you have other pictures or material that you would like to contribute to this page, please e-mail me here at wj2d44@gmail.com. I can accept either electronic or hard copy images. The Main Page is issued every other month so the next edition will be December 2019.
---
All of the previous editions of the Main Page going back to October 1995 have been reposted. In the process of reposting the pages, I have made corrections and revisions as needed, and in some cases added material that was not used when a page was first posted due to download speed and file storage limitations. A complete list of Main Pagesand Studes of the Month with links to each is located here.
If you have a particular interest in Bullet Nose Studebakers, visit Bill Junge's Bullet Nose Paradise which is dedicated to the 1950 and 1951 Bullet Nose models.
---
2014 INTERNATIONAL MEET
DOVER, DELAWARE
BONNEVILLE SPEED WEEK
STUDEBAKER SALT FLATS RACERS
STUDEBAKER NATIONAL MUSEUM
PICTURES FROM MY VISIT
VIRGINIA MUSEUM OF
TRANSPORTATION STUDEBAKERS
---
TEST YOUR STUDEBAKER KNOWLEDGE!
---
ANOTHER COOL STUDE
1978 Avanti II Coupe


Side View


Front View


Interior and Dash

This sharp looking 1978 Avanti belongs to Jim Bradley of Palmyra, Virginia. Jim has owned this car for about 10 years. Unusual for a 1978 Avanti II is that it is equipped with manual windows. Most came equipped with power windows although technically they were an optional item. Also, it does not have the troublesome power sunroof that is often found on these cars. Jim's car does have the very attractive Magnum 500 wheels that were a factory option. The 1978 Avanti II was powered by a Chevrolet 350 cubic inch V8 rated at 180 horsepower. Avanti II production for 1978 was 165 cars, all of which were coupes.
Jim has modified the car to appear much like an original Studebaker Avanti. When he purchased the car the front "cow catcher" that was intended to meet the federal five mile per hour bumper requirement had been removed and auxiliary lights had been installed on the exposed frame extensions. This is a common modification to Avantis of this era. Jim cut off the frame extensions forward of the body supports, eliminated the auxiliary lights, and installed a reproduction 1963 Avanti front grille. In addition, the "II" script has been removed front and rear.
The pictures were taken at the August 2019 Great Virginia Chapter of SDC meeting and driving tour. Jim's former 1964 Studebaker Daytona Hardtop was Stude of the Month on this page in December 2005. Jim also owned a 1963 Avanti for 29 years. Thanks to Jim for providing information on his neat 1978 Avanti II Coupe.
---
DAN'S STUDEBAKER CROSSWORD PUZZLES
Dan Armstrong from Mansfield, Texas has created a number of crossword puzzles and games for car nuts. These are available on-line at Dan's Extreme Car Puzzles. Dan has a strong interest in Studebakers, particularly the 1956 Sky Hawk, the performance equipped 1963 Lark Daytona, and the performance equipped 1963 and 1964 GT Hawks. The Studebaker crosswords are copyright by Dan Armstrong and are used with his permission. Thanks to Dan for providing the link and the downloadable Studebaker crossword puzzles for readers of this page to enjoy.
---
Nick Bodemer's Studebaker Dealer Inventory Project was started in June 2011 and includes a growing number of pictures, articles, ads, and other items related to former Studebaker dealerships. Well worth a visit. If you have a Google account you can join the site through Google Friend Connect.
---
STUDE MISCELLANY
German Custom 1953 Starliner Hardtop

This custom 1953 Commander Starliner Hardtop is owned by Jan Stoeven of Itzehoe, Schleswig-Holstein, Germany. The custom work was done in the U.S. by a previous owner. The body is chopped, most of the original trim has been removed, and the hood has six rows of louvers. Jan's Stude is powered by a Ford V8 with automatic transmission. The front suspension is Chevrolet and the chrome front grille is early Chevrolet Corvette with chrome bullets added at each end.
The car has a Kustoms of America decal on one of its windows. Kustoms of America was started by the George Barris the "King of Kustoms" when he was just out of High School and was initially named "Kustoms of Los Angeles." The event plaques on the firewall also suggest that this was a West Coast car. Jan has named the car "Eve" as his partner and her girlfriend felt the car is "too pretty" to be a male.
Jan is interested in learning more about the history his car including who built it. If anyone can provide such information please contact the pagemaster at wj2d44@gmail.com or use the link at the bottom of the page and I will pass the information on to Jan. Thanks to Jan for sending the pictures and information about his cool custom Stude.
1964 Daytona Sedan Update

After driving 25 miles from Staunton to Bridgewater for the August 2019 Greater Virginia Chapter of SDC meeting and driving tour I noticed a puddle under my 1964 Daytona Sedan. A quick check indicated that the source was a leaky freeze plug. Although the leak was slow, I decided not to go on the driving tour and instead topped of the radiator and drove home after the meal with a spare gallon bottle of water. I got home without having to add additional water and arranged to have all six freeze plugs replaced the following week. It was well worth the $144 labor charge to have this job done at a shop.
After installation of new freeze plugs the Daytona was shown at the September 2019 Labor Day Cruise-in at Wright's Dairy-Rite in Staunton, Virginia. As can be seen the rear window blinds are still in the car as they have grown on me over time. Here is a second view of the car on the street at Wright's. Not to be outdone, my 1964 Challenger Wagonaire developed a leaky fuel pump the following week. Tightening up the old pump did not stop the fuel leak so I installed a new "50,000 mile diaphragm" fuel pump which has fixed the problem. The Wagonaire also seems to start easier and idle better with the new fuel pump.
---
PACKARD CORNER
1954 Packard Clipper Hardtop


Side View


Rear View


Passenger Side


Interior and Dash

This sharp 1954 Packard Clipper Super Panama Hardtop is owned by Michael Karalevicz of Broadway, Virginia. Michael's Packard is powered by a 327 cubic inch straight eight cylinder engine rated at 165 horsepower and is equipped with Packard's Ultramatic automatic transmission. The new for 1954 taillights styled by Dick Teague were a safety feature designed to be seen from virtually any angle. This is a realtively rare car with only 3,618 Clipper Super Panama Hardtops being produced for the 1954 model year. It was also the last year for the Packard straight eight with a new V8 being introduced for 1955.
Studebaker and Packard merged in 1954 to form the Studebaker-Packard Corporation. Studebaker was the larger company but Packard was in a better financial position. The idea was for Studebaker to be a volume producer is the lower price fields and for Packard to be a luxury car maker competing with Cadillac and Lincoln. Packard production continued in Detroit through the 1956 model year. Starting in 1957 Packards were built in South Bend and were essentially restyled Studebakers with 1958 being the final model year. In 1962 "Packard" was dropped from the company's legal name.
The pictures were taken at the August 2019 Valley Mustang Unlimited Car Club Car Show in Staunton, Virginia. Michael also owns a 1961 studebaker Lark VIII Sedan that has ben in his family since new and appeared on this page in April 2018.
---
STUDEBAKER MODEL RAILROAD DIORAMAS
---
STUDE TOY OF THE MONTH
Brooklin 1957 Packard Clipper Sedan







This 1:43 scale Brooklin 1957 Packard Town Car "Packardbaker" in Tiara Gold Metallic is a recent addition to my personal collection. As far as I know, this is the only version of this model. It is Number BRK 171 in the Brooklin Collection Series and is listed as a current model on Brooklin's web site priced at £140 which equates to about $175 U.S. Dollars. As is typical of a Brooklin model, it is quite heavy with a high quality paint job and a nicely detailed interior. As with newer Brooklin models, it has fairly extensive plastic exterior trim not found on the older issues. The doors, hood, and trunk lid are fixed and the chassis is plainly detailed with model identification and "Made in England" cast into the base. It comes securely packed in inner and outer boxes and with foam padding around the model.
Brooklin Models was founded in 1974 by John Hall in Brooklin, Ontario. The company relocated from Canada to Bath, England in 1979. From its beginning, Brooklin has specialized in American cars including those from companies like Studebaker, Nash, Hudson, and Packard. Brooklins are cast in heavy white metal from hand crafted brass patterns. The models are hand spray painted and feature nickel plated bright work and rubber tires. Brooklin has issued a number of Studebaker models including a 1934 Commander Land Cruiser Sedan, 1935 Commander Convertible, 1950 Commander Land Cruiser, 1952 Champion Starlight Coupe, 1952 Commander Convertible, 1953 Commander Starliner, 1954 Conestoga Station Wagon, 1955 Champion Sedan, and 1959 Lark Sedan.
More toy Studes can be found in the Stude Stuff area of this page and on my Studebaker Toys Home Page.
Click here for information on ordering hard to find Studebaker toys made by manufacturers such as Johnny Lightning, Racing Champions, Hot Wheels, Matchbox, Muscle Machines, Maisto, and EKO.
Studebaker Toy Treasures Book

Jim Geary's book Studebaker Toy Treasures is the standard reference collectors of Studebaker Toys. This wonderful book has 294 pages of color pictures and details on hundreds of Studebaker toys. Publication date is 2004 and just about every Studebaker toy and model produced up to that time is pictured and cataloged. Jim is making the book available for $28 plus $10 for shipping. Jim will sign the book if requested. This is a must for the serious Studebaker toy vehicle collector. Jim can be contacted at sanjim76@live.com or send payment to Jim Geary, 181 Allendale Hills Road, Franklin, NC 28734.
---
My Current 1964 Daytona Sedan on the
September 2018 Turning Wheels Back Cover.
---
---
---
* * * This Page On Line Since October 1995 * * *
---
Published 10/1/2019