---
BILL
JACKAMEIT'S
STUDEBAKER
PAGE
---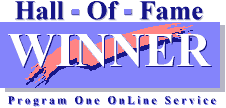 ---
THESE PAGES BEST VIEWED AT 800 BY 600 SCREEN RESOLUTION

---
Welcome fans of the pride of South Bend. I am a long-time Studebaker fan and Studebaker Driver's Club member, having owned a 1957 Silver Hawk in high school and a 1959 Lark Regal Hardtop in college. Since then, I have owned other Studes as hobby cars including a 1962 Champ Pickup, a 1964 Canadian Commander Special, a 1962 GT Hawk, a 1960 Lark Regal 4-door, and a 1957 Silver Hawk (not the same one I owned in high school -- that one I wrecked). My current Stude is a 1949 Champion Starlight Coupe. I will build this page as time allows. If you have any suggestions or comments, please send me a message. Both text and image contributions are welcome.
---
STUDE OF THE MONTH
DECEMBER 2007
1958 Scotsman Street Rod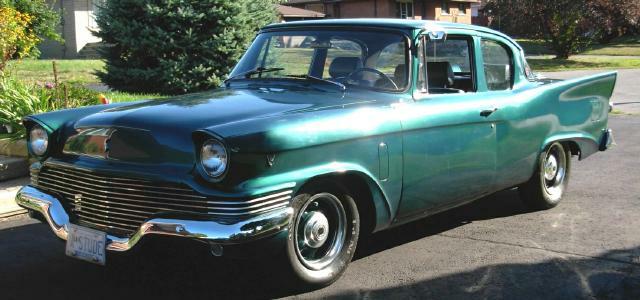 Rear Angle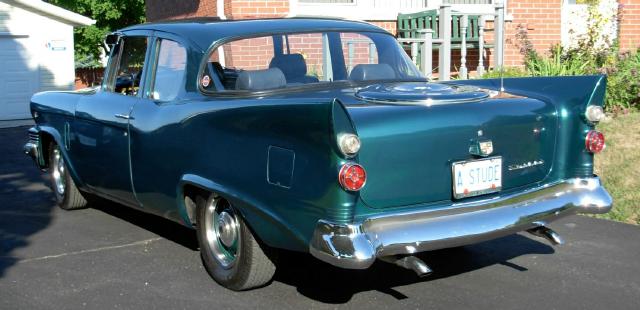 Passenger Side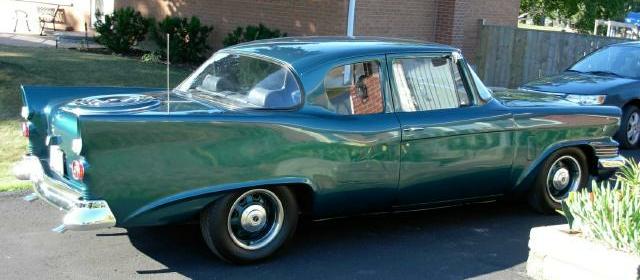 Interior and Dash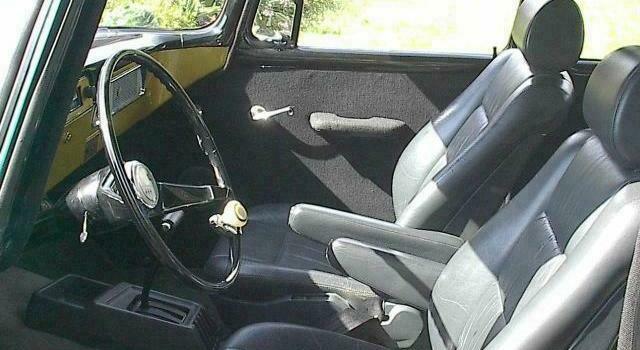 Under the Hood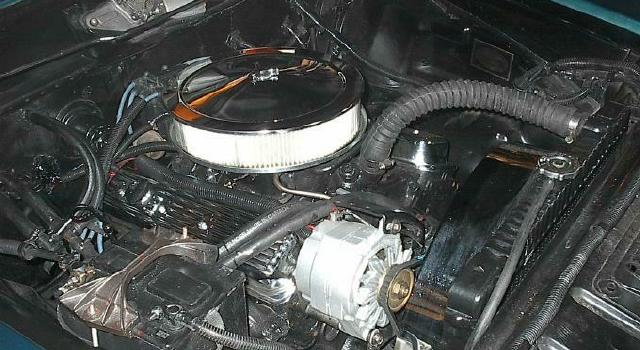 This is only the second time in the twelve plus years that this page has been going that a car has repeated as Stude of the Month. Myno Van Dyke's cool 1958 Studebaker Scotsman Street Rod was first featured in January 1999. That was when the pictures used on the page were fewer and smaller, so it is nice to be able to provide an update. The tail fins are corrrect for a 1958 Studebaker but were not used on the Scotsman model. Myno added these as well as an accessory Studebaker tire cover on the deck lid. Mechanically the car is largely Chevrolet with a 350 V-8 from a 1987 Chevy Van and an automatic transmission from a 1979 Camaro. Wheels are from a 1980 Ford Bronco and the rear axle and suspension are from a 1980 Ford Granada. The front disc brakes are AMC and the master cylinder and and radiator are Dodge. The front and rear leather seats were donated by a 1992 BMW. The car has a Chrysler power antenna, Toyota radiator overflow bottle, and a Mazda 323 horn. A 1991 Lincoln donated its sun visors and the floor shifter came out of a 1993 Ford Escort. All of this comes together to form a very cool street rod. Here is a picture of the rear seat. Thanks to Myno for sending the updated pictures and information on his unique custom Stude.
If you own or once owned a Studebaker or related vehicle and would like to see your car as "Stude of the Month" or in the "Cool Studes" section, or if you have other pictures or material that you would like to contribute to this page, please e-mail me here. I can accept either electronic or hard copy images.
---
All of the previous Monthly Main Pages have been reposted. In the process of reposting the pages, I have made corrections and revisions as needed, and in some cases added material that was not used when a page was first posted due to download speed and file storage limitations. A list of reposted Main Pages with links to each is located here.
---
MORE COOL STUDES
Custom 1962 Studebaker GT Hawk


Custom Front End


And Custom Rear Deck

This sharp 1962 GT Hawk Street Rod belongs to Mike Ermatinger of Evart, Michigan. The color is Patriot Red Pearl done by Leutz Body Works of Evart. The car was finished in August 2007 and promptly won a second place in the street machine class at a Labor Day car show. Most of the bright trim has been removed or painted to match the body. Gone are the upper fender trim, outside door handles, rocker panel covers, and rear deck lid insert. Mike's Hawk is powered by a reworked Chevy 327 cubic inch V8 driving through a GM Turbo Hydramatic 400 automatic transmission. Engine modifications include camel back heads, a cam ground for drag racing, and a rare transverse mounted dual quad Edelbrock intake and carbs. The wheels are Cragar SS chrome mags equipped with B.F. Goodrich radials. The battery and fuel cell are in the trunk and the car is equipped with a roll bar. The interior features Oldsmobile front buckets and a Lexan dash with modern gauges. Not too many GT Hawks have been customized or built into street rods. Thanks to Mike for sending the pictures and information on his cool ride.
More Gran Turismo Hawks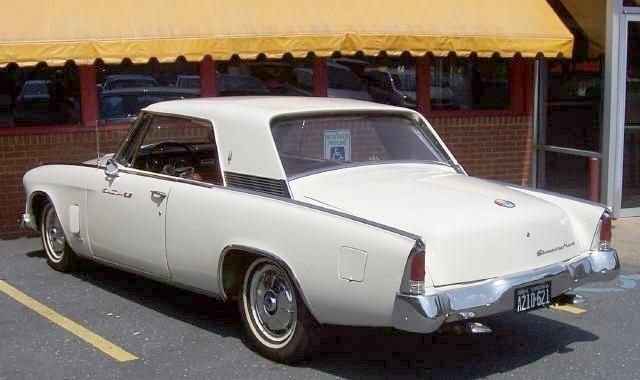 The blue Gran Turismo Hawk is owned by Dale and Lucy Early of Crimora, Virginia. Dale is President of the Greater Virginia Chapter of SDC. The Early's Hawk has 1962 headlight rims and side grills and a 1963 main grille. The car has 1962 Virginia license plates so the assumption is that it is a 1962 model. The white GT Hawk is a 1964 model owned by Gene Kane of Stuarts Draft, Virginia. The factory changed the decklid for 1964 by removing the rear insert and smoothing the area underneath it. This picture of Jim and Debra Jett's 1963 GT Hawk that was the October 1996 Stude of the Month provides a comparison. Gene is a member of the Greater Virginia Chapter of SDC. GT Hawk model year production reached 9,335 for 1962 but dropped to 4,634 for 1963 and numbered only 1,767 for 1964. The pictures were taken at a club function in August 2007.
Three Primo Studebaker Street Rods

Bill Junge of Lake Hasasu City, Arizona sent in this picture of three Studebaker Street Rods. The car on the left is Ernie Belcher Jr.'s "Studemino" that was Stude of the Month in January 1998. The car on the right is Bill Junge's 1951 Champion Street Rod that was Stude of the Month in July 1997 and again in October 2005. Bill's Champion and Myno Van Dyke's Scotsman are the only two cars to repeat as Stude of the Month. Ernie Belcher Sr. and Ernie Belcher Jr. crafted the Studemino and did most of the work on Bill Junge's car. The car in the middle is Jason Belcher's 1954 Studebaker Commander Starliner Hardtop. Jason's car will be the Stude of the Month for February 2008. Jason is Ernie Belcher Jr.'s son. All three generations of Belchers were involved in building Jason's car. Here is another picture of Jason's Starliner and the "Studemino."
Bill Junge has his own web site called Bullet Nose Paradise which is dedicated to 1950 and 1951 Bullet Nose Studebakers. Thanks again to Bill for helping to keep this page in new material.
---
OCTOBER 2007 BRIDGEWATER MEET
1961 Studebaker Lark VI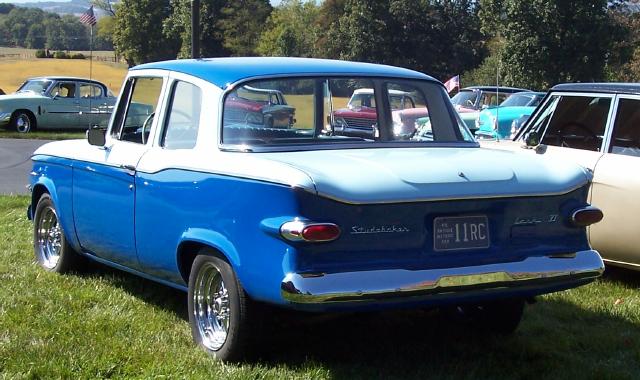 1935 Studebaker T-2 Ace Wrecker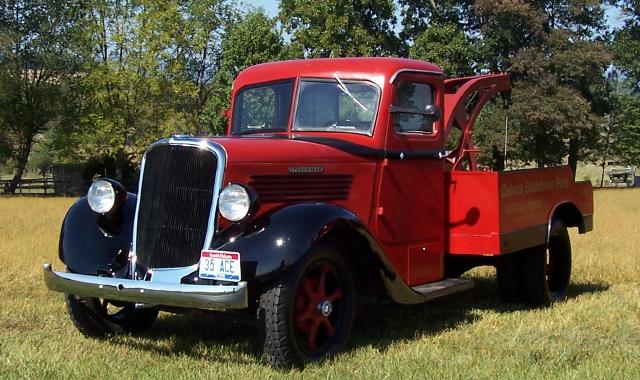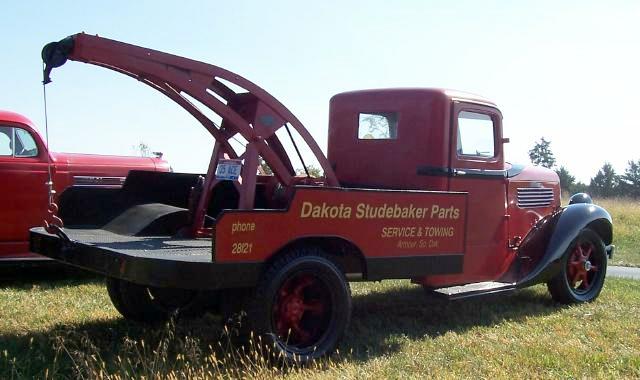 1954 Studebaker Land Cruiser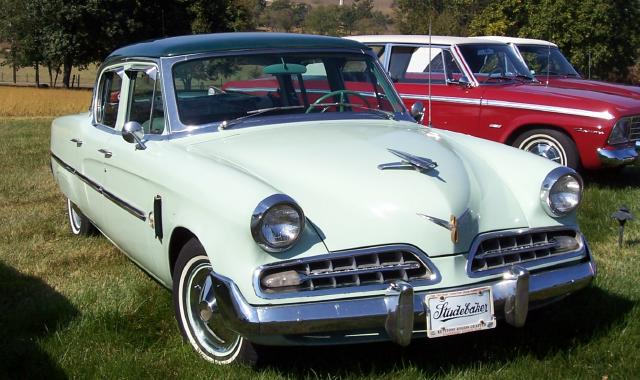 The two-tone 1961 Lark VI 2-Door sedan is owned by Tom and Nancy Pfahler of Paradise, Pennsylvania. This was the first year for the overhead valve "Skybolt Six" that was adapted from the old Champion flathead six. Rated at 112 horspower, the revised six represented a significant increase in power and performance over the 90 horsepower Lark VI of 1959 and 1960. The 1935 Studebaker T-2 Ace Wrecker is owned by meet hosts Chester and Nancy Bradfield of Bridgewater, Virginia. The Bradfields once again graciously opened their home and grounds for a great Studebaker gathering with cars from several states attending. This interesting truck is from the era when Studebaker commercial trucks were named by weight class starting with "Ace" and moving up to "Boss," "Mogul," and "Big Chief." Thanks to Studebaker truck expert Frank Drumeller for providing that information. The 1954 Land Cruiser is owned by Tom and Winnie Shoul of Sparks, Maryland. This was the last year for the Land Cruiser in that the President returned to replace it as Studebaker's top model in 1955. Here is a shot of the Land Cruiser's rear deck. More pictures from the October 2007 Bridgewater meet will appear in the next update of this page.
---
TEST YOUR STUDEBAKER KNOWLEDGE!
---
STUDE MISCELLANY
1938 Studebaker President Coupe



Andrew Marton of Minneapolis, Minnesota sent in these pictures of his 1938 Studebaker President Coupe. Andrew indicates that he was used this car as a daily cruiser when he lived in New Jersey. The President moved with him to Minnesota in the late 1980's. This picture shows the car in his parent's front yard when it was in daily service. The 1938 President was a Raymond Loewy design that featured unique streamlined headlamps built into the front fenders. The headlamps were intended to mimic the design of a futuristic locomotive that Loewy designed for the Pennsylvannia Railroad. The car now reposes in Andrew's garage hopefully waiting to be returned to its former beauty. Thanks to Andrew for sending the pictures and information.
---
Did you know that Michael Kelly's New Avanti Motor Corporation signed a deal to produce the VW based Brazilian Puma Sports Car? I didn't think so! The deal fell through when Kelly ran out of money. To learn more about the Puma, visit my Puma Sports Cars Site.
---
STUDE TOY OF THE MONTH
1953 Studebaker Convertible Conversion



This 1953 Studebaker Convertible was built by Phil de Vos. Phil modified an AMT Starliner Hardtop kit to make this super model. The result shows a high level of modeling skill that I can only envy. Studebaker did not build any factory convertibles from 1953 and 1959. A number of convertible conversions were undertaken by dealers and individuals with varying results. Phil's model is a two seater with a shortened wheelbase. I know of at least one example of a real 1953 two-seat convertible conversion which appeared on this page in October 2003. More toy Studes can be found in the Stude Stuff area of this page and on my Studebaker Toys Home Page.

Click here for information on ordering hard to find Studebaker toys made by manufacturers such as Johnny Lightning, Racing Champions, Hot Wheels, Muscle Machines, and EKO.
---
---
---
---
* * This Page On Line Since October 1995 * *
---
Published 11/30/2007