'


---
BILL
JACKAMEIT'S
STUDEBAKER
PAGE
---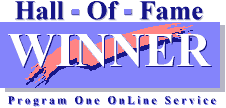 ---
THIS PAGE OPTIMIZED FOR 800 BY 600 SCREEN RESOLUTION

---
Welcome fans of the pride of South Bend. I am a long-time Studebaker fan and Studebaker Driver's Club member, having owned a 1957 Silver Hawk in high school and a 1959 Lark Regal Hardtop in college. Since then, I have owned other Studes as hobby cars including a 1962 Champ Pickup, a 1964 Canadian Commander Special, a 1962 GT Hawk, a 1960 Lark Regal 4-door, and a 1957 Silver Hawk (not the same one I owned in high school -- that one I wrecked). My current Stude is a 1949 Champion Starlight Coupe. I will build this page as time allows. If you have any suggestions or comments, please send me a message. Both text and image contributions are welcome.
---
STUDE OF THE MONTH
AUGUST 2009
Custom 1948 Studebaker Street Rod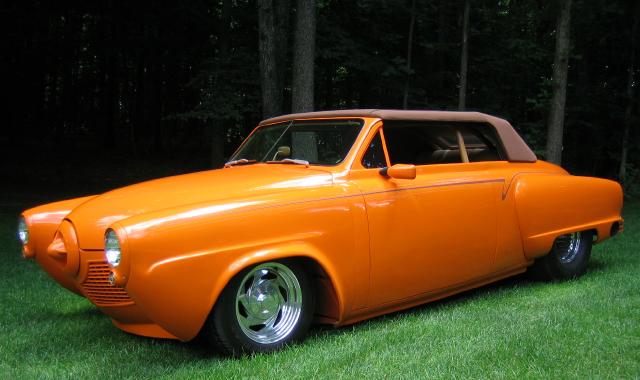 Rear Angle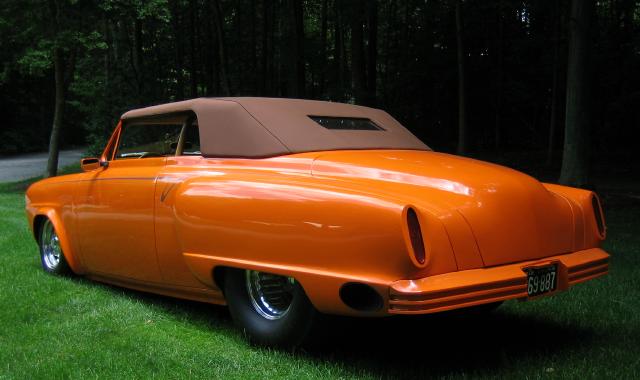 Front View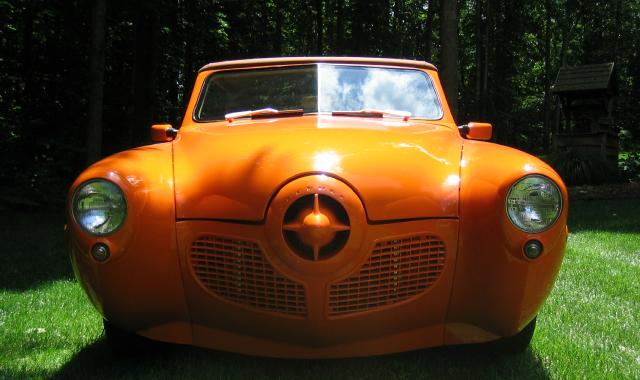 Lids Up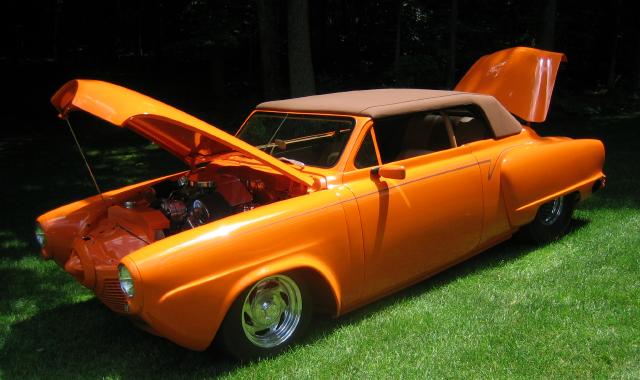 Interior and Dash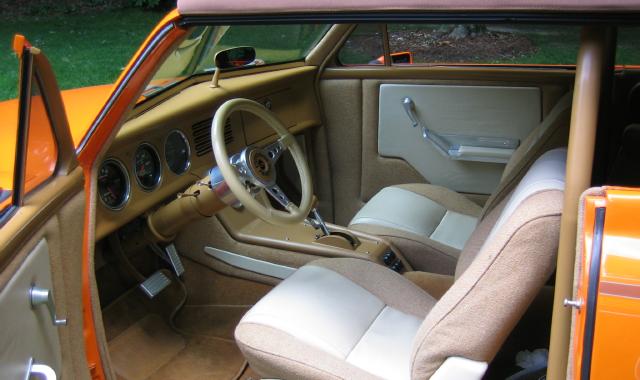 Under the Hood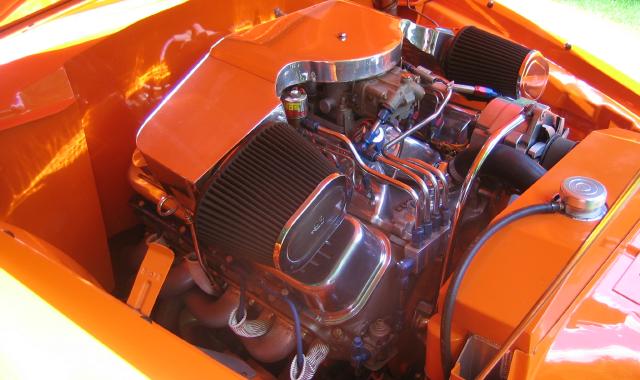 Mike Shugart of Fredericksburg, Virginia sent in these pictures of a really cool 1948 Studebaker Street Rod owned by Willy Eustace, also of Fredericksburg, Virginia. The car has been expertly converted into a bullet nose model using 1950 and 1951 components. A close look reveals that the bullet is the 1950 type and the split front grille is the 1951 type. Mike indicates that the car started life as a Champion coupe. About the only hint of of the car's origins is the two-piece windshield. Factory convertibles featured a one-piece curved windshield. The dash appears to be from a bullet nose Commander and the rear bumper was custom made. Other features include a Carson custom padded top top and a full roll cage. Power comes from a 496 cubic inch big block Chevy V8 with Dart heads and a heavy cam driving through a Turbo Hydramatic 400 automatic transmission with shift kit. Other features include Hooker full length headers, all chrome 3" pipes, and chrome plated Flowmaster mufflers. The exhaust exits through custom cutouts in the rear of the back fenders. The front end is Mustang II and the rear is 9" Ford with Micky Thompson racing tires on 15" by 15" rims. Here is a shot of a wheel with its custom "Studebaker" center cap. The interior features bucket seats, center console, a full set of Auto Meter gauges, and up-dated electronics. Mike indicates that the car is simply a blast to drive.
Thanks to Mike for sending in the pictures of Willy's cool ride.
If you own or once owned a Studebaker or related vehicle and would like to see your car as "Stude of the Month" or in the "Cool Studes" section, or if you have other pictures or material that you would like to contribute to this page, please e-mail me here. I can accept either electronic or hard copy images. The Main Page is issued every other month so the next edition will be October 2009.
---
All of the Monthly Main Pages going back to October 1995 have been reposted. In the process of reposting the pages, I have made corrections and revisions as needed, and in some cases added material that was not used when a page was first posted due to download speed and file storage limitations. A complete list of Main Pages with links to each is located here.
---
ATLANTIC ZONE MEET REPORT
CLICK HERE
---
ANOTHER COOL STUDE
1946 Champion Street Rod


Rear Angle


Interior and Dash


Under the Hood

Bill Junge sent these pictures of a sharp 1946 Studebaker Champion Street Rod taken earlier this year in Redondo Beach, California. This cool car is powered by a Ford V8 as indicated by the Fordabaker valve covers that adorn the engine. It is equipped with MSD ignition, Weber carburation, a full set of VDO "Cockpit Royale" vintage white face gauges, and a modern Alpine sound system with MP3 and WMA capability. The 1946 Champion was an interim model produced only until Studebaker could get production of the all new 1947 model going. Total 1946 Champion production was 19,275 of which only 3,750 were two-door coupes such as this one. Unfortunately, the owner did not come by so Bill was unable to get any further information about the car. Thanks to Bill for sending in the pictures of this cool street rod.
Bill Junge has his own web site called Bullet Nose Paradise which is dedicated to 1950 and 1951 Bullet Nose Studebakers. Thanks again to Bill for helping to keep this page in new material.
---
STUDE MISCELLANY
Studebaker Diesel Truck in Arizona


C Cab Pickup


M Series Dump Truck


1961 Lark Police Car

Richard Joslin of Kent, Washington sent several pictures of "retired" Studebakers that he took about three years ago in the historic ghost town of Jerome, Arizona. The first picture shows a relatively rare Studebaker diesel truck. Studebaker diesel trucks of the early 1960's were powered by four cylinder General Motors Detroit Diesel 4-53 engines displacing 212 cubic inches and rated at 130 horsepower. These engines were equipped with blowers and were guaranteed for 100,000 miles by Studebaker. This particular truck is a "96 BBC" (96" from bumper to back of cab) model with flat front that was introduced as an option in 1962. The primary purpose of the 96 BBC option, which was also available on gasoline engine Studebaker Transtars, was to shorten the length of the truck to comply with certain state restrictions. Actually, this was more useful on tractor trailers. Here is a second view of this rare truck. Those with sharp eyes should notice the Studebaker Postal Zip Van parked behind the Studebaker diesel in the first picture. It is not clear if the Lark in the last picture is a genuine police car or just a regular sedan with a light bar installed. The Phoenix, Arizona Police Department did purchase 1961 Larks with police packages as shown on the Phoenix Police Museum web site. As with most Arizona cars and trucks, the sheet metal on all of these vehicles looks to be in great shape being relatively free of the dreaded tin worm. Thanks to Richard for sending in the pictures of these interesting Studes.
Sam Simmons' Studebaker K15 Fire Truck


With Sam's 1938 K10 Fast Transport Express

Sam Simmons of Fairbanks, Alaska sent in these pictures of a Studebaker K15 Fire Truck that he recently acquired. The K Series, which was available in both standard and cab-forwad form, was introduced for model year 1938 and continued essentially unchanged through model year 1940. A small number of K Series trucks were produced in 1941 and 1942, but those built after 1940 are considered to be 1940 models. Sam intends to restore the K15 and would like to hear from anyone who may have parts including a hood assembly. If you can help, please e-mail the webmaster at the link below and the information will be passed-on. Sam's rare 1938 K10 Fast Transport Express appeared on this page in June 2008. Sam also owns a 1963 Daytona Hardtop and his son Cameron has a 1958 Transtar Pickup. Thanks to Sam for sending in the pictures and information on his latest acquistion.
---
TEST YOUR STUDEBAKER KNOWLEDGE!
---
PROJECT CAR OF THE MONTH
1949 Studebaker Champion Convertible


Progress Being Made

Dennis Hill of Odessa, Texas sent in these pictures of a 1949 Champion Convertible that he is restoring. Here is a picture of the nicely detailed engine complete with optional oil filter ready to be installed. Dennis indicates that the engine is back in and the rear fenders have been reinstalled with new welting. Hopefully we will get to see the final product when the project is finished. Studebaker produced 7,035 Champion convertibles for the 1949 all with Regal Deluxe trim. The 170 cubic inch six Champion six was rated at 80 horsepower and an automatic transmission was introduced as an option in mid-1949. Dennis must like vehicles from the late 1940's because he also owns a 1948 Clark Forklift that he uses in his business. If you have a few minutes, click on the history link on the Clark company web site as it makes for interesting reading. Thanks to Dennis for sending the information and pictures.
---
Did you know that Michael Kelly's New Avanti Motor Corporation signed a deal to produce the VW based Brazilian Puma Sports Car? I didn't think so! The deal fell through when Kelly ran out of money. To learn more about the Puma, visit my Puma Sports Cars Site.
---
STUDE TOY OF THE MONTH
Premier 1962 Lark Sedan



Eddie Mitchell of Waco, Texas sent in these pictures of a built Premier 1:24 scale 1962 Lark Two-door Sedan model that he bought off eBay for $10. This model is unusual in that it depicts a sedan rather than a hardtop or convertible, both of which were available in the 1962 Lark line. Premier Products of Brooklyn, New York was a relatively small company that produced plastic model kits of aircraft and automobiles in the 1950's and early 1960's. The general concensus is that the quality of Premier's kits was several notches below Aurora, Hawk, and Lindberg kits of the same period. For example, this model suffers from not having chromed bumpers and other bright parts. Here is a picture of the underside. Thanks to Eddie for sending in the pictures of this rare Studebaker model.
More toy Studes can be found in the Stude Stuff area of this page and on my Studebaker Toys Home Page.

Click here for information on ordering hard to find Studebaker toys made by manufacturers such as Johnny Lightning, Racing Champions, Hot Wheels, Matchbox, Muscle Machines, and EKO.
---
---
---
---
* * * This Page On Line Since October 1995 * * *
---
Published 8/1/2009