---
BILL
JACKAMEIT'S
STUDEBAKER
PAGE
---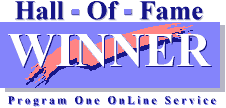 ---
THIS PAGE OPTIMIZED FOR 800 BY 600 SCREEN RESOLUTION

---
Welcome fans of the pride of South Bend. I am a long-time Studebaker fan and Studebaker Driver's Club member, having owned a 1957 Silver Hawk in high school and a 1959 Lark Regal Hardtop in college. Since then, I have owned other Studes as hobby cars including a 1962 Champ Pickup, a 1964 Canadian Commander Special, a 1962 GT Hawk, a 1960 Lark Regal 4-door, and a 1957 Silver Hawk (not the same one I owned in high school -- that one I wrecked). My current Stude is a 1949 Champion Starlight Coupe. I will build this page as time allows. If you have any suggestions or comments, please send me a message. Both text and image contributions are welcome.
---
STUDE OF THE MONTH
APRIL 2010
1948 Studebaker Pickup Street Rod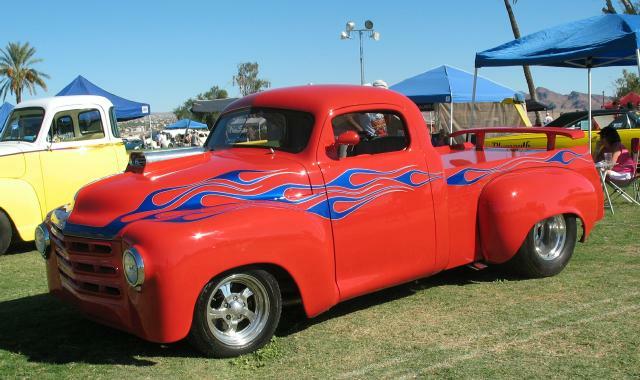 Rear Angle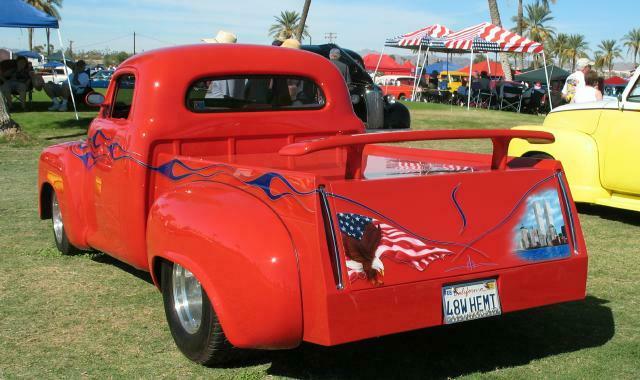 Side View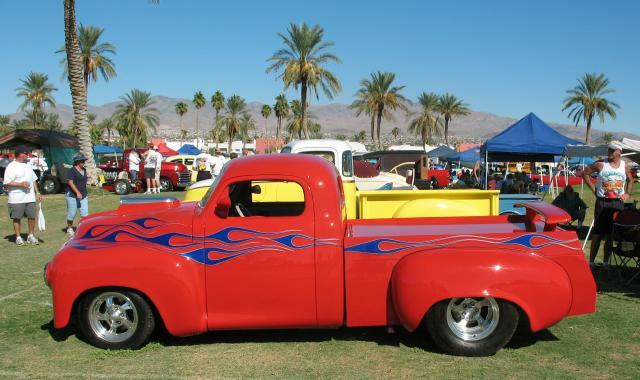 Tilt Front End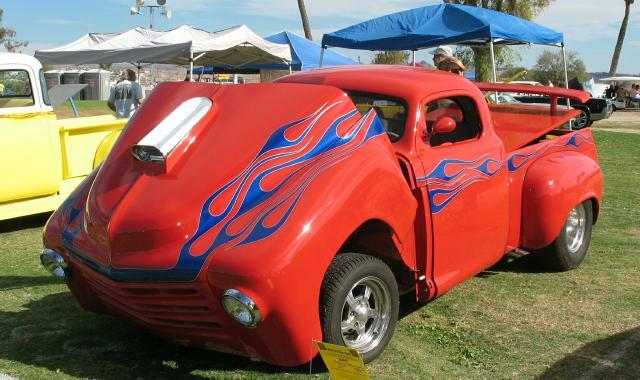 Under the Hood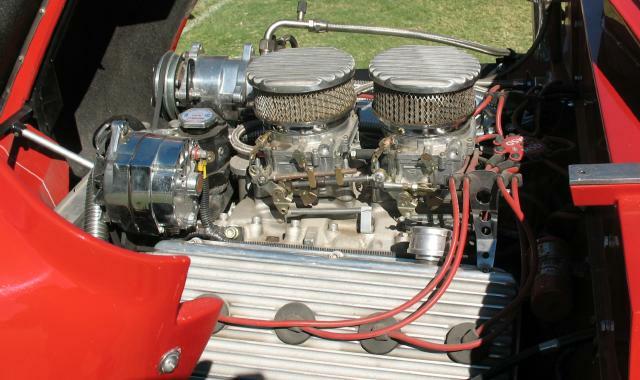 This sharp 1948 Studebaker Pickup Street Rod belongs to Barry Lumsden of Bakersfield, California. Sitting under the tilt front end of Barry's truck is a Chrysler Hemi V8 with finned aluminum valve covers and two four-barrel carburators. This truck is an early Series 2R C Cab that is technically a 1949 model but was most likely built and titled in 1948. Production of C Cab trucks started in Spring 1948 as 1949 models. Many states at that time titled vehicles by year of manufacture rather than by model year. So a fair number of 1949 model year C Cabs were titled as 1948 trucks. The C Cab remained in production through 1959 for light duty trucks and through 1964 for heavy duty trucks. The Champ, which used Lark body panels, replaced the C Cab for light duty trucks in 1960.
The pictures were taken by Bill Junge at the October 2009 Relics and Rods Car Club's "Run to the Sun" car show in Lake Havasu City, Arizona. The Run to the Sun has been held each October since 1977 making this the 32nd annual show. According to the Relics and Rods web site, Lake Havasu City has more old cars and trucks per capita than anywhere else in the U.S. The 2009 show had 872 entries of which 312 were from Lake Havasu City.
Bill Junge has his own web site called Bullet Nose Paradise which is dedicated to 1950 and 1951 Bullet Nose Studebakers. Thanks to Bill for sending the pictures of this cool rod.
If you own or once owned a Studebaker or related vehicle and would like to see your car as "Stude of the Month" or in the "Cool Studes" section, or if you have other pictures or material that you would like to contribute to this page, please e-mail me here. I can accept either electronic or hard copy images. The Main Page is issued every other month so the next edition will be June 2010.
---
All of the Monthly Main Pages going back to October 1995 have been reposted. In the process of reposting the pages, I have made corrections and revisions as needed, and in some cases added material that was not used when a page was first posted due to download speed and file storage limitations. A complete list of Main Pages with links to each is located here.
---
---
MORE COOL STUDES
1964 Champ Pickup


Interior and Dash


Under the Hood

This great looking 1964 Champ Pickup belongs to Carl Wittrock of Bethany, Oklahoma. Kent Boevers, who is Carl's son-in-law, sent in the pictures. This is an original Oklahoma truck with about 73,000 miles on the odometer. It has the short wide bed and is equipped with a 170 cubic inch overhead valve six cylinder engine rated at 110 horspower and manual shift with overdrive. Interestingly, the same engine was rated at 112 horspower when used in Studebaker cars. Carl's truck was repainted once in the original color and the motor is original. The only major repairs were a valve job on the engine and a rebuilt transmission. The suspended pedals clearly visible in the middle picture above were added in 1963, finally replacing the old through the floor pedals.
The interior has received a partial seat recover but is otherwise original. The truck has always been garaged and rides on modern radial tires. It is a low trim model with painted grille and bumpers and no stainless steel around the windshield. Carl's truck has appeared in numerous parades and car shows and not surprisingly has won a number of awards and trophies.
Thanks to Kent Boevers for sending the pictures and information on Carl's truck. The truck is currently for sale to a good Studebaker home. Interested parties can contact Kent at boevrk@yahoo.com and he will faciltate contact with the owner.
1957 Transtar Pickup


Interior and Dash


Under the Hood

This outstanding 1957 Studebaker Transtar Deluxe Pickup belongs to Joe Kish of McKeesport, Pennsylvannia. Joe's truck is a one ton model with an eight foot box. The two-tone paint scheme was a popular extra cost option on these trucks. The V8 emblem on the side of the hood indicates that this truck is equipped with an overhead valve 259 cubic inch Studebaker V8. The Transtar name was first used in 1956. Studebaker trucks received a revised hood in 1956 and a new fiberglass grille assembly was added in 1957. These changes gave the C Cab a more modern look but sales were well below previous levels. The Transtar name was dropped in 1959 but returned in the 1960's on Studebaker heavy duty trucks and diesels.
Thanks to Al Kish for sending the pictures of his brother's sharp truck.
---
TEST YOUR STUDEBAKER KNOWLEDGE!
---
STUDE MISCELLANY
Maisto "Studebaker Truck & Auto Parts" COE


Rear Angle View

Insofar as Studebaker models are concerned, Maisto is perhaps best known for its high quality 1:18 scale 1953 Starliner Hardtop. But Maisto has also issued a 1:64 scale car hauler that it calls "Flatbed COE." Although it is not identified as such, the Maisto COE appears to be based on a late 1930's Studebaker K Series cabover truck. The version shown above reads "Studebaker Truck & Auto Parts" on the cab doors. So far, this is the only version of this model that acknowledges a tie to Studebaker. And Maisto has been prolific in issuing different versions, with no fewer than six other variations having appeared thus far.
So is it or isn't it a Studebaker? This picture of a "real" K Series Cabover shows that the Maisto model is mostly accurate with some exceptions. The major inaccuracies are that the doors on the model are hinged at the rear rather than at the front and the split front bumper. The shape of the grille, front side vents, headlamp placement, windshield, and winged emblem below the side windows are all reasonably accurate. And the Maisto flatbed makes a nice piece on which to display 1:64 scale Studebaker model cars, a number of which are readily available. So my vote is "yes" it does qualify as a Studebaker.
1957 Packard Clipper Project


Body Work in Progress


Engine Reinstalled

Al Kish of Jefferson Hills, Pennsylvania sent pictures of a 1957 Packard Clipper Town Sedan that he found on Craig's List. After some dickering on price verses condition, he purchased the car and proceeded with its rejuvenation. There were a lot of oil leaks due to the oil pan gaskets and seals being dried out so the motor was removed and all of the seals, gaskets, and core plugs were replaced. Internally the cylinders had no ridges and the cross hatch on the bores was still like new. However, there was lots of carbon in the combustion chambers and the valve seals were hard as rocks. The transmission needed to be resealed and the radiator needed a recore. Here is an under the hood picture from before the engine was removed and refurbished. The car came with one NOS rear quarter panel plus headlight rims and a few other NOS parts. Another rear quarter panel and two new front fenders were acquired and installed. Al is having the car repainted in the original black.
The original dash pad was cracked and sagging so it has been replaced but is not stock. Al has acquired a spare dash and working on making a new dash pad to resemble the stock pad. He notes that everthing on the car works including the radio and twin rear antennas.
Al has the orignal bill of sale signed by dealer and the original owner. A 1950 Packard was traded on the 1957 Clipper. For those who are unaware, the 1957 Packard Clipper was essentially a Studebaker President with upgraded styling features and trim. The Clipper used the 275 horsepower supercharged engine from the Studebaker Golden Hawk while the President made due with the normal Studebaker V8 rated at 225 horspower with a four-barrel carburator. Overall, the 1957 Clipper was a very nice package, but it was a hard sell to traditional Packard buyers. A total of 4,809 1957 Clippers were produced, including 869 Country Sedan station wagons.
Thanks to Al for sending the pictures and infomation about his 1957 Packard Clipper project. Hopefully we will get to see the final result of Al's efforts.
1958 Scotsman V8 Wagon


Interior View

John Weingart of the Spokane, Washington area sent these pictures of a 1958 Studebaker Scotsman Station Wagon that he recently saved from the crusher. Scotsman wagons were only available in 1958 and the vast majority were powered by the Champion six cylinder engine. A small number, including some designated for police use, were V8 powered. Here is a picture of the V8 engine which appears to be from a later model Studebaker since it has yellow valve covers with red oil caps. I believe these first appeared in 1962. Thus, this wagon may or may not have been factory equipped with a V8 engine. The Scotsman line was fairly popular in the recession year of 1958 with 20,872 produced of which 7,680 were station wagons.
This unusual wagon is for sale. Interested parties can cantact John at johnweingart@roadrunner.com. Thanks to John for sending the pictures and information.
---
Did you know that Michael Kelly's New Avanti Motor Corporation signed a deal to produce the VW based Brazilian Puma Sports Car? I didn't think so! The deal fell through when Kelly ran out of money. To learn more about the Puma, visit my Puma Sports Cars Site.
---
STUDE TOY OF THE MONTH
Dinky Studebaker Fire Tanker Conversion



Terry Rodell from Sunbury-on-Thames in the United Kingdom sent these pictures of a neat Studebaker Fire Tanker conversion that he built from a play worn Dinky Toys Studebaker tank truck. The original model was dismantled, then bead-blasted in a small home cabinet. The body was then primed and painted at a friend's auto body shop. Likewise, the base plate was bead-blasted, primed, and painted matte black. Holes were drilled in the body to accomodate the fire engine accessories. The model was then reassembled to include the new roof siren, ladders, and fire hoses. Here is a another view of the finished model.
Terry has upwards of 250 toy Studebakers in his collection. Thanks to Terry for sending the pictures and information on this neat conversion.
More toy Studes can be found in the Stude Stuff area of this page and on my Studebaker Toys Home Page.

Click here for information on ordering hard to find Studebaker toys made by manufacturers such as Johnny Lightning, Racing Champions, Hot Wheels, Matchbox, Muscle Machines, Maisto, and EKO.
---
---
---
---
* * * This Page On Line Since October 1995 * * *
---
Published 4/1/2010