---
BILL
JACKAMEIT'S
STUDEBAKER
PAGE
---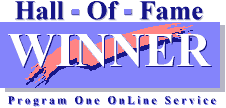 ---
THIS PAGE OPTIMIZED FOR 800 BY 600 SCREEN RESOLUTION

---
Welcome fans of the pride of South Bend. I am a long-time Studebaker fan and Studebaker Driver's Club member, having owned a 1957 Silver Hawk in high school and a 1959 Lark Regal Hardtop in college. Since then, I have owned other Studes as hobby cars including a 1962 Champ Pickup, a 1964 Canadian Commander Special, a 1962 GT Hawk, a 1960 Lark Regal 4-door, and a 1957 Silver Hawk (not the same one I owned in high school -- that one I wrecked). My current Stude is a 1949 Champion Starlight Coupe. I will build this page as time allows. If you have any suggestions or comments, please send me a message. Both text and image contributions are welcome.
---
STUDE OF THE MONTH
FEBRUARY 2010
1937 Studebaker Coupe Express Street Rod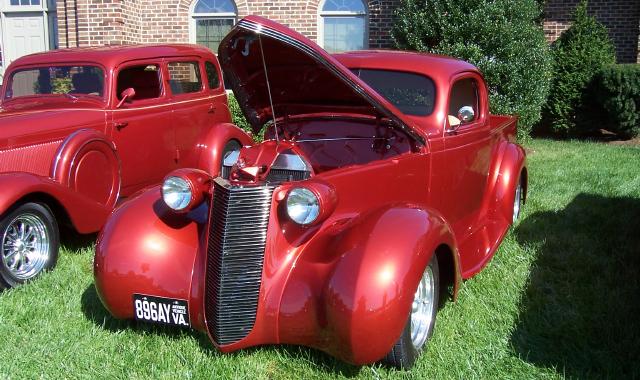 Rear Angle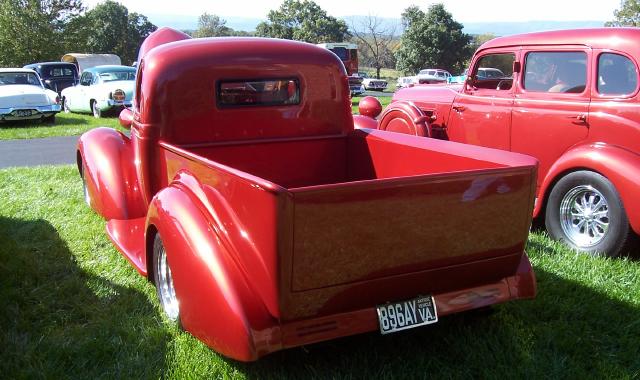 Side View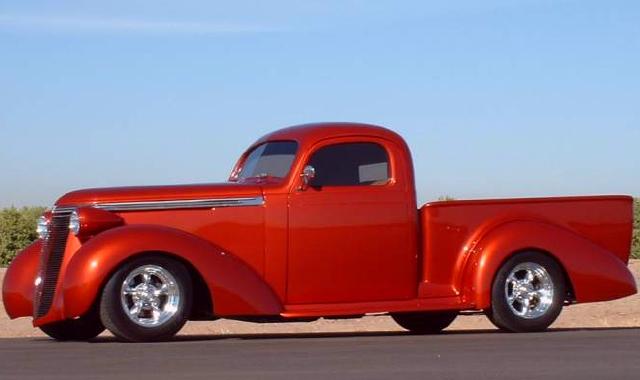 Head On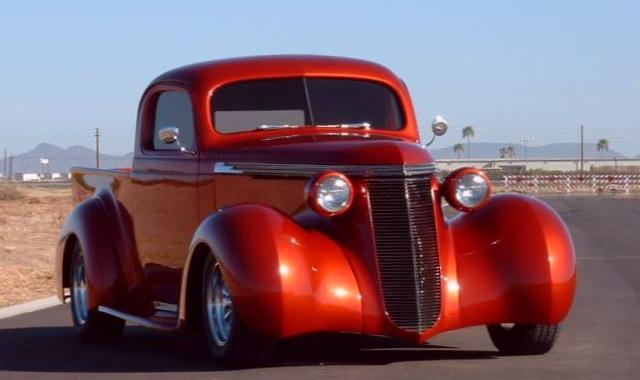 Interior and Dash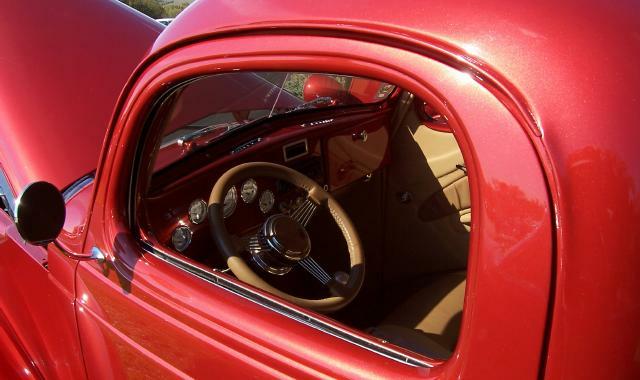 Under the Hood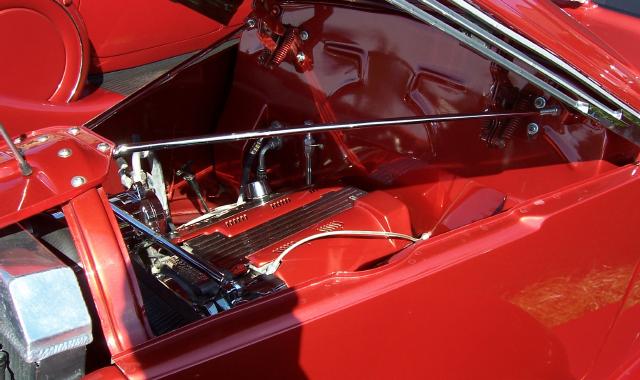 This cool 1937 Studebaker Coupe Express Street Rod belongs to Chester and Nancy Bradfield of Bridgewater, Virginia. The Bradfields purchased it from Don and Ann Didier of Yuma, Arizona and brought it to its new home in Virginia. Body modifications include a custom rear roll pan with flush mount tail lights, shaved hood and doors, filled front bumper mounts and right front fender spare tire mount, rear window flush mounted and cab smoothed, and running boards filled and smoothed. The grille is custom stainless steel and the headlight buckets are stock with halogen bulbs.
Power comes from a 350 cubic inch 1995 Corvette LT1 V8 engine driving through a stock General Motors 4L60-E automatic transmission with a Lokar shifter. The 2.5 inch exhaust uses stock headers and Flowmaster mufflers. The front suspension is modified Mustang II from Street Rod Engineering and disc brakes are fitted front and rear. The rear suspension is custom leaf and the gas tank is from a 1995 Jeep Grand Cherokee.
The interior features Auto Meter gauges and a seat modified from the rear seat of a 1997 Chrysler Concord. Amenities include air conditioning from Vintage Air, and an in-dash Nakamichi AM/FM/CD stereo. Power window mechanics and electric door door locks mechanisms are from Dakota Digital. Here is another view of the interior that shows a number of these features.
Chester and Nancy own a number of fine Studebakers including several which have appeared as "Stude of the Month" on this page. Thanks to Chester for providing the details of this really cool 1937 Coupe Express.
If you own or once owned a Studebaker or related vehicle and would like to see your car as "Stude of the Month" or in the "Cool Studes" section, or if you have other pictures or material that you would like to contribute to this page, please e-mail me here. I can accept either electronic or hard copy images. The Main Page is issued every other month so the next edition will be April 2010.
---
All of the Monthly Main Pages going back to October 1995 have been reposted. In the process of reposting the pages, I have made corrections and revisions as needed, and in some cases added material that was not used when a page was first posted due to download speed and file storage limitations. A complete list of Main Pages with links to each is located here.
If you have a particular interest in Bullet Nose Studebakers, visit Bill Junge's Bullet Nose Paradise which is dedicated to the 1950 and 1951 Bullet Nose models.
---
---
MORE COOL STUDES
1956 President Classic Sedan


Rear Angle


Interior with "Cyclops Eye" Speedometer

This great looking 1956 Studebaker President Classic belongs to David and Sandra Walker of Chesnee, South Carolina. The Walkers own and operate the Bantam Chef 1950's themed restaurant located on Route 221 in Chesnee. The President Classic was a long 120" wheelbase version of the President four-door sedan which was also available in the shorter 116" wheelbase. A total of 8,507 long wheel base 1956 President four-door sedans were produced compared to 6,822 of the short wheel base version. The easiest way to identify a President Classic is by the vent windows in the rear doors. My understanding is that this is the Walker's "road car" and that they own several other Studebakers including 1948 and 1950 Commander convertibles.
1991 Avanti Convertible


Rear Angle


Leather and Wood Interior

This sharp 1991 Avanti convertible belongs to Weldon and Margaret Critcher of Boone, North Carolina. It is the fourth of fifteen made in the Youngstown, Ohio plant in 1991. The Critchers own numerous Studebakers and related vehicles including five Avantis, a 1929 roadster, a 1932 Dictator, a 1935 Land Cruiser, a 1939 Coupe Express, and a 1957 Golden Hawk, among others.
The Critchers host a Studebaker show at their place "Mutton Crossing" in Boone, North Carolina each year. Last year they had cars from eight states and people from eleven states. The 2010 show will held on Saturday, June 26th. For further information, the Critchers can be contacted at wmcritcher@yahoo.com.
The 1956 President Classic and 1991 Avanti Convertible pictures were taken in October 2009 at the annual Greater Virginia Meet hosted by Chester and Nancy Bradfield at their home in Bridgewater, Virginia.
---
TEST YOUR STUDEBAKER KNOWLEDGE!
---
STUDE MISCELLANY
Studebaker US6 in Hibernation


Another View

T.J. Wheelman from Anchorage, Alaska sent in these pictures of a hibernating Studebaker US6 military truck. This is the same truck that was saved from the Alaska wilderness in August 2009 as detailed here.
The Studebaker US6 was a class of trucks manufactured by Studebaker during World War II. The US6 was powered by a Hercules JXD six-cylinder gasoline engine rated at 94 horsepower and was fitted with a five-speed manual transmission and two-speed transfer box. Studebaker built approximately 195,000 of these trucks and REO built another 22,000 under license. Large numbers of Studebaker US6 trucks were sent to the Soviet Union under the Lend-Lease program.
Pictures of T.J. Wheelman's flock of Studebaker US6 trucks appeared on this page in December 2008. Thanks to T.J. for sending these great winter pictures.
1952 Commander Starlight Coupe


Neat Modern Radio Installation

Ray Henman from New South Wales, Australia sent these pictures of a 1952 Studebaker Commander Starlight Coupe that he purchased from its U.S. owner. Ray is importing the car to Australia. Ray says that he particularly wanted this car because Studebaker only exported basic right hand drive Champions to Australia for 1952. A total of 8,911 Commander Starlight Coupes were produced for the 1952 model year, down significantly from 19,829 produced for the 1951 model year. The primary reason for the drop in production was the introduction of the new Starliner Hardtop of which 14,548 were produced in the Commander line for 1952, more than making up for the drop in Starlight Coupe production. This was the second year for Studebaker's new overhead valve V8 engine, which was rated at 120 horsepower for 1952.
Thanks to Ray for sending the pictures and infomation about his new Commander.
1967 Avanti Repair Update


Another View

Peter Crisitello of Rahway, New Jersey sent these pictures of the progress being made on the repair of his 1967 Avanti. The car was severely damaged in an accident in January 2006. Fortunately, Peter walked away without a scratch.
Here is a picture of the car taken about two hours before the accident. There were two other vehicles, a Chevy Silverado and a GMC pickup, involved in the accident as seen in this picture. Peter was in the driver's seat of the Avanti less than two inches from the Chevy's grille after it pushed him sideways 25 feet from the stop sign. He credits the Avanti's roll bar with keeping the Chevy out of the driver's seat of his Avanti and possibly saving his life. Here is another picture of the damage to Peter's car. Peter drove the car from the accident back to his garage and later drove it over 200 miles to Max Corkins' restoration shop in Lewistown, Pennsylvania for repair. Peter's Avanti is one of only 66 produced in South Bend by Avanti Motors for 1967.
Peter is a long-time Studebaker fan who also owns two 1963 Studebaker Avantis. Thanks to Peter for sending the pictures and updated information on the repair of his 1967 Avanti.
---
Did you know that Michael Kelly's New Avanti Motor Corporation signed a deal to produce the VW based Brazilian Puma Sports Car? I didn't think so! The deal fell through when Kelly ran out of money. To learn more about the Puma, visit my Puma Sports Cars Site.
---
STUDE TOY OF THE MONTH
SSS 1954 Studebaker Log Truck



This beautiful example of a rare Japanese tin SSS 1954 Studebaker Log Truck is from a recent eBay listing. The winning bid price for this model was $179.50. I bid but I was not the winning bidder. According to Jim Geary's book Studebaker Toy Treasures, SSS issued numerous variations of the 1954 Studebaker truck including a wrecker, dump truck, concrete mixer, crane truck, and several different tractor trailers.
Here is a another view of this outstanding toy Studebaker.
Pictures courtesy of Jim Hartman. Jim sells vintage Japanese tin vehicles on eBay. His eBay i.d. is "tootoy" if you want to see his current listings.
More toy Studes can be found in the Stude Stuff area of this page and on my Studebaker Toys Home Page.

Click here for information on ordering hard to find Studebaker toys made by manufacturers such as Johnny Lightning, Racing Champions, Hot Wheels, Matchbox, Muscle Machines, Maisto, and EKO.
---
---
---
---
* * * This Page On Line Since October 1995 * * *
---
Published 2/1/2010