---
BILL
JACKAMEIT'S
STUDEBAKER
PAGE
---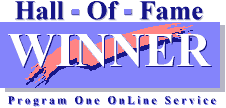 ---
* * 15TH ANIVERSARY EDITION * *
---
Welcome fans of the pride of South Bend. I am a long-time Studebaker fan and Studebaker Driver's Club member, having owned a 1957 Silver Hawk in high school and a 1959 Lark Regal Hardtop in college. Since then, I have owned other Studes as hobby cars including a 1962 Champ Pickup, a 1964 Canadian Commander Special, a 1962 GT Hawk, a 1960 Lark Regal 4-door, and a 1957 Silver Hawk (not the same one I owned in high school -- that one I wrecked). I recently sold my 1949 Champion Starlight Coupe so I'm currently looking for my next Stude. I will build this page as time allows. If you have any suggestions or comments, please send me a message. Both text and image contributions are welcome.
---
STUDE OF THE MONTH
OCTOBER 2010
1931 Studebaker Model 54 Street Rod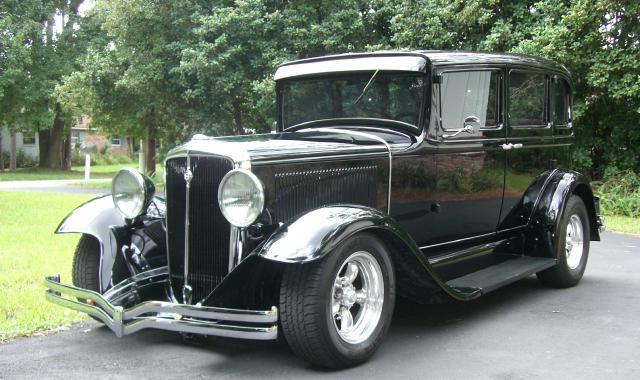 Side View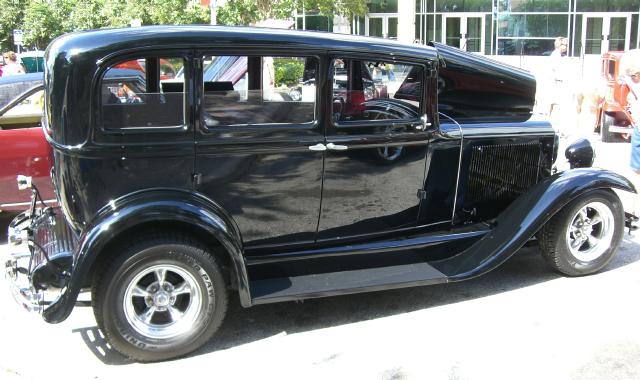 Rear Angle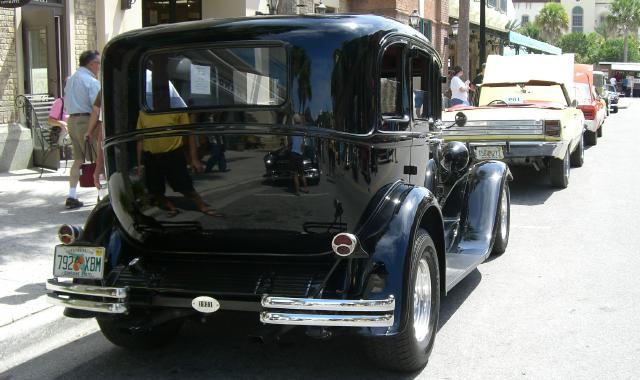 Front View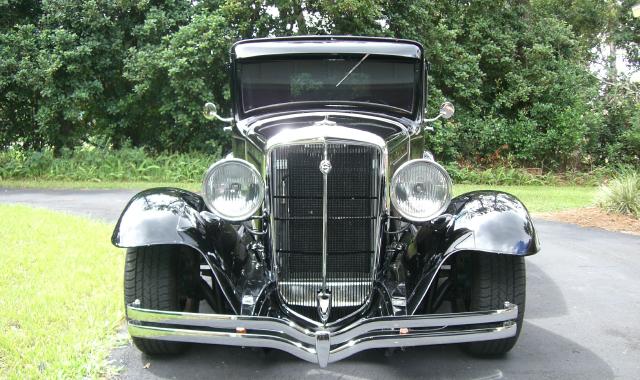 Beautiful Interior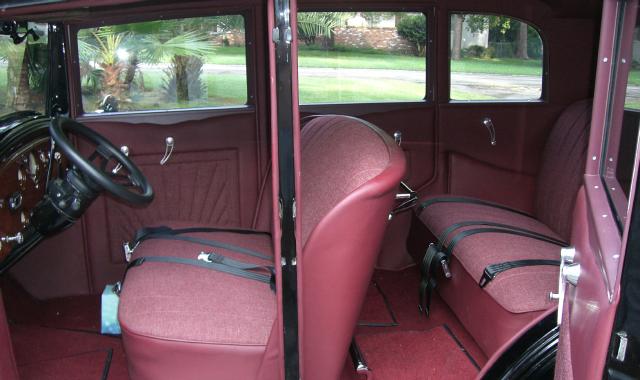 Updated Dashboard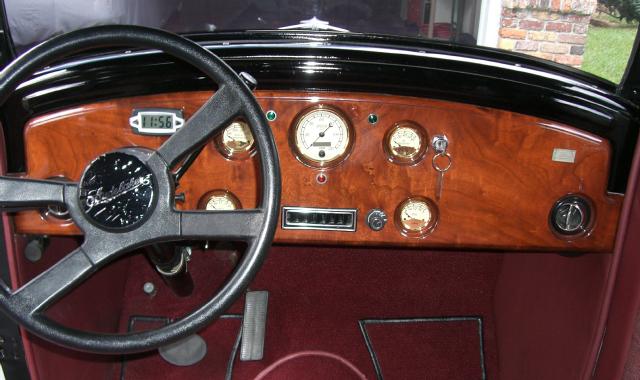 Under the Hood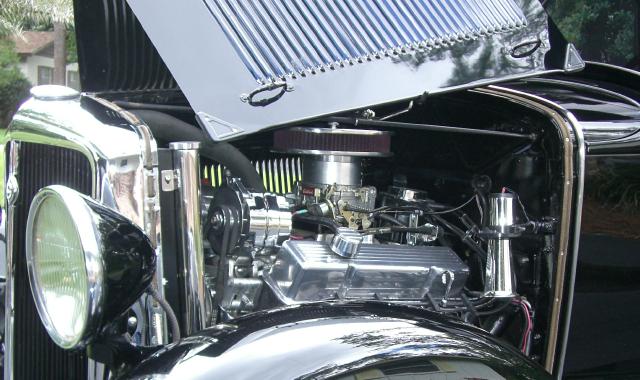 This rare 1931 Studebaker Model 54 Touring Sedan Street Rod belongs to Chris Taylor of Ocala, Florida. The Model 54 was derived from the Erskine which was introduced in 1927 and renamed the Studebaker Six midway through the 1930 model year. Chris indicates that it is one of 23,917 Model 54's produced for the 1931 model year. This particular car is a four-door, five-passenger sedan on a 114" wheel base. The original L-head six cylinder engine displaced 205 cubic inches and was rated at 70 horsepower. Standard equipment included Studebaker's highly promoted free-wheeling feature and artillery style wheels. It weighed 2,930 pounds and cost $895 new.
Chris has kept the exterior mostly original, the most visible change being being the addition of modern American Racing wheels and Uniroyal Tiger Paw GTS radial tires. The car has the original front and rear leaf springs with a drop axle up front and a 10-bolt Chevy rear end. Power comes from a Chevy 350 V8 drivng through a Turbo-Hydramatc 350 automatic transmission. The interior features recovered original seats, tilt steering column, and a custom wood dash with a full set of round VDO antique gauges and a digital clock. Amenities include air conditioning, heat, and cruise control. An overhead dash incoporates a radio and the car has been fitted with seat belts.
Chris recently purchased my 1949 Champion Sarlight Coupe so he now has a stable of two Studebakers. Here is a picture of both cars taken after Chris got the Champ safely home to Florida. Thanks to Chris for providing the pictures and information about his fine 1931 Studebaker Model 54.
If you own or once owned a Studebaker or related vehicle and would like to see your car as "Stude of the Month" or in the "Cool Studes" section, or if you have other pictures or material that you would like to contribute to this page, please e-mail me here. I can accept either electronic or hard copy images. The Main Page is issued every other month so the next edition will be December 2010.
---
All of the previous editions of the Main Page going back to October 1995 have been reposted. In the process of reposting the pages, I have made corrections and revisions as needed, and in some cases added material that was not used when a page was first posted due to download speed and file storage limitations. A complete list of Main Pages and Studes of the Month with links to each is located here.
If you have a particular interest in Bullet Nose Studebakers, visit Bill Junge's Bullet Nose Paradise which is dedicated to the 1950 and 1951 Bullet Nose models.
---
VIRGINIA MUSEUM OF
TRANSPORTATION STUDEBAKERS
---
ANOTHER COOL STUDE
1961 Studebaker Lark Convertible


From the Rear


Interior and Dash

This sharp 1961 Lark Convertible was parked outside of the Studebaker National Museum when we arrived there in August 2010 for a visit. Does anyone know who owns this fine car? If so, please e-mail me and I will add that information. We took a large number of pictures while visiting the Museum, several of which appear below with others to follow in future months. This was my first visit to the new Museum and I must say that it is a first class facility.
---
STUDEBAKER PROTOTYPES
Gold Sedan Two-Door Side


Black Sedan Four-Door Side


Gold Sedan Second View

Among the more interesting exhibits at the Studebaker National Museum were these two prototypes that were designed by Raymond Loewy Associates and built in Europe to test Avanti-like styling for the regular sedan line. Both use the common styling study feature of having two doors on one side and four doors on the other side. Unlike the Avanti, which has a fiberglass body, both have steel bodies which would be appropriate for high volume production. The black prototype features a plush cloth interior with center armrest and late model Lark-type instruments in a simulated wood grain dashboard. It is amazing that these have survived as automakers typically destroyed their styling prototypes.
---
TEST YOUR STUDEBAKER KNOWLEDGE!
---
STUDE MISCELLANY
Studebaker Scotsman Pickup Project


Progress Being Made


Interior View

This rare 1959 Scotsman Pickup was recently acquired by the Nude Auto Mall. JB writes that a friend of his found the truck in a wrecking yard outside of Las Vegas that was being cleared for scrap. The truck was rescued from the crusher and is being restored. Prior to finding its way to the wrecking yard, it was a one owner truck that was bought new by a painter in Santa Rosa, California who drove it for 39 years. Towards the end of its first life it was in an accident that extensively damaged the driver side. It was repaired rather poorly, and a wheel later came loose destroying the rest of the rear quarter and fender. Here is a picture of the truck in "as found" condition.
Sometime during the life of the truck the original Studebaker 259 cubic inch V8 engine was replaced with a 289 cubic inch V8 engine from a Hawk. The Hawk engine is sitting in the bed of the truck. Since the original engine is missing, the Hawk engine will be retained with various updates including tuned port injection, electronic ignition, etc. The plan is to build the truck into a modern cruiser but keep it a Studebaker. JB relates that shortly after buying the truck he was talked into taking a day of to explore an old mine. During that outing, the group can across an abandoned Studebaker bed with the fenders needed for the Scotsman. They were a bit "shot up" but fixable.
The Scotsman Pickup was introduced in 1958 following the success of the 1957 Scotsman car line. When the compact Lark was introduced in 1959, Scotsman cars were discontinued but the Scotsman Pickup line was expanded. First year Scotsman Pickups came standard with the truck version of the 185 cubic inch Champion flathead six which was the only engine available. For 1959, a truck version of the 170 cubic inch six from the Lark became the base engine in the Scotsman Pickup with truck versions of the old 245 cubic inch Commander six and 259 cubic inch Lark V8 available as options. When the Champ Pickup was introduced in 1960, the Scotsman Pickup was discontinued.
According to JB, the Nude Auto Mall is "a bunch of car junkies who like the ladies." Thanks to JB for sending the pictures and information. We look forward to seeing the finished product.
1954 Commander Starliner Hardtop


With a 1948 Mercury Convertible

Don Struke of Baltimore, Maryland sent these old black and white pictures of a 1954 Studebaker Commander Starliner Hardtop that he owned around 1958 for a couple of years. Don modified his Stude by installing a Chevy 265 cubic inch V8 with a Chevy manual overdrive transmission. A floor shift conversion was ordered from the Honest Charley Speed Shop which is still in business. Don dechromed the car and had it painted China Red. He also installed spun aluminum wheel covers of a type that that had to be secured to the rims with sheet metal screws. This old color picture shows the car after these modifcations. Don replaced his Stude with an Austin-Healy 3000.
Thanks to Don for sending the pictures and information.
---
Did you know that Michael Kelly's New Avanti Motor Corporation signed a deal to produce the VW based Brazilian Puma Sports Car? I didn't think so! The deal fell through when Kelly ran out of money. To learn more about the Puma, visit my Puma Sports Cars Site.
---
STUDE TOY OF THE MONTH
Ferrero Kinder Surprise Studebakers



Ferrero Kinder Surprise toys come packed inside of a chocolate egg. They are not sold in the United States because the 1938 Food, Drug, and Cosmetic Act prohibits embedding "non-nutritive items" in confections. The Ferrero web site indicates that upwards of 30 billion eggs with over 8,000 different "surprises" have been sold since they first appeared in 1974. Among the many "surprises" are a number of small toy cars including a 1927 Studebaker Roadster and a 1953 Studebaker Hardtop. The 1927 Roadster has five pieces including a metal body. The 1953 Hardtop is all plastic and has nine pieces. Here is the 1953 Hardtop unassembled with its instruction sheet.
Both of these models were purchased on eBay from Ines Romischer of Atlanta, Georgia. Ines very kindly provided an unassembled 1953 Studebaker Starliner with the original plastic container and instruction sheet along with the assembled one that she had listed. Her eBay i.d. is "eggtoys*etc" if you want to see her current eBay listings or you can go to www.eggtoys.com for a direct link to her listings. Ines can be contacted by e-mail at ines@eggtoys.com. As of this writing, she has a number of the 1953 Starliner in assembled form and a smaller number of the 1927 Roadster also in assembled form in stock.
More toy Studes can be found in the Stude Stuff area of this page and on my Studebaker Toys Home Page.
Click here for information on ordering hard to find Studebaker toys made by manufacturers such as Johnny Lightning, Racing Champions, Hot Wheels, Matchbox, Muscle Machines, Maisto, and EKO.
Studebaker Toy Treasures Book

Jim Geary's book Studebaker Toy Treasures is the standard reference collectors of Studebaker Toys. This wonderful book has 294 pages of color pictures and details on hundreds of Studebaker toys. Publication date is 2004 and just about every Studebaker toy and model produced up to that time is pictured and cataloged. Jim is making the book available for the reduced price of $28 including shipping. This is a great deal since most vendors sell this book for $39.95 plus shipping. Jim will sign the book if requested. Jim can be contacted at sanjim76@live.com or send payment to Jim Geary, 181 Allendale Hills Road, Franklin, NC 28734.
---
---
---
---
* * * This Page On Line Since October 1995 * * *
---
Published 10/1/2010