---
BILL
JACKAMEIT'S
STUDEBAKER
PAGE
---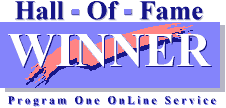 ---
---
Welcome fans of the pride of South Bend. I am a long-time Studebaker fan and Studebaker Driver's Club member, having owned a 1957 Silver Hawk in high school and a 1959 Lark Regal Hardtop in college. Since then, I have owned other Studes as hobby cars including a 1962 Champ Pickup, a 1964 Canadian Commander Special, a 1962 GT Hawk, a 1960 Lark Regal 4-door, and a 1957 Silver Hawk (not the same one I owned in high school -- that one I wrecked). I recently sold my 1949 Champion Starlight Coupe so I'm currently looking for my next Stude. I will build this page as time allows. If you have any suggestions or comments, please send me a message. Both text and image contributions are welcome.
---
STUDE OF THE MONTH
AUGUST 2010
1962 Studebaker Gran Turismo Hawk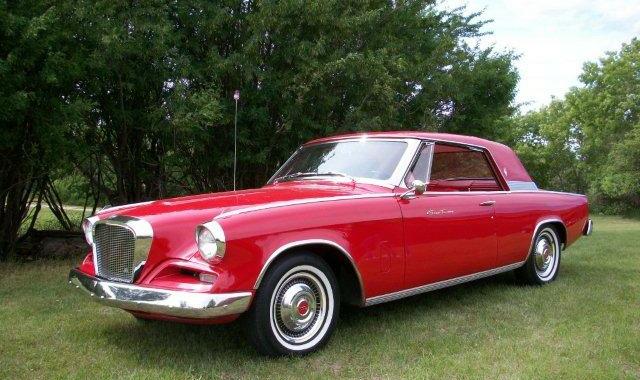 Rear Angle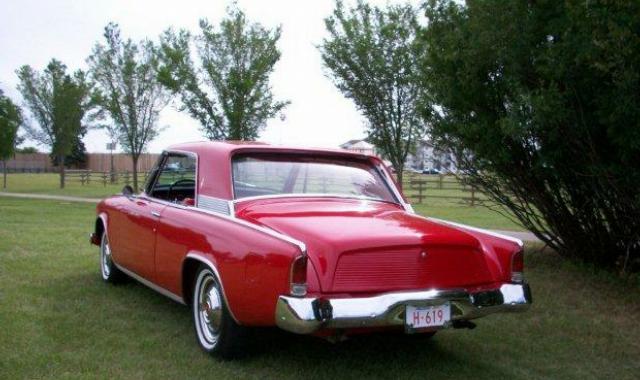 Front View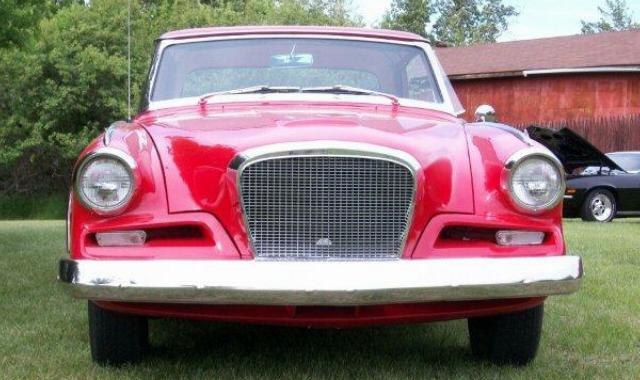 Interior and Dash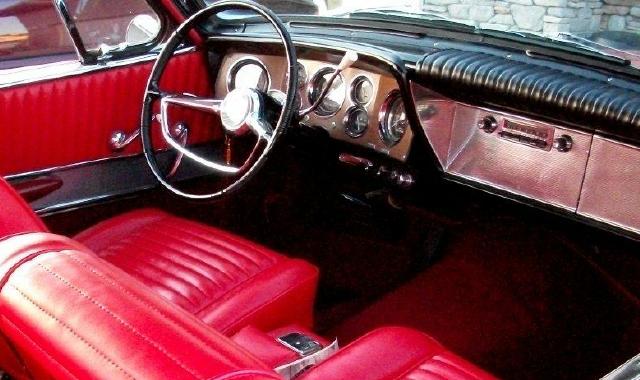 Rear Seat Area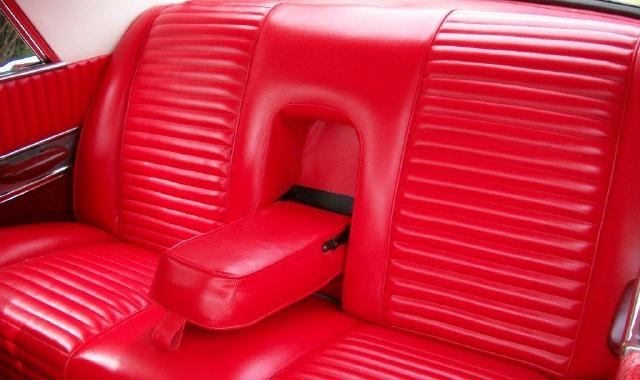 Under the Hood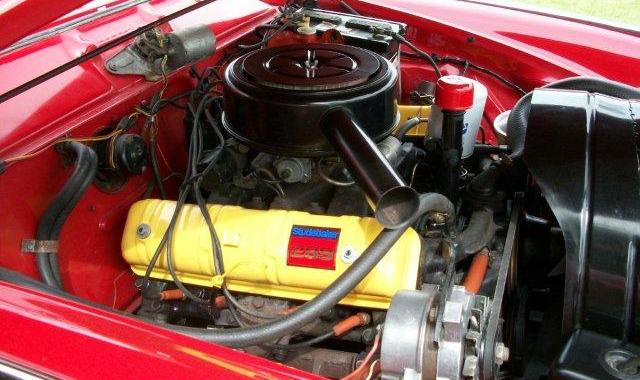 This great looking 1962 Gran Turismo Hawk belongs to Bill Storr of Edmonton, Alberta. Bill notes that the car was in excellent condition when he purchased it, the previous owner having spent many hours on its restoration. Nearly everything on the car is new, nicely refurbished, or rebuilt. All of the the stainless and chrome has been restored to a high standard. For his part, Bill has enjoyed detailing the car, addressing minor maintenance issues and adding finishing touches such as correct decals.
Bill's car is equipped with Flight-o-matic automatic transmission, Twin Traction limited slip differential, power steering, power brakes, push-button transistor radio, and has an alternator upgrade. It also has the highly desirable full dash with optional tachometer and clock. The car is missing the trunk insert which needs to be restored, so for now it has been left off the car. Both the Blaze Red paint and the full vinyl interior are truly outstanding.
Bill indicates that the car drives smooth and quiet and that it handles better than almost any other brand of its era. Bill is in a position to make this statement as he owns ten other collector cars, mostly G.M. products and Fords. The 1962 Gran Turismo Hawk was a sales success for Studebaker with 9,335 produced campared to only 3,929 finned Hawk coupes the previous year. Designer Brooks Stevens did an outstanding job restyling a body that dated back to 1953.
Bill Storr owns and operates Route 66 Appraisals located in Edmonton. Here is a picture of Bill's G.T. Hawk parked outside of a 108 year old store near his place. Thanks to Bill for sending in the pictures and information about his great G.T. Hawk.
If you own or once owned a Studebaker or related vehicle and would like to see your car as "Stude of the Month" or in the "Cool Studes" section, or if you have other pictures or material that you would like to contribute to this page, please e-mail me here. I can accept either electronic or hard copy images. The Main Page is issued every other month so the next edition will be October 2010.
---
All of the previous editions of the Main Page going back to October 1995 have been reposted. In the process of reposting the pages, I have made corrections and revisions as needed, and in some cases added material that was not used when a page was first posted due to download speed and file storage limitations. A complete list of Main Pages and Studes of the Month with links to each is located here.
If you have a particular interest in Bullet Nose Studebakers, visit Bill Junge's Bullet Nose Paradise which is dedicated to the 1950 and 1951 Bullet Nose models.
---
VIRGINIA MUSEUM OF
TRANSPORTATION STUDEBAKERS
---
MORE COOL STUDES
1953 Starlight Coupe Street Rod


From the Rear


Interior and Dash


Under the Hood

This sharp 1953 Starlight Coupe Street Rod is owned by Wayne Pennington of Vinton, Virginia. Wayne has owned this car for over 30 years. It was finished as a street rod about six years ago and has been driven all over the East Coast. Wayne notes that it is always driven, never trailered. The pictures were taken at the Star City Motor Madness car show in Roanoke, Virginia in June 2010.
Wayne's car is powered by a Chevy Corvette LS1 engine driving through a GM 4L60E four-speed overdrive automatic transmision connected to a Currie Enterprises custom 9" rear end. The car sits on a beefed-up 1964 Studebaker Lark chassis with a Fat Man fabrications front clip, rack and pionion steering, disc brakes, and Air Ride Tecnologies air suspension on all four corners. The wheels are Cragar Billet 15x8 front and 15x10 rear.
As to the body, the top is chopped 2 1/2" at the front back through the quarter windows but the rear of the roof and rear window are in the stock location. Other body modifications include shaved nose and deck and welded-in bumper bolts. The car is painted in beautiful Plymouth Prowler Orange. There is a full leather interior with cut-down Cadillac Eldorado seats, Vintage Air custom air conditioning, power steering with tilt wheel, cruise control, power windows, and audio system with a six-disc changer.
Wayne is building another 53 Studebaker coupe "Bonneville style" which I look forward to seeing on this page in the future. Thanks to Wayne for providing the information about his super Studebaker rod.
1949 Studebaker 2R Pickup


Rear Angle View


Rear View

This outstanding 1949 Studebaker 2R Pickup is owned by Gene Carpenter of Charlottesville, Virginia. Gene's truck was featured as Stude of the Month in June 2003 and it looks every bit as good today as it did back then. This is an original unrestored truck. It is powered by the truck version of the 170 cubic inch 80 horsepower Champion six. The hood ornament and headlight rims are basically the same as those used on 1947 to 1949 Champion cars, only the headlight rims are turned upside down.
Note the "Coggins Motors" dealer plate in the rear view picture. Coggins Motor Company located in Charlottesville, Virginia was a long-time Studebaker dealer that served central Virginia. The pictures were taken at the April 2010 Piedmont Region AACA car show in Albemarle County, Virginia.
---
TEST YOUR STUDEBAKER KNOWLEDGE!
---
STUDE MISCELLANY
1931 Studebaker Model 54



Chris Taylor of Ocala, Florida sent in this picture of his rare 1931 Studebaker Model 54 Touring Sedan Street Rod. The Model 54 was derived from the Erskine which was introduced in 1927 and renamed the Studebaker Six midway through the 1930 model year. This cool car is powered by a Chevy 350 V8 which fits neatly in the engine bay. Chris is now a two Studebaker guy as he recently purchased my 1949 Studebaker Champion Starlight Coupe. Thanks to Chris for sending the pictures.
Another 1953 Starlight Coupe Rod

Richard Joslin sent this picture of a beautifully customized 1953 Starlight Coupe Street Rod that he took several years ago outside a barbecue restaurant in Cle Elum, Washington. It appears to be lowered but I don't believe it is chopped. Does anyone know who owns this fine car? If so, e-mail me and I will add that information. Thanks to Richard for sending the picture of this beautiful Studebaker rod.
1962 Studebaker Champ Pickup

Steve Crandall from the Kansas City, Missouri area sent in this picture of a 1962 Studebaker Champ that he is helping sell for its lady owner whose husband passed away about a year ago. Steve says it has about 68,800 miles on it with a good body and an interior that could use some attention. Here is a second picture of this nice truck. A 1951 commander 4-door sedan that needs work is also for sale by the same party. Interested parties can contact Steve by e-mail at crandall@4rsi.com or by phone at (816) 830-6743.
1941 Studebaker M15 Pickup

Tim Cook of Sutherland Springs, Texas sent in this picture of a 1941 Studebaker M15 Pickup that he pulled out of a barn that imploded. Tim indicates that the truck, number 980 out of 1,230 M15 1 1/2 ton rated trucks made that year, had been sitting there since 1966. Here is a front view of this interesting truck. The Texas license plate indicates that is was last used a a farm truck. Tim has the truck up for sale. Interested parties can contact Tim by e-mail at tcook@amcindustries.com.
---
Did you know that Michael Kelly's New Avanti Motor Corporation signed a deal to produce the VW based Brazilian Puma Sports Car? I didn't think so! The deal fell through when Kelly ran out of money. To learn more about the Puma, visit my Puma Sports Cars Site.
---
STUDE TOY OF THE MONTH
LineMar 1955 Studebaker Hardtop



LineMar was a brand name used for toys manufactured in Japan for Louis Marx & Company. The Japanese companies that made toys for LineMar often sold nearly identical toys under their own brand names. LineMar also issued a number of 1950's style Studebaker trucks. Here is a side view and here is a front view of this neat model.
Pictures courtesy of Jim Hartman. Jim is an automobile enthusiast and toy collector from Southern California who sells vintage Japanese tin vehicles on eBay. His eBay i.d. is "tootoy" if you want to see his current listings. Jim takes excellent pictures of the toys he collects and sells. More Jim Hartman pictures of Japanese tin studebakers can be seen here.
More toy Studes can be found in the Stude Stuff area of this page and on my Studebaker Toys Home Page.

Click here for information on ordering hard to find Studebaker toys made by manufacturers such as Johnny Lightning, Racing Champions, Hot Wheels, Matchbox, Muscle Machines, Maisto, and EKO. The Johnny Lightning 10th Aniversary Collector Club Edition and the Hot Rod Magazine 1957 Golden Hawk models are in stock in limited quantity and available for purchase.
---
---
---
---
* * * This Page On Line Since October 1995 * * *
---
Published 8/1/2010