---
BILL
JACKAMEIT'S
STUDEBAKER
PAGE
---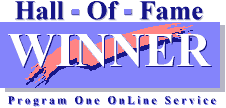 ---
---
Welcome fans of the pride of South Bend. I am a long-time Studebaker fan and Studebaker Driver's Club member, having owned a 1957 Silver Hawk in high school and a 1959 Lark Regal Hardtop in college. Since then, I have owned other Studes as hobby cars including a 1962 Champ Pickup, a 1964 Canadian Commander Special, a 1962 GT Hawk, a 1960 Lark Regal 4-door, a 1957 Silver Hawk (not the same one I owned in high school -- that one I wrecked) and a 1949 Champion Starlight Coupe. My current Stude is a 1964 Challenger Wagonaire sliding roof station wagon. I will build this page as time allows. If you have any suggestions or comments, please send me a message. Both text and image contributions are welcome.
---
STUDE OF THE MONTH
APRIL 2011
1937 President Coupe Street Rod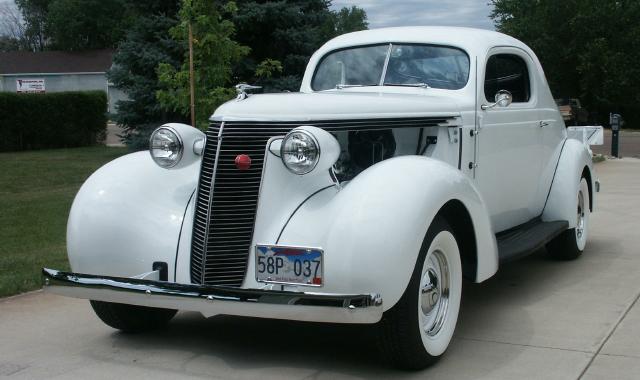 Rear Angle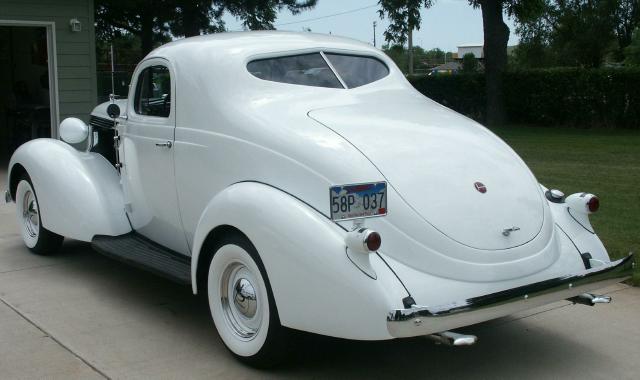 Side View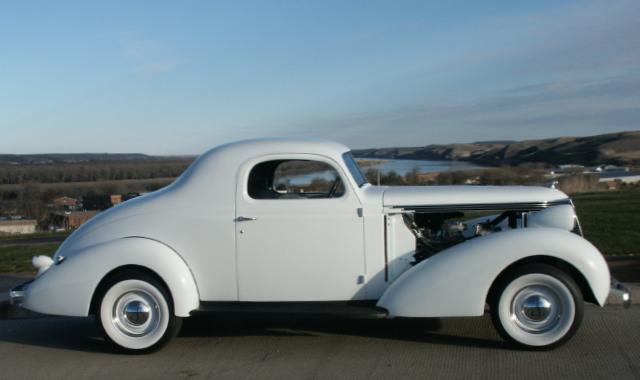 Front View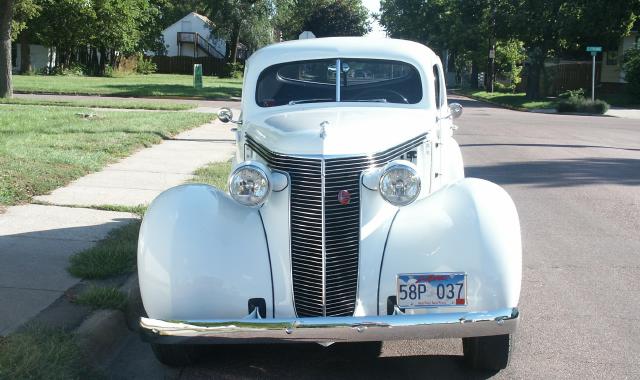 Rear View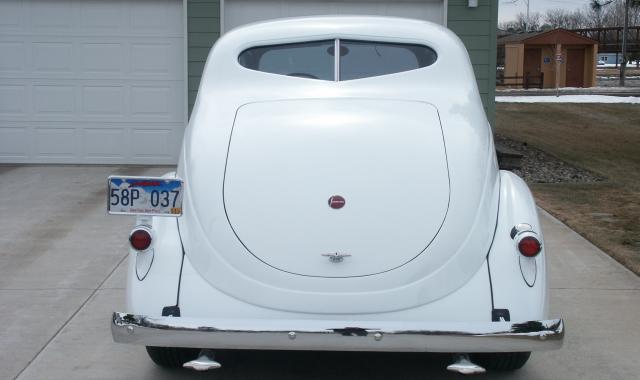 Dashboard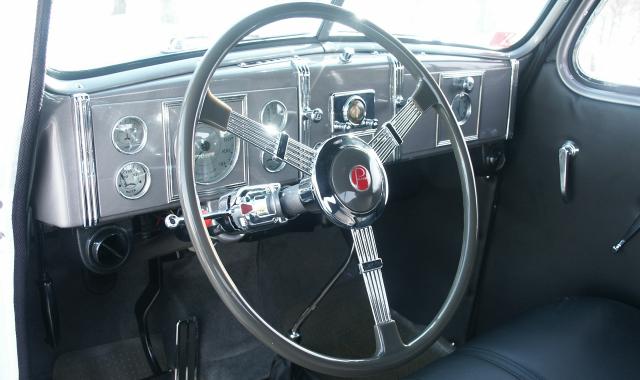 Under the Hood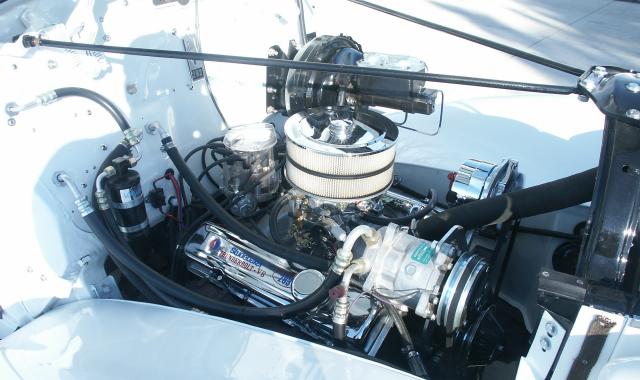 This cool 1937 Studebaker President Three Window Coupe belongs to Steve Brown of Fort Pierre, South Dakota. Steve did a complete frame off restoration with the goal of a modern drivetrain in an original appearing vehicle. Steve's car is powered by a Thunderbolt 283 cubic inch V8 from a 1966 Studebaker Cruiser. The engine was bored .060 and an Edelbrock Performer Series intake and 4-barrel carburator were added. A custom aluminum radiator was built by Howe and a Lincoln two-speed electric fan was added. The drivetrain includes a Turbo-Hydamatic 350 automatic transmission with a Gennie shifter and a rear differential from a 1984 Chevy C10 Pickup.
The front hubs were modified to accept Geo Tracker discs and calipers, all other brake components were replaced, and a Chevrolet power booster was added. Diamond Back classic wide whitewall radial tires were installed on period wheels from Wheel Vintiques. Steering is original with Borgeson U-joints. The suspension is also original and the front end was completely rebuilt with NOS parts. The original gas tank was replaced with a reproduction 1941 Chevrolet tank. All of the gauges are working originals. Air conditioning from Vintage Air was added with outlets tastefully located under the dashboard.
Without question Steve has met his goal of original appearence with a modern drivetrain. Steve indicates that there are still some details to finish but also that he has driven the car over 2,500 miles since its restoration. Here is a shot of the area behind the front seat and the trunk lid raised.
Thanks to Steve for sending the pictures and information about his beautiful rare Studebaker.
If you own or once owned a Studebaker or related vehicle and would like to see your car as "Stude of the Month" or in the "Cool Studes" section, or if you have other pictures or material that you would like to contribute to this page, please e-mail me here. I can accept either electronic or hard copy images. The Main Page is issued every other month so the next edition will be June 2011.
---
All of the previous editions of the Main Page going back to October 1995 have been reposted. In the process of reposting the pages, I have made corrections and revisions as needed, and in some cases added material that was not used when a page was first posted due to download speed and file storage limitations. A complete list of Main Pages and Studes of the Month with links to each is located here.
If you have a particular interest in Bullet Nose Studebakers, visit Bill Junge's Bullet Nose Paradise which is dedicated to the 1950 and 1951 Bullet Nose models.
---
STUDEBAKER NATIONAL MUSEUM
AUGUST 2010 VISIT
VIRGINIA MUSEUM OF
TRANSPORTATION STUDEBAKERS
---
ANOTHER COOL STUDE
Custom 1955 Commander Coupe


Rear Angle


Under the Hood

This sharp 1955 Commander Coupe belongs to Peter Tobey of Parksville, British Columbia. Peter's car is powered by a Chevy 350 V8 with Edelbrock Elite Series die cast aluminum valve covers and air cleaner assembly and features lake pipes with three outlets on each side, chrome dished wheels with modern radial tires, and half moon hubcaps. The hood ornament, truck lid ornament, and trim script have been removed but the car retains its bright "butter knife" stainless steel side trim and stainless Steel side window trim indicating that it is a Regal model.
The 1955 models departed from the relatively plain offerings of the preceeding two years with added chrome and the availability of relatively fancy two and three-tone paint schemes. The public responded favorably, and Studebaker production increased from 68,708 for 1954 to 116,333 for 1955. Studebaker production did not top 100,000 again until the compact Lark appeared for 1959.
Bill Junge took the pictures of Peter's car at a North Island Cruisers show in Campbell River, British Columbia in September 2010. Thanks to Bill for sending the pictures and information.
---
STUDE GRAVEYARD PICTURES
1950 Bullet Nose Sedan


Late 1950's Pickup


Another 1950 Sedan

Mark Carson took a number of pictures at wrecking yards in Santa Rosa and Alamogordo while on a trip to New Mexico in February 2011. If you look close you can see the rear fender of a 1957 Studebaker Sedan behind and to the right of the first 1950 Bullet Nose. Here is a rear view of the 1957 Sedan. Both Bullet Nose cars appear to have been pretty well picked over for parts. The Pickup is either a 1957 or 1958 Transtar or a 1959 Deluxe which was essentially the same truck. The fiberglass grille with vertical bars first appeared in 1957 and carried forward through 1964 for C Cab models.
Mark is a member of the Studebaker Drivers Club B.C. Coastal Chapter and is Chairman for the Pacific Can Am Zone Meet to be held in New Westminister, British Columbia on August 26-27, 2011. Thanks to Mark for sending the pictures and information.
---
TEST YOUR STUDEBAKER KNOWLEDGE!
---
STUDE MISCELLANY
1964 Challenger Wagonaire


Side View


Interior View

Just off the truck is my "new" 1964 Challenger Wagonaire Sliding Roof Station Wagon. Once I get it sorted out I'll do a full feature on it. Suffice it to say that it is a 38,000 mile rust free car that was in storage for the better part of 40 years. That is a 1971 New Jersey inspection sticker on the windshield. The all vinyl interior is like new but the Laguna Blue paint has faded with age. The dash does not have any cracks and the headliner is unblemished. There is absolutely no evidence of roof leaks. The standard rubber floor mat was covered with Studebaker accessory floor mats front and rear and appears as new. The radio works and the original spare tire has full tread.
The production order lists factory undercoating, Climatizer, exterior Appearance Group including bright windshield moldings and hood ornament, and interior Convenience Group including passenger side sun visor, arm rests, and glove box door lock. It also has dealer installed front bumper guards, Studebaker all transistor radio, and Strato-Vue rear view mirror. The engine is a Skybolt Six with manual transmission. When I saw this car for sale in Rahway, New Jersey I contacted Peter Crisitello who lives in the same town and asked him to check it out. Peter sent back a positive report so we made the trip, took it for a drive, bought it, and had it trucked home to Virginia.
Special thanks go to Peter Crisitello for his help in acquiring the Wagonaire. Peter did reconnaissance on the car and sent digital pictures in answer to my questions. When the seller wanted the car moved from his property, Peter kept it until arrangements could be made to have it transported to Virginia. Peter also brought the spare parts that came with the car to the March Studebaker Swap Meet in York thus saving another trip to New Jersey.
Grigg's Honey Trucks Old Photo


Griggs' Honey Trucks Models

Randy Griggs of Louisville, Kentucky sent in these pictures of a 1949 Studebaker Pickup and a 1950 Studebaker Stakebed that his dad used in his honey business. The black and white photo shows Randall's Dad in the stakebed "Madam Queen" and a hired man in the pickup "Little Worker." The "Madam Queen" model was made using the cab from a 1950's vintage Dinky Toys Studebaker tanker truck and the chassis from a 1/64 scale AHL 1950 Ford Stakebed. Randy had to construct the stakebed pretty much from scratch as the AHL model didn't look anything like his Dad's truck. The "Little Worker" model is a Shrock Brothers pewter model to which Randy added the custom decals.
Randy doesn't currently own a "real" Studebaker although he has owned a 1955 President State Coupe and an Avanti. His folks owned seven Studebakers in their lifetime including a 1962 Champ Pickup that Randy's son Scott currently owns.
Thanks to Randy for sending the pictures and information.
---
Did you know that Michael Kelly's New Avanti Motor Corporation signed a deal to produce the VW based Brazilian Puma Sports Car? I didn't think so! The deal fell through when Kelly ran out of money. To learn more about the Puma, visit my Puma Sports Cars Site.
---
STUDE TOY OF THE MONTH
M2 Machines 1954 Studebaker 3R Tow Truck



M2 Machines recently issued several versions of a nicely done 1:64 scale diecast Studebaker C Cab truck including this attractive 1954 3R Tow Truck with Studebaker red ball logo. One of the more interesting variations is a 1954 3R Flatbed found in a field project truck with a missing door waiting to be restored. These models come packed either in a hard plastic display box or on a plastic encased blister card and cost about $5 each.
Here is the same basic casting in display box packaging depicting a standard 1949 2R Pickup in red and a 1950 2R Pickup with snow blade in light grey. Other variations include a pair of 1953 2R Pickups one black and one metallic teal packed with a neat diecast vehicle lift which sells for about $10, a black 1954 3R Pickup, and a custom 1949 2R Tow Truck in black with flames on the side.
More toy Studes can be found in the Stude Stuff area of this page and on my Studebaker Toys Home Page.
Click here for information on ordering hard to find Studebaker toys made by manufacturers such as Johnny Lightning, Racing Champions, Hot Wheels, Matchbox, Muscle Machines, Maisto, and EKO.
Studebaker Toy Treasures Book

Jim Geary's book Studebaker Toy Treasures is the standard reference collectors of Studebaker Toys. This wonderful book has 294 pages of color pictures and details on hundreds of Studebaker toys. Publication date is 2004 and just about every Studebaker toy and model produced up to that time is pictured and cataloged. Jim is making the book available for the reduced price of $28 including shipping. This is a great deal since most vendors sell this book for $39.95 plus shipping. Jim will sign the book if requested. Jim can be contacted at sanjim76@live.com or send payment to Jim Geary, 181 Allendale Hills Road, Franklin, NC 28734.
---
---
---
---
* * * This Page On Line Since October 1995 * * *
---
Published 4/1/2011