---
BILL
JACKAMEIT'S
STUDEBAKER
PAGE
---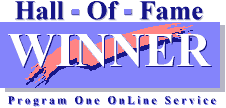 ---
---
Welcome fans of the pride of South Bend. I am a long-time Studebaker fan and Studebaker Driver's Club member, having owned a 1957 Silver Hawk in high school and a 1959 Lark Regal Hardtop in college. Since then, I have owned other Studes as hobby cars including a 1962 Champ Pickup, a 1964 Canadian Commander Special, a 1962 GT Hawk, a 1960 Lark Regal 4-door, and a 1957 Silver Hawk (not the same one I owned in high school -- that one I wrecked). I have sold my 1949 Champion Starlight Coupe so I'm currently looking for my next Stude. I will build this page as time allows. If you have any suggestions or comments, please send me a message. Both text and image contributions are welcome.
---
STUDE OF THE MONTH
FEBRUARY 2011
1947 Commander Business Coupe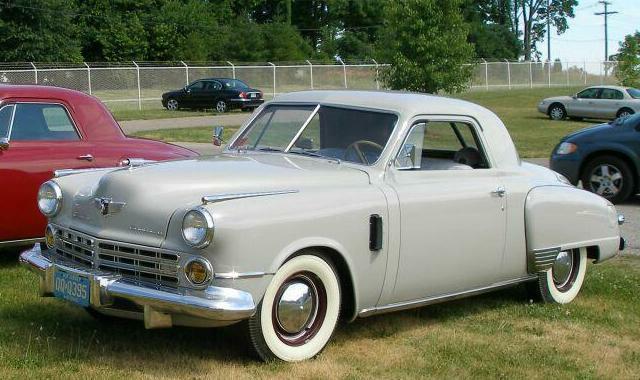 Rear Angle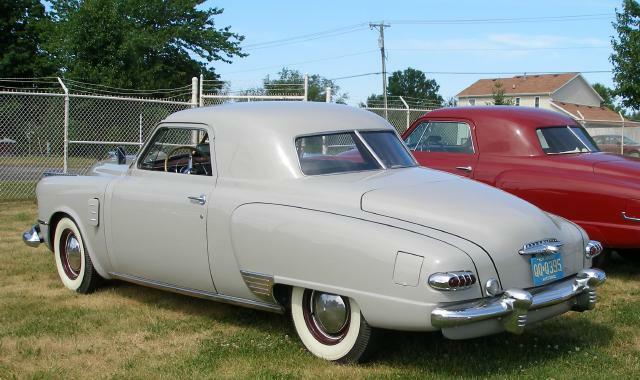 Side View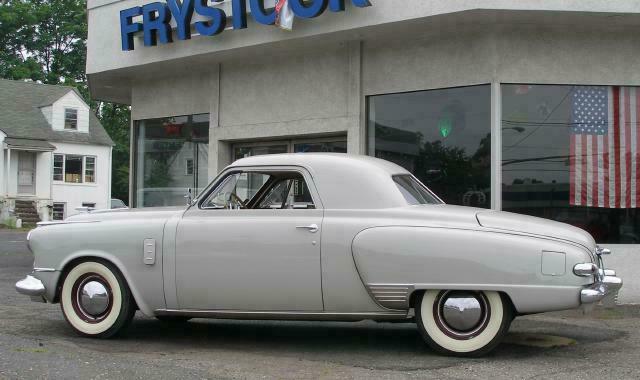 Interior and Dash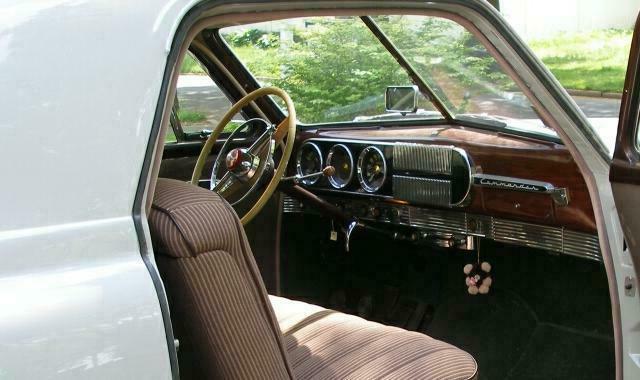 Under the Hood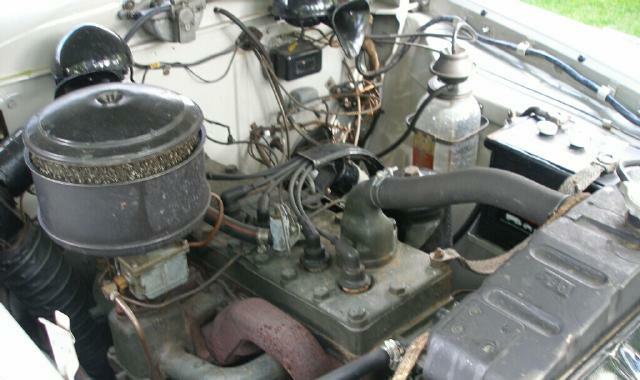 This rare 1947 Studebaker Commander Business Coupe belongs to Peter Crisitello of Rahway, New Jersey. According to available production figures, only 1,347 Commander Business Coupes were produced for the 1947 model year of which 1,046 were Regal Deluxe models and 301 were the plainer Deluxe model. This compares with 8,600 Champion Business Coupes produced that model year. Peter has owned this car since 1978 and he believes that it may be the only surviving post-war Commander Business Coupe in driving condition.
Peter's Commander has Regal Deluxe trim and is equipped with whitewall tires, overdrive, Climatizer heater and defroster, electric turn signals, interior day/night rear view mirror, fog lights, single backup light, stainless steel rear fender splash guards, and glass bottle windshield washer. The car was repainted by Max Corkins in the 1980ís before it was placed on loan to the Studebaker National Museum in South Bend for 18 years. Here is a shot of the area behind the front seat.
Peter is a long time Studebaker fan who also owns several Avantis. Thanks to Peter for sending the pictures and information about his rare Studebaker.
If you own or once owned a Studebaker or related vehicle and would like to see your car as "Stude of the Month" or in the "Cool Studes" section, or if you have other pictures or material that you would like to contribute to this page, please e-mail me here. I can accept either electronic or hard copy images. The Main Page is issued every other month so the next edition will be April 2011.
---
All of the previous editions of the Main Page going back to October 1995 have been reposted. In the process of reposting the pages, I have made corrections and revisions as needed, and in some cases added material that was not used when a page was first posted due to download speed and file storage limitations. A complete list of Main Pages and Studes of the Month with links to each is located here.
If you have a particular interest in Bullet Nose Studebakers, visit Bill Junge's Bullet Nose Paradise which is dedicated to the 1950 and 1951 Bullet Nose models.
---
STUDEBAKER NATIONAL MUSEUM
AUGUST 2010 VISIT
VIRGINIA MUSEUM OF
TRANSPORTATION STUDEBAKERS
---
MORE SALT FLATS RACERS
Hemi Powered Starlight Coupe


Side View


Rear Angle View


Interior Shot


Another Starlight Coupe


1953 Starlight Coupe

This is the second round of August 2010 Bonnneville Speed Week pictures sent by Bill Junge. The first round appeared in the December 2010 edition of this page. Bonneville Speed week is sponsored by the Southern California Timing Association. The 2010 event was held August 14 through 20 and as usual a number of Studebakers were entered in several classes. As to class designation, the letters to the left of the slash designate engine size and the letters to the right of the slash indicate body type. An explanation of the Bonneville class system can be found here.
The white Starlight Coupe Number 9304 entered by Andre Moreau from Quebec, Canada ran 183.07 in class B/GALT. Engine class "B" is from 373 to 439 cubic inches. Andre's racer is Chrysler Hemi V8 powered. Here is a rear view of this car headed down the salt.
The 1953 Starlight Coupe Number 1012 with plexiglass covered streamlined headlights entered by Dennis Denham ran 205.124 in Class B/CGALT. The "CGALT" stands for "classic gas altered."
The 1953 Starlight Coupe Number 4594 entered by Greg Meyers ran a best speed of 133.538 in Class F/CGALT. Engine class "F" is 123 to 183 cubic inches, in this case a destroked Studebaker V8. The complete story of this car can be found here.
Thanks to Bill for sending the pictures and information.
---
STUDE GRAVEYARD PICTURES
1954 Starliner Hardtop


2R Series Pickup


Champ Truck Cab


Another 1954 Starliner

Bill Storr of Edmonton, Alberta sent in pictures of Studebakers he found in a compound in Ely, Nevada. The City of Ely is located in east central Nevada at the crossroads of U.S. Route 93 and U.S. Route 50. It is a tourism center, and is home of the Nevada Northern Railway Museum. Ely recieves an average of 8.5" of rainfall a year and the climate is considered to be semi-arid. That explains the relatively rust free condition of these graveyard Studes.
The vertical teeth in the grilles of both Starliners identify them as 1954 models. The pickup's three level grille identifies it as a 1949-53 2R model. The 2R Series and the 1953-54 Starliner were designed by Bob Bourke working for Raymond Loewy Associates. Here is a rear angle view of the white 1954 Starliner and here is a rear angle view of the 2R Series Pickup. The Champ truck appeared in 1960 using Lark fenders, hood, and doors to give a more modern look.
Bill Storr owns and operates Route 66 Appraisals located in Edmonton. Bill owns a 1962 Studebaker Gran Turismo Hawk that was Stude of the Month on this page in August 2010 and a 1955 Packard 400 Hardtop that appeared on this page in December 2010. Thanks to Bill for sending in the pictures and information.
---
TEST YOUR STUDEBAKER KNOWLEDGE!
---
STUDE MISCELLANY
1956 Flight Hawk Hardtop


Interior and Dash


Under the Hood

Jim Youngberg of Winona, Minnesota sent some pictures of a rare 1956 Studebaker Flight Hawk Hardtop that he recently purchased from its former Canadian owner. Flight Hawks used Studebaker's 185 cubic inch, 101 hp Champion six cylinder engine and were only made in 1956. This car is believed to be the only Flight Hawk Hardtop remaining in North America. A total of 4,389 Flight Hawk Coupes (with center pillar and flip-out rear windows) were produced for the 1956 model year. An additional 560 Flight Hawk Hardtops (with no center pillar and roll-down rear windows) were built for export and a small number of these were sold in Canada.
The maple leaf on the lower right corner of the dash of Jim's car indicates that it was assembled in Canada. The alternator visible under the hood is not original in that 1956 Studebakers were equipped with generators. Automotive alterators first appeared on Chrysler products in 1960 and were not used on Studebakers until the 1963 model year.
Jim says that he plans on making his Hawk into an "old-school street cruiser" with a modern V8 engine and transmission and a disc brake upgrade. Otherwise, he intends to keep the exterior and interior stock. Jim has been in the collision repair business for 38 years and he says he is ready to take on this project. Hopefully we will see the results of his efforts in a future edition of this page.
Here is a rear view of this rare bird. Thanks to Jim for sending the pictures and information.
---
Did you know that Michael Kelly's New Avanti Motor Corporation signed a deal to produce the VW based Brazilian Puma Sports Car? I didn't think so! The deal fell through when Kelly ran out of money. To learn more about the Puma, visit my Puma Sports Cars Site.
---
STUDE TOY OF THE MONTH
Hot Wheels Treasure Hunt Avanti



Hot Wheels has issued a number of Studebaker based models over the years. The Treasure Hunts Avanti is the latest having only recently appeared as Number 55 in the 2011 standard issue collector number series. This casting was used previously in the Hot Wheels Classics Series but this is the first time it has appeared as a standard issue. However, since it is a Treasure Hunt model, it is relatively hard to find. Even harder to find is the Super Treasure Hunt version which is a darker color and has rubber tread "Real Riders" wheels.
Here is the standard issue Treasure Hunts Avanti on a U.S. long blister card and on an international short blister card.
More toy Studes can be found in the Stude Stuff area of this page and on my Studebaker Toys Home Page.
Click here for information on ordering hard to find Studebaker toys made by manufacturers such as Johnny Lightning, Racing Champions, Hot Wheels, Matchbox, Muscle Machines, Maisto, and EKO. For those who might be interested, I have a limited stock of the Hot Wheels Treasure Hunt Avanti new on the original blister card available for purchase.
Studebaker Toy Treasures Book

Jim Geary's book Studebaker Toy Treasures is the standard reference collectors of Studebaker Toys. This wonderful book has 294 pages of color pictures and details on hundreds of Studebaker toys. Publication date is 2004 and just about every Studebaker toy and model produced up to that time is pictured and cataloged. Jim is making the book available for the reduced price of $28 including shipping. This is a great deal since most vendors sell this book for $39.95 plus shipping. Jim will sign the book if requested. Jim can be contacted at sanjim76@live.com or send payment to Jim Geary, 181 Allendale Hills Road, Franklin, NC 28734.
---
---
---
---
* * * This Page On Line Since October 1995 * * *
---
Published 2/1/2011