---
OCTOBER 2011 BRIDGEWATER
STUDEBAKER MEET
---
1958 Packard Station Wagon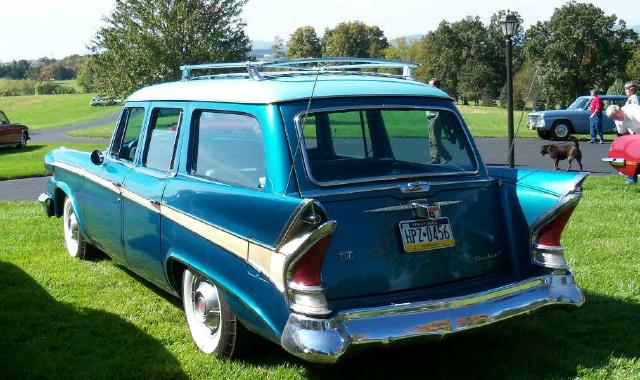 1955 Champion Custom Sedan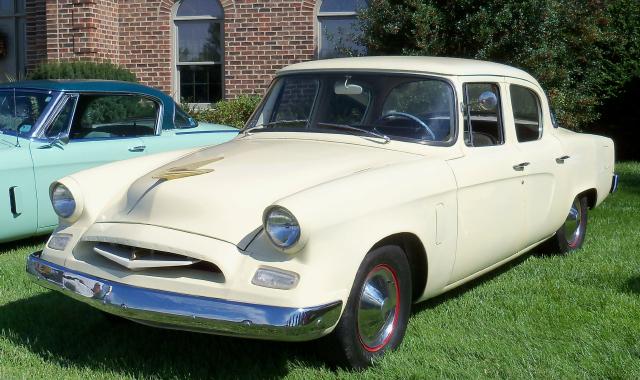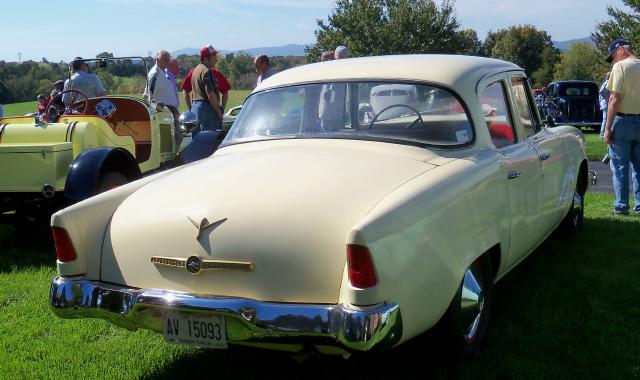 1928 Studebaker President Roadster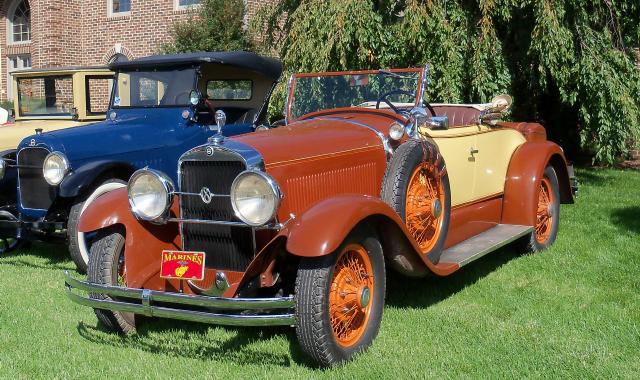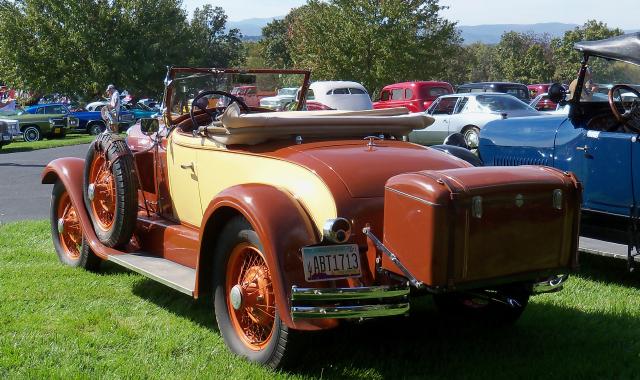 1963 Studebaker Avanti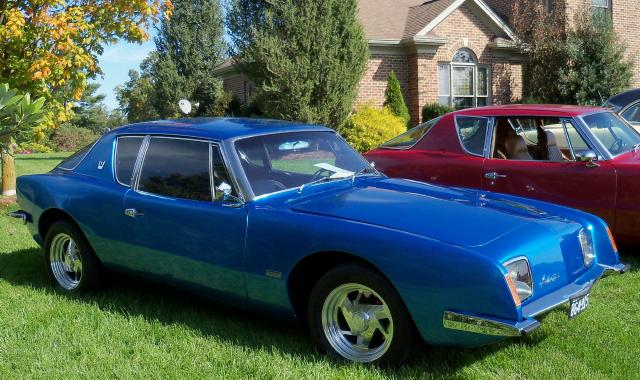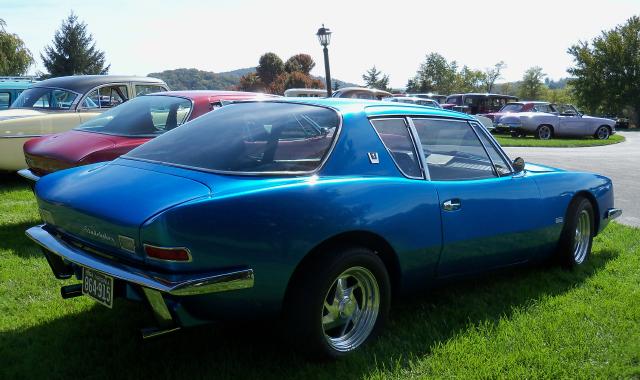 The 1958 Packard Station Wagon belongs to Jim and Irene Shoul of Shippensburg, Pennsylvania. Only 159 Packard wagons were built during the 1958 model year which was the last year of Packard production. The 1958 Packard was based on the Studebaker President and is powered by a Studebaker 289 cubic inch V8 rated at 225 horsepower. The Shoul's wagon has gone over 100,000 miles and was repainted once in the original colors. The dash features Packard style round instruments and a Wonderbar AM radio.
The 1955 Champion Custom Sedan belongs to Darrell and Ruth Carr of Charlestown, West Virginia. Only 3,290 low trim 1955 Champion Custom four-door sedans were produced compared to 13,621 with Deluxe trim and 7,406 with Regal trim. This example has the wraparound windshield that was introduced mid-year. The painted grille, headlight bezels, and tail lamp housings are not stock but look right nevertheless. The simple but functional interior is consistent with the car's trim level.
The 1928 President Roadster belongs to Malcolm J. Stinson, Jr. of Show Low, Arizona. Malcolm indicates that it is a Model FBJ with a 313 cubic inch eight cylinder engine listed at 100 horsepower. The engine has been rebuilt to produce around 110 horsepower and does very well at 60 to 65 mph. An eight-day clock and electronic fuel gauge were standard equipment. The interior is typical of fine cars of its era. Malcolm was the Service Manager at Mystic Studebaker in Mystic, Connecticut from 1958 until the end of production.
The 1963 Avanti belongs to Don Fitzsimons of Grottoes, Virginia. Don's Avanti is powered by a Paxton supercharged Studebaker R3 V8 with a stock Carter AFB 4-barrel carburetor. The engine is bored .090 over to 320 cubic inches. The flawless fiberglass body is painted Ford Bright Lapus Blue. The interior features a Lecarra steering wheel and a Hurst competition shifter. Don's car was featured as Stude of the Month for December 2011.
1948 Commander Starlight Coupe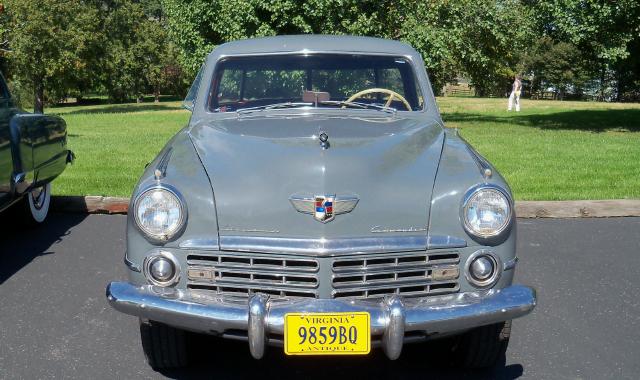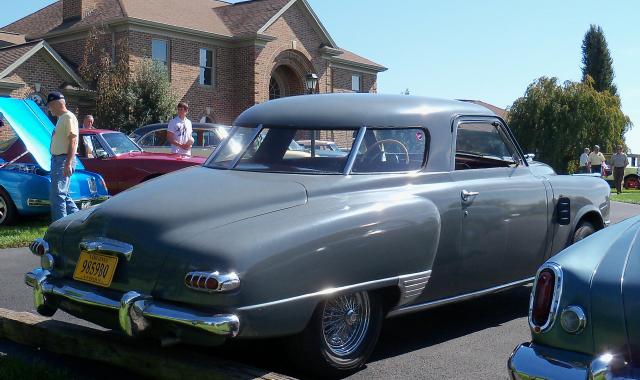 Custom 1954 Studebaker Roadster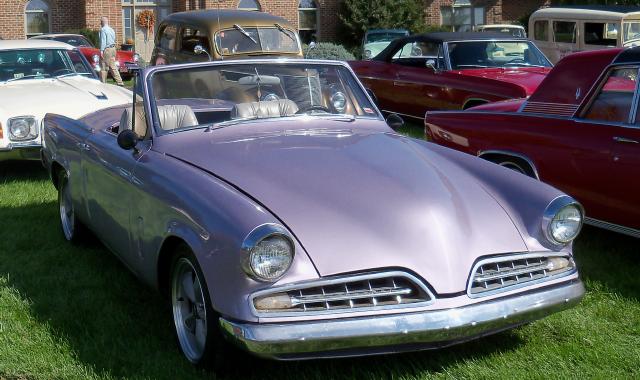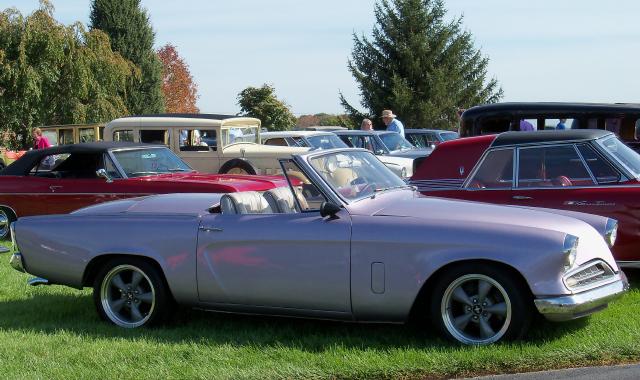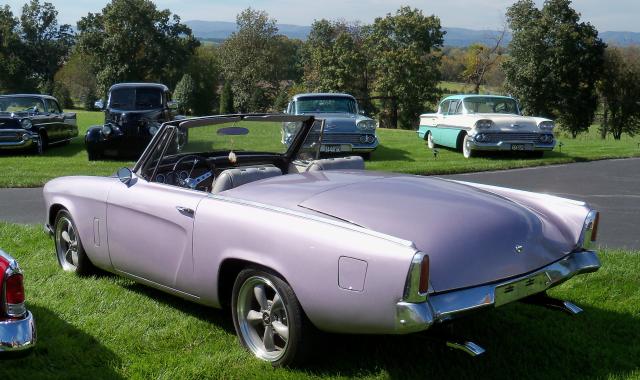 The 1948 Commander Starlight Coupe belongs to Theron White of Washington, D.C. Commanders were powered by a 226 cubic inch flathead six rated at 94 horsepower. Commander Starlights were produced in smaller numbers than the lower priced Champion and are relatively rare today. The interior features three round instrument clusters and a push button factory AM radio. Other than chrome wire wheels and modern tires Theron's Commander is basically stock.
The Custom 1954 Studebaker Roadster belongs Guy Eavers of Staunton, Virginia. The wheelbase has been shortened as have the rear quarter panels ahead of the wheel openings. The hood and trunk lid have been dechromed and the car is painted a pleasant light purple. Bud's Stude has a 1962 GT Hawk dash and leather bucket seats. The mag wheels are from a Ford Mustang and what looks to be a Studebaker V8 sits under the hood albeit painted Ford engine blue.
1953 Packard Clipper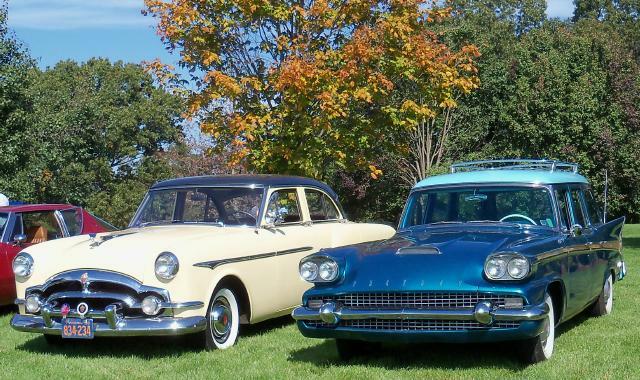 The 1953 Packard Clipper Sedan belongs to Wendell (Sonny) Henkel, who is the Pastor of the Victory Fellowship Church in Dayton, Virginia. In addition to being a fan of old cars, Pastor Henkel served as the Company Chaplain for Good Printers, which for many years was the printer for Turning Wheels, the Studebaker Drivers Club monthly publication. Here is a view of the interior and dash of this sharp Packard.
All of the pictures were taken at the October 2011 Greater Virginia and Central Virginia SDC Car and Truck Meet held at the home of Chester and Nancy Bradfield in Bridgewater, Virginia. This annual event has no judging, just lots of interesting cars, typically from several states. Thanks to Chester and Nancy for once again opening their home for this great event.
---
---