---
BILL
JACKAMEIT'S
STUDEBAKER
PAGE
---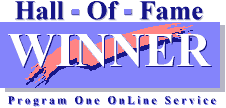 ---
---
Welcome fans of the pride of South Bend. I am a long-time Studebaker fan and Studebaker Driver's Club member, having owned a 1957 Silver Hawk in high school and a 1959 Lark Regal Hardtop in college. Since then, I have owned other Studes as hobby cars including a 1962 Champ Pickup, a 1964 Canadian Commander Special, a 1962 GT Hawk, a 1960 Lark Regal 4-door, a 1957 Silver Hawk (not the same one I owned in high school -- that one I wrecked) and a 1949 Champion Starlight Coupe. My current Stude is a 1964 Challenger Wagonaire sliding roof station wagon. I will build this page as time allows. If you have any suggestions or comments, please send me a message. Both text and image contributions are welcome.
---
STUDE OF THE MONTH
DECEMBER 2011
1964 Studebaker Avanti R3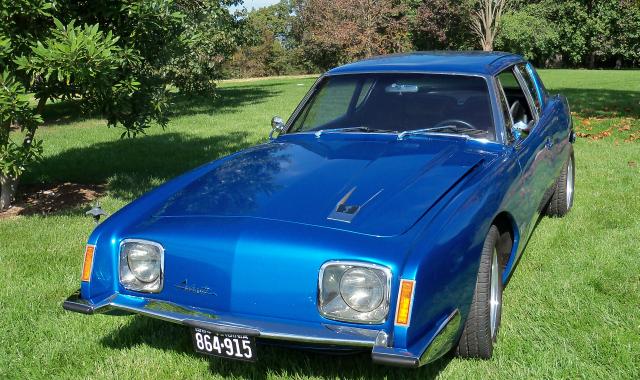 Rear Angle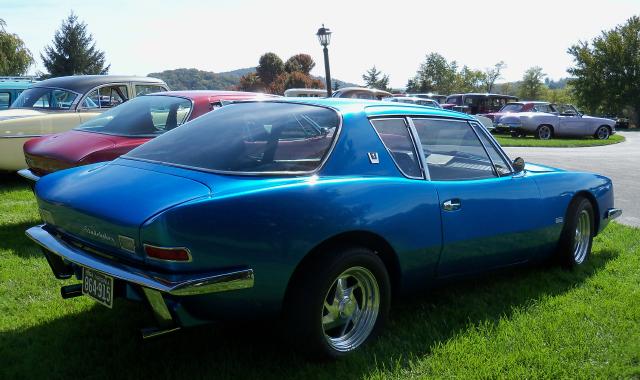 Passenger Side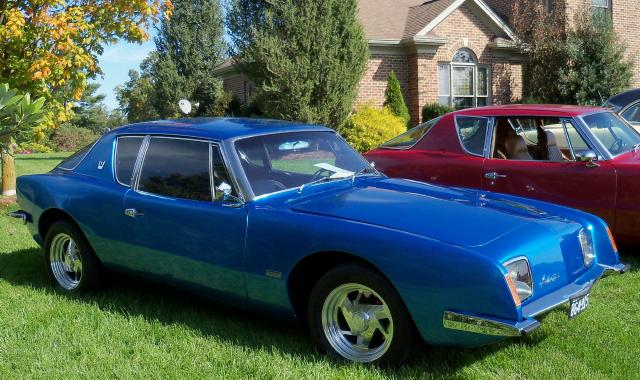 Rear View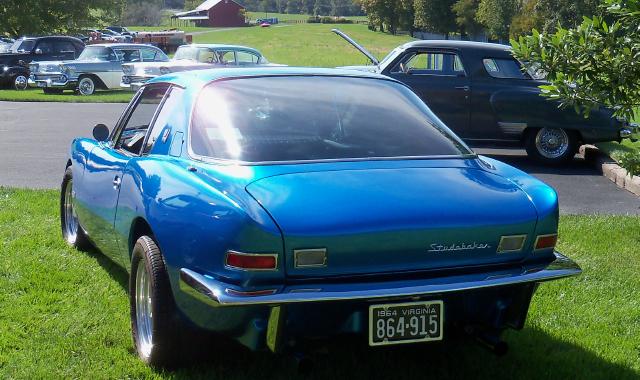 Interior and Dash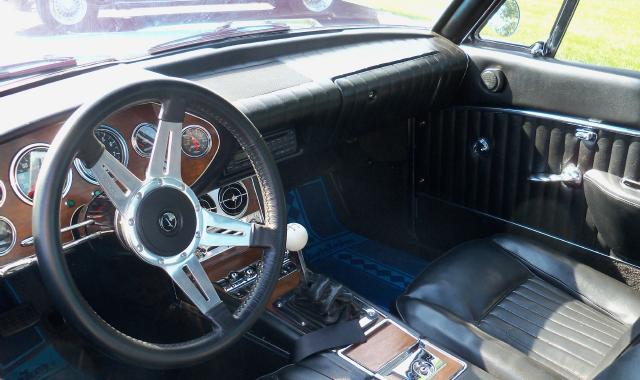 Under the Hood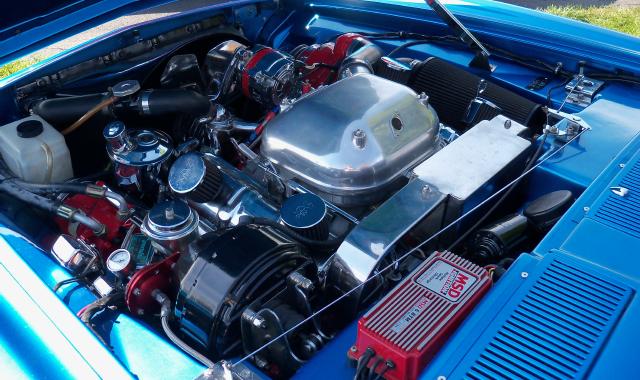 This sharp 1964 Studebaker Avanti belongs to Don Fitzsimons of Grottoes, Virginia. Don's Avanti is powered by a Paxton supercharged Studebaker R3 V8 with a stock Carter AFB 4-barrel carburetor. The engine is bored .090 over to 320 cubic inches. Other modifications include Crane roller camshaft and triple valve springs, Crower roller lifters, Oberg oiling and fuel system, and MSD electronic ignition. Here is a picture of the beautifully detailed engine bay from the opposite side showing the supercharger setup.
The transmission is a stock Borg-Warner T-10 four-speed with a Hurst competition shifter and stock Dana 44 rear axle with Studebaker Twin Traction limited slip differential. The suspension includes heavy duty leaf springs with traction bars, front and rear anti-sway bars, gas shocks, and power disc brakes. The car rides on 16" Budnick aluminum wheels 7" wide front and 8" wide rear and Goodyear Gatorback high performance radial tires 225/55 VR16 front and 255/50 VR16 rear.
Studebaker gave Avanti buyers the choice of a supercharged engine or air conditioning but not both. Don's Avanti has been modified to include air conditioning and the original instruments have been replaced with round Auto Meter units that look right and give a stock appearence. Amenities include a Lecarra steering wheel, power windows, power antenna, and a Sony receiver with CD player and Kenwood amplifier with acoustic crossover and Pioneer speakers. The flawless fiberglass body is painted Ford Bright Lapus Blue
Don Fitzsimons is a long-time Studebaker fan and SDC member. His 1962 Champ Pickup was Stude of the Month on this page in January 1996 and his Chevy powered 1956 Golden Hawk appeared on this page in December 2005.
If you own or once owned a Studebaker or related vehicle and would like to see your car as "Stude of the Month" or in the "Cool Studes" section, or if you have other pictures or material that you would like to contribute to this page, please e-mail me here. I can accept either electronic or hard copy images. The Main Page is issued every other month so the next edition will be February 2012.
---
All of the previous editions of the Main Page going back to October 1995 have been reposted. In the process of reposting the pages, I have made corrections and revisions as needed, and in some cases added material that was not used when a page was first posted due to download speed and file storage limitations. A complete list of Main Pages and Studes of the Month with links to each is located here.
If you have a particular interest in Bullet Nose Studebakers, visit Bill Junge's Bullet Nose Paradise which is dedicated to the 1950 and 1951 Bullet Nose models.
---
STUDEBAKER NATIONAL MUSEUM
AUGUST 2010 VISIT
VIRGINIA MUSEUM OF
TRANSPORTATION STUDEBAKERS
---
OCTOBER 2011 BRIDGEWATER MEET
1958 Packard Station Wagon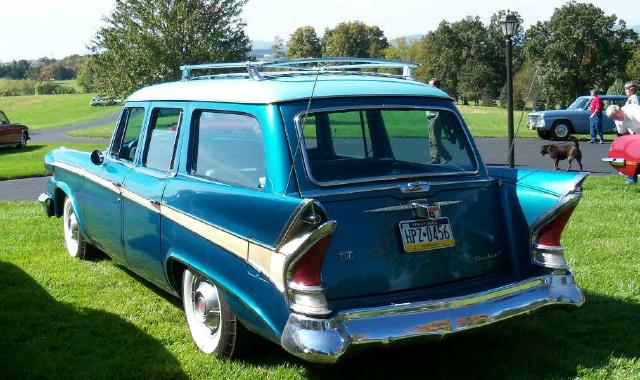 1955 Champion Custom Sedan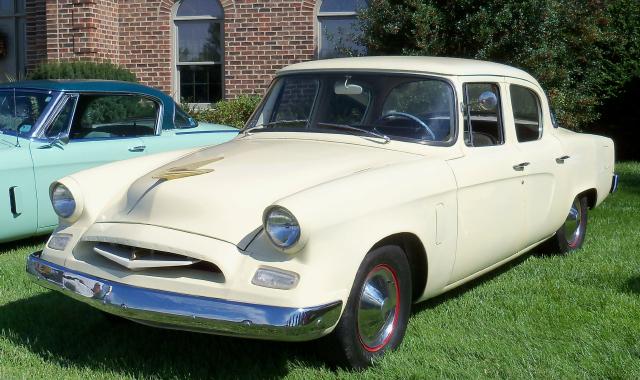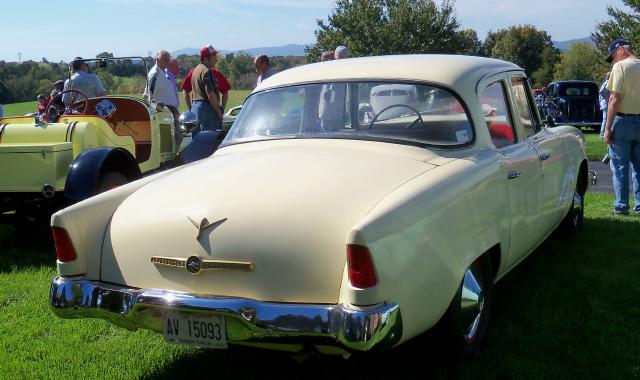 1928 Studebaker President Roadster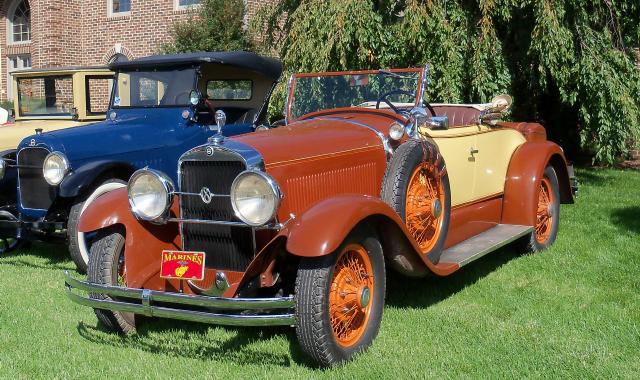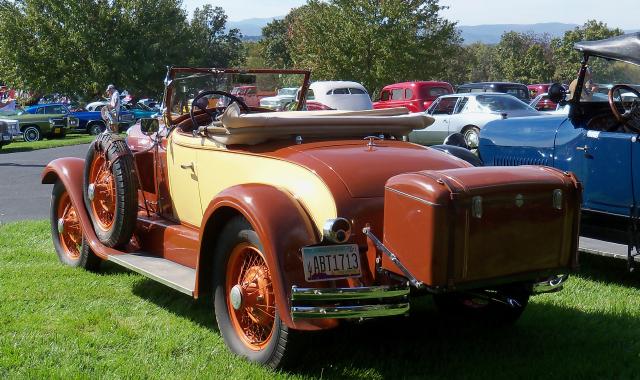 The 1958 Packard Station Wagon belongs to Jim and Irene Shoul of Shippensburg, Pennsylvania. Only 159 Packard wagons were built during the 1958 model year which was the last year of Packard production. The 1958 Packard was based on the Studebaker President and is powered by a Studebaker 289 cubic inch V8 rated at 225 horsepower. The Shoul's wagon has gone over 100,000 miles and was repainted once in the original colors. The dash features Packard style round instruments and a Wonderbar AM radio..
The 1955 Champion Custom Sedan belongs to Darrell and Ruth Carr of Charlestown, West Virginia. Only 3,290 low trim 1955 Champion Custom four-door sedans were produced compared to 13,621 with Deluxe trim and 7,406 with Regal trim. This example has the wraparound windshield that was introduced mid-year. The painted grille, headlight bezels, and tail lamp housings are not stock but look right nevertheless. The simple but functional interior is consistent with the car's trim level.
The 1928 President Roadster belongs to Malcolm J. Stinson, Jr. of Show Low, Arizona. Malcolm indicates that it is a Model FBJ with a 313 cubic inch eight cylinder engine listed at 100 horsepower. The engine has been rebuilt to produce around 110 horsepower and does very well at 60 to 65 mph. An eight-day clock and electronic fuel gauge were standard equipment. The interior is typical of fine cars of its era. Malcolm was the Service Manager at Mystic Studebaker in Mystic, Connecticut from 1958 until the end of production.
All of the pictures were taken at the October 2011 Greater Virginia and Central Virginia SDC Car and Truck Meet held at the home of Chester and Nancy Bradfield in Bridgewater, Virginia. This annual event has no judging, just lots of interesting cars, typically from several states. Thanks to Chester and Nancy for once again opening their home for this great event. More pictures from the 2011 Bridgewater Meet will appear in the next update.
---
DAN'S STUDEBAKER CROSSWORD PUZZLES
Dan Armstrong from Mansfield, Texas has created a number of crossword puzzles and games for car nuts. These are available on-line at Dan's Extreme Car Puzzles. Dan has a strong interest in Studebakers, particularly the 1956 Sky Hawk, the performance equipped 1963 Lark Daytona, and the performance equipped 1963 and 1964 GT Hawks. The Studebaker crosswords are copyright by Dan Armstrong and are used with his permission. Thanks to Dan for providing the link and the downloadable Studebaker crossword puzzles for readers of this page to enjoy.
---
SPOTTED AT REEDSVILLE
M Series Street Rod


Two-Tone C Cab Pickup


1962 Champ Pickup


1951 Champion Starlight Coupe

The 35th Annual Manhattan Chapter Studebaker Swap Meet was held at the Mifflin County Youth Park in Reedsville, Pennsylvania on November 18 and 19, 2011. We made the four plus hour trip from Staunton, Virginia to look for parts and were pleased to find a new in the box backup lamp kit with full installation instructions for our 1964 Wagonaire. This purchase alone made the trip a success. I also managed to spend money on some other parts and a couple of Studebaker toys. There were a number of Studes on the grounds including some that were for sale. Here is the interior of the M Series Street Rod and here is a front view of the 1962 Champ Pickup.
---
TEST YOUR STUDEBAKER KNOWLEDGE!
---
STUDE MISCELLANY
1962 GT Hawk in Alberta

Bill Storr of Edmonton, Alberta sent this picture of his 1962 Gran Turismo Hawk parked outside of his favorite haunt. The Commodore Restaurant has been in business since 1942 and has been run by three generations of the same family since the beginning. It is an old fashioned diner that specializes in comfort foods at reasonable prices. Breakfast is served all day and reviews suggest that it is the most popular part of the menu. The restaurant is located at 10712 Jasper Avenue Northwest in Edmonton, Alberta.
1958 Packard Barn Find

Bill Storr also sent this picture of a 1958 Packard Station Wagon that he came across in a small town in southern Alberta. This example has the same color scheme as Peter Zobian's 1958 Packard Station Wagon that was featured on this page in June 2010. It appears to be part of a collection of 1950's era Packards. It is hard to tell how much work would be needed to restore this rare wagon but rust is evident on the lower rear quarter panel.
Bill Storr owns and operates Route 66 Appraisals located in Edmonton. His 1962 GT Hawk was Stude of the Month on this page in August 2010. He also owns a 1955 Packard 400 Hardtop that appeared on this page in December 2010. Thanks to Bill for sending in the pictures and information.
---
Did you know that Michael Kelly's New Avanti Motor Corporation signed a deal to produce the VW based Brazilian Puma Sports Car? I didn't think so! The deal fell through when Kelly ran out of money. To learn more about the Puma, visit my Puma Sports Cars Site.
---
STUDE TOY OF THE MONTH
Banthrico 1953 Starliner Hardtop



Pat Nagy of Wolverine Lake, Michigan sent pictures of a rare 1953 Banthrico Studebaker Starliner Hardtop that he found at a flea market. This great find still has its original blue paint and key taped to the base of the model. Banthrico models were made of a white metal alloy consisting primarily of zinc and aluminum with traces of copper, brass, and lead. Some models came painted and others were left in bare metal form. Most Banthrico models were banks and many were imprinted with a dealer name and used for promotional purposes.
Pat was born and raised in South Bend and learned to drive on a 1959 Lark while in high school. He has a number of Studebaker models of various scales in his collection. His favorite is the 1962 Lark Convertible Indy 500 Pace Car. Thanks to Pat for sending the pictures and information.
More toy Studes can be found in the Stude Stuff area of this page and on my Studebaker Toys Home Page.
Click here for information on ordering hard to find Studebaker toys made by manufacturers such as Johnny Lightning, Racing Champions, Hot Wheels, Matchbox, Muscle Machines, Maisto, and EKO.
Studebaker Toy Treasures Book

Jim Geary's book Studebaker Toy Treasures is the standard reference collectors of Studebaker Toys. This wonderful book has 294 pages of color pictures and details on hundreds of Studebaker toys. Publication date is 2004 and just about every Studebaker toy and model produced up to that time is pictured and cataloged. Jim is making the book available for the reduced price of $28 including shipping. This is a great deal since most vendors sell this book for $39.95 plus shipping. Jim will sign the book if requested. Jim can be contacted at sanjim76@live.com or send payment to Jim Geary, 181 Allendale Hills Road, Franklin, NC 28734.
---
---
---
---
* * * This Page On Line Since October 1995 * * *
---
Published 12/1/2011