---
BILL
JACKAMEIT'S
STUDEBAKER
PAGE
---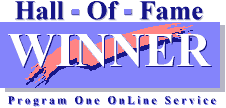 ---
THIS PAGE OPTIMIZED FOR 800 BY 600 SCREEN RESOLUTION

---
Welcome fans of the pride of South Bend. I am a long-time Studebaker fan and Studebaker Driver's Club member, having owned a 1957 Silver Hawk in high school and a 1959 Lark Regal Hardtop in college. Since then, I have owned other Studes as hobby cars including a 1962 Champ Pickup, a 1964 Canadian Commander Special, a 1962 GT Hawk, a 1960 Lark Regal 4-door, and a 1957 Silver Hawk (not the same one I owned in high school -- that one I wrecked). My current Stude is a 1949 Champion Starlight Coupe. I will build this page as time allows. If you have any suggestions or comments, please send me a message. Both text and image contributions are welcome.
---
STUDE OF THE MONTH
APRIL 2009
1957 Studebaker Silver Hawk Coupe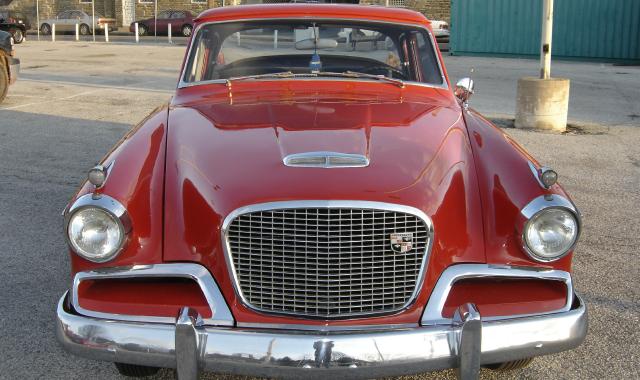 From the Side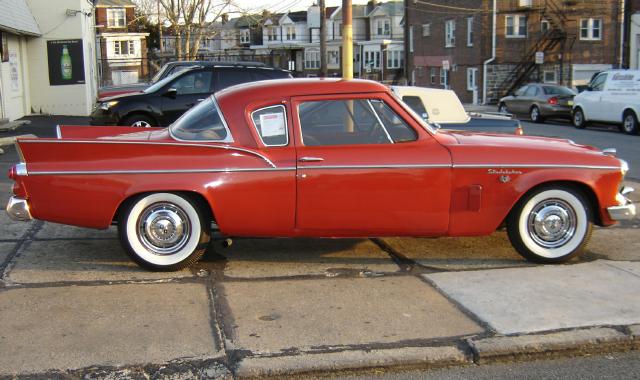 Rear Angle View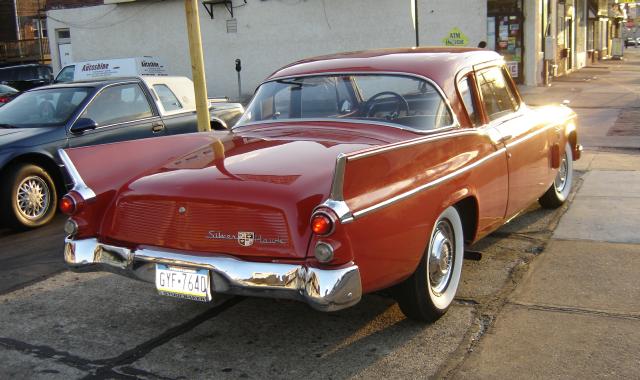 Interior and Dash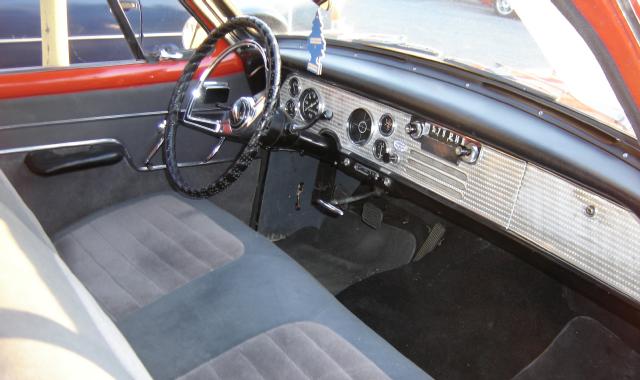 Under the Hood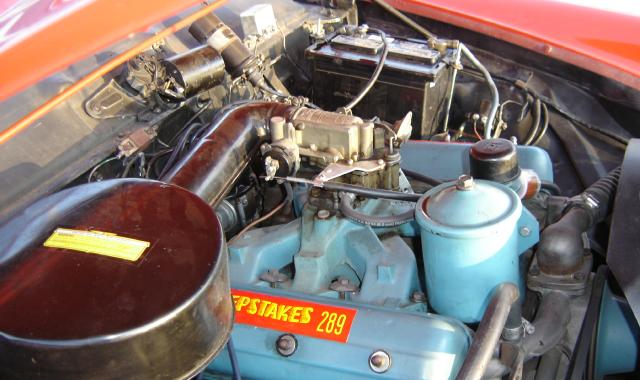 This outstanding 1957 Studebaker Silver Hawk Coupe is owned by George Maier of Upper Darby, Pennsylvania. George purchased the car about two years ago from Fred Van Horne and had it trucked to the East Coast from California. Fred restored the body and had the interior redone prior to selling the car. George's Silver Hawk is powered by Studebaker's 289 cubic inch V8 with two barrel carburator and has a manual transmission with overdrive. Dual exhausts were standard on this engine which was rated at 210 horsepower. An optional four barrel carburator raised the output to 225 horsepower. George's Hawk was repainted in the original color of Apache Red and has a two-tone grey interior that was redone in the original pattern. It is also equipped with a Studebaker's optional Climatizer heater/defroster, oil bath air cleaner, and a factory Delco manual AM radio.
George had the engine completely rebuilt by Witmer's Automotive in Ephrata, Pennsylvania. Whitmer's Automotive is well known as a Studebaker shop and restoration facility. Witmer's also replaced the transmission and detailed engine compartment and frame. George personally repaired the overdrive and the radio. This picture shows the car with the hood raised. The "V8 with flags" emblem that can be clearly seen on the front fender indicates that this is an eight cylinder car. Silver Hawks were also available with the 101 horsepower Champion flathead six but the vast majority of buyers opted for the V8.
This car was built at the South Bend plant in July 1957 and was shipped to a Studebaker dealership in Portland, Oregon. It is one of 14,950 Silver Hawks produced for the 1957 model year. George indicates that he bought this car because he has memories of riding in his father's 1957 Silver Hawk as a child. George works for Eastern Connection Movers whose specialties include enclosed auto transport. Thanks to George for providing the information about his fine nice car.
If you own or once owned a Studebaker or related vehicle and would like to see your car as "Stude of the Month" or in the "Cool Studes" section, or if you have other pictures or material that you would like to contribute to this page, please e-mail me here. I can accept either electronic or hard copy images. The Main Page is issued every other month so the next edition will be June 2009.
---
All of the Monthly Main Pages going back to October 1995 have been reposted. In the process of reposting the pages, I have made corrections and revisions as needed, and in some cases added material that was not used when a page was first posted due to download speed and file storage limitations. A complete list of Main Pages with links to each is located here.
---
ANOTHER COOL STUDE
Custom 1951 C Cab Pickup


Rear Angle


Interior and Dash


Under the Hood

Bill Junge sent these pictures of a wild custom open top 1951 Studebaker Pickup owned by James Byrd. The pictures were taken at the 11th Annual Quartzsite Rock & Roll Classic Car Show held January 31 and February 1, 2009 in Quartzsite, Arizona. Much of the show is under roof in the "Big Tent" that is part of the Quartzite show complex. Quartzite has 69,000 square feet of tented exhibit space so there is plenty of covered space for shows. Quartzsite bills itself as the "rock and gem capitol" of the United States. The town has a population of just 1,900 but claims to have over a million visitors each year, with most coming in January and February. The interior of this sharp Studebaker truck is all business with a tilt wheel and digital electronic instruments and not much else. An interesting touch is that the Chevy big block engine is painted to match the interior and exterior of the truck. Thanks to Bill for sending the pictures of this very cool truck.
Bill Junge has his own web site called Bullet Nose Paradise which is dedicated to 1950 and 1951 Bullet Nose Studebakers. Thanks again to Bill for helping to keep this page in new material.
---
STUDEBAKER DRIVERS CLUB
ATLANTIC ZONE MEET
JUNE 19 THROUGH 21, 2009
Harrisonburg, Virginia
Sponsored by the Greater Virginia and Central Virginia Chapters
* * Click here for further information * *
---
STUDE MISCELLANY
Frank Drumheller's 1960 Lark



Frank Drumheller sent these picture of his 1960 Studebaker Lark Regal Four Door Sedan. This is the same car that I owned from the late 1970's to the early 1990's. It was featured on this page as the Stude of the Month in September 1999. Frank is a member of the Greater Virginia Chapter of the Studebaker Drivers Club and is the editor of the chapter's award winning Studebaker Menu newsletter. Frank also serves as Zone Coordinator for the Atlantic Zone and has contributed quite a bit material to this page. He is an expert on Studebaker trucks and has helped tremendously over the years with questions on trucks and other Studebaker vehicles. The skirts on Frank's car were made by Foxcraft and painted to match the original Pacific Blue. One of the nice things about this car is that it has an overdrive transmission to go along with the 170 cubic inch flathead six. Thanks to Frank for his help with the page and for sending the pictures of his Lark.
Thomas Lessard's 1959 Silver Hawk



Thomas Lessard sent in these pictures of his 1959 Silver Hawk Coupe. He refers to this as his "road car" since he has four more Hawk coupes and he is looking for frames to make additional roadworthy cars. The 1959 Silver Hawk was available with a 170 cublic inch six cylinder flathead engine rated at 90 horsepower engine or a 259 cubic inch V8 engine. These were the same as the six and V8 in the 1959 Lark compact. The V8 was rated at 180 horspower with a two barrel carburator or 195 horsepower with an optional four barrel carburator. The 289 cubic inch V8 was not available in 1959 but returned in 1960. A total of 7,788 Silver Hawks were produced for the 1959 model year. As in 1957 and 1958, most 1959 Silver Hawks were equipped with V8 engines. The trunk lid on this car has been reworked to repair the usual rust along the bottom edge. The chrome tail light bezels and the dual exhausts identify this Hawk as a V8 model.
Cardboard 1956 President Classic



Mark Crowel of Mattawan, Michigan sent several photos of a scratch built cardboard model of a 1956 Studebaker President Classic that he made for Marty Long of Washington Grove, Maryland. Marty owns the real car shown here at the July 2006 Atlantic Zone Meet. As with many of Mark's models, this one has a detailed interior and engine compartment. This picture shows the engine and an interior door panel prior to assembly. Mark has built a number of cardboard Studebaker models several of which can be seen here. Mark's models are built from chipboard, which is a lightweight cardboard that is commonly found on the back of legal pads. Thanks to Mark for providing the pictures of his latest Studebaker creation.
---
TEST YOUR STUDEBAKER KNOWLEDGE!
---
PROJECT CAR OF THE MONTH
South African 1964 Daytona Sedan





Hein van der Merwe of Port Shepstone, South Africa sent these pictures of his right hand drive 1964 Studebaker Daytona Sedan. He was given the car and intends to restore it. Hein says he wants to take on the project because his father drove a 1964 Daytona. Currently he has it stripped down, and is busy cleaning the body for galvanizing and re-assembly. A company named South African Motor Assemblers and Distributors (SAMAD) assembled right hand drive Studebakers at a factory in Uitenhage, South Africa from 1948 to 1965. The company also assembled Austins and Volkswagens and changed its name to Volkswagen South Africa in 1966. A right hand drive South African Champ Pickup appeared on this page in February 2009. Thanks to Hein for sending the pictures and information about his project car.
---
Did you know that Michael Kelly's New Avanti Motor Corporation signed a deal to produce the VW based Brazilian Puma Sports Car? I didn't think so! The deal fell through when Kelly ran out of money. To learn more about the Puma, visit my Puma Sports Cars Site.
---
STUDE TOY OF THE MONTH
Matchbox Platinum Edition 1958 Golden Hawk



This is the Matchbox Collectables Platinum Edition version of the 1:43 scale Matchbox Dinky 1958 Studebaker Golden Hawk Hardtop. This version was issued in 2001 as part of the Platinum Edition series. Here is a picture of the attractive metal tin in which it came packed. The 1958 Golden Hawk was also issued as a Dinky gold (DY-26) and as part of the Matchbox Collectibles "Oldies but Goodies" series in teal (DYG03-M). This picture shows all three main variations. This is a relatively heavy model and is very nicely made. The Platinum Edition model is a late issue and is the hardest of the three to find. A recent search of eBay yielded several of the Gold and Teal versions but none of the Platinum Edition version. The Platinum Edition version goes for upwards of $30 and the other two can generally be had for $20 or less. More toy Studes can be found in the Stude Stuff area of this page and on my Studebaker Toys Home Page.

Click here for information on ordering hard to find Studebaker toys made by manufacturers such as Johnny Lightning, Racing Champions, Hot Wheels, Matchbox, Muscle Machines, and EKO.
---
---
---
---
* * * This Page On Line Since October 1995 * * *
---
Published 4/1/2009