---
BILL
JACKAMEIT'S
STUDEBAKER
PAGE
---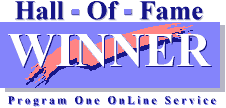 ---
---
Welcome fans of the pride of South Bend. I am a long-time Studebaker fan and Studebaker Driver's Club member, having owned a 1957 Silver Hawk in high school and a 1959 Lark Regal Hardtop in college. Since then, I have owned other Studes as hobby cars including a 1962 Champ Pickup, a 1964 Canadian Commander Special, a 1962 GT Hawk, a 1960 Lark Regal 4-door, and a 1957 Silver Hawk (not the same one I owned in high school -- that one I wrecked). My current Stude is a 1949 Champion Starlight Coupe. I will build this page as time allows. If you have any suggestions or comments, please send me a message. Both text and image contributions are welcome.
---
STUDE OF THE MONTH
JUNE 2010
1958 Packard Station Wagon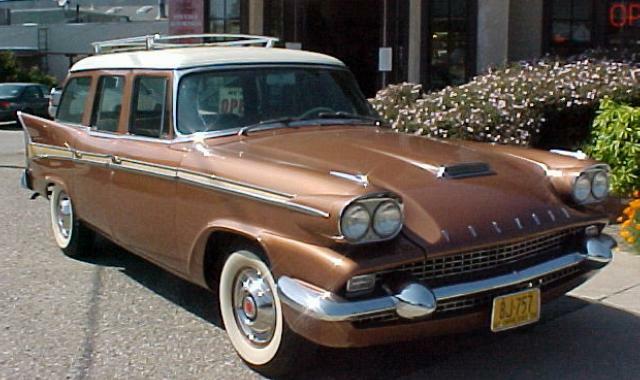 Rear Angle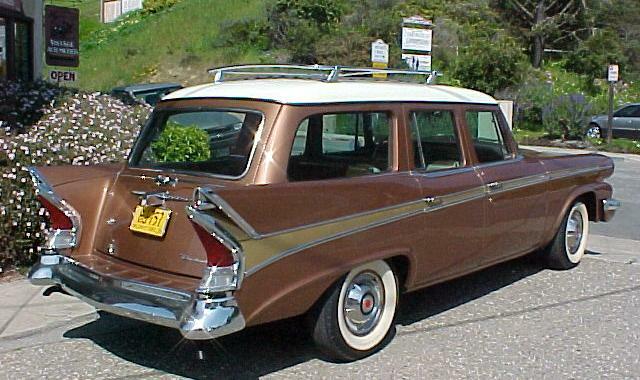 Side View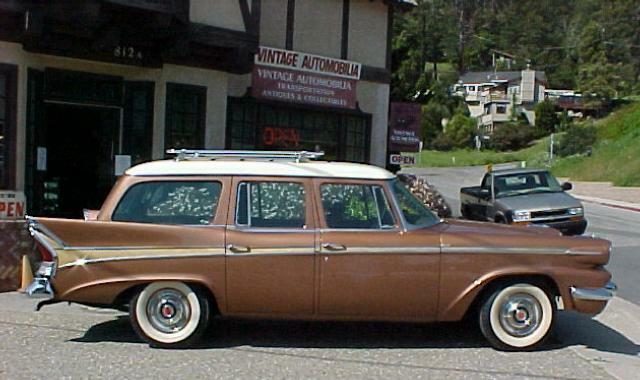 Front View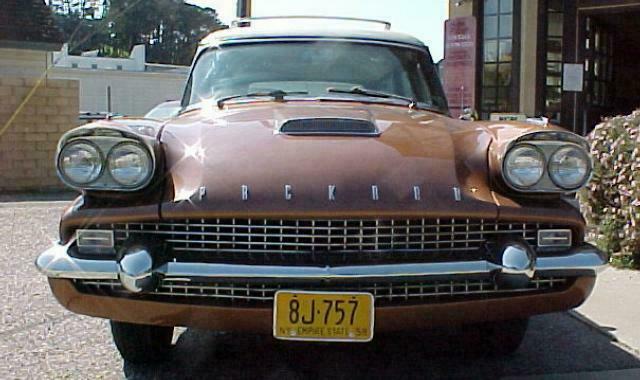 Rear Facing Third Seat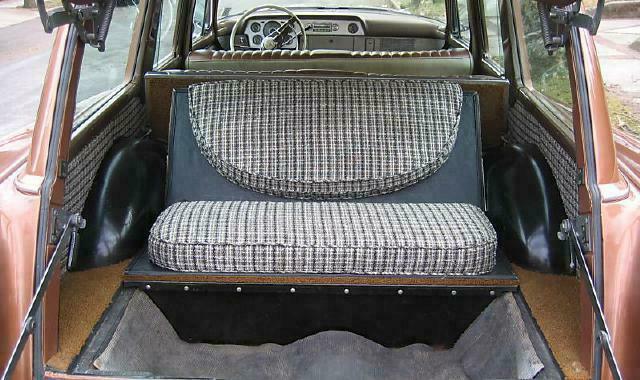 Interior and Dash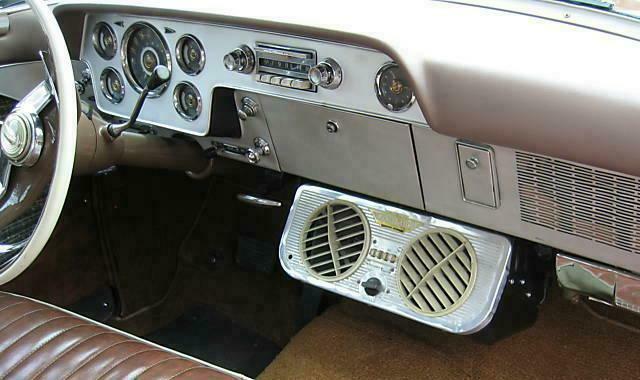 Under the Hood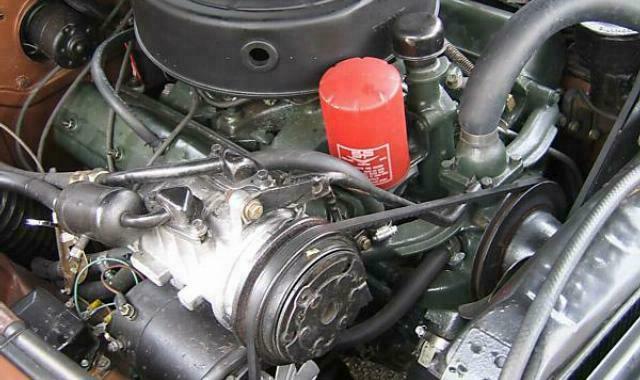 This very rare 1958 Packard Station Wagon belongs Peter Zobian of Cambria, California. Only 159 Packard wagons were built during the 1958 model year. The two-tone paint is Canyon Copper and Parchment White. Peter bought the car from its owner in New York and had it shipped to its present home in California. Peter's wagon is equipped automatic transmission, power steering, Twin Traction, power windows, tinted glass, roof mounted luggage rack, factory Wonderbar AM radio, retractable antenna, dealer installed air conditioning, and an extremely rare "Hide-Away" rear facing third seat. No spare tire was provided on wagons with the third seat option because the seat folded into the spare tire well. For this reason, Captive-Air tires were a required option on Studebaker and Packard wagons with rear facing third seats. The Wonderbar radio is also an interesting period item. Pressing the bar on the radio initiates a small electric motor which moves the tuner knob and pointer to the next AM signal. With the exception the Packard Hawk which used the supercharged Golden Hawk engine, 1958 Packards were equipped with a standard Studebaker 289 cubic inch V8 with dual exhausts as used on Studebaker Presidents.
The production of Packards in Detroit ended with the 1956 model year. Studebaker-Packard might have let that be the end of production but for several reasons, including dealer contracts and the desire to keep Packard alive as a brand, the company opted to produce Studebaker-based Packards in South Bend for 1957 and 1958. The 1957 models were called Packard Clippers and in general appearence they looked similiar to the 1956 Packard Clippers built in Detroit. They even used the same large pointed tail lights which carried over to 1958. The 1958 models added dual headlamps and a second tail fin in an attempt to keep up with the annual styling changes typical of American cars of that era. The 1957 and 1958 Packards are sometimes referred to as "Packardbakers" although a better term might be "South Bend Packards" as they were sufficiently different from the Studebaker models on which they were based to be considered a separate brand. Studebaker-Packard rightly decided to devote its limited resources to the compact Lark for 1959 which meant the end of Packard and of the full-size Studebakers on which the South Bend Packards were based.
Several of the pictures above were taken outside of Vintage Automobilia in Cambria, California which is owned and operated by Peter Zobian. Peter has been collecting collecting, buying, and selling and selling vintage automobiles and transportation related antiques and collectibles for more than 50 years. He has owned a number of Studebakers including a 1948 Land Cruiser, 1949 Champion Convertible, 1949 Champion Business Coupe, 1954 Commander Starliner Hardtop, 1955 President Deluxe Sedan, and three 1955 Speedsters. The previous owner let Peter keep the 1958 New York license plates as can be seen in the pictures. Thanks to Peter for sending the excellent pictures and information on his very rare and very cool 1958 Packard.
If you own or once owned a Studebaker or related vehicle and would like to see your car as "Stude of the Month" or in the "Cool Studes" section, or if you have other pictures or material that you would like to contribute to this page, please e-mail me here. I can accept either electronic or hard copy images. The Main Page is issued every other month so the next edition will be August 2010.
---
All of the previous editions of the Main Page going back to October 1995 have been reposted. In the process of reposting the pages, I have made corrections and revisions as needed, and in some cases added material that was not used when a page was first posted due to download speed and file storage limitations. A complete list of Main Pages and Studes of the Month with links to each is located here.
---
---
ANOTHER COOL STUDE
1958 Packard Sedan


From the Rear


Interior and Dash


Under the Hood

This sharp 1958 Packard Sedan belongs to John Zapach of Edmonton, Alberta. It was located by Bill Storr of Route 66 Appraisals who did not buy it but brokered the deal for John to purchase the car. Bill found the car while searching for Packards in Alberta. John Zapach owns several Studebakers including a 1957 Silver Hawk, 1962 GT Hawk, and an all original 1963 Avanti. John's Packard is in very nice original condition with about 92,000 miles on the odometer. Bill Storr did a great job cleaning and detailing the car for John. The car was obviously very well cared for given its mileage and overall condition. There is absolutely no evidence of it ever being rusted or damaged. Most 1958 Packards have two-tone paint so this solid white example is even more unusual and tastefully subdued in appearence.
While not as rare as Peter Zobian's wagon, this sedan is one of only 1,200 Packard sedans assembled during the 1958 model year. John's car is equipped with automatic transmission, power steering, power brakes, Twin Traction, air conditioning, tinted glass, windshield washer, and a factory pushbutton AM radio with decklid antenna. The Twin Traction limited slip differential was developed by Packard and used by Studebaker until production ended in 1966. Unlike Peter's 1958 Packard wagon, which sits on the shorter 116.5" wheelbase used on Studebaker wagons, John's 1958 Packard sedan sits on the longer Studebaker President 120.5" wheelbase. This picture of the rear seat area shows that there is plenty of leg room in John's sedan. Fourteen inch wheels with Packard hexagon logo hubcaps are unique to the 1958 models as this is the only year that Studebakers and Packards were equipped with that size wheels.
Thanks to Bill Storr for sending the great pictures and information about John's car. Bill owns a pristine 1962 Studebaker GT Hawk which will be featured in a future edition of this page.
---
STREET ROD CORNER
1947 Studebaker Military Rat Rod


Front View



Three Jerry Cans

Bill Junge of Lake Havasu, Arizona sent these pictures of Tee Taylor's 1947 Studebaker M Series "U.S. Army" Rat Rod. Tee, who also lives in Lake Havasu, built it using 1947 Studebaker M5 cab, fenders, headlights, and upper fenders. The truck sits on a Chevy S-10 frame that was shortened 21" and is powered by a small block Chevy V8 driving through a GM 700R4 four speed automatic overdrive transmission and Chevy S-10 rear end. The gas tank is a 15 gallon beer keg and the jerry cans hide the battery. Here is a closeup picture of the engine bay complete with neat military lettering and a battle damage bullet hole. Tee also has a 1947 M Series Pickup with a tilting bed that appeared on this page in June 2005. That truck has been refinished in a "Tequila Sunrise" paint scheme as can be seen in this picture with the Military Rat Rod and Scott Grainger's 1946 M16 Studebaker flatbed.
Bill Junge has his own web site called Bullet Nose Paradise which is dedicated to 1950 and 1951 Bullet Nose Studebakers. Thanks to Bill for sending the pictures and to Tee for providing additional pictures and information about this cool truck.
---
TEST YOUR STUDEBAKER KNOWLEDGE!
---
STUDE MISCELLANY
Another 1958 Packard Wagon

Lee Thomas of Aurora, Colorado recently sold this 1958 Packard Station Wagon on eBay. It is in good running order but in need body and interior work. The "usual Studebaker rust" is evident in the picture above. There were 18 bids and the winning bidder bought a piece of history for $2,700. Until a year ago, it had been in storage for 35 years. Like Peter Zobian's wagon, this example is Canyon Copper and Parchment White. It also has Twin Traction, the optional roof rack, and a Wonderbar radio. This rear view shows the factory dual antennas on this wagon. Lee indicates that 20 of the original 159 of these rare wagons have survived. Lee owns a fully restored 1958 Packard Hawk and felt that he had too many projects ahead of the wagon to keep it. Thanks to Lee for the pictures and information.
1958 Studebaker Commander in Cuba

Eloy Soto from Cuba sent this picture of a 1958 Studebaker Commander which in his words is "in very bad condition" that he intends to restore. The car has been off the road for at least 20 years sitting outside on a patio. Its similiarity to the 1958 Packards pictured above is obvious, particularly the unusual pods that were added to the front fenders to accomodate dual headlamps. Commanders came standard with Studebaker's 259 cubic inch displacement 180 horsepower V8 engine. The body shell is basically the same as the 1958 Packard and many parts are interchangable.
Many older American cars, including some Studebakers, are in regular use in Cuba. There are essentially no automobile dealerships in Cuba for private citizens to purchase automobiles. In most cases, the only cars that can be purchased for private use are those that were acquired and registered before the Communist revolution. The result is that numerous old cars have been kept on the road far beyond what would be considered their normal service life. In recent years, the Cuban government has encouraged the preservation of antique cars as part of the national heritage and has banned the sale of such vehicles to foreigners.
Thanks to Eloy for sending the information. Hopefully Eloy will keep us posted with progress on the restoration.
---
STUDEBAKER PROJECTS
1962 Champ Pickup


1964 Commander Sedan

Todd Easterson of Oakfield, Wisconsin sent these pictures of two potential Studebaker projects that he has for sale. Todd says he is located about 40 miles north of Milwaukee. The 1962 Champ has about 77,000 miles and the 1964 Commander has about 59,000 miles. He describes both as "restorable and mostly complete" and he has titles for both vehicles. Neither is currently registered or running. Interested parties can contact Todd by email at toddkell@verizon.net or by phone at (920) 579-2838.
Thanks to Todd for sending the pictures and information. Hopefully these very restorable Studes will find new homes.
---
Did you know that Michael Kelly's New Avanti Motor Corporation signed a deal to produce the VW based Brazilian Puma Sports Car? I didn't think so! The deal fell through when Kelly ran out of money. To learn more about the Puma, visit my Puma Sports Cars Site.
---
STUDE TOY OF THE MONTH
Johnny Lightning 10th Aniversary Golden Hawk



The 10th Aniversary Collector Club Edition of the Johnny Lightning 1:64 scale 1957 Studebaker Golden Hawk was issued in 2004. This very nice model came packed in a special tin with a 10th Aniversary Collector Club Pin and Certificate of Authenticity. Normal issues of this model were sold on blistercards as with the 2004 Hot Rod Magazine version so an advantage of the 10th Aniversary Collector Club Edition is that it can be removed for display and returned to the orginal packaging without damage to the packaging.
More toy Studes can be found in the Stude Stuff area of this page and on my Studebaker Toys Home Page.

Click here for information on ordering hard to find Studebaker toys made by manufacturers such as Johnny Lightning, Racing Champions, Hot Wheels, Matchbox, Muscle Machines, Maisto, and EKO. The Johnny Lightning 10th Aniversary Collector Club Edition and the Hot Rod Magazine 1957 Golden Hawk models are in stock in limited quantity and available for purchase.
---
---
---
---
* * * This Page On Line Since October 1995 * * *
---
Published 6/1/2010