---
BILL
JACKAMEIT'S
STUDEBAKER
PAGE
---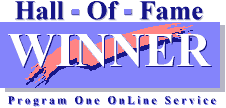 ---
---
Welcome fans of the pride of South Bend. I am a long-time Studebaker fan and Studebaker Driver's Club member, having owned a 1957 Silver Hawk in high school and a 1959 Lark Regal Hardtop in college. Since then, I have owned other Studes as hobby cars including a 1962 Champ Pickup, a 1964 Canadian Commander Special, a 1962 GT Hawk, a 1960 Lark Regal 4-door, a 1957 Silver Hawk (not the same one I owned in high school -- that one I wrecked) and a 1949 Champion Starlight Coupe. My current Stude is a 1964 Challenger Wagonaire sliding roof station wagon. I will build this page as time allows. If you have any suggestions or comments, please send me a message. Both text and image contributions are welcome.
---
STUDE OF THE MONTH
DECEMBER 2012
1955 Studebaker Speedster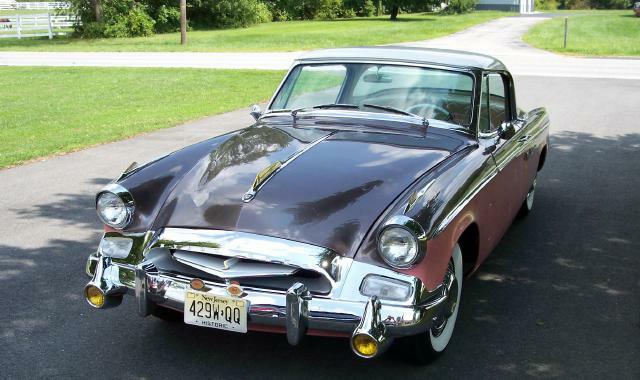 Rear Angle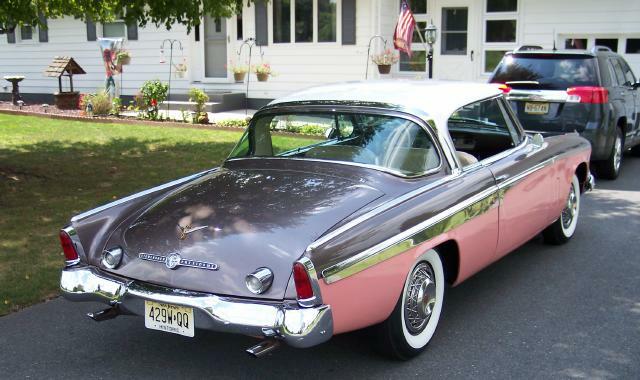 Side View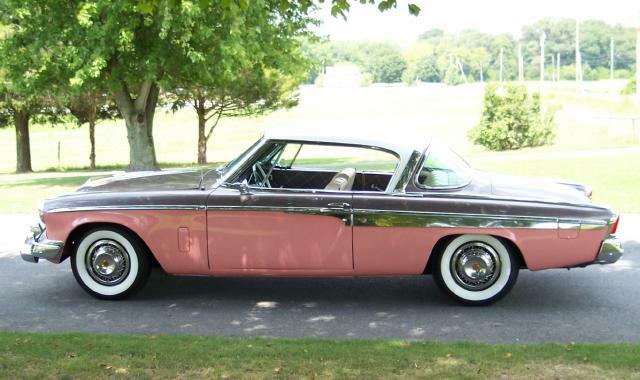 Interior and Dash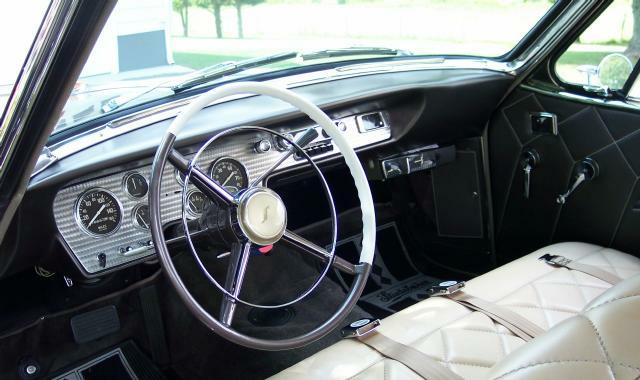 Under the Hood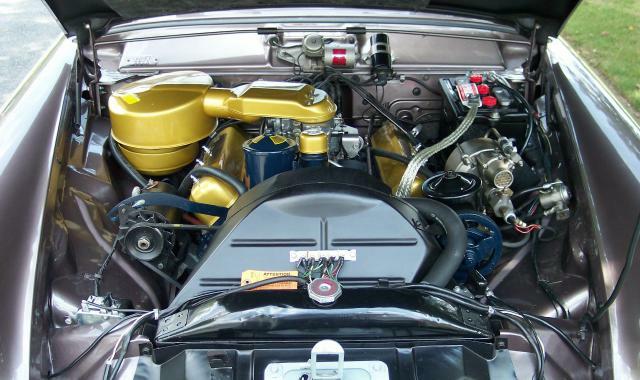 This beautiful 1955 Studebaker Speedster Hardtop belongs to Les and Alice Harris of Pittsgrove New Jersey. Les purchased the car from a Stude collector who was selling parts to a friend. The car came from Pennsylvannia, had 122,000 miles on the odometer, and accrding to Les "looked sad." Les did a total frame off restoration over the course of a year. All of the work was done at home except for the chrome. The three-tone paint is Shasta White, Pimlico Grey, and Coraltone.
Les says that he actually bought the car for his wife Alice and that she loves it. The car recieves a lot of attention everywhere it goes. It has an AACA Senior badge from Hersey and received its first AACA Grand National badge this past summer. Here is a picture of the Speedster's unique instrument cluster. When the Hawk series came out in 1956 the round Stewart Warner gauges were retained but the arrangement was different.
Speedsters were part of the President series and as such they were luxuriously equipped. Studebaker's 259 cubic inch V8 rated at 185 horsepower with four barrel carburator, dual exhausts, power steering, and power brakes were all standard items. Transmissions were either automatic or three speed mauual with overdrive. Speedsters also came equipped with leather upolstery, tinted glass, push button radio, tachometer, electric clock, fog lights, and wire wheel covers.
Only 2,215 Speedsters were produced of which this is number 2,110. Thanks to Les for sending the pictures and information about his outstanding Studebaker Speedster.
If you own or once owned a Studebaker or related vehicle and would like to see your car as "Stude of the Month" or in the "Cool Studes" section, or if you have other pictures or material that you would like to contribute to this page, please e-mail me here. I can accept either electronic or hard copy images. The Main Page is issued every other month so the next edition will be February 2012.
---
All of the previous editions of the Main Page going back to October 1995 have been reposted. In the process of reposting the pages, I have made corrections and revisions as needed, and in some cases added material that was not used when a page was first posted due to download speed and file storage limitations. A complete list of Main Pages and Studes of the Month with links to each is located here.
---
OCTOBER 2011 BRIDGEWATER
STUDEBAKER MEET
STUDEBAKER SALT FLATS RACERS
2010 BONNEVILLE SPEED WEEK
STUDEBAKER NATIONAL MUSEUM
AUGUST 2010 VISIT
VIRGINIA MUSEUM OF
TRANSPORTATION STUDEBAKERS
---
Another Cool Stude
1950 Starlight Coupe Street Rod


Rear Angle


Side View


Interior and Dash


Under the Hood

This cool 1950 Champion Starlight Coupe Street Rod belongs to Tony Berg of Spokane, Washington. Tony started this project in September 2008 and only recently finished it. This was his first custom build. The car has a hand built tube frame with air suspension at all four corners and rides on black Mustang Bullitt Wheels with modified Gorilla Spinners. Power comes from a Chevy 383 stroker V8 engine with Holley Stealth Ram fuel injection and a 100 shot NOS (nitrous oxide system). Here is another view of the engine.
The body was shaved with frenched headlights and frenched 1959 Cadillac tail lights. The front bumper was removed, front grill sections were fabricated from polished stainless steel, and the rear bumper was chopped and inset into the body. Tony did the car in black because he liked black best on rods he had seen. Here is a front view that shows the custom grilles and frenched headlights and a rear view that shows the Cadillac tail lights and inset bumper.
The interior features a 1996 Mustang dash with Autometer gauges set in hand built bezels. Tony selected the Mustang dash because the arches in the dash match the curve of the back window line and the sides of the dash match the lines of the side view of the nose. The wire harness and console down past the shifter are also out of a 1996 Mustang. The front and rear bucket seats are out of 2003 and 2007 Pontiacs. Here are under construction pictures of the dash and the seating area.
Thanks to Tony for sending the pictures and infomation about his awesome Bullet Nose Champion Street Rod.
If you have a particular interest in Bullet Nose Studebakers, visit Bill Junge's Bullet Nose Paradise which is dedicated to the 1950 and 1951 Bullet Nose models.
---
DAN'S STUDEBAKER CROSSWORD PUZZLES
Dan Armstrong from Mansfield, Texas has created a number of crossword puzzles and games for car nuts. These are available on-line at Dan's Extreme Car Puzzles. Dan has a strong interest in Studebakers, particularly the 1956 Sky Hawk, the performance equipped 1963 Lark Daytona, and the performance equipped 1963 and 1964 GT Hawks. The Studebaker crosswords are copyright by Dan Armstrong and are used with his permission. Thanks to Dan for providing the link and the downloadable Studebaker crossword puzzles for readers of this page to enjoy.
---
TEST YOUR STUDEBAKER KNOWLEDGE!
---
STUDE MISCELLANY
1942 Studebaker Commander Sedan


Front View View


Rear Angle


Interior and Dash

This rare 1942 Studebaker Commander Sedan belongs to Frank Wenzel of Palm Springs, California. Frank owns a number of highly collectible Studebakers which are housed at the Studebaker Ranch. The pictures above were taken at the October 2012 Greater Virginia and Central Virginia SDC Car and Truck Meet held at the home of Chester and Nancy Bradfield in Bridgewater, Virginia. This annual event has no judging, just lots of interesting cars, typically from several states. Frank's Commander was far from home and it was great to see it on the field.
Production of civilian automobiles was suspended in early 1942 and did not resume until late 1945. Stocks of new cars were frozen and an allocation system was put in place. Most existing new cars went to the military, law enforcement, or to persons with high priorities such as physicians and farm veterinarians. The majority of these cars led hard lives and all 1942 passenger cars are relatively rare today. Frank's 1942 Commander is unusual for its outstanding original condition.
Thanks to Chester and Nancy for once again opening their home for this great event. More pictures from the 2012 Bridgewater Meet will appear in future updates.
1965 Daytona Sport Sedan


Rear Angle View

This attractive triple black 1965 Daytona Sport Sedan was spotted at the 2012 Studebaker Parts Meet in Reedsville, Pennsylvania. The meet was held November 2 and 3 on the heels of Hurricane Sandy which wrecked havoc on the Northeast so attendence was down considerably. New Jersey was particularly hard hit by the storm but the 1965 Daytona Sport Sedan pictured above made it to the meet.
The Daytona Hardtop was dropped after the 1964 model year so Studebaker produced two-door sedans with Daytona trim including bucket seats and a vinyl roof to fill the gap. Equipped with the McKinnon Industries of Canada (Chevy) 283 cubic inch V8 the Daytona Sport Sedan was a nice package. Nevertheless, only 1,626 Daytona Sport Sedans were produced for the 1965 model year.
Bullet Nose Convertible Project


Work in Progress

Greg Boyd of Tacoma, Washington sent some pictures of his Bullet Nose Studebaker Convertible project car. The body tag indicates that the car started life as a 1952 Champion Starlight Hardtop. The top has been removed, windshield shortened, and what appears to be a 1950 Bullet Nose front has been installed. The car was modified this way before Greg acquired it. While it is currently a "work in progress" the goal is to have the car finished by summer 2013. Greg is installing a Chevy 350 V8 engine and Turbo-Hydramatic transmission that will drive through a 9" Ford rear end.
Greg indicates that the car has been around for a while in its current form but he does not know much about its history. If anyone can shed further light on the history of this car please contact me here and I will pass on the information to Greg. Thanks to Greg for sending the pictures and information.
---
Nick Bodemer's Studebaker Dealer Inventory Project was started in June 2011 and includes a growing number of pictures, articles, ads, and other items related to former Studebaker dealerships. Well worth a visit. If you have a Google account you can join the site through Google Friend Connect.
---
Did you know that Michael Kelly's New Avanti Motor Corporation signed a deal to produce the VW based Brazilian Puma Sports Car? I didn't think so! The deal fell through when Kelly ran out of money. To learn more about the Puma, visit my Puma Sports Cars Site.
---
STUDE TOY OF THE MONTH
M2Machines 1951 Studebaker Utility Bed



M2Machines keeps issuing what seems to be an endless stream of variations of its Studebaker C Cab Truck one of the latest being this very nice 1951 Studebaker Utility Bed. Here is a side view of this neat little 1:64 scale model. The doors read "Winston Enterprises Plumbing & Landscaping Services Kent, WA." and the front fenders read "Licensed & Bonded." The model has dual rear wheels and the hood opens to reveal the detailed engine and the doors both open to reveal the detailed interior. This model can be purchased both boxed with a plastic case and in a protective blister pack. Whenever it appears in stores it seems to sell out very quickly, even faster than the standard pickup variations.
More toy Studes can be found in the Stude Stuff area of this page and on my Studebaker Toys Home Page.
Click here for information on ordering hard to find Studebaker toys made by manufacturers such as Johnny Lightning, Racing Champions, Hot Wheels, Matchbox, Muscle Machines, Maisto, and EKO.
Studebaker Toy Treasures Book

Jim Geary's book Studebaker Toy Treasures is the standard reference collectors of Studebaker Toys. This wonderful book has 294 pages of color pictures and details on hundreds of Studebaker toys. Publication date is 2004 and just about every Studebaker toy and model produced up to that time is pictured and cataloged. Jim is making the book available for the reduced price of $28 including shipping. This is a great deal since most vendors sell this book for $39.95 plus shipping. Jim will sign the book if requested. Jim can be contacted at sanjim76@live.com or send payment to Jim Geary, 181 Allendale Hills Road, Franklin, NC 28734.
---
---
---
---
* * * This Page On Line Since October 1995 * * *
---
Published 12/1/2012