---
BILL
JACKAMEIT'S
STUDEBAKER
PAGE
---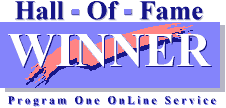 ---
---
Welcome fans of the pride of South Bend. I am a long-time Studebaker fan and Studebaker Drivers Club member, having owned a 1957 Silver Hawk in high school and a 1959 Lark Regal Hardtop in college. Since then, I have owned other Studes as hobby cars including a 1962 Champ Pickup, a 1964 Canadian Commander Special Sedan, a 1962 GT Hawk, a 1960 Lark Regal 4-door, a 1957 Silver Hawk (not the same one I owned in high school -- that one I wrecked) and a 1949 Champion Starlight Coupe. My current Studes are a 1964 Challenger Wagonaire with sliding roof, a 1964 Daytona Sedan, and a 1963 GT Hawk. I will build this page as time allows. If you have any suggestions or comments, please send me a message. If you expeience a problem with the e-mail link, the address is wj2d44@gmail.com. Both text and image contributions are welcome.
---
STUDE OF THE MONTH
AUGUST 2022
1962 Lark Daytona Hardtop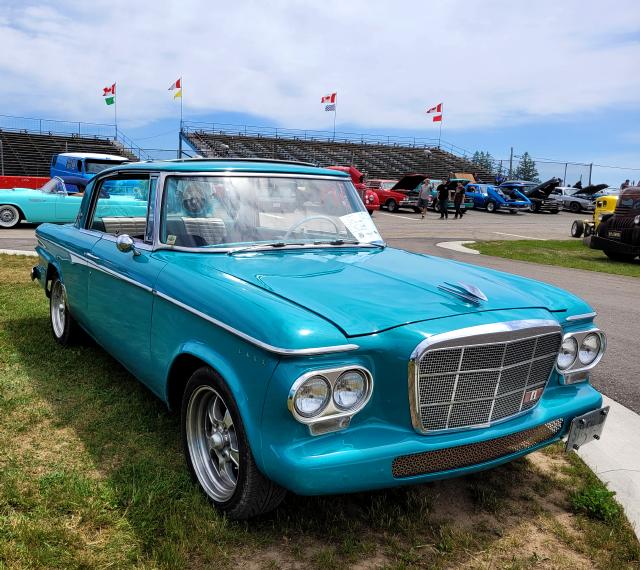 Front View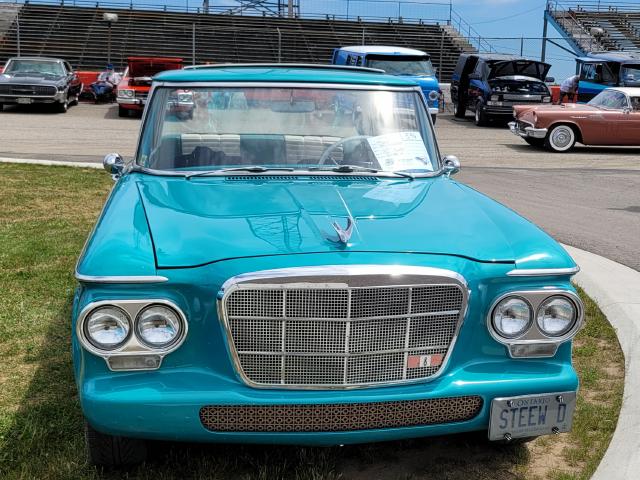 Rear View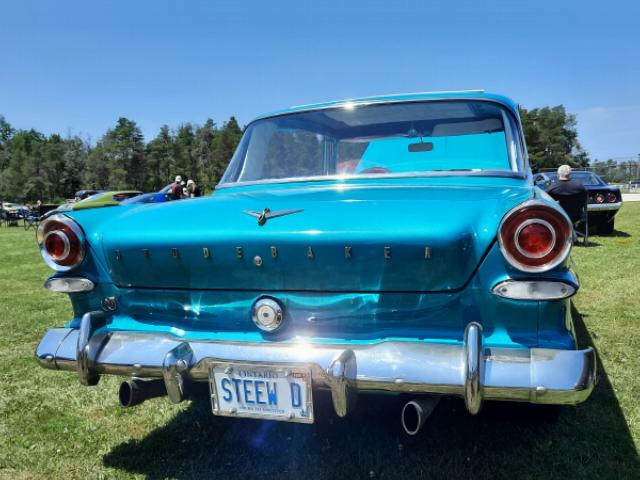 Hood Up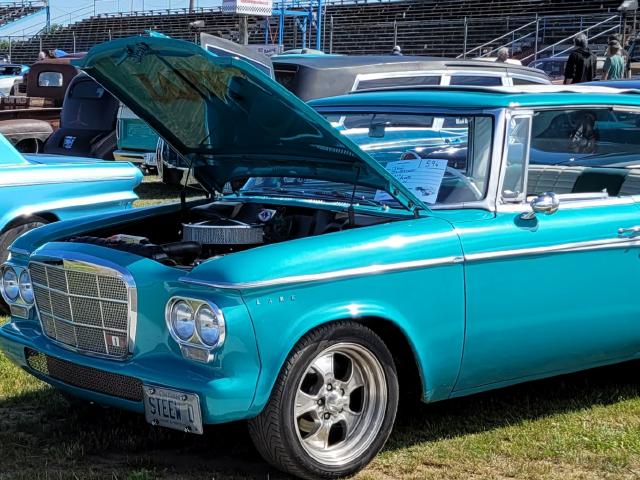 Sunroof Open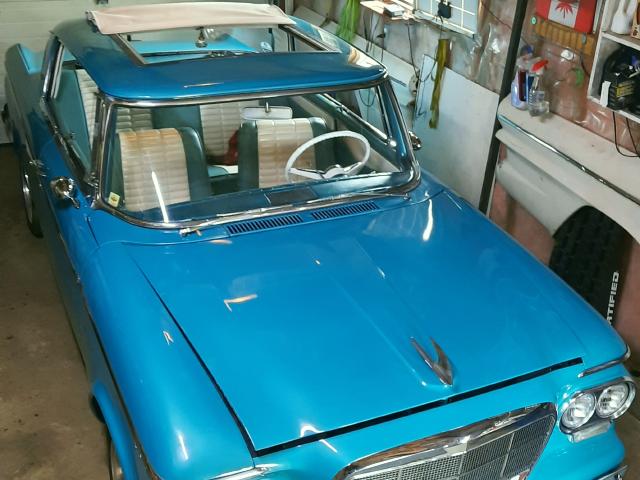 Interior and Dash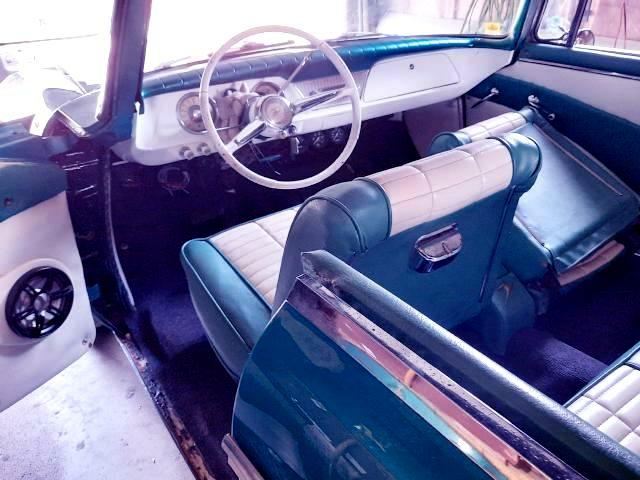 Under the Hood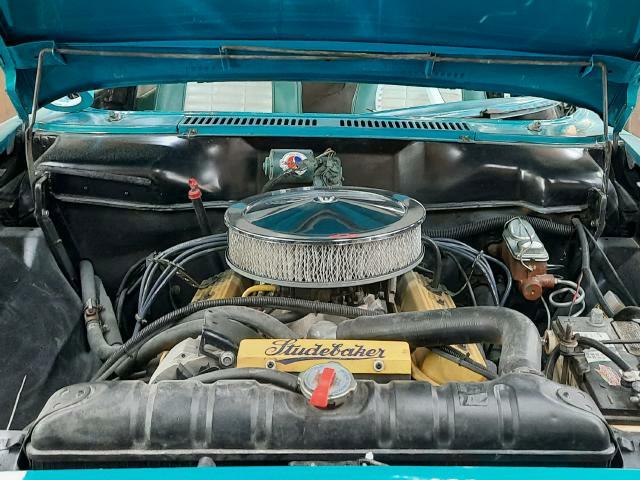 Work in Progress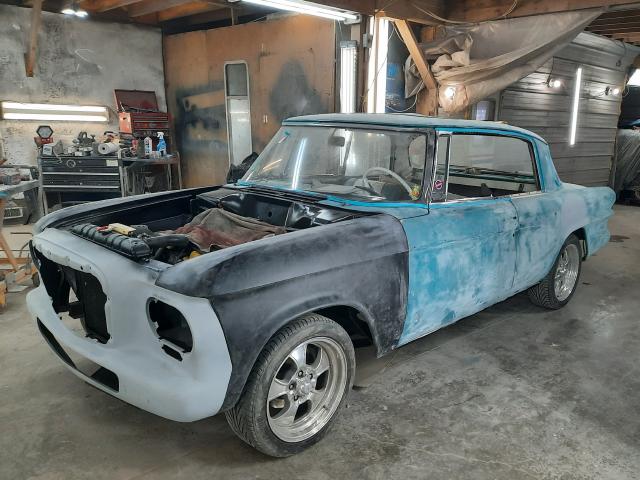 This modified 1962 Daytona Hardtop is owned by Paul Wismer of Elmira, Ontario and his girlfriend Annette Brown. Paul purchased the car from Fred Hall in 2015. Fred sent in some pictures of the car which appeared in the Stude Miscellaney section of this page in April 2015. The sunroof was added by Fred so it is not an original factory Skytop but it is the correct type. When Fred owned the car it had a chrome Studebaker Champ truck grill, 1957 Studebaker Sedan "Cyclops eye" rotating speedometer, Pontiac Trans Am hood scoop, 1500 watt stereo with DVD, and custom futuristic steering wheel. Paul decided to redo the car keeping some of the modifications while taking it closer to original.
The front fenders were replaced with fiberglass fenders from Studebaker International and a new steel hood was installed eliminating the Pontiac hood scoop. The Champ grille was replaced with a correct 1963 Lark grille. The "Cyclops eye" speedometer was eliminated and a new dash was installed. The futuristic steering wheel was also eliminated and replaced with a solid white full steering wheel. The under dash console for the stero system was removed and a set of supplemental gauges were added under the dash. The tail light lenses were returned to the original type. The car was repainted and a Lark flying bird hood ornament and racing style exterior rear view mirrors were added.
Paul's Daytona is powered by a Chevy 350 cubic inch V8 rated at 300 horsepower. It also has a 700R4 overdrive automatic transmission and upgraded front disc brakes. The generator has been replaced with an alternator and the single master cylinder has been changed to a dual master cylinder. The suspension and steering have also been upgraded. The car is equipped with low profile performance radial tires on alloy rims. A mesh grille has been installed in the lower nose panel opening. The Ontario license plates read "STEEW D" with the front license plate mounted at the lower left of the nose panel. Paul completed the redo of the car earlier this year.
For 1962 the Lark was restyled by Brooks Stevens who also styled the 1962 Gran Turismo Hawk. Two-door Larks gained a foot in length and the sporty Daytona line was introduced. The redesign included a Mercedes-like grille and round tail lights. Daytona models featured bucket seats and a center console. A four-speed floor shift transmission was available and the 289 cubic inch V8 could be ordered as well. As a result of the redesign Lark sales increased significantly from 1961. Production and sales would have been even better had there not been a 38 day strike at the South Bend plant in early 1962.
Thanks to Paul Wismer for sending the pictures and information about this cool 1962 Lark Daytona.
If you own or once owned a Studebaker or related vehicle and would like to see your car as "Stude of the Month" or in the "Cool Studes" section, or if you have other pictures or material that you would like to contribute to this page, please e-mail me here at wj2d44@gmail.com. I can accept either electronic or hard copy images. The Main Page is issued every other month so the next edition will be October 2022.
---
All of the previous editions of the Main Page going back to October 1995 have been reposted. In the process of reposting the pages, I have made corrections and revisions as needed, and in some cases added material that was not used when a page was first posted due to download speed and file storage limitations. A complete list of Main Pages and Studes of the Month with links to each is located here.
If you have a particular interest in Bullet Nose Studebakers, visit Bill Junge's Bullet Nose Paradise which is dedicated to the 1950 and 1951 Bullet Nose models.
---
STUDEBAKER TRUCKS AT THE
2021 ATHS NATIONAL MEET
2014 INTERNATIONAL MEET
DOVER, DELAWARE
BONNEVILLE SPEED WEEK
STUDEBAKER SALT FLATS RACERS
STUDEBAKER NATIONAL MUSEUM
PICTURES FROM MY VISIT
VIRGINIA MUSEUM OF
TRANSPORTATION STUDEBAKERS
---
TEST YOUR STUDEBAKER KNOWLEDGE!
---
ANOTHER COOL STUDE
1965 Daytona Wagonaire


Rear Angle

This sharp 1965 Daytona Wagonaire belongs to Jason Jolicoueur of North Attelboro, Massachusetts. The new for 1965 color is Yukon Gold and the interior is black vinyl. It is powered by the McKinnon Industries of Canada built 283 cubic inch "Thunderbolt" V8 rated at 195 horsepower. Jason's wagon is one of 1,824 Studebaker Wagonaires produced for the 1965 model year of which 723 were Daytona models and the remainder were lower trim Commander models. All regular production 1965 Studebaker station wagons were equipped with a sliding roof. A fixed roof version was available in 1963, 1964, and again in 1966 which was the final year or production.
Jason posted the pictures above to the Studebaker Station Wagon Owners and Fans group on Facebook. The group covers all years of Studebaker station wagons both stock and modified. This is a relatively new group that I started in November 2021. It is a public group so you don't need to have a Facebook account to visit the group or to view its contents. The group has grown rapidly to the point where there are over 1,470 members and hundreds of posts. The posts include numerous pictures, video links, and other materials related to Studebaker station wagons.
Jason Jolicouer also owns a 1962 Studebaker Gran Turismo Hawk.
MY NEW ADDITION
1963 Studebaker Gran Turismo Hawk


Auditioning for a New Home


Ready to Unload in Staunton

I recently purchased this 1963 Gran Turismo Hawk from Leland W. Smith, Jr. of Wirtz, Virginia. Leland owned the Hawk for over 33 years having acquired it in May of 1989. It is an older resoration with body and other work by Ray-Lin Restoration of Winston-Salem, North Carolina and engine work by Ingvar Vik. It has a three speed manual shift with overdrive, power steering, factory air conditioning, push-button AM radio, in-dash tachometer, and a hill holder. It has been repainted in its original Ermine White. The tires are 18 years old and will be replaced before I start driving the car. It joins my 1964 Challenger Wagonaire and 1964 Daytona Sedan in my hobby car garage.
More to follow on my newest Studebaker in future updates of this page.
---
DAN'S STUDEBAKER CROSSWORD PUZZLES
Dan Armstrong from Mansfield, Texas has created a number of crossword puzzles and games for car nuts. Dan has a strong interest in Studebakers, particularly the 1956 Sky Hawk, the performance equipped 1963 Lark Daytona, and the performance equipped 1963 and 1964 GT Hawks. The Studebaker crosswords are copyright by Dan Armstrong and are used with his permission. Thanks to Dan for providing the downloadable Studebaker crossword puzzles for readers of this page to enjoy.
---
STUDE MISCELLANY
Wagonaires at the 2022 ISWC Meet





Pictured above are my 1964 Challenger Wagonaire and Terry Spitzer's 1965 Daytona Wagonaire on display at the June 2022 International Station Wagon Annual Meet in Staunton, Virginia. The two Wagonaires were the only Studebakers at the event. My Wagonaire received the President's Award at the Saturday car show. There were some really neat station wagons at the meet and the station wagon folks were very friendly and outgoing.
The 2023 International Station Wagon Club Annual Meet will be held July 11 through July 15 in Butler County, Pennsylvania. The headquarters hotel is the Pittsburgh Marriot North at Cranberry Woods. The ISWC meet lasts several days and includes side trips and tours of local attractions. The car show is on the last day and participants typically arrive at different times during the week.
My 1964 Challenger Wagonaire was Stude of the Month for April 2013 and Terry Spitzer's 1965 Daytona Wagonaie was Stude of the Month for October 2021.
1964 Challenger Wagonare Update





My 1964 Challenger Wagonaire is now equipped with a Studebaker AC-3489 Sta-Bar Kit. The 1964 Accessories Brochure says that the Sta-Bars will protect children and pets from accidently falling from an open Wagonaire, that they can be used to prevent loads from shifting in the cargo area, and that they are easily removed when not needed. They are spring loaded at both ends so they do go in and come out fairly easily. Installation did require drilling four holes in the rear compartment. This appears to be a rare accessory as I have only seen pictures of two other Wagonaires Sta-Bars installed.
1963 Lark Gasser Update



Harold Poyner of San Diego, California sent some updated pictures of his 1963 Lark Gasser that was Stude of the Month in October 2020. It was noted at that time that he was going to change the paint scheme to top half silver and bottom half candy apple red. He has now finished that project with the result shown above. The car was orginally a six cylinder with manual shift and overdrive. It is now powered by a modified Chevy 350 cubic inch V8 with a GM 700R4 automatic transmission and 9" Ford rear end. Harold made the Gatling Gun style hood ornament to replace the original hood ornament.
Thanks to Harold for sending the updated pictures and information on his cool 1963 Lark Gasser.
---
STUDEBAKER MODEL RAILROAD DIORAMAS
---
STUDE TOY OF THE MONTH
U.S. Model Mint 1950 Studebaker Semi-Tractor







This 1;43 scale U.S. Model Mint 1950 Studebaker C Cab Semi-Tractor in Midnight Blue is from my personal collection. I purchased it some time back to use in my Studebaker factory diorama. It comes packed in a hard double box with foam padding inside and the model identification on the end of the box. It is a heavy white metal model weighing in at just under 10 ounces. The doors and hood do not open. It comes with a glue on black plastic side mirror that I have not installed. The 1950 Studebaker Semi-Tractor was also issued in yellow with roof lights and a Studebaker logo on the doors and in Cherokee Red. The U.S. Model Mint has also issued a 1947 Fruehauf Trailer "Genuine Studebaker Parts" that can connect to the semi-tractor.
U.S. Model Mint is a line of 1:43 white metal models that initially was an independent brand based in Granger, Indiana. Brooklin Models bought the brand in 1995 and made it one of its series. Other U.S. Model Mint Studebaker models include a 1937 Coupe Express, a 1950 Wrecker, a 1952 2R5 Pickup, and a 1954 Conestoga station wagon. The Midnight Blue 1950 Semi-Tractor is an older issue made by Scale Model Technical Services (STMS) in England for the U.S. Model Mint before the line was acquired by Brooklin. All versons of the 1950 Semi-Tractor and the Fruehauf trailer are sold out but appear on eBay from time to time.
More toy Studes can be found in the Stude Stuff area of this page and on my Studebaker Toys Home Page.
Click here for information on ordering hard to find Studebaker toys made by manufacturers such as Johnny Lightning, Racing Champions, Hot Wheels, Matchbox, Muscle Machines, Maisto, and EKO.
Studebaker Toy Treasures Book

Jim Geary's book Studebaker Toy Treasures is the standard reference for collectors of Studebaker Toys. This wonderful book has 294 pages of color pictures and details on hundreds of Studebaker toys. Publication date is 2004 and just about every Studebaker toy and model produced up to that time is pictured and cataloged. Jim is making the book available for $25 plus $14 for shipping. Jim will sign the book if requested. It also comes with a CD of more toys than what is in the book. This is a must for the serious Studebaker toy vehicle collector. Jim can be contacted at sanjim76@live.com or send payment to Jim Geary, 181 Allendale Hills Road, Franklin, NC 28734.
---
My Current 1964 Daytona Sedan on the
September 2018 Turning Wheels Back Cover.
---
---
* * * This Page On Line Since October 1995 * * *
---
Published 8/1/2022