---
BILL
JACKAMEIT'S
STUDEBAKER
PAGE
---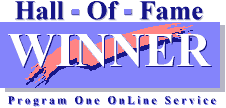 ---
---
Welcome fans of the pride of South Bend. I am a long-time Studebaker fan and Studebaker Driver's Club member, having owned a 1957 Silver Hawk in high school and a 1959 Lark Regal Hardtop in college. Since then, I have owned other Studes as hobby cars including a 1962 Champ Pickup, a 1964 Canadian Commander Special, a 1962 GT Hawk, a 1960 Lark Regal 4-door, a 1957 Silver Hawk (not the same one I owned in high school -- that one I wrecked) and a 1949 Champion Starlight Coupe. My current Stude is a 1964 Challenger Wagonaire sliding roof station wagon. I will build this page as time allows. If you have any suggestions or comments, please send me a message. Both text and image contributions are welcome.
---
STUDE OF THE MONTH
AUGUST 2011
1951 Studebaker Champion Sedan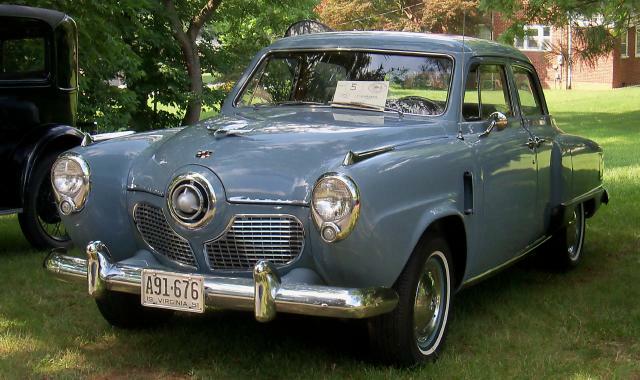 Front View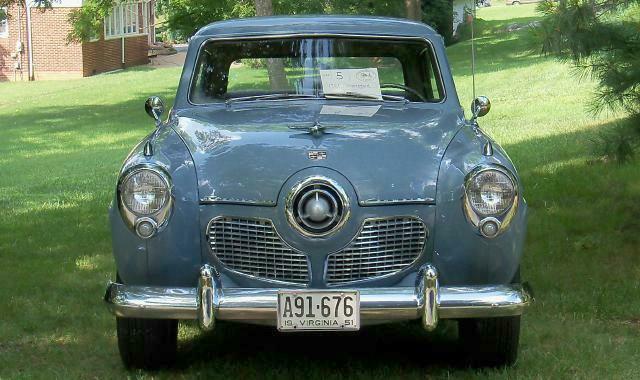 Rear Angle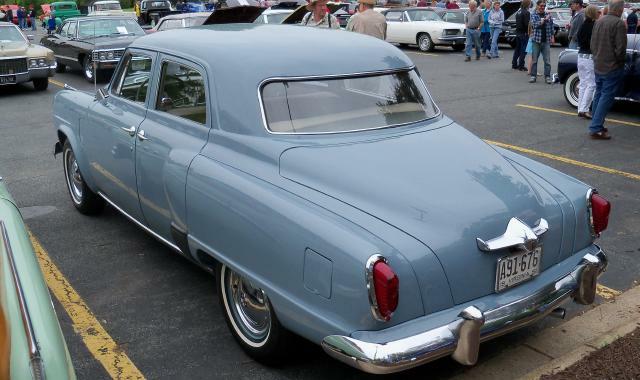 Passenger Side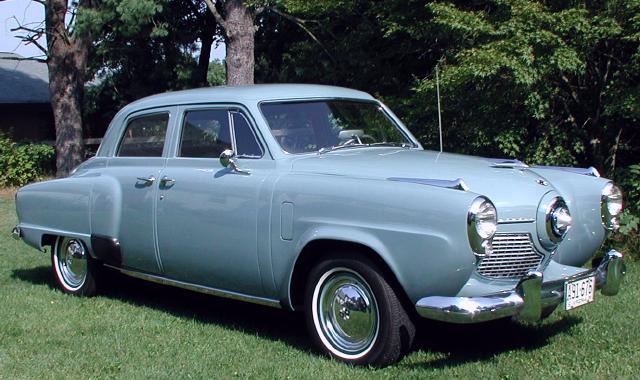 Dashboard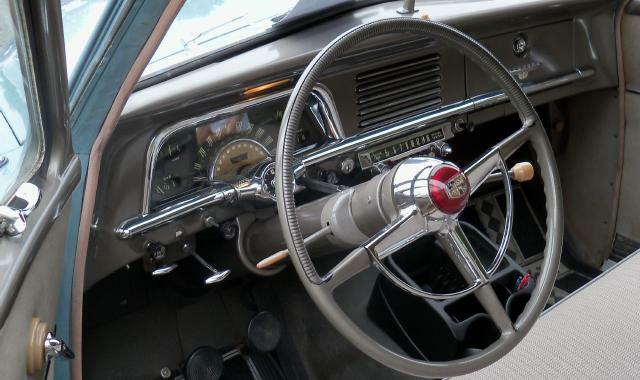 Rear Seat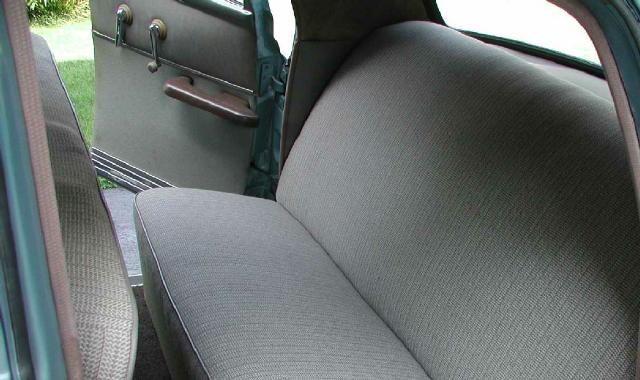 Under the Hood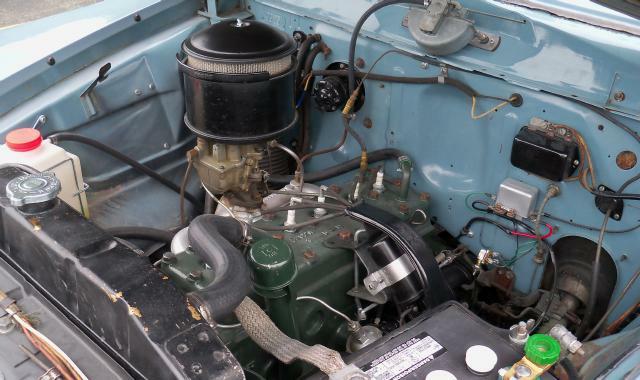 This sharp 1951 Studebaker Champion Regal 4-Door Sedan belongs to Bob Ridle of Staunton, Virginia. Bob has owned this car since November 2005. When Bob found the car, it had 24,536 original miles and had been sitting since 1987. The engine was locked and there was some surface rust on the tops of the fenders and the rear splash pan, but no rust-through anywhere. Bob did a light rebuild on the engine to free it up, rebuilt the brake system, cleaned and polished the body (leaving the original patina), and drove the car to shows from 2005 to 2008 as an unrestored original. The car won "most original/first place" at the 2006 Colonial Virginia Studebaker Meet in Yorktown, Virginia.
In 2009, Bob decided to sign-up for an auto repair and refinishing class at the Valley Vocational Technical Center in Fishersville, Virginia and began the process of refinishing the body in its original color of Maui Blue. The repaint was completed in November 2010 by Bob and four friends. The result is no less than outstanding. Since that time, Bob's Champion placed second in the 1946 to 1954 production car class at the May 2011 Piedmont Region AACA Car Show in Charlottesville, Virginia and took a "top ten" trophy at the June 2011 Waynesboro, Virginia Main Street Classic Car and Truck Show.
Bob's car is equipped with overdrive, Climatizer heater and defroster, Stratoline side view mirrors, turn signals, factory push-button radio, clock, cigar lighter, full wheel covers, front and rear bumper guards, and front fender ornaments. The original Firestone Champion tires that were on the car when Bob found it were "hard as rocks" and have been replaced with modern radial tires. This doors open shot shows the rear suicide door and this close-up shot shows the distinctive bullet nose. The 1951 used a plastic bullet as opposed to the larger all metal bullet used in 1950.
Bob also owns a 1956 Studebaker Power Hawk Coupe that was featured on this page in December 2009. Thanks to Bob for providing pictures and information about his outstanding Studebaker Champion.
If you own or once owned a Studebaker or related vehicle and would like to see your car as "Stude of the Month" or in the "Cool Studes" section, or if you have other pictures or material that you would like to contribute to this page, please e-mail me here. I can accept either electronic or hard copy images. The Main Page is issued every other month so the next edition will be October 2011.
---
All of the previous editions of the Main Page going back to October 1995 have been reposted. In the process of reposting the pages, I have made corrections and revisions as needed, and in some cases added material that was not used when a page was first posted due to download speed and file storage limitations. A complete list of Main Pages and Studes of the Month with links to each is located here.
If you have a particular interest in Bullet Nose Studebakers, visit Bill Junge's Bullet Nose Paradise which is dedicated to the 1950 and 1951 Bullet Nose models.
---
STUDEBAKER NATIONAL MUSEUM
AUGUST 2010 VISIT
VIRGINIA MUSEUM OF
TRANSPORTATION STUDEBAKERS
---
ANOTHER COOL STUDE
1950 Studebaker Commander Street Rod

Tim Herzog of Post Falls, Idaho sent this picture of his 1950 Studebaker Commander Street Rod. Tim recently acquired this car which was built as a street rod about ten years ago. The engine is a warmed-over Stude 289 running the original 3-speed manual transmission and stock rear end. The paint is a dark purple with really cool flames and the color changes in the light.
Future plans for the car are to clip the front end with an Aspen/Volare or Mustang II clip and install either a Mopar or Ford drivetrain with automatic overdrive. Tim indicates that the car has been in a number of local parades and car shows lately and it gets thumbs up from everyone. This is one cool Stude as is but Tim is determined to make it even better.
This is not Tim's only Studebaker project. His 1951 Champion Starlight Coupe project car and 1962 Lark Hardtop project car both appeared on this page in June 2005. When finished the Lark will be a pro-street machine running a 383 cubic inch MOPAR V8.
Thanks to Tim for sending the pictures and information.
---
TEST YOUR STUDEBAKER KNOWLEDGE!
---
STUDE MISCELLANY
1962 Daytona Hardtop


1964 Daytona Hardtop

David Davis sent some pictures of two Studebaker Daytona Hardtops that he once owned. Both cars were equipped with factory 4-speed transmissions. David got his first Daytona in 1967 while he was in high school. He rebuilt the car in 1972 with factory parts from Newman and Altman and sold it in 1975. David also owned a 1970 Javelin SST shown here with the 1962 Daytona. After moving to Colorado, David found the 1964 Daytona, decided he just had to have it, and purchased it in 1980. He sold his second Daytona in 1986 and is looking for another 1964 Daytona Hardtop with a 4-speed transmission.
Thanks to David for sending the pictures and information.
Bucket List Dream Avanti

Ed Sallia sent in this picture of his brother Dan's Avanti on the Bonneville Salt Flats. Dan is a cancer survivor who loves Studebakers and always wanted to drive one at Bonneville. The car is the former Bill Burke Bonneville record holding 1962 Studebaker Avanti. The car was purchased on eBay and needed to be completely rebuilt before returning to the Salt Flats. One of Dan's dreams was to drive a Studebaker at Bonneville. He achieved that dream in September 2010.
More about Dan and his Avanti is located here and here.
Ed Sallia's 1950 Studebaker Commander Sedan was Stude of the Month in this page in June 2011. Thanks to Ed for sending the picture and information.
Studebaker Bus from Uruguay

Jason Vogel of Rio de Janiero, Brazil sent in this picture of a Studebaker Bus that he took in July 2011 while on an old car tour in Uruguay. Jason indicates that despite its appearance, the bus is still operating in the Tacuarembo region. The bus is built on a 2R chassis and appears to be a 1949 or 1950 model. Jason's earlier submissions of interesting Studebakers seen in Uruguay include an unusual Custom C Cab Pickup that appeared in April 2005 and an in-service 1959 Lark Police Pursuit Car that appeared in June 2005.
Thanks to Jason for sending the picture and information.
---
STUDEBAKER PROJECTS
1953 Champion Starliner Hardtop


Rear Angle


Rear View

Bill Prather of Horseshoe Bay, Texas sent in several pictures of a 1953 Studebaker Champion Starliner Hardtop that belonged to his father-in-law. The car was purchased new in Cumberland, Maryland and Bill has the original production order. The car has been in storage in California but it will be making its way to Texas when arrangements can be made. Plans are to put the car in good running order and to find and install the missing trim pieces. Bill is a member of the Texas Hill Country Chapter of the Studebaker Drivers Club.
Thanks to Bill for sending the pictures and information.
1962 Lark Station Wagon


Interior View


Under the Hood

Sean Hayes of Perry, Georgia sent in several pictures of a 1962 Studebaker Lark Station Wagon that has been stored in his mother's garage for the past 15 years. This was Sean's father's car and it was running at the time it was put into storage. It needs a battery and battery cables to get it running. The front floor boards need attention as do the lower rear quarter panels which is typical of Studebaker station wagons. The front seat is "badly shredded" and the rear window is shattered and needs to be replaced. Otherwise the body looks to be sound and relatively rust free.
Sean has all of the original sales receipts and paperwork including the owner's manual and accessories book. The wagon is equipped with Studebaker's 259 cublic inch V8, Flightomatic automatic transmission, push-button radio, Climatizer heater and defroster, cigar lighter, backup lights, and full wheel discs. Here are a front view and a rear view of Sean's wagon.
Sean would like to sell the wagon to a Studebaker enthusiast. Interested parties can contact Sean at strats4sean@hotmail.com. Any offers will be considered.
Thanks to Sean for sending the pictures and information.
---
Did you know that Michael Kelly's New Avanti Motor Corporation signed a deal to produce the VW based Brazilian Puma Sports Car? I didn't think so! The deal fell through when Kelly ran out of money. To learn more about the Puma, visit my Puma Sports Cars Site.
---
STUDE TOY OF THE MONTH
National Products Starlight Coupe



Eddie Mitchell of Waco, Texas sent several pictures of a rare National Products Starlight Coupe that he recently acquired. National Products manufactured a line of toy cars that were often used as promotional models by automobile dealers. The models were produced by the slush mold method which uses an alloy of zinc and aluminum. The production process involves pouring the slush alloy into a split metal mold and then inverting the mold to let the excess metal run out. National Products was purchased by Banthrico Industries in 1940. The National Products name remained on the promotional toy car line until 1951, after which all of the company's products were labeled as Banthrico models. Here is a picture of the underside of the model.
Jim Geary's book Studebaker Toy Treasures indicates that this is a 1948 Commander Starlight Coupe. While realtively rare today, this model was available in 11 colors and a number were produced with dealer imprints on the roof. This is consistent with their use as promotional models. The only moving parts were rubber tires on steel axles. The scale is given as 1:30. Other slush mold Studebaker models made by National Poducts include a 1934 Land Cruiser Sedan and a 1951 C Cab Stakebed Truck.
Thanks to Eddie for sending in the pictures of his rare find.
More toy Studes can be found in the Stude Stuff area of this page and on my Studebaker Toys Home Page.
Click here for information on ordering hard to find Studebaker toys made by manufacturers such as Johnny Lightning, Racing Champions, Hot Wheels, Matchbox, Muscle Machines, Maisto, and EKO.
Studebaker Toy Treasures Book

Jim Geary's book Studebaker Toy Treasures is the standard reference collectors of Studebaker Toys. This wonderful book has 294 pages of color pictures and details on hundreds of Studebaker toys. Publication date is 2004 and just about every Studebaker toy and model produced up to that time is pictured and cataloged. Jim is making the book available for the reduced price of $28 including shipping. This is a great deal since most vendors sell this book for $39.95 plus shipping. Jim will sign the book if requested. Jim can be contacted at sanjim76@live.com or send payment to Jim Geary, 181 Allendale Hills Road, Franklin, NC 28734.
---
---
---
---
* * * This Page On Line Since October 1995 * * *
---
Published 8/1/2011