---
BILL
JACKAMEIT'S
STUDEBAKER
PAGE
---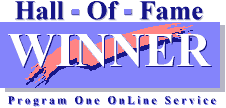 ---
---
Welcome fans of the pride of South Bend. I am a long-time Studebaker fan and Studebaker Driver's Club member, having owned a 1957 Silver Hawk in high school and a 1959 Lark Regal Hardtop in college. Since then, I have owned other Studes as hobby cars including a 1962 Champ Pickup, a 1964 Canadian Commander Special, a 1962 GT Hawk, a 1960 Lark Regal 4-door, a 1957 Silver Hawk (not the same one I owned in high school -- that one I wrecked) and a 1949 Champion Starlight Coupe. My current Stude is a 1964 Challenger Wagonaire sliding roof station wagon. I will build this page as time allows. If you have any suggestions or comments, please send me a message. Both text and image contributions are welcome.
---
STUDE OF THE MONTH
JUNE 2011
1950 Studebaker Commander Sedan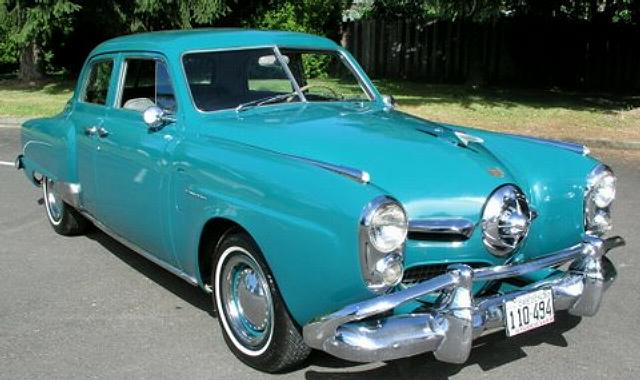 Rear Angle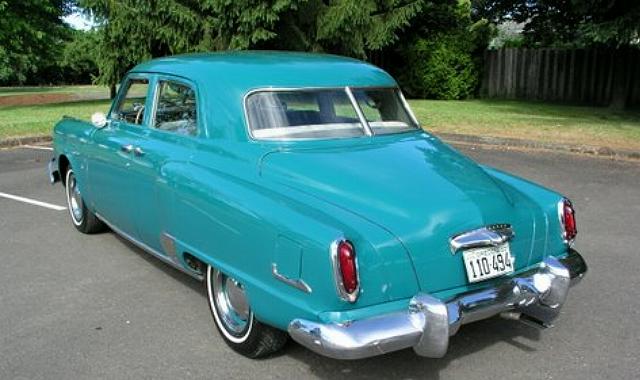 Front View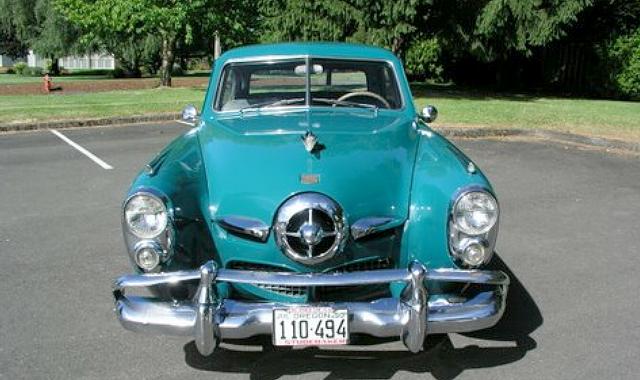 Interior and Dash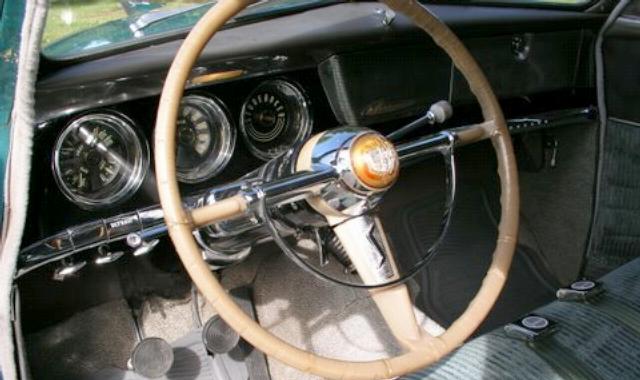 Rear Seat Area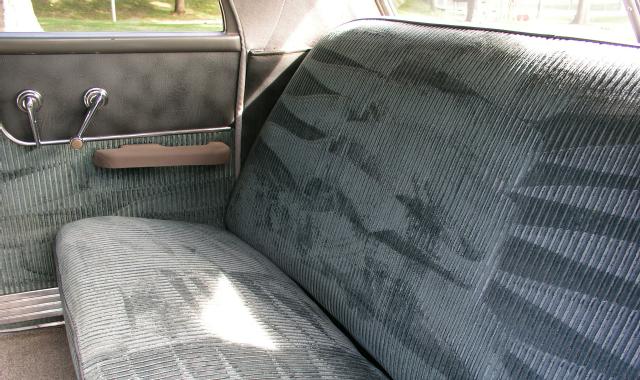 Under the Hood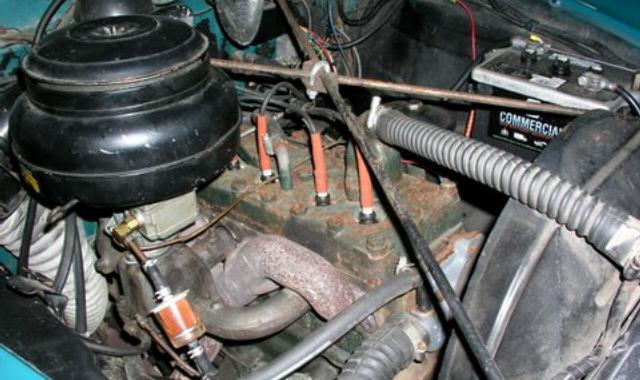 This sharp 1950 Studebaker Commander Regal Deluxe Sedan belongs to Ed Sallia of Dundee, Oregon. Regal Deluxe was the higher trim level. The car was originally sold in Salem, Oregon. Ed purchased his car in July 2010 and is the fourth owner. The car is a survivor with a 12 year old paint job and a new interior that was done about the same time or earlier. It has the original 245 cubic inch 102 horsepower flathead 6 cylinder engine with 62,000 miles on the odometer. The transmission is a three speed manual on the column with the popular and useful overdrive option. Ed indicates that everything on the car works except for the cigar lighter. He further states that the car "runs and drives like a dream." Here is a closeup shot of the classic bullet nose. This was the last year for the "Big Six" in the Commander.
Commander sedans of this era are relatively few in number compared to the less expensive Champion model. For the 1950 model year, Studebaker produced 117,332 Champion 4-door sedans in three trim series, 26,292 Commander 4-door sedans in two trim series, and 24,712 long wheelbase Commander Land Cruiser 4-door sedans. Champion sedans rode on a 113" wheel base, regular Commander sedans rode on a 120" wheelbase, and Commander Land Cruiser sedans rode on a 124" wheelbase. For 1951, the large chrome bullet was replaced with a smaller plastic bullet and Champion and regular Commander sedans both rode on a 115" wheelbase while Land Cruisers rode on a 119" wheelbase.
Thanks to Ed for sending the pictures and information about his neat Studebaker.
If you own or once owned a Studebaker or related vehicle and would like to see your car as "Stude of the Month" or in the "Cool Studes" section, or if you have other pictures or material that you would like to contribute to this page, please e-mail me here. I can accept either electronic or hard copy images. The Main Page is issued every other month so the next edition will be August 2011.
---
All of the previous editions of the Main Page going back to October 1995 have been reposted. In the process of reposting the pages, I have made corrections and revisions as needed, and in some cases added material that was not used when a page was first posted due to download speed and file storage limitations. A complete list of Main Pages and Studes of the Month with links to each is located here.
If you have a particular interest in Bullet Nose Studebakers, visit Bill Junge's Bullet Nose Paradise which is dedicated to the 1950 and 1951 Bullet Nose models.
---
STUDEBAKER NATIONAL MUSEUM
AUGUST 2010 VISIT
VIRGINIA MUSEUM OF
TRANSPORTATION STUDEBAKERS
---
NATIONAL MUSEUM BASEMENT
1958 Scotsman Sedan


Porsche Powered 1959 Lark


Cabover Truck Prototype


Wartime Blackout 1942 Champion

Here are some additional pictures from our August 2010 trip to the Studebaker National Museum. These were taken in the basement area which is open to the public. As can be seen in the first and third pictures, some of the cars are stacked on lifts to maximize the use of space. Some of the vehicles in the basement are future projects while others are in excellent condition as they sit. For example, the 1958 Scotman Sedan in the picture above is an outstanding example, perhaps the best I have seen in some time. The Wartime Blackout 1942 Champion Sedan is also a fine example of a unique model. For some reason the Museum's M29 Weasel amphibious military vehicle was downstairs at the time of our visit.
Among the more interesting cars in the basement was a Porsche powered 1959 Lark. As the story goes, Curtiss-Wright engineers removed the entire drive train and installed a rebuilt 1500 cc Porsche boxer engine, suspension, and transaxle in the rear of the car. The project went nowhere, but the car has survived. Another cool vehicle on display in the basement was the 1963 Studebaker Westinghouse Pickup Truck prototype. This was a cab-over-engine design with easy to manufacture flat body panels and lots of glass for great visibility. The closing of the South Bend plant in December 1963 ended this project along with all Studebaker truck production.
The Studebaker National Museumís collection totals over 120 vehicles with about 70 vehicles on display at any one time. Some of the display vehicles are on loan from individuals or other museums. The Museum Archives contain the records of the Studebaker Corporation including production orders for Studebakers produced from 1936 to 1966 which can be ordered from the Museum Store.
The Museum is open seven days a week but is closed on major holidays. It is a great place to visit, particularly for those who like old cars, not necessarily just Studebakers.
---
TEST YOUR STUDEBAKER KNOWLEDGE!
---
STUDE MISCELLANY
South African 1965 Daytona Sedan

Mike Rule of South Africa sent in this picture of his right hand drive 1965 Studebaker Daytona 4-Door Sedan. Mike bought the car for R 3,500 (South African Rand) which is about $500. Although the car is in running condition, it was about to be sold for scrap so Mike saved it from oblivion. His immediate plan is to keep it running and use it on weekends for surfing trips with his kids. Mike notes that the installed roof racks will be handy to carry surfboards. A restoration may follow at a later date. Here is a front view of Mike's car. Right hand drive Studebakers were assembled in South Africa by South African Motor Assemblers and Distributors (SAMAD) from 1948 to 1965. SAMAD also assembled Austins and Volkswagen Beetles and Transporter Vans.
This is the third time in recent years that a South African Studebaker has appeared on this page. A right hand drive 1964 Daytona Sedan owned by Hein van der Merwe appeared on the page in April 2009 and a right hand drive Champ Pickup owned by Gerald Massyn appeared on the page in February 2009. More information on Studebakers in South Africa can be found on the Studebaker Club of South Africa web site.
Thanks to Mike for sending the pictures and information.
1948 Champion Sedan Old Photo

Judith Chaffin of Sweet Home, Oregon sent in this old picture of a 1948 Studebaker Champion that her father found in a wrecking yard and purchased for $80. The engine was overhauled at a cost of $125 after which Judith drove the car to summer work and school for several years. This appears to be a DeLuxe model which is the lower trim version. The 1948 Champion was powered by a 170 cubic inch flathead six rated at 80 horsepower. All were manual shift in that an automatic transmission was not available on Champions until the 1950 model year. Judith would like to find a similiar car and is looking for leads.
Thanks to Judith for sending the picture and information.
---
STUDEBAKER PROJECTS
1959 Silver Hawk


Rear View


Interior Dashboard Removed

Donna Porter of Hoover, Alabama sent in several pictures of a 1959 Studebaker Silver Hawk project car that she has for sale. The engine has been rebuilt but the car is not roadworthy. Donna indicates that all of the missing chrome and other body parts are there but need to be installed as does the dashboard and rear seat. The car appears to be straight and relatively rust free. Studebaker downsized the Silver Hawk V8 from 289 cubic inches in 1958 to 259 cubic inches in 1959. The 289 cubic inch engine returned in 1960 so 1959 is the only year that U.S. market finned Hawks were fitted with the 259 cubic inch engine. Here is a picture of the engine which is equipped with a two-barrel carburator.
Thanks to Donna for sending the pictures and information. Interested parties can contact Donna at Donnasong1234@aol.com.
Champ Pickup


Rear View


Side Angle View

Angalee Sutton of Medford, Oregon sent in several pictures of a Studebaker Champ Pickup that is sitting in a field at her house. She bought the house a couple of months ago and inherited some old vehicles including the Champ. She does not have a title to the truck, and it has been sitting where it is for some time. Angalee would prefer to sell it to someone who loves Studebakers, but if not, it will be sold for scrap metal which means it will likely go to the crusher. In any event, she says it has to go. The Champ script on the door looks almost new and other than faded paint and surface rust the body appears to be sound.
Thanks to Angalee for sending the pictures and information. Interested parties can contact Angalee at angalee@rhtenergy.com.
---
Did you know that Michael Kelly's New Avanti Motor Corporation signed a deal to produce the VW based Brazilian Puma Sports Car? I didn't think so! The deal fell through when Kelly ran out of money. To learn more about the Puma, visit my Puma Sports Cars Site.
---
STUDE TOY OF THE MONTH
Hot Wheels 1963 Studebaker Champ Pickup



The Hot Wheels 1963 Studebaker Champ Pickup has appeared as Number 29 in the 2011 standard issue collector number series. This is the second Hot Wheels Studebaker model for 2011, the first being the Treasure Hunt Avanti that was featured on this page in February 2011. Since the Champ is a new model, it will likely appear in other colors before the year is out but that is not guaranteed. So far it has only appeared in red with Goodyear raised letter tires. It is a mild custom with no bumpers, a bed cover, and a modified hood.
Here is the Hot Wheels Studebaker Champ on a 2011 New Models U.S. long blister card and on a 2011 HW Premiere international short blister card.
More toy Studes can be found in the Stude Stuff area of this page and on my Studebaker Toys Home Page.
Click here for information on ordering hard to find Studebaker toys made by manufacturers such as Johnny Lightning, Racing Champions, Hot Wheels, Matchbox, Muscle Machines, Maisto, and EKO.
Studebaker Toy Treasures Book

Jim Geary's book Studebaker Toy Treasures is the standard reference collectors of Studebaker Toys. This wonderful book has 294 pages of color pictures and details on hundreds of Studebaker toys. Publication date is 2004 and just about every Studebaker toy and model produced up to that time is pictured and cataloged. Jim is making the book available for the reduced price of $28 including shipping. This is a great deal since most vendors sell this book for $39.95 plus shipping. Jim will sign the book if requested. Jim can be contacted at sanjim76@live.com or send payment to Jim Geary, 181 Allendale Hills Road, Franklin, NC 28734.
---
---
---
---
* * * This Page On Line Since October 1995 * * *
---
Published 6/1/2011