---
BILL
JACKAMEIT'S
STUDEBAKER
PAGE
---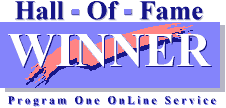 ---
---
Welcome fans of the pride of South Bend. I am a long-time Studebaker fan and Studebaker Driver's Club member, having owned a 1957 Silver Hawk in high school and a 1959 Lark Regal Hardtop in college. Since then, I have owned other Studes as hobby cars including a 1962 Champ Pickup, a 1964 Canadian Commander Special, a 1962 GT Hawk, a 1960 Lark Regal 4-door, a 1957 Silver Hawk (not the same one I owned in high school -- that one I wrecked) and a 1949 Champion Starlight Coupe. My current Stude is a 1964 Challenger Wagonaire sliding roof station wagon. I will build this page as time allows. If you have any suggestions or comments, please send me a message. Both text and image contributions are welcome.
---
STUDE OF THE MONTH
APRIL 2012
Modified 1956 Golden Hawk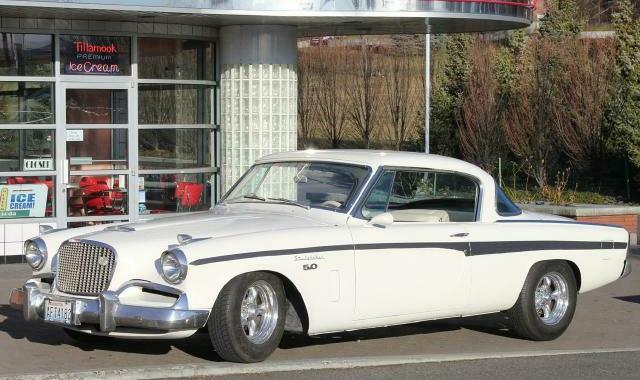 Rear Angle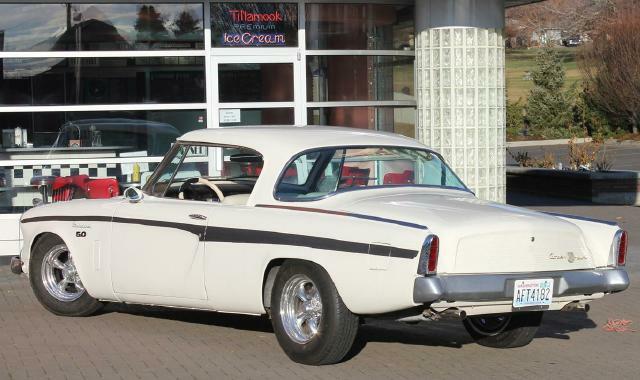 Warming Up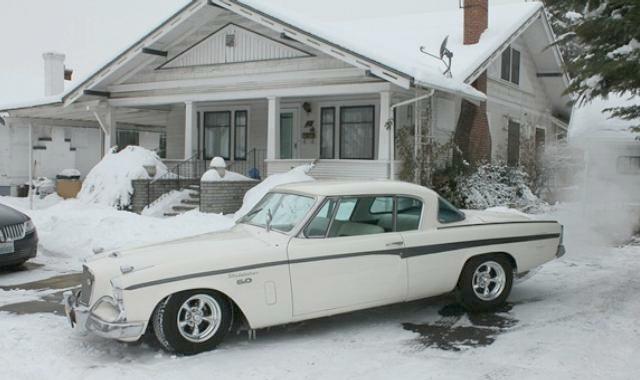 Interior and Dash



Under the Hood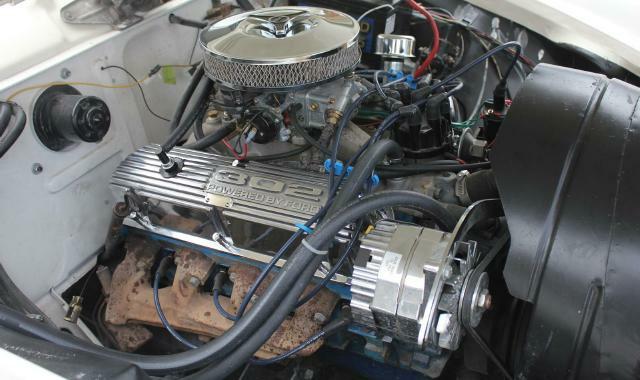 Before Recent Upgrades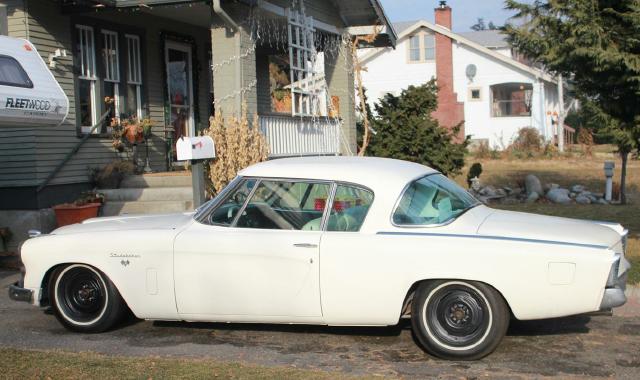 This cool modified 1956 Studebaker Golden Hawk Hardtop belongs Allen Bennett of Yakima, Washington. Allen's Hawk is powered by a modified Ford 302 Cubic Inch V8 equipped with a mild street cam and a Holley Street Avenger 570 CFM four-barrel carburetor mounted on an Edelbrock Performer dual-plane intake manifold. Allen recently installed a Pertronix pointless module in a new stock distributor and plans to convert to an electronic fan. Other upgrades include a Mustang II front end with 11" disc brakes and 15" by 7" American Racing Torq Thrust alloy wheels with P225/75R15 radial tires. Allen plans to add power steering to go with the Mustang II steering and a power braking system.
The hood is the later style with a long hood scoop and the trunk lid is also the later style as indicated by the lock type and placement of the Golden Hawk script. The original stubby fiberglass tail fins have been removed and the 1955 style side trim is a vinyl graphic to be replaced by a painted graphic. The body paint is Chrysler Stone White with clear coat and and Allen has added California style racing mirrors painted to match. The door panels are the correct 1956 style with built-in arm rests and the interior was completely redone including new upolstery, headliner, and carpet by a previous owner.
This picture shows Allen's Hawk at the Yakima Valley Museum. The period soda fountain inside the museum is a working exhibit. Sodas, sundaes, milkshakes, root beer floats (my favorite), hot dogs, chili, soup, and sandwiches are all available to museum visitors.
Thanks to Allen for sending the pictures and information about his sharp Stude.
If you own or once owned a Studebaker or related vehicle and would like to see your car as "Stude of the Month" or in the "Cool Studes" section, or if you have other pictures or material that you would like to contribute to this page, please e-mail me here. I can accept either electronic or hard copy images. The Main Page is issued every other month so the next edition will be June 2012.
---
All of the previous editions of the Main Page going back to October 1995 have been reposted. In the process of reposting the pages, I have made corrections and revisions as needed, and in some cases added material that was not used when a page was first posted due to download speed and file storage limitations. A complete list of Main Pages and Studes of the Month with links to each is located here.
If you have a particular interest in Bullet Nose Studebakers, visit Bill Junge's Bullet Nose Paradise which is dedicated to the 1950 and 1951 Bullet Nose models.
---
OCTOBER 2011 BRIDGEWATER
STUDEBAKER MEET
STUDEBAKER SALT FLATS RACERS
2010 BONNEVILLE SPEED WEEK
STUDEBAKER NATIONAL MUSEUM
AUGUST 2010 VISIT
VIRGINIA MUSEUM OF
TRANSPORTATION STUDEBAKERS
---
SPOTTED AT YORK
Nice C Cab Pickup


1953 Commander Sedan


1963 Lark R2


1964 GT Hawk


1964 Cruiser


Champ Pickup

The 37th Annual All-Studebaker Parts Meet sponsored by the Keystone Region of the Studebaker Drivers Club was held at the Expo Center in York, Pennsylvania March 1 through March 3, 2012. This meet is billed as the longest running Studebaker parts meet in the nation. We made the trek from Staunton, Virginia on Friday to look for parts and made a number of purchases including new kick panels for the Wagonaire and an oversized 1964 Studebaker Challenger post card.
A nember of technical sessions were conducted on Friday and Saturday including stainless steel restoration by Matt Burnette of Starlight Stainless, disc brake installation by Jim Turner of Turner Brake, and Avanti headliner installation by Michael Myer of Myer's Studebaker. This is a great feature of this meet and I learned quite a bit. Nevertheless, I dropped off some Wagonaire windshield stainless for Matt to repair rather than attempt it on my own.
There were a number of Studes on the grounds including some that were for sale. Here is a closeup of the grille on the Lark R2 with its distictive "R2" grille emblem. This rare car is powered by a supercharged Avanti engine. The 1964 GT Hawk is one of only 1,767 produced before South Bend production ended in December 1963.
---
DAN'S STUDEBAKER CROSSWORD PUZZLES
Dan Armstrong from Mansfield, Texas has created a number of crossword puzzles and games for car nuts. These are available on-line at Dan's Extreme Car Puzzles. Dan has a strong interest in Studebakers, particularly the 1956 Sky Hawk, the performance equipped 1963 Lark Daytona, and the performance equipped 1963 and 1964 GT Hawks. The Studebaker crosswords are copyright by Dan Armstrong and are used with his permission. Thanks to Dan for providing the link and the downloadable Studebaker crossword puzzles for readers of this page to enjoy.
---
MORE BONNEVILLE PICTURES
1955 Studebaker Coupe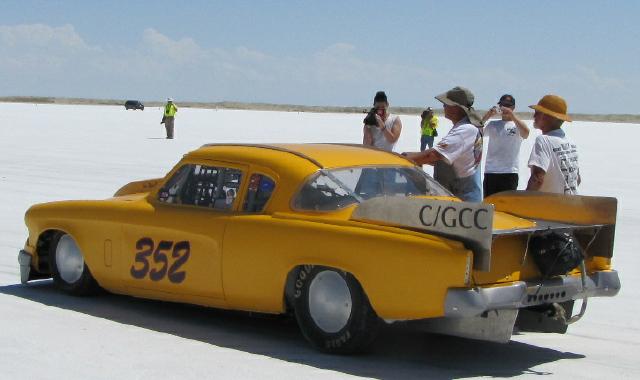 Four Cylinder Starlight Coupe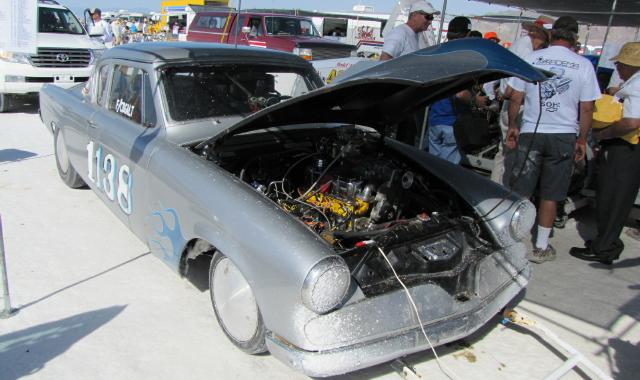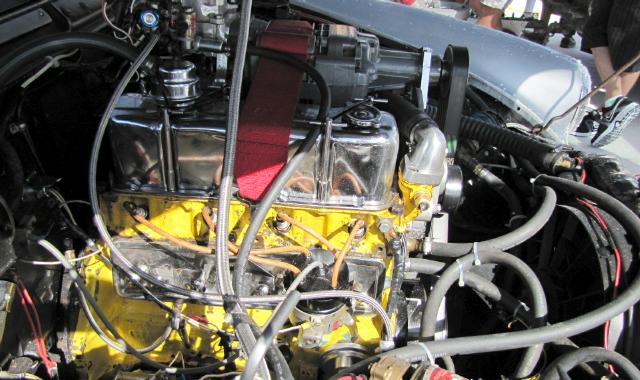 Chopped 1953 Starlight Coupe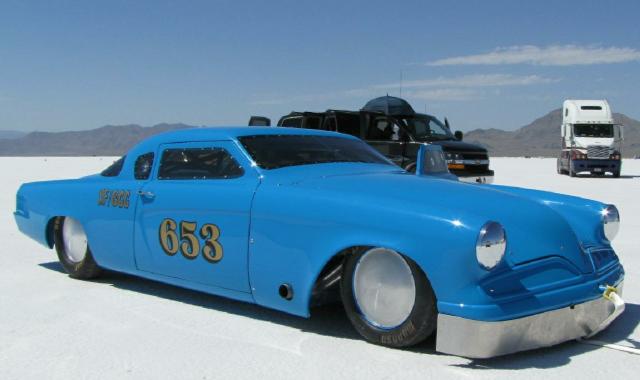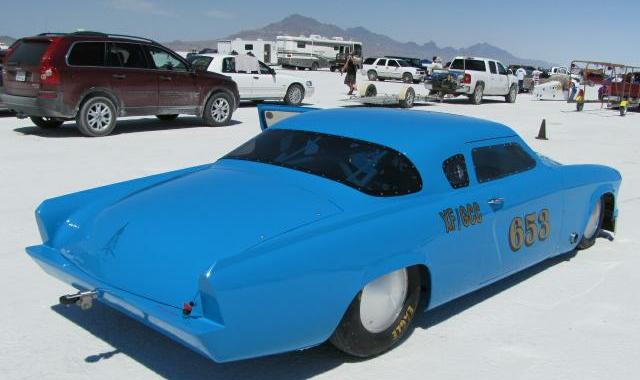 Bill Junge sent pictures from the August 2011 Bonneville Speed Week sponsored by the Southern California Timing Association. As usual, a number of Studebakers were entered in several classes. Regular readers of this page may recall that Bill sent numerous pictures of Studebakers from the 2010 Bonneville Speed Week event which appear here.
The 1955 Studebaker Coupe Number 352 was entered by Terry Coe and Tom of the San Diego Roadster Club. SDRC was founded in 1941 to further the sport of land speed racing. This car driven by Tom Coe ran a best speed of 202.724 mph in Class C/GCC. Engine class "C" is 306 to 372 cubic inches. Here is an underhood shot.
The four cylinder Starlight Coupe Number 1138 entered by the Hudson Boys and driven by Skip Carlson ran a best speed of 123.782 mph in Class F/CBGALT which was a new class record. Engine class "F" is 123 to 183 cubic inches. The Hudson Boys Studebaker is powered by a supercharged four cylinder Mercury boat engine. Here is another shot of the engine.
The chopped 1953 Starlight Coupe Number 653 entered by Gordon Driedger of Alberta, Canada ran 156.066 mph in Class XF/GCC. Engine class "XF" is for Ford and Mercury flathead V8's. Gordon's Stude is powered by a 296 cubic inch Ford flathead V8. Here is another view of this streamlined racer. This car also appeared in Bill Junge's 2010 Bonneville coverage.
An explanation of the Bonneville class system can be found here.
Thanks to Bill for sending the pictures and information.
---
TEST YOUR STUDEBAKER KNOWLEDGE!
---
Did you know that Michael Kelly's New Avanti Motor Corporation signed a deal to produce the VW based Brazilian Puma Sports Car? I didn't think so! The deal fell through when Kelly ran out of money. To learn more about the Puma, visit my Puma Sports Cars Site.
---
STUDE TOY OF THE MONTH
Custom M2 Machines Studebaker Transporter



Randy Griggs sent pictures of a 1:64 scale Studebaker Transporter that he custom built by converting an M2 Machines Chevrolet LCF semi-tractor and auto carrier into a Studebaker C Cab semi-tractor and auto carrier using the front portion of an M2 Machines 1950 Studebaker 2R pickup. Randy has done an outstanding job on this conversion.
The chassis of the Chevrolet LCF was lengthened to scale to 131" consistent with Studebaker truck specifications. Randy painted the front grill to match the body and detailed the cab interior by painting the dash body color as would be correct for a Studebaker truck. For a load he used four variations of the M2 Machines C Cab pickup.
Here are underside and topside views of the converted semi-tractor.
Thanks to Randy for sending the pictures and information on this great conversion.
More toy Studes can be found in the Stude Stuff area of this page and on my Studebaker Toys Home Page.
Click here for information on ordering hard to find Studebaker toys made by manufacturers such as Johnny Lightning, Racing Champions, Hot Wheels, Matchbox, Muscle Machines, Maisto, and EKO.
Studebaker Toy Treasures Book

Jim Geary's book Studebaker Toy Treasures is the standard reference collectors of Studebaker Toys. This wonderful book has 294 pages of color pictures and details on hundreds of Studebaker toys. Publication date is 2004 and just about every Studebaker toy and model produced up to that time is pictured and cataloged. Jim is making the book available for the reduced price of $28 including shipping. This is a great deal since most vendors sell this book for $39.95 plus shipping. Jim will sign the book if requested. Jim can be contacted at sanjim76@live.com or send payment to Jim Geary, 181 Allendale Hills Road, Franklin, NC 28734.
---
---
---
---
* * * This Page On Line Since October 1995 * * *
---
Published 4/1/2012