---
BILL
JACKAMEIT'S
STUDEBAKER
PAGE
---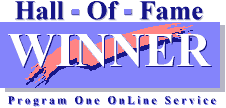 ---
---
Welcome fans of the pride of South Bend. I am a long-time Studebaker fan and Studebaker Driver's Club member, having owned a 1957 Silver Hawk in high school and a 1959 Lark Regal Hardtop in college. Since then, I have owned other Studes as hobby cars including a 1962 Champ Pickup, a 1964 Canadian Commander Special, a 1962 GT Hawk, a 1960 Lark Regal 4-door, a 1957 Silver Hawk (not the same one I owned in high school -- that one I wrecked) and a 1949 Champion Starlight Coupe. My current Stude is a 1964 Challenger Wagonaire sliding roof station wagon. I will build this page as time allows. If you have any suggestions or comments, please send me a message. Both text and image contributions are welcome.
---
STUDE OF THE MONTH
FEBRUARY 2012
Custom 1959 Silver Hawk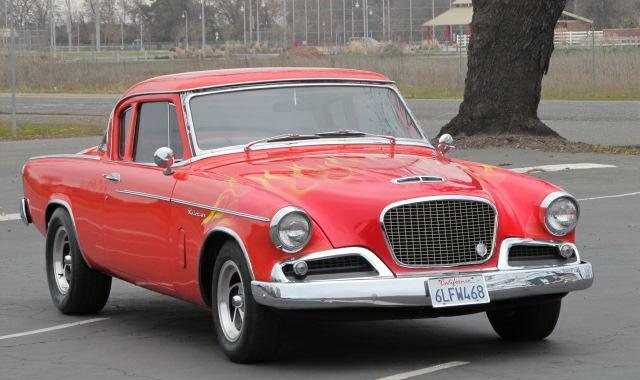 Side View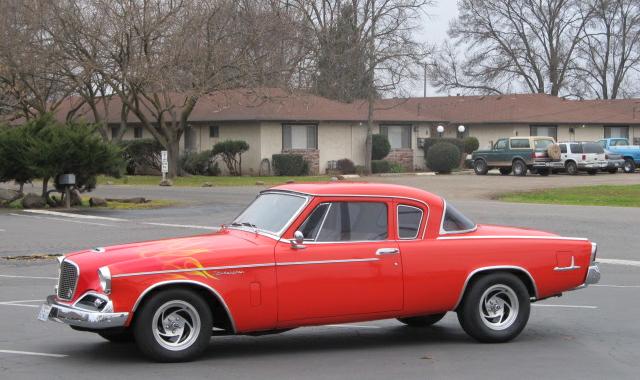 Rear Angle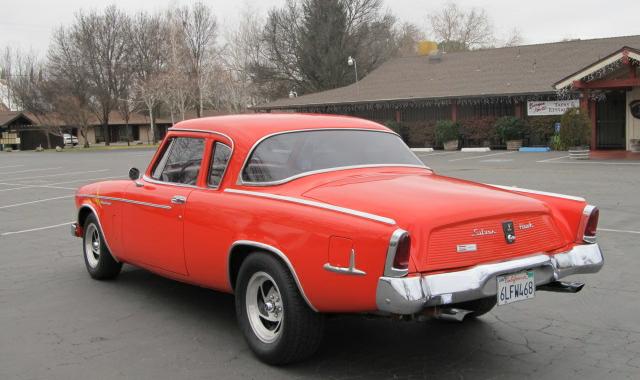 Interior and Dash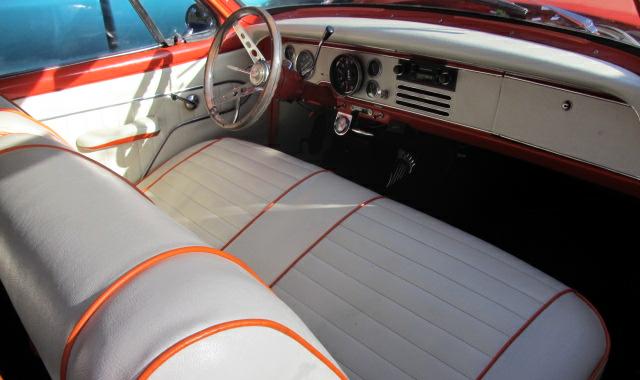 Under the Hood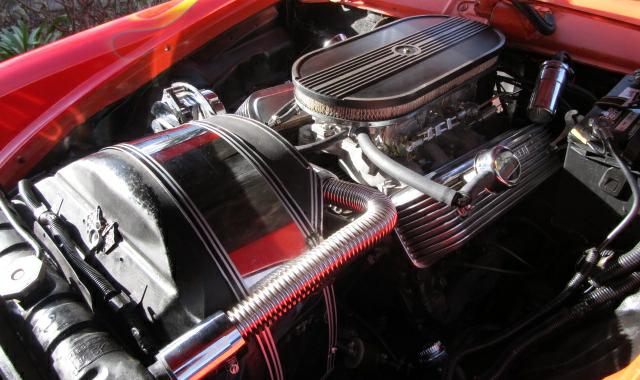 This modified 1959 Studebaker Silver Hawk Coupe belongs to Darin Duffy of Chico, California. Darin's Hawk is powered by an Studebaker Avanti V8 with two four-barrel carburetors, finned valve covers, and various chrome accessories. The interior has been redone in a very attractive white pleated motif with piping to match the exterior and the dash features a competition tach and modern radio. Alloy wheels and radial tires improve both safety and performance.
Body modifications include removal of the rear fins and 1956 style top rear fender trim and tail lights. The trunk lid has a 1956 style lock and 1957-58 style Silver Hawk script. This picture shows the nicely done flames on the hood and front fenders. All U.S. built 1959 Hawks had fins. Finned Hawk coupes for the period 1957 through 1961 assembled by D'Ieteren in Belgium could be special ordered without fins and several were built that way.
Studebaker dropped the Golden Hawk in 1959 but the Silver Hawk continued in both 6 cylinder and V8 forms. The V8 was reduced to 259 cubic inches rated at 180 horsepower with a two-barrel carburator. A power pack option added a four-barrel carburator and dual exhausts for 195 horsepower. Silver Hawk production for 1959 totaled 7,788 which was an increase of about 500 cars from the year before. Darin's Avanti powered Hawk has a considerable performance edge over a stock 1959 Silver Hawk.
Thanks to Darin for sending the pictures and information about his very sharp Stude.
If you own or once owned a Studebaker or related vehicle and would like to see your car as "Stude of the Month" or in the "Cool Studes" section, or if you have other pictures or material that you would like to contribute to this page, please e-mail me here. I can accept either electronic or hard copy images. The Main Page is issued every other month so the next edition will be April 2012.
---
All of the previous editions of the Main Page going back to October 1995 have been reposted. In the process of reposting the pages, I have made corrections and revisions as needed, and in some cases added material that was not used when a page was first posted due to download speed and file storage limitations. A complete list of Main Pages and Studes of the Month with links to each is located here.
If you have a particular interest in Bullet Nose Studebakers, visit Bill Junge's Bullet Nose Paradise which is dedicated to the 1950 and 1951 Bullet Nose models.
---
STUDEBAKER NATIONAL MUSEUM
AUGUST 2010 VISIT
VIRGINIA MUSEUM OF
TRANSPORTATION STUDEBAKERS
---
OCTOBER 2011 BRIDGEWATER MEET
1948 Commander Starlight Coupe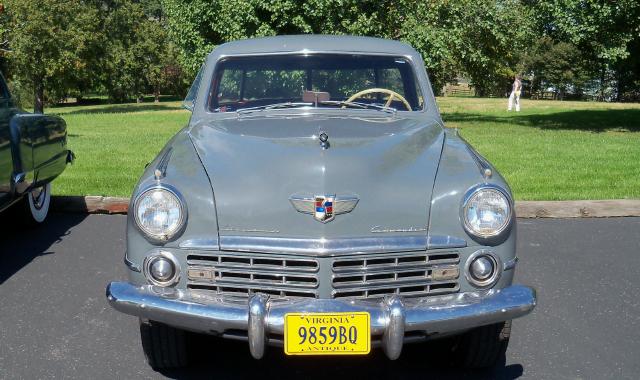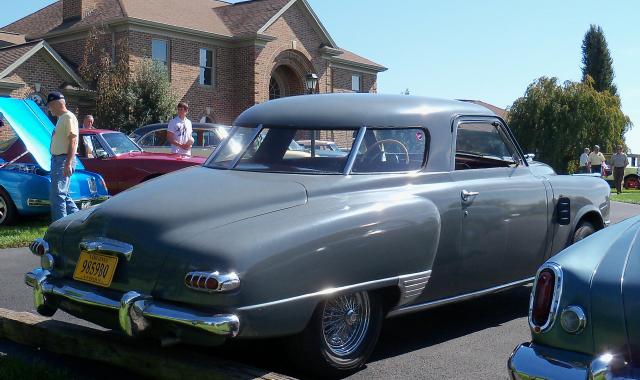 Custom 1954 Studebaker Roadster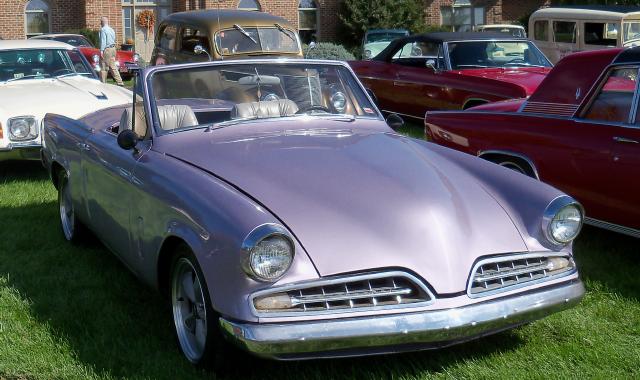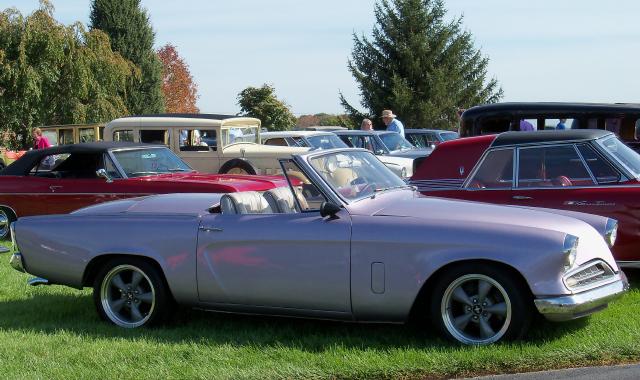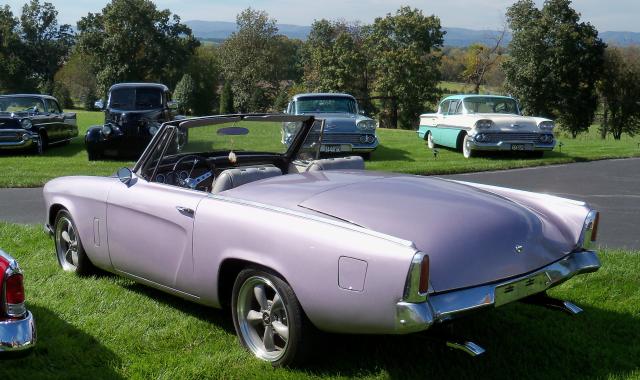 The 1948 Commander Starlight Coupe belongs to Theron White of Washington, D.C. Commanders were powered by a 226 cubic inch flathead six rated at 94 horsepower. Commander Starlights were produced in smaller numbers than the lower priced Champion and are relatively rare today. The interior features three round instrument clusters and a push button factory AM radio. Other than chrome wire wheels and modern tires Theron's Commander is basically stock.
The Custom 1954 Studebaker Roadster belongs Guy Eavers of Staunton, Virginia. The wheelbase has been shortened as have the rear quarter panels ahead of the wheel openings. The hood and trunk lid have been dechromed and the car is painted a pleasant light purple. Bud's Stude has a 1962 GT Hawk dash and leather bucket seats. The mag wheels are from a Ford Mustang and what looks to be a Studebaker V8 sits under the hood albeit painted Ford engine blue.
The pictures were taken at the October 2011 Greater Virginia and Central Virginia SDC Car and Truck Meet held at the home of Chester and Nancy Bradfield in Bridgewater, Virginia. This annual event has no judging, just lots of interesting cars, typically from several states. Thanks to Chester and Nancy for once again opening their home for this great event. More pictures from the 2011 Bridgewater Meet are located here.
---
DAN'S STUDEBAKER CROSSWORD PUZZLES
Dan Armstrong from Mansfield, Texas has created a number of crossword puzzles and games for car nuts. These are available on-line at Dan's Extreme Car Puzzles. Dan has a strong interest in Studebakers, particularly the 1956 Sky Hawk, the performance equipped 1963 Lark Daytona, and the performance equipped 1963 and 1964 GT Hawks. The Studebaker crosswords are copyright by Dan Armstrong and are used with his permission. Thanks to Dan for providing the link and the downloadable Studebaker crossword puzzles for readers of this page to enjoy.
---
PROJECT CAR OF THE MONTH
1954 Starlight Coupe


Chevy V8 and Blower


Custom Dashboard

Kevin Nichols of Phoenix, Arizona sent pictures of his 1954 Champion Starlight Coupe project. Kevin indicates that it was a "bone-stock" Champion when he got the car. It has since been built into a tube chassis Pro Street car. Modifications to the body include a 3" tip to the front of the roof, an opening in the hood to accomodate the the blower, and reversed fender vents. The dash is hand built and the car is equipped with a 12 point roll cage. Otherwise, the car appears stock which is the way Kevin wants it.
The engine is a Chevy V8 bored out to 509 cubic inches equipped with a Blower Drive Service (BDS) blower with 16 electronic injectors controlled by a Fuel Air Spark Technology (FAST) computer. A Turbo-Hydramatic 400 transmission transfers power though a 4.11 Dana Model 60 rear axle narrowed to fit 33" by 16.5" Mickey Thompson street legal Sportsman Pro high performance tires. The car runs on 87 octane regular pump gas and puts out an estimated 900 horsepower.
Kevin's car is licensed and street legal in Arizona. He is "driving it around ugly" but eventually it will be painted gun metal grey. The car power steering, power brakes, power windows, and air conditioning from Vintage Air. What started as a two-year project has grown into a six-year project and counting. This rear view shows just how wide the rear tires are.
Thanks to Kevin for sending the pictures and information about his cool project car.
---
TEST YOUR STUDEBAKER KNOWLEDGE!
---
STUDE MISCELLANY
1963 Studebaker Lark in Israel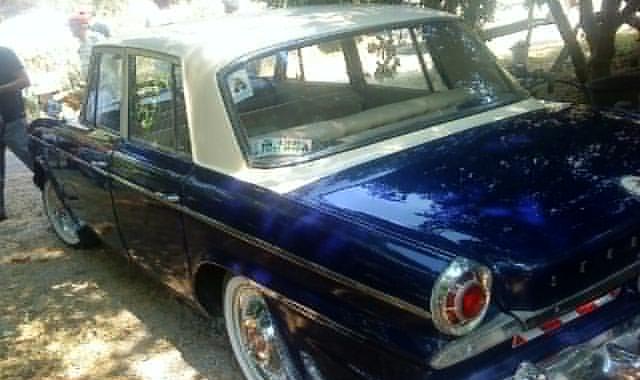 This 1963 Studebaker Lark belongs to Ofer Ben Zvi of Jerusalem, Israel. Studebakers were assembled in Israel from 1960 to 1966 by Kaiser-Ilin in the port city of Haifa. According to Kaiser-Ilin publicity, the Studebakers assembled by that company had between 25 and 45 percent local content. One of Kaiser-Ilin's more interesting projects was a stretched wheelbase 1964 Studebaker open parade car built for the Israeli Government. More information about the parade car is located here. Kaiser-Ilin also assembled Kaiser cars, Mack trucks, Jeeps, and Hino Contessa cars. The Omer Open Museum which contains the largest collection of classic cars in Israel has a Kaiser-Ilin assembled Studebaker in its collection.
Some Kaiser-Ilin built Studebakers were outfitted as police cars, one of which is pictured on this page. A commemorative stamp picturing an Israeli Studebaker police car was issued in 1977. An example of this stamp from the collection of Mike Davis is pictured here. Mike maintains a very entertaining graphic design blog called So Much Pileup. It has been reported that the assembly of Studebakers in Israel continued for several months after the Hamilton, Ontario plant stopped production in March 1966. Thus it is possible, even likely, that the last Studebaker was made in Israel. Studebaker trucks including diesel models with engines supplied by Mercedes-Benz were also assembled by Kaiser-Ilin.
Thanks to Ofer Ben Zvi for sending the pictures of his interesting Lark.
1957 Studebaker Wagon Project

Landon Phillips of Grand Junction, Colorado sent this picture of his 1957 Studebaker Station Wagon. The picture was taken while it was up on jack stands getting new freeze plugs. Landon's wagon is all original and he says that it runs and drives well. The interior needs to be redone but all of the emblems and script were in the golve box. Landon's wagon is a 2-door V8 which would make it a Commander Parkview model of which only 738 were produced. The equivalent 4-door Provincial model saw 3,995 built.
Thanks to Landon for sending the picture and information about his wagon.
1960 Studebaker Champ Project

Oscar Zavala of Magna, Utah sent this picture of his 1960 Studebaker Champ Pickup. Oscar has been working on the truck for some time but indicates that he has lost interest and would like to see the truck go to someone who loves Studebaker trucks. Here is the engine bay of Oscar's truck. The truck is stored inside and is for sale. Interested parties can contact Oscar at oscar3292@gmail.com or e-mail the webmaster at the link below and I will reply with Oscar's phone number.
Thanks to Oscar for sending the pictures and information about his truck.
---
Did you know that Michael Kelly's New Avanti Motor Corporation signed a deal to produce the VW based Brazilian Puma Sports Car? I didn't think so! The deal fell through when Kelly ran out of money. To learn more about the Puma, visit my Puma Sports Cars Site.
---
STUDE TOY OF THE MONTH
Anguplas 1960 Lark Sedan



The HO scale Anguplas of Spain 1960 Studebaker Lark was available in several colors. This picture shows blue with black tires and grey with white tires variations from my personal collection along with the box in which the model came packed. In addition to the the 1960 Lark, Anguplas made a 1962 Studebaker Gran Turismo Hawk, a Studebaker Avanti, and a 1916 Studebaker Big Six. Anguplas models were relatively high quality for their small size. There were over 100 models in the Anguplas line including American and European cars mostly 1950's and early 1960's types. Anguplas ceased production in the mid-1960's. Some of the molds including the GT Hawk and Avanti but not the Lark or Big Six were later reissued under the EKO name.
More toy Studes can be found in the Stude Stuff area of this page and on my Studebaker Toys Home Page.
Click here for information on ordering hard to find Studebaker toys made by manufacturers such as Johnny Lightning, Racing Champions, Hot Wheels, Matchbox, Muscle Machines, Maisto, and EKO.
Studebaker Toy Treasures Book

Jim Geary's book Studebaker Toy Treasures is the standard reference collectors of Studebaker Toys. This wonderful book has 294 pages of color pictures and details on hundreds of Studebaker toys. Publication date is 2004 and just about every Studebaker toy and model produced up to that time is pictured and cataloged. Jim is making the book available for the reduced price of $28 including shipping. This is a great deal since most vendors sell this book for $39.95 plus shipping. Jim will sign the book if requested. Jim can be contacted at sanjim76@live.com or send payment to Jim Geary, 181 Allendale Hills Road, Franklin, NC 28734.
---
---
---
---
* * * This Page On Line Since October 1995 * * *
---
Published 2/1/2012