---
BILL
JACKAMEIT'S
STUDEBAKER
PAGE
---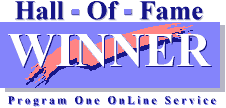 ---
---
Welcome fans of the pride of South Bend. I am a long-time Studebaker fan and Studebaker Driver's Club member, having owned a 1957 Silver Hawk in high school and a 1959 Lark Regal Hardtop in college. Since then, I have owned other Studes as hobby cars including a 1962 Champ Pickup, a 1964 Canadian Commander Special, a 1962 GT Hawk, a 1960 Lark Regal 4-door, a 1957 Silver Hawk (not the same one I owned in high school -- that one I wrecked) and a 1949 Champion Starlight Coupe. My current Stude is a 1964 Challenger Wagonaire sliding roof station wagon. I will build this page as time allows. If you have any suggestions or comments, please send me a message. Both text and image contributions are welcome.
---
STUDE OF THE MONTH
FEBRUARY 2013
Custom 1954 Champion Wagon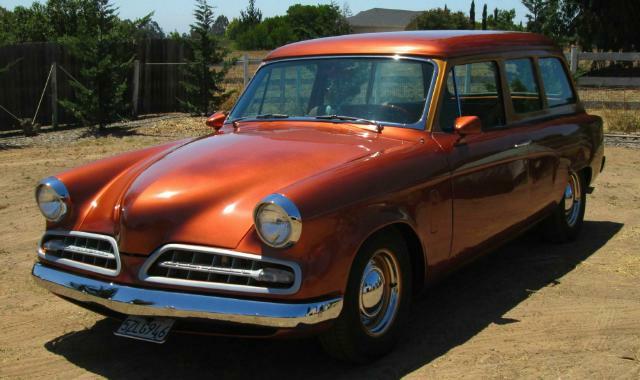 Rear Angle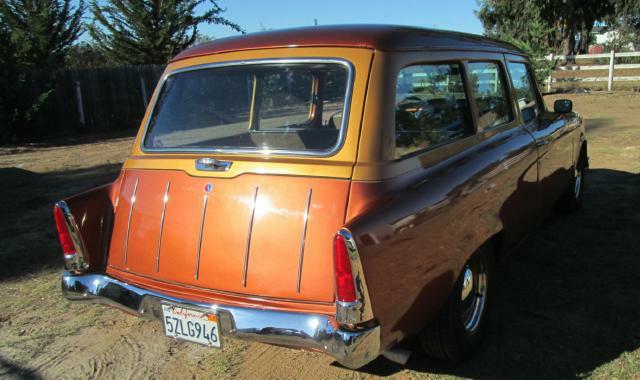 Interior and Dash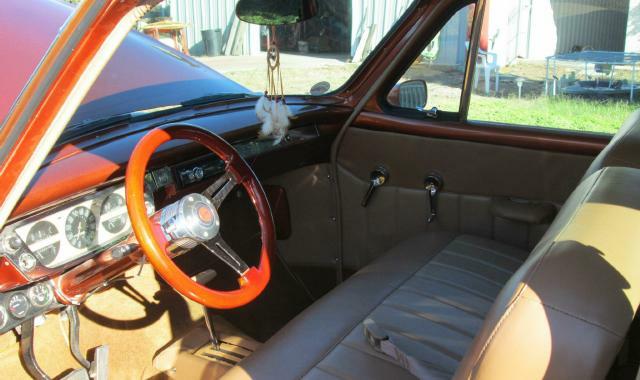 Rear Seat Area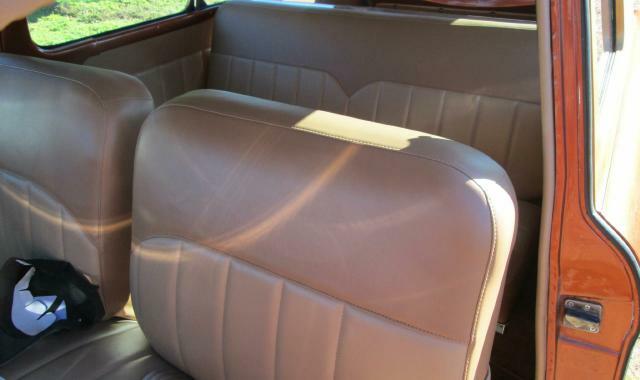 Under the Hood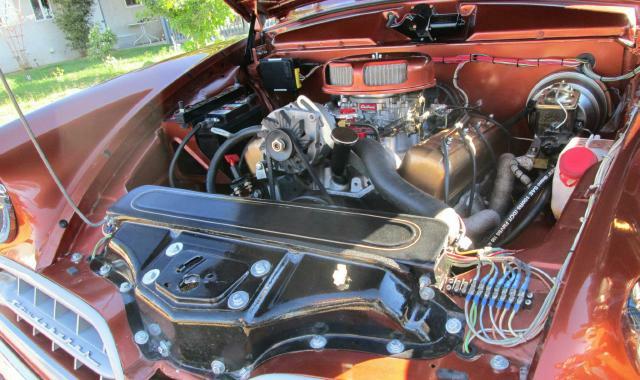 This beautiful 1954 Studebaker Champion Conestoga Station Wagon is owned by Becky Stevenson of Nipomo, California. It was purchased without an engine or transmission but it did come with a live possum living under the rear seat that was found during initial cleaning. After eight patch panels and a lot of body work by Redemption Restorations of Oceano, California it was painted gold and sunburst orange.
Power comes from a 350 cubic inch small block Chevy V8 engine driving through a Turbo-Hydramatic 200 three-speed automatic transmission and 8" Ford rear end. Custom built Sanderson headers were installed by Super Muffler of Santa Maria. Early Studebaker V8 valve covers have been bolted over the stock Chevy valve covers and they add a nice touch. This fooled me as I thought I was looking at a transplanted Studebaker V8 when I first saw the engine compartment picture.
A Turner disc brake kit was added up front and a power booster, dual master cylinder, and a pedal assembly from a 1986 Chevy S-10 were installed. A power steering box from a 1991 Chevy Astrovan turned 90 degrees was installed and hooked up to the stock Studebaker steering system. The steering column is from a 1970 Ford truck and a mid-1980's Toyota truck supplied the shift console.
A G.M. power seat frame was installed under the stock seat and the entire interior was upholstered by Nieves of Santa Maria. A new old stock tinted windshield was purchased from Studebakers West and all new glass was installed. It's maiden voyage was a 900 mile trip to the October 2012 Run to the Sun Car Show in Lake Havasu, Arizona. Bill Junge took this picture of Becky's Conestoga at the October show.
Paul Stevenson did much of the work with help from friends Bob Kauffman, Paul Keller and Tom McCaffery. Thanks to Paul Stevenson for sending the pictures and information about this outstanding Studebaker Conestoga.
If you own or once owned a Studebaker or related vehicle and would like to see your car as "Stude of the Month" or in the "Cool Studes" section, or if you have other pictures or material that you would like to contribute to this page, please e-mail me here. I can accept either electronic or hard copy images. The Main Page is issued every other month so the next edition will be April 2013.
---
All of the previous editions of the Main Page going back to October 1995 have been reposted. In the process of reposting the pages, I have made corrections and revisions as needed, and in some cases added material that was not used when a page was first posted due to download speed and file storage limitations. A complete list of Main Pages and Studes of the Month with links to each is located here.
If you have a particular interest in Bullet Nose Studebakers, visit Bill Junge's Bullet Nose Paradise which is dedicated to the 1950 and 1951 Bullet Nose models.
---
OCTOBER 2011 BRIDGEWATER
STUDEBAKER MEET
STUDEBAKER SALT FLATS RACERS
2010 BONNEVILLE SPEED WEEK
STUDEBAKER NATIONAL MUSEUM
AUGUST 2010 VISIT
VIRGINIA MUSEUM OF
TRANSPORTATION STUDEBAKERS
---
Another Cool Stude
Custom 1953 Champion Starlight Coupe


Rear Angle


Trunk Area


Interior and Dash


Modified Champion Engine

This cool 1953 Studebaker Champion Starlight Coupe belongs to Keith Wahl of La Jolla, California. Keith is a member of the san Diego Chapter of SDC. This is an early production car that retains its original tri-star hood emblem. As the story goes, Mercedes-Benz complained about Studebaker's use of the tri-star and the emblems were quickly redesigned to avoid legal action.
The modified Champion six was built by Studebaker performance engine builder Bill Cathcart. It is equipped with a big bore kit, oversized valves, 3/4 cam, finned aluminum cylinder head, Offenhauser intake manifold with dual Holley carburetors, custom exhaust header, Flowmaster muffler, and custom stainless exhaust and tail pipes. The electronic fuel pump is rear mounted and the fuel lines are braided.
A Turner front disc brake kit, oversized rear brakes, stainless brake lines, and dual master cylinder with remote firewall fill reservoir provide substantially upgraded stopping power. The car rides on Wheelsmith artillery vintage wheels and Vouge radial tires. The suspension features lowered front and rear springs and the car is equipped with a hill holder. The tranmission is the orginal rebuilt three-speed manual.
Amenities include air conditioning by Vintage Air, power steering, power windows, custom stereo with trunk mounted power antenna, custom dash with original gauges and aftermarket tachometer, and a period correct interior. Other features include custom trunk upholstery with hidden compartment for the battery and tools, three point seat belts, bumperette fog lights, and backup lights.
Here is a partial front angle view of Keith's car with the hood up. Thanks to Keith for sending the pictures and infomation about his awesome 1953 Starlight Coupe.
---
DAN'S STUDEBAKER CROSSWORD PUZZLES
Dan Armstrong from Mansfield, Texas has created a number of crossword puzzles and games for car nuts. These are available on-line at Dan's Extreme Car Puzzles. Dan has a strong interest in Studebakers, particularly the 1956 Sky Hawk, the performance equipped 1963 Lark Daytona, and the performance equipped 1963 and 1964 GT Hawks. The Studebaker crosswords are copyright by Dan Armstrong and are used with his permission. Thanks to Dan for providing the link and the downloadable Studebaker crossword puzzles for readers of this page to enjoy.
---
TEST YOUR STUDEBAKER KNOWLEDGE!
---
AVANTIS AT BRIDGEWATER
1964 R2 Avanti Coupe


1978 Avanti II

The white 1964 R2 Avanti is owned by Chester Bradfield of Bridgewater, Virginia and the red 1978 Avanti is owned by Jim Bradley of Lewistown, Pennsylvania. There were at least five Avantis of various vintages at the October 2012 Greater Virginia and Central Virginia SDC Car and Truck Meet held at the home of Chester and Nancy Bradfield in Bridgewater, Virginia.
Jim's Avanti II has been modified to appear more like the original Avanti. The previous owner had removed the "cow catcher" front bumper guard, side moldings, and the "II" emblems. When Jim acquired the car it had fog lights installed on the frame rail stubs. Jim removed the fog lights, shortened the extensions, and installed a 1964 Avanti grille. He also installed an original style rear bumper.
The previous owner had the car repainted in 1978 Buick Firemist Red which was the original color of the car. This color is very close to the red used on the original Avanti. The Avanti II was available in any factory color from any manufacturer so virtually any color is "stock" so to speak. Jim's says that he likes the Studebaker look while enjoying the creature comforts of the 1978 model.
Thanks to Jim for providing the information about his sharp Avanti. And thanks again to Chester and Nancy for opening their home for this great event. More pictures from the 2012 Bridgewater Meet will appear in future updates as space allows.
---
Nick Bodemer's Studebaker Dealer Inventory Project was started in June 2011 and includes a growing number of pictures, articles, ads, and other items related to former Studebaker dealerships. Well worth a visit. If you have a Google account you can join the site through Google Friend Connect.
---
STUDE MISCELLANY
1942 Champion Project Car


Rear Angle


Interior and Dash


Under the Hood

Paul Unruh of Greensburgh, Kansas sent several pictures of a 1942 Studebaker Champion Coupe that has been entrusted to his care. The car was purchased new in 1942 by a gentleman in Protection, Kansas. The car has been given to a Kansas charity which will auction it off on April 13, 2013 in Hutchinson, Kansas. Paul indicates that the car runs and drives and that it was driven about 20 miles to his house.
The car has its origional paint and interior. It has never been restored and has no body damage. The right wing window is broken all other glass is intact. The brakes have been replaced and the master cylinder has been refurbished. The radiator has been replaced and it has new radiator hoses. The car has overdrive and the indicated mileage is 101,000. It has been in the same family since new.
Paul can be contacted by e-mail at psunruh@unitedwireless.com or you can e-mail the webmaster using the link at the bottom of the page for a contact phone number. Thanks to Paul for sending the pictures and information.
Custom 1947 Commander Sedan

This cool Custom 1947 Studebaker Commander 2-Door Sedan belongs to John Gladdis of Corona, California. This is a relatively rare body style with only 2,707 Commander 2-door sedans being produced during the 1947 model year. This compares with 17,084 4-door sedans and 13,299 of the stylish Starlight five passenger coupes. Commander buyers tended to be a more upscale group who were not attracted to the 2-door sedan body style even though it was quite attractive.
Bill Junge took the picture at the October 2012 Run to the Sun Car Show in Lake Havasu, Arizona. Thanks to Bill for sending the picture and information.
1926 Studebaker Big Six

Ernie Loga of Eau Claire, Wisconsin sent this picture of his unrestored 1926 Studebaker Big Six Five Passenger Coupe. It has a 345 cubic inch 6 cylinder engine and is equipped with the rare four-wheel brakes. Ernie says that it can cruise on the highway at 55 mph all day. He notes that the Big Six was a favorite of Whiskey smugglers during Prohibition. Not surprisingly, the Big Six was also popular with the law enforcement officials who chased down the bootleggers.
Ernie operates Loga Enterprises which specializes in Studebaker interior panels and other Studebaker restoration parts. Thanks to Ernie for sending the picture and information about his fine Studebaker.
---
Did you know that Michael Kelly's New Avanti Motor Corporation signed a deal to produce the VW based Brazilian Puma Sports Car? I didn't think so! The deal fell through when Kelly ran out of money. To learn more about the Puma, visit my Puma Sports Cars Site.
---
STUDE TOY OF THE MONTH
Liberty Classics 1938 Studebaker Van



The 1:25 scale Liberty Classics 1938 Studebaker K Series Cab-Forward Van is one of the nicest models from this company. It is a really sharp in Cooper Tires blue and orange. The model comes packed in a very nice picture box. Here is a side view showing the cab and rear doors open. For some reason, the box art shows the truck with orange wheels and black sidewall tires but the model has chrome wheels and white sidewall tires.
In adition to the Cooper Tires version pictured above, this model has been issued in Matco Tools and Maytag versions among others. There are usually one or more versions available on eBay with prices typically around $30 although I have seen the Cooper Tires version listed for as little as $12 and the Matco version listed for as much as $75.
Liberty Classics has produced a number 1:25 scale of Studebaker promotional models over the years for various companies and events. These include a 1916 Studebaker Delivery Van, 1916 Studebaker Pickup, 1916 Studebaker Tanker, 1922 Studebaker Big Six Pickup, and 1938 Studebaker Coupe Express Pickup.
More toy Studes can be found in the Stude Stuff area of this page and on my Studebaker Toys Home Page.
Click here for information on ordering hard to find Studebaker toys made by manufacturers such as Johnny Lightning, Racing Champions, Hot Wheels, Matchbox, Muscle Machines, Maisto, and EKO.
Studebaker Toy Treasures Book

Jim Geary's book Studebaker Toy Treasures is the standard reference collectors of Studebaker Toys. This wonderful book has 294 pages of color pictures and details on hundreds of Studebaker toys. Publication date is 2004 and just about every Studebaker toy and model produced up to that time is pictured and cataloged. Jim is making the book available for the reduced price of $28 including shipping. This is a great deal since most vendors sell this book for $39.95 plus shipping. Jim will sign the book if requested. Jim can be contacted at sanjim76@live.com or send payment to Jim Geary, 181 Allendale Hills Road, Franklin, NC 28734.
---
---
---
---
* * * This Page On Line Since October 1995 * * *
---
Published 2/1/2013