---
BILL
JACKAMEIT'S
STUDEBAKER
PAGE
---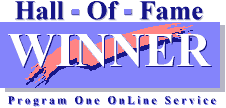 ---
---
Welcome fans of the pride of South Bend. I am a long-time Studebaker fan and Studebaker Driver's Club member, having owned a 1957 Silver Hawk in high school and a 1959 Lark Regal Hardtop in college. Since then, I have owned other Studes as hobby cars including a 1962 Champ Pickup, a 1964 Canadian Commander Special, a 1962 GT Hawk, a 1960 Lark Regal 4-door, a 1957 Silver Hawk (not the same one I owned in high school -- that one I wrecked) and a 1949 Champion Starlight Coupe. My current Stude is a 1964 Challenger Wagonaire sliding roof station wagon. I will build this page as time allows. If you have any suggestions or comments, please send me a message. Both text and image contributions are welcome.
---
STUDE OF THE MONTH
FEBRUARY 2014
1946 Studebaker Pickup Street Rod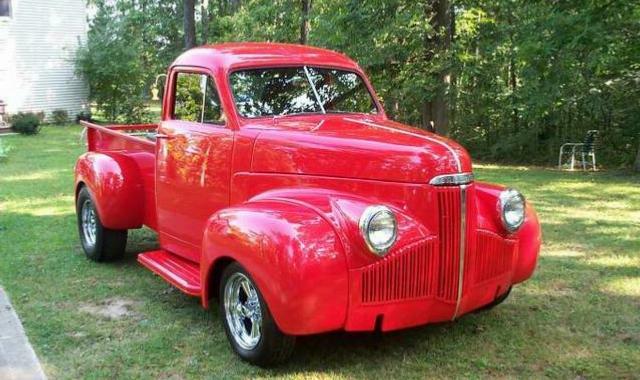 Rear Angle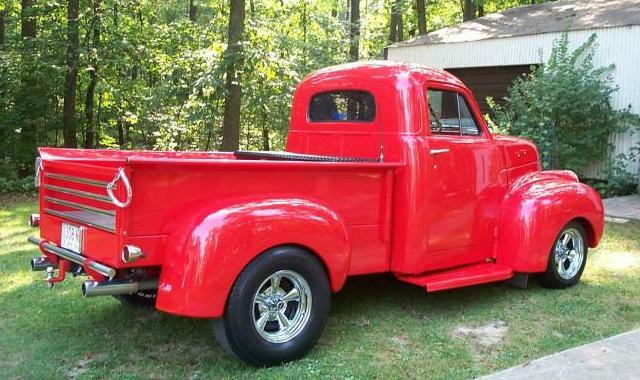 Side View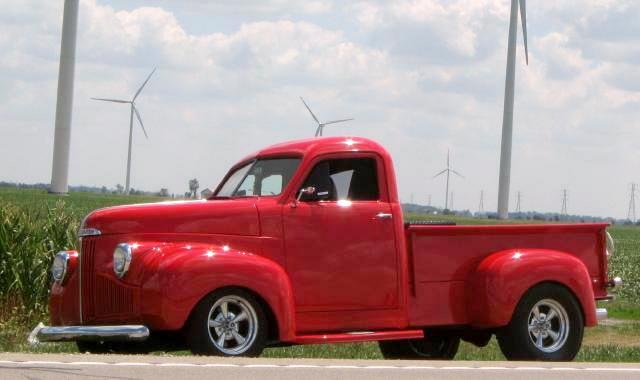 Interior and Dash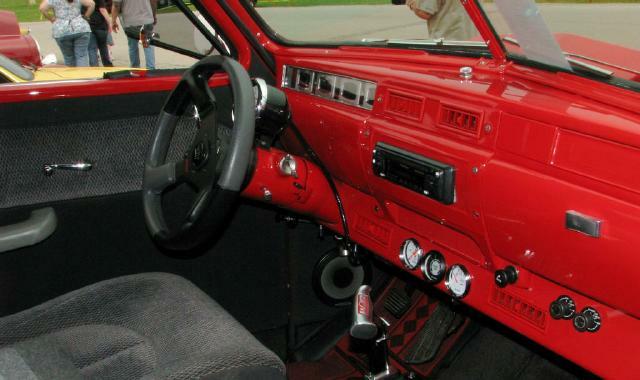 Under the Hood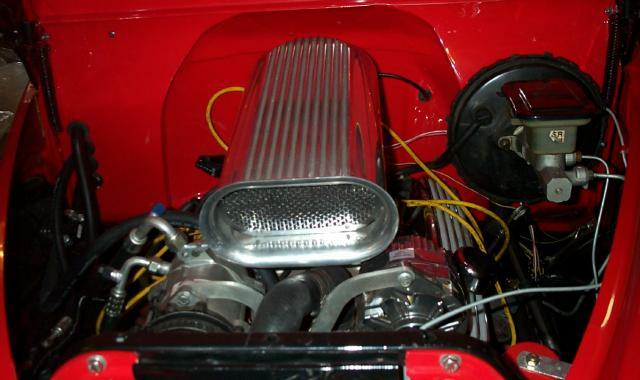 This beautiful 1946 Studebaker M Series Pickup Street Rod is owned by Randy Wilkin of Hillsboro, Ohio. The truck was built from an old M16 one and one-half ton flatbed with dual rear wheels that Randy purchased on eBay for $99. Randy saved the truck from the crusher and brought it home from Northwest Kansas to South Central Ohio. When purchased the truck was in very rough shape with rats nests inside, missing grilles and trim, and a badly dented roof and hood. Here are pictures of the cab and interior of the M16 before its rebirth as a pickup truck.
Randy's truck sits on a shortened 1970 Chevy half-ton pickup frame and is powered by Chevy small block 350 V8 engine with 700R4 overdrive transmission. It has a limited slip rear end and is equipped with power steering, power disc btakes, tilt steering wheel, and air conditioning. The truck has a modern sound system including AM/FM radio with CD player, Dakota Digital gauges, tinted windows, 2" wider than stock fiberglass fenders, and 15" Cragar wheels. The tailgate has fabricated from DC-8 aircraft parts and a DC-8 torque tube serves as the rear bumper. This rear view shows the tailgate, rear bumper, and nicely finished wooden bed.
The Studebaker M Series first appeared in 1940 as a 1941 model. Relatively few were built before civilian truck production was suspended in 1942. Civilian truck production was resumed in May 1945, and the M Series was produced until early 1948, at which time it was replaced by the familiar 2R (C Cab) Series. An unusual aspect of the M Series is that the front and rear fenders on each side were designed to be interchangable. Standard duty models used the Champion six, and the larger Commander six was installed in heavy duty models.
Thanks to Randy for providing the pictures and information about his cool truck.
If you own or once owned a Studebaker or related vehicle and would like to see your car as "Stude of the Month" or in the "Cool Studes" section, or if you have other pictures or material that you would like to contribute to this page, please e-mail me here. I can accept either electronic or hard copy images. The Main Page is issued every other month so the next edition will be April 2014.
---
All of the previous editions of the Main Page going back to October 1995 have been reposted. In the process of reposting the pages, I have made corrections and revisions as needed, and in some cases added material that was not used when a page was first posted due to download speed and file storage limitations. A complete list of Main Pages and Studes of the Month with links to each is located here.
If you have a particular interest in Bullet Nose Studebakers, visit Bill Junge's Bullet Nose Paradise which is dedicated to the 1950 and 1951 Bullet Nose models.
---
BONNEVILLE SPEED WEEK
STUDEBAKER SALT FLATS RACERS
ELECTRIC POWERED 1950
STUDEBAKER PICKUP TRUCK
STUDEBAKER NATIONAL MUSEUM
PICTURES FROM MY VISIT
VIRGINIA MUSEUM OF
TRANSPORTATION STUDEBAKERS
---
Another Cool Stude
1971 Avanti II


Interior and Dash


Factory Luggage Rack


Under the Hood

Ernie Loga of Eau Claire, Wisconsin sent several pictures of his restored 1971 Avanti II. The car started out life as the factory demonstrator in 1971. It was brought back into the factory and reconditioned in 1972 and sold to a woman in Ohio. It was later purchased by a man in the Chicago area who enjoyed it for many years. Ernie purchased it in 1995 and drove it as his daily driver for work until 2008. The car has undegone a three-year restoration which included an engine rebuild, new paint, rechromed bright metal, and a new leather interior.
The original front seats were broken and not repairable. They were replaced with seats from a 1993 Pontiac Firebird that closely mirrored the originals. The Pontiac seats were reupholstered in the same style as the original Avanti II seats. As a bonus is the Firebird seats recline and are more comfortable. The interior color was changed from what Ernie calls a "putrid yellow-gold" to grey leather. Here is a picture of the reupolstered door panel.
Total production of the Avanti II for 1971 was 111 cars all of which were equipped with 350 engine rated at 300 horsepower. Baxter Engines of Eau Claire rebuilt the Stingray 350 Cubic inch V8 engine in Ernie's car. The Avanti II retained the Studebaker Lark convertible chassis but was altered somewhat from the orginal Avanti with a higher hoodline, reduced-radius wheel openings, and less front-end rake. The cars were mostly handbuilt in a section of the old Studebaker plant. Ernie's Avanti II has a rare factory option luggage rack.
Ernie operates Loga Enterprises which specializes in Studebaker interior panels and other Studebaker restoration parts. Thanks to Ernie for sending the pictures and information about his sharp Avanti II.
---
DAN'S STUDEBAKER CROSSWORD PUZZLES
Dan Armstrong from Mansfield, Texas has created a number of crossword puzzles and games for car nuts. These are available on-line at Dan's Extreme Car Puzzles. Dan has a strong interest in Studebakers, particularly the 1956 Sky Hawk, the performance equipped 1963 Lark Daytona, and the performance equipped 1963 and 1964 GT Hawks. The Studebaker crosswords are copyright by Dan Armstrong and are used with his permission. Thanks to Dan for providing the link and the downloadable Studebaker crossword puzzles for readers of this page to enjoy.
---
TEST YOUR STUDEBAKER KNOWLEDGE!
---
RUN TO THE SUN
1939 Champion 2-Door Sedan


1952 Champion 4-Door Sedan


1953 Studebaker Starlight Coupe


1955 Studebaker Hardtop


Round Headlight Studebaker Avanti

Bill Junge sent a number of pictures of Studebakers from the October 2013 Relics and Rods Run to the Sun Car Show in Lake Havasu City, Arizona. The two-tone 1939 Champion Sedan is owned by Gary Clausen, the 1952 Champion Sedan is owned by Ron Werner, and the 1953 Starlight Coupe is owned by Harry Finley, all of Lake Havsu City. The 1955 Studebaker Hardtop is owned by Ray and Margaret Carr of Riverside, California and the round headlight 1963 Studebaker Avanti is owned by Jerry Smeltzer of Visalia, California.
The Relics & Rods Car Club's annual Run to the Sun Car Show is one of the largest car shows in the Southwest. The show typically features over 800 entrants consisting of 1972 and older cars and trucks. The 2014 show will be the 37th annual event and will be held October 16 through 18.
Thanks to Bill Junge for sending the pictures and information.
---
Nick Bodemer's Studebaker Dealer Inventory Project was started in June 2011 and includes a growing number of pictures, articles, ads, and other items related to former Studebaker dealerships. Well worth a visit. If you have a Google account you can join the site through Google Friend Connect.
---
STUDE MISCELLANY
1958 Studebaker 4x4 Pickup

Thomas Lee of Fargo, North Dakota sent a picture of a 1958 Studebaker 3E7D Pickup that has been in his family since 1960. According to the production order, this truck is equipped with a heavy duty 289 cubic inch V8 engine in place of the standard 259 cubic inch V8 engine and four-speed synchromesh transmission. Other options includes a one quart oil filter, electric windshield wipers, painted rear bumper, and Goodyear 650x16 "Extra Grip" tires in place of the standard 15" tires. The truck was assembled in January 1958 with its destination listed as Plentywood, Montana.
Frank Drumheller provided some additional information regarding this and other 1958 Studebaker 4x4 trucks. This truck is a 3E7D-122-C4 which translates to a 4x4 truck with a V8 engine, 122" wheelbase with eight foot box, and deluxe cab. Other variations included a 245 cublic inch six cylinder engine, 112" wheelbase with six and one-half foot box, and standard cab. Of the 43 Studebaker 4x4 trucks manufactured for 1958, eight were 3E7D-122-C4. As Frank notes, any 1958 Studebaker 4x4 truck is a rare vehicle.
Thanks to Tom for sending the pictures and information and to Frank for providing additional information about this rare truck.
Mystery Toy Studebaker Starliner Hardtop


Rear Angle

Brian Wright sent several pictures of a small plastic Studebaker Starliner Hardtop model that he is trying to identify. It is clearly marked Studebaker underneath but has no maker's name. The model is very small as can be seen in this picture with an Athearn HO scale Cadillac. It looks like a F&F Tool and Die Works model of the type that was packed in Post cereal boxes in the 50's and 60's but is quite a bit smaller. Size wise it is more like the Varney Starliner Hardtop but the Varney model has a solid windshield and solid side windows.
Brian's best guess is that the model was made in Canada and used as a prize or premium. If any readers can shed further light on this model please contact me using the e-mail link at the bottom of the page.
Thanks to Brian for sending the pictures and information about this model.
---
Did you know that Michael Kelly's New Avanti Motor Corporation signed a deal to produce the VW based Brazilian Puma Sports Car? I didn't think so! The deal fell through when Kelly ran out of money. To learn more about the Puma, visit my Puma Sports Cars Site.
---
STUDE TOY OF THE MONTH
Liberty Classics 1916 Studebaker Pickup





This version of the Liberty Classics 1:25 scale 1916 Studebaker Pickup was issued in 1995 as a Collector Edition for the 100th Aniversary of Lennox Industries. It was manufactured by Liberty Classics for Spec Cast Collectibles and came packed in a special cardboard picture box. Liberty classics has produced numerous variations of its 1916 Studebaker casting in pickup, panel delivery, roadster, and tanker form. Most of these have been issued through Spec Cast as promotional models.
As far as I know, the Lennox Studebaker Pickup is the only version of this model that came with a figure of any kind. Here is a closeup of the Dave Lennox figure driving the truck. Although the Lennox Studebaker was issued almost twenty years ago, examples appear on eBay from time to time and it can usually be purchased for about $20. With its driver figure and load of furnaces, it is one of my my favorite versions of the Liberty Classics 1916 Studebaker.
More toy Studes can be found in the Stude Stuff area of this page and on my Studebaker Toys Home Page.
Click here for information on ordering hard to find Studebaker toys made by manufacturers such as Johnny Lightning, Racing Champions, Hot Wheels, Matchbox, Muscle Machines, Maisto, and EKO.
Scratch Built Resin 1964 Studebaker Daytona

Tim Palmer of Fairbanks, Alaska made this scratch built 1964 Daytona Hardtop from a block of resin. Tim started making Bricklin models and has expanded into Studebakers. Tim has created a very nice 1964 Daytona Hardtop model and looking for Studebaker fans who might be interested in owning a copy for themselves. Tim carves the original from a block of resin, makes a rubber mold, and casts additional copies in resin. The models are then hand painted and detailed. Here are examples of this model in red and blue. Further information is available on Tim's Brickin Factory website or you can contact Tim directly at tdpalmer@gci.net.
Studebaker Toy Treasures Book

Jim Geary's book Studebaker Toy Treasures is the standard reference collectors of Studebaker Toys. This wonderful book has 294 pages of color pictures and details on hundreds of Studebaker toys. Publication date is 2004 and just about every Studebaker toy and model produced up to that time is pictured and cataloged. Jim is making the book available for the reduced price of $28 including shipping. This is a great deal since most vendors sell this book for $39.95 plus shipping. Jim will sign the book if requested. Jim can be contacted at sanjim76@live.com or send payment to Jim Geary, 181 Allendale Hills Road, Franklin, NC 28734.
---
---
---
---
* * * This Page On Line Since October 1995 * * *
---
Published 2/1/2014