---
BILL
JACKAMEIT'S
STUDEBAKER
PAGE
---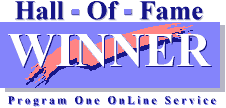 ---
---
Welcome fans of the pride of South Bend. I am a long-time Studebaker fan and Studebaker Driver's Club member, having owned a 1957 Silver Hawk in high school and a 1959 Lark Regal Hardtop in college. Since then, I have owned other Studes as hobby cars including a 1962 Champ Pickup, a 1964 Canadian Commander Special, a 1962 GT Hawk, a 1960 Lark Regal 4-door, a 1957 Silver Hawk (not the same one I owned in high school -- that one I wrecked) and a 1949 Champion Starlight Coupe. My current Stude is a 1964 Challenger Wagonaire sliding roof station wagon. I will build this page as time allows. If you have any suggestions or comments, please send me a message. Both text and image contributions are welcome.
---
STUDE OF THE MONTH
JUNE 2014
1964 Studebaker Avanti R1 Coupe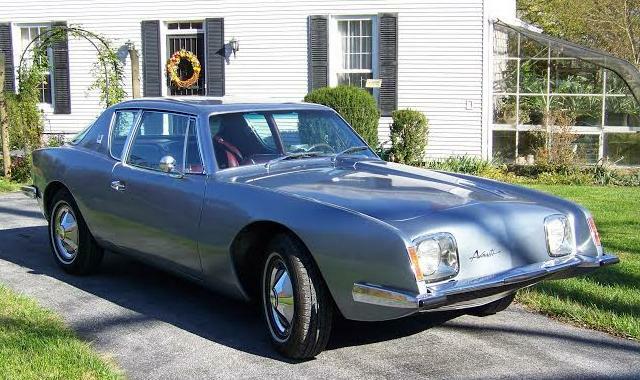 Rear Angle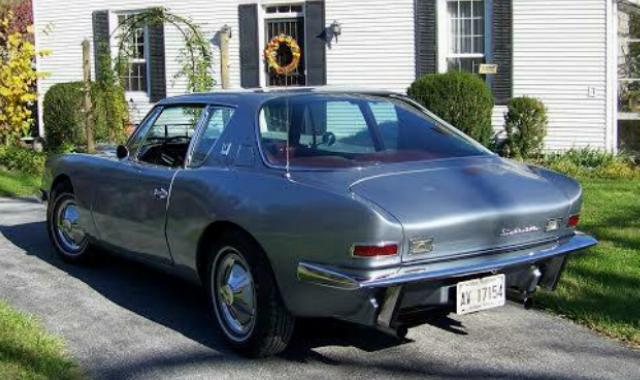 Side View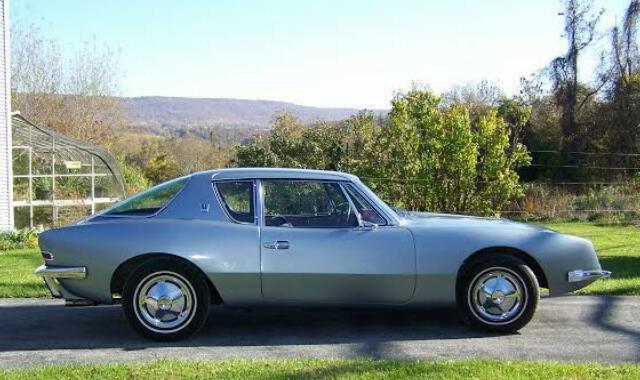 Interior and Dash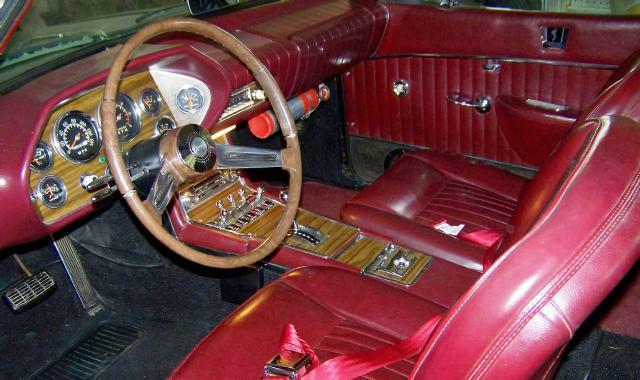 Back Seat Area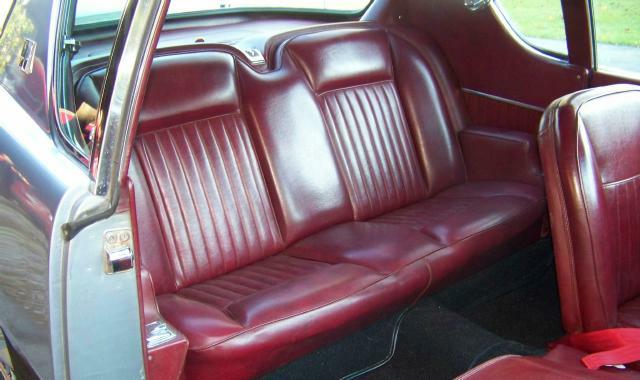 Under the Hood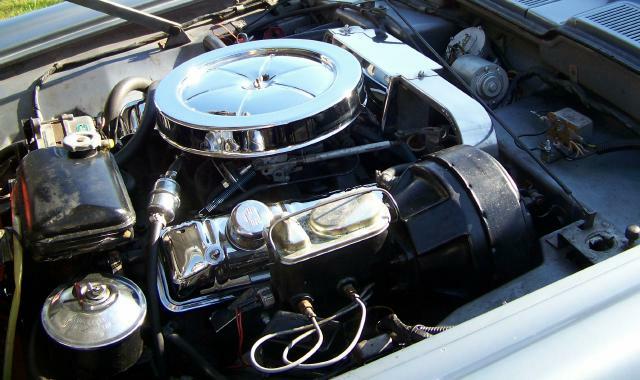 This sharp 1964 Avanti R1 Coupe belongs to Paul Johnson of Harpers Ferry, West Virginia. The exterior color is Avanti Gray and the interior color is Claret Red. Paul bought the car from an eBay listing in May of 2010 and picked it up near Memphis, Tennessee. The car was originally delivered to North Park Sales and Service in Chicago, Illinois. As new it was equipped with automatic floor shift, Twin Traction rear, silent mufflers, air conditioning, power steering, electric windows, windshield sun band, tinted glass side windows, AM/FM radio, rear speaker, electric washer, seat belts, and 670X15 Firestone 500 white sidewall tires. Here is the production order that shows the original destination as Chicago, Illinois.
When Paul picked up the car it started and ran well and he drove it on his trailer with no problems. However, when he got home and backed it off the trailer the oil pressure went to zero. He pulled the dipstick and found it to be completely dry so he drained the crankcase and removed the filter to find a total of only 1 1/2 quarts of oil in the engine. In spite of what could have happened, with a fresh oil fill the engine oil pressure returned to normal and there weren't any bad noises.
The previous owner had installed a set of low profile 16 inch tires and mag wheels which resulted in very low ground clearance. Paul replaced the undersized tires and rims with a set of 15x6-inch Chrysler rims and new 15 inch tires which put the speedometer and odometer virtually dead on. He also swapped the 3.54 Twin Traction rear for a 3.07 Twin Traction rear for lower rpm on the highway. With these changes, the car was driven to and from the 2012 International Meet in South Bend. Here is a picture of the original 670x15 Firestone 500 spare tire still in the trunk.
Paul is a Studebaker Drivers Club Life Member having joined in 1969. He has owned Studebakers continuously since February 1961 when he bought his first Studebaker and first new car, a 1961 Lark Cruiser. In 1964 he traded the Cruiser on a Daytona Wagonaire which I ordered and picked up at the Hamilton factory. Paul still has the Wagonaire. His other long-time car is a 1953 Commander Starliner Hardtop which he purchased in 1966. He currently serves as Atlantic Zone Coordinator and is a member of both the Potomac Chapter and Greater Virginia Chapter of SDC.
Thanks to Paul for sending the pictures and information about his great looking Avanti.
If you own or once owned a Studebaker or related vehicle and would like to see your car as "Stude of the Month" or in the "Cool Studes" section, or if you have other pictures or material that you would like to contribute to this page, please e-mail me here. I can accept either electronic or hard copy images. The Main Page is issued every other month so the next edition will be June 2014.
---
All of the previous editions of the Main Page going back to October 1995 have been reposted. In the process of reposting the pages, I have made corrections and revisions as needed, and in some cases added material that was not used when a page was first posted due to download speed and file storage limitations. A complete list of Main Pages and Studes of the Month with links to each is located here.
If you have a particular interest in Bullet Nose Studebakers, visit Bill Junge's Bullet Nose Paradise which is dedicated to the 1950 and 1951 Bullet Nose models.
---
BONNEVILLE SPEED WEEK
STUDEBAKER SALT FLATS RACERS
ELECTRIC POWERED 1950
STUDEBAKER PICKUP TRUCK
STUDEBAKER NATIONAL MUSEUM
PICTURES FROM MY VISIT
VIRGINIA MUSEUM OF
TRANSPORTATION STUDEBAKERS
---
More Cool Studes
1964 Avanti R2 Coupe


Side View


Interior and Dash

This gleaming 1964 Avanti R2 Coupe belongs to Fred Meiners of Palmyra, Virginia. The exterior color is Avanti Red and the interior color is Velvet Black. The car was originally sold by Arlington Motors of Arlington Heights, Illinois. As new it was equipped with automatic floor shift, Jet Thrust R2 Supercharged Engine, Twin Traction rear, silent mufflers, power steering, push buttom AM radio, seat belts, driver side rear view mirror, and 670X15 Allstate white sidewall tires. Air conditioning was not available from the factory on Avantis equipped with the Supercharged R2 engine. Here is a picture of the retail window sticker which lists all of the original equipment and a retail price of $5,196.53. As with Paul Johnson's Avanti above, this is a late production car with square headlights and a front grille over the air intake.
The pictures were taken at the AACA Piedmont Region Meet in April of this year.
1941 Commander Street Rod


Rear Angle


Interior and Dash

This cool 1941 Studebaker Commander Street Rod belongs to Wayne Seal of Crozet, Virginia. Wayne's rod is equipped for comfortable cruising with automatic drive, modern wheels with radial tires, tilt steering wheel, and air conditioning. For 1941 the split grille on Commanders was made flatter than before and this was the first year that Commanders and other Studebakers came without running boards giving a more modern appearence. The wheelbase on Commanders was also lengthened to 119" which continued through 1948. Just under 42,000 Commanders were produced in 1941 which was the last full year of production until Commanders were reintroduced with completely new styling for 1947.
These pictures were also taken at the April 2014 Piedmont Region AACA Meet.
---
DAN'S STUDEBAKER CROSSWORD PUZZLES
Dan Armstrong from Mansfield, Texas has created a number of crossword puzzles and games for car nuts. These are available on-line at Dan's Extreme Car Puzzles. Dan has a strong interest in Studebakers, particularly the 1956 Sky Hawk, the performance equipped 1963 Lark Daytona, and the performance equipped 1963 and 1964 GT Hawks. The Studebaker crosswords are copyright by Dan Armstrong and are used with his permission. Thanks to Dan for providing the link and the downloadable Studebaker crossword puzzles for readers of this page to enjoy.
---
TEST YOUR STUDEBAKER KNOWLEDGE!
---
Nick Bodemer's Studebaker Dealer Inventory Project was started in June 2011 and includes a growing number of pictures, articles, ads, and other items related to former Studebaker dealerships. Well worth a visit. If you have a Google account you can join the site through Google Friend Connect.
---
STUDE MISCELLANY
1964 Studebaker 7E40 Car Hauler


Front View


Rear Angle

This 1962 Studebaker 7E40 Transtar Car Hauler belongs to Nelson Driver of Waynesboro, Virginia. The E40 designation indicates that this is a heavy duty two-ton truck. 7E40 models were powered by a heavy duty Studebaker 289 V8. Heavy duty engines can be identified by a stenciled clover leaf symbol on the engine number boss. Nelson's truck has a 195" wheelbase, fender flares, air horns, and air brakes. This is a relatively rare truck as only 737 Transtar Trucks of all types were produced for domestic sale in 1962. An additional 303 were produced for export. Here is another view of Nelson's truck. Nelson uses the truck to haul his rare 1931 Willys-Knight to various shows.
The pictures taken at the April 2014 Piedmont Region AACA Meet.
1958 Silver Hawk from South Africa


Right Hand Drive


Under the Hood

Gavin Van Rooy from South Africa sent pictures of this beautiful 1958 Studebaker Silver Hawk Coupe owned by Peter Verwer. The car is right hand drive as South Africans drive on the left. It is equipped with 15" wheels and the optional AC 2799 spoke type wheel full wheel covers with crest rather than the 14" wheels that were standard on domestic 1958 Silver Hawks. Modifications include a floorshift for the manual transmission, a modern sound system, and an upgraded interior.
The Silver Hawk has been meticulously restored. Here is a before picture, here is a work in progress picture, and here is another view of the finished product. All of the sheetmetal was removed during the restoration and the engine area has been nicely detailed. Peter's Silver Hawk is listed on SAClassics.com as being available to hire for weddings and other special events.
Right hand drive Studebakers were assembled in South Africa by South African Motor Assemblers and Distributors (SAMAD) from 1948 to 1965. SAMAD also assembled Austins and Volkswagen Beetles and Transporter Vans. More information on Studebakers in South Africa can be found on the Studebaker Car Club of South Africa web site.
Thanks to Gavin for sending the picture and information.
---
Did you know that Michael Kelly's New Avanti Motor Corporation signed a deal to produce the VW based Brazilian Puma Sports Car? I didn't think so! The deal fell through when Kelly ran out of money. To learn more about the Puma, visit my Puma Sports Cars Site.
---
STUDE TOY OF THE MONTH
Johnny Lightning 1964 Studebaker Avanti





Johnny Lighting issued several versions of the 1:64 scale Avanti Coupe. The version shown above is the relatively rare turquoise Gold Series Muscle Cars Limited Edition which came in an acrylic display case packed inside of a resealable clear plastic blister pack. More common versions include the red Muscle Cars USA and black Classic Gold Collection issues in standard blister packs. Either of these can usually be found on ebay for $10 or less. A harder to find variation is the silver '60's Sizzle Limited Edition which came packed with a cardboard picture box inside a clear plastic blister pack.
This model features a nicely detailed interior and opening hood with detailed engine. All versions except the turquise Gold Series model have red interiors. The Gold Series model has an attractive off-white interior that goes well with the exterior color. The hood hinges are somewhat fragile so care needs to be exercised when opening the hood to reveal the engine. On balance, the Johnny Lightning 1:64 scale Avanti is a very nice small scale model.
More toy Studes can be found in the Stude Stuff area of this page and on my Studebaker Toys Home Page.
Click here for information on ordering hard to find Studebaker toys made by manufacturers such as Johnny Lightning, Racing Champions, Hot Wheels, Matchbox, Muscle Machines, Maisto, and EKO.
Studebaker Toy Treasures Book

Jim Geary's book Studebaker Toy Treasures is the standard reference collectors of Studebaker Toys. This wonderful book has 294 pages of color pictures and details on hundreds of Studebaker toys. Publication date is 2004 and just about every Studebaker toy and model produced up to that time is pictured and cataloged. Jim is making the book available for the reduced price of $28 including shipping. This is a great deal since most vendors sell this book for $39.95 plus shipping. Jim will sign the book if requested. Jim can be contacted at sanjim76@live.com or send payment to Jim Geary, 181 Allendale Hills Road, Franklin, NC 28734.
---
---
---
---
* * * This Page On Line Since October 1995 * * *
---
Published 6/1/2014