---
BILL
JACKAMEIT'S
STUDEBAKER
PAGE
---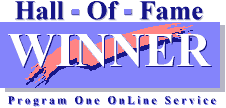 ---
---
Welcome fans of the pride of South Bend. I am a long-time Studebaker fan and Studebaker Drivers Club member, having owned a 1957 Silver Hawk in high school and a 1959 Lark Regal Hardtop in college. Since then, I have owned other Studes as hobby cars including a 1962 Champ Pickup, a 1964 Canadian Commander Special Sedan, a 1962 GT Hawk, a 1960 Lark Regal 4-door, a 1957 Silver Hawk (not the same one I owned in high school -- that one I wrecked) and a 1949 Champion Starlight Coupe. My current Studes are a 1964 Challenger Wagonaire Station Wagon with sliding roof and a 1964 Daytona Sedan. I will build this page as time allows. If you have any suggestions or comments, please send me a message. If you expeience a problem with the e-mail link, the address is wj2d44@gmail.com. Both text and image contributions are welcome.
---
STUDE OF THE MONTH
OCTOBER 2017
1964 Studebaker Daytona Sedan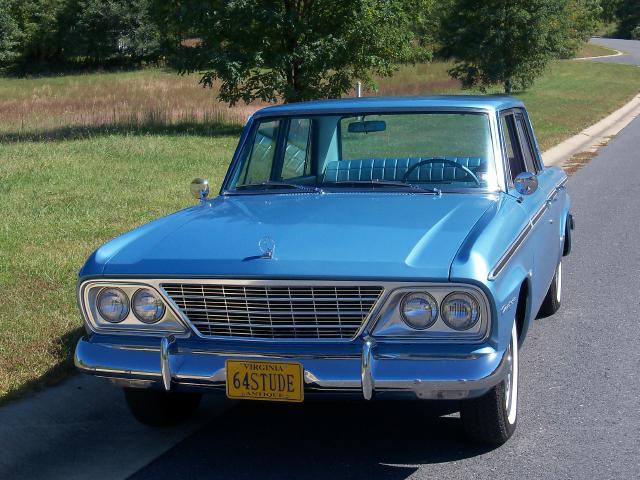 Side View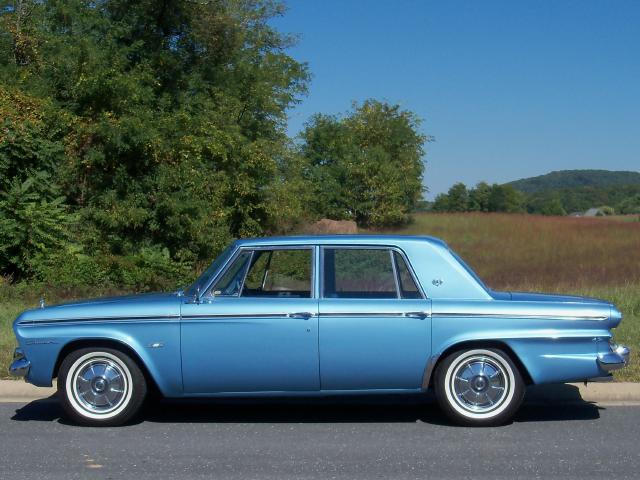 Rear Angle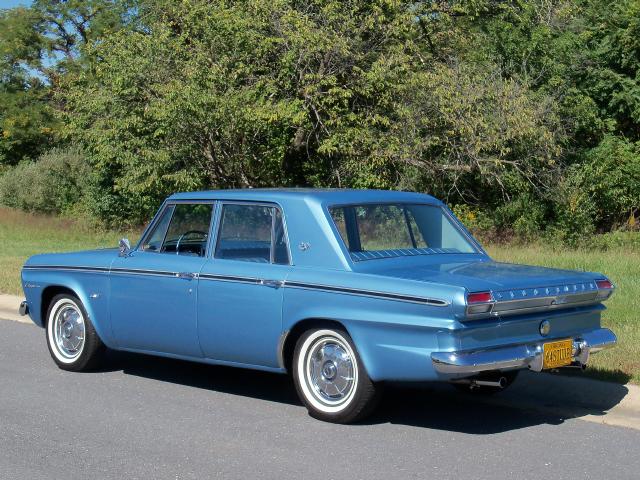 Front View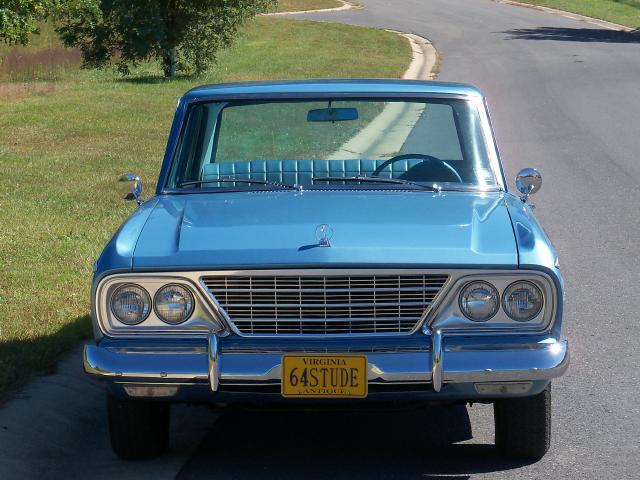 Rear View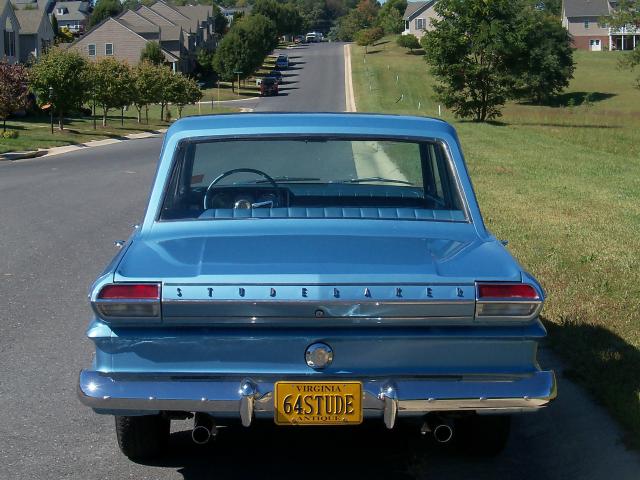 Interior and Dash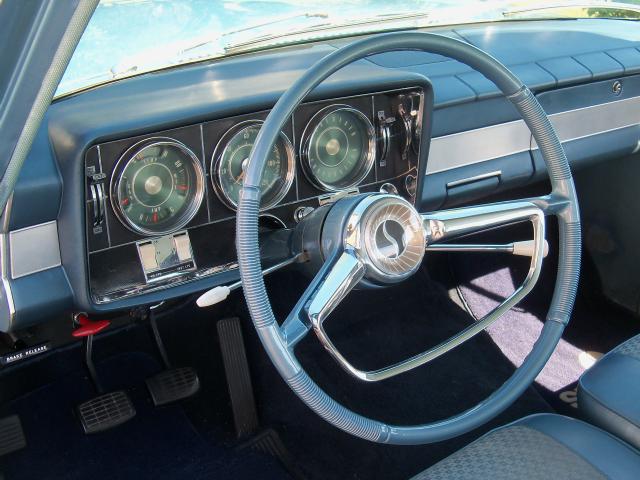 Under the Hood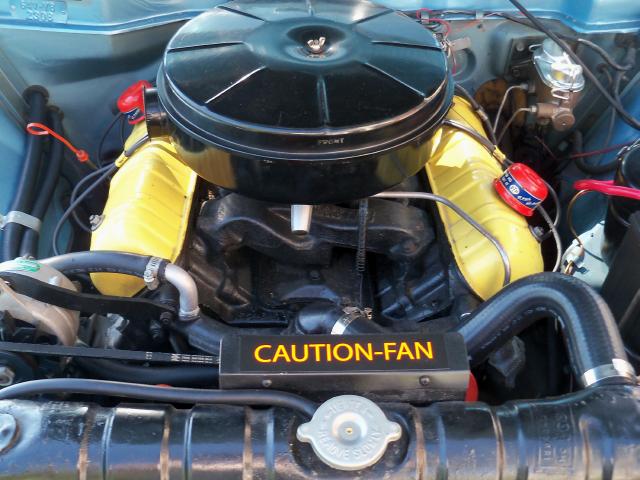 This month I am featuring my recently acquired 1964 Studebaker Daytona Sedan as Stude of the Month. The car was originally delivered to Albuquerque, New Mexico and was first titled in January 1964. It spent the next 41 years in New Mexico. In November of 2005 it was titled in Pennsylvania with a second Pennsylvania title issued in April of 2007 indicating 61,110 actual miles. It was driven very little over the next 10 years accumulating only a few hundred miles during that period. I purchased the car in July of this year with the odometer at just over 65,500 actual miles.
Original materials found in the car's glove box include the 1964 Owner's Guide, 1964 Accessories brochure, Parts and Service for Your Studebaker booklet, Studebaker Protective Service booklet, and Going Steady with Studie booklet specifically for female drivers and owners. It was surprising to find all of these with the car in nice lightly used condition. These materials indicate that the car was sold by the Enyart Motor Company in Albuquerque with a delivery date of January 11, 1964. Enyart was a dealer for Studebaker and Mercedes Benz which was distributed by the Studebaker Corporation at the time.
The car was repainted once in a color that is a shade or two off from the original Studebaker Laguna Blue. This is not obvious when by itself but is easy to see when it is parked in the garage with my correct Laguna Blue 1964 Challenger Wagonaire. The identification plate indicaties that this Daytona is Serial Number 64V-18461 which puts it close to the end of South Bend prodution. According to its production order it has a final assembly date of December 11, 1963 which was just two days after the official announcement of the end of Studebaker production in South Bend.
As built, this Daytona was equipped with the standard 259 cubic inch V8, three-speed manual transmission with overdrive, Hill Holder, tinted windshield, individual reclining front seats, oil bath air cleaner, Climatizer heater and defroster, Firestone 500 blackwall tires, full wheel covers, and front seat belts. A radio was not ordered and the car has manual steering and manual brakes. It does have several accessories including front bumper guards, rear fender gravel shields, Stratoline rear view mirrors on both sides, a day/night interior rear view mirror, and a locking gas cap. And it has the pull-out vanity in the glovebox that was standard on the Daytona and Cruiser.
As would be expected, some time has been spent going through the car servicing and fixing things as needed to my satisfaction. The paint is simply too good to put back to the correct shade of blue so I will keep that as is. The car has no rust to speak of which is not that surprising for a New Mexico car. More surprising is that the dashboard has no cracks and the original cloth seats are in excellent condition showing little if any wear. The carpets are replacements and are also in very nice condition. I did replace the original blue and white steering wheel which had the usual cracks and wear with a refinished solid blue steering wheel. Not correct for a Daytona but I like the look of the solid color wheel better than the original.
The overdrive transmission and hill holder both operate as they should so no problems there. The front end is tight, oil pressure is good, clutch works fine, and the brake system has been professionally checked and given the ok. The cooling system has been flushed and the radiator and heater hoses have all been replaced with the correct type. I did use stainless steel worm drive clamps instead of the original type spring clamps on the hoses because I am not overly concerned with everything being original. For now the whitewall radial tires will stay but I really prefer the look of blackwall tires on these cars and may go that route.
So far I have replaced the driver side front window regulator which is not a fun job and the foot operated parking brake mechanism. I found both on eBay at prices well below the typical Stude parts vendor price. One arm rest was bad but I have several blue spares from when my Wagonaire was restored so that was an easy fix. I also replaced the left side tail lamp chrome bezel which was dented and both the red upper and clear lower lenses which were cracked. I was also able to do that from parts on hand in this case left over from back when I had a 1964 Canadian Commander Special two-door sedan.
The car has a dual exhaust system with 2" stainless steel pipe and decidedly non-stock exhaust extensions. The original tail pipes on these cars raise up a bit before turning down just short of the rear bumper. My first reaction was "that is not right" but it is starting to grow on me. I'm also not a big fan of oil bath air cleaners but this is the only 1964 Stude I have seen with one and it will also stay at least for the time being. A New Mexico inspection sticker on the windshield indicates that the car received its last state inspection in October 1977. I'll leave that on for a while but will likely remove it at some point. I do intend to replace or repaint the kick panels and rear package shelf both of which are original and show some wear.
The biggest expense by far has been replacing the front and rear bumpers with replated NOS bumpers along with NOS front bumper guards and NOS rear license guards. The wrong bumper guards from an earlier model Studebaker had been installed on the rear bumper and tightened to the point that the bumper was misformed. The front bumper was not as bad but also has some issues due to the bumper front guards being reversed. Both bumpers had crazing, dents, and scrapes so it made sense to me to replace them with NOS bumpers. I also replaced a dented rear fender stone shield with one from a nice used pair that I picked up for $10.
Daytona four-door sedans were only made in 1964 and 1965. Quite a few more Daytona four-door sedans were produced for 1964 than Daytona hardtops and convertibles. Yet 1964 Daytona sedans are rarely seen at shows or events and when a 1964 Studebaker four-door sedan is seen it is usually a Cruiser. Aside from being in really nice condition, this particular Daytona had the attraction for me of being a manual shift with overdrive. And the price paid after negotiating was much less than the going rate for 1964 Daytona hardtops and convertibles or even for a 1964 Cruiser from what I have seen on the market of late.
My goal for the Daytona is for it to be a nice driver suitable to take to local shows and club events and perhaps to to use to tour. It will not get the same treatment as my Wagonaire, which has been restored to a high standard with everything as correct as possible. As I have done with the Wagonaire, I will provide updates on the Daytona as I work to improve it.
If you own or once owned a Studebaker or related vehicle and would like to see your car as "Stude of the Month" or in the "Cool Studes" section, or if you have other pictures or material that you would like to contribute to this page, please e-mail me here at wj2d44@gmail.com. I can accept either electronic or hard copy images. The Main Page is issued every other month so the next edition will be December 2017.
---
All of the previous editions of the Main Page going back to October 1995 have been reposted. In the process of reposting the pages, I have made corrections and revisions as needed, and in some cases added material that was not used when a page was first posted due to download speed and file storage limitations. A complete list of Main Pages and Studes of the Month with links to each is located here.
If you have a particular interest in Bullet Nose Studebakers, visit Bill Junge's Bullet Nose Paradise which is dedicated to the 1950 and 1951 Bullet Nose models.
---
2014 INTERNATIONAL MEET
DOVER, DELAWARE
BONNEVILLE SPEED WEEK
STUDEBAKER SALT FLATS RACERS
STUDEBAKER NATIONAL MUSEUM
PICTURES FROM MY VISIT
VIRGINIA MUSEUM OF
TRANSPORTATION STUDEBAKERS
---
TEST YOUR STUDEBAKER KNOWLEDGE!
---
Another Cool Stude
1963 Avanti Coupe


Rear Angle View


Interior and Dash

This really sharp 1963 Avanti belongs to Larry Chapman. The pictures were taken at an August 2017 Cars and Coffee event at the Waynesboro Free Methodist Church in Waynesboro, Virginia. Larry's Avanti is an R1 and is equipped with the relatively rare and highly desirable Borg Warner T10 four-speed manual transmission. The car is mostly stock but has a few tasteful and practical modifications including Chrysler wheels with modern radial tires and unmarked small MOPAR hub caps that look quite nice and Chevrolet remote control external rear view mirrors painted to match the body.
Larry has owned this car for over 25 years. He purchased it from the original owner in the Philadelphia, Pennsylvania area. Larry has done a complete mechanical and cosmetic restoration of the car including paint and a complete new interior. It has moved round the country with him including 12 years in Colorado and has won trophies in four states. Larry continues to improve his already great car and may add the front grille found on later Avantis as his car was built before the grille was introduced. He is also considering adding modern air conditioning.
Thanks to Larry for providing the information about his very sharp Avanti.
---
DAN'S STUDEBAKER CROSSWORD PUZZLES
Dan Armstrong from Mansfield, Texas has created a number of crossword puzzles and games for car nuts. These are available on-line at Dan's Extreme Car Puzzles. Dan has a strong interest in Studebakers, particularly the 1956 Sky Hawk, the performance equipped 1963 Lark Daytona, and the performance equipped 1963 and 1964 GT Hawks. The Studebaker crosswords are copyright by Dan Armstrong and are used with his permission. Thanks to Dan for providing the link and the downloadable Studebaker crossword puzzles for readers of this page to enjoy.
---
Nick Bodemer's Studebaker Dealer Inventory Project was started in June 2011 and includes a growing number of pictures, articles, ads, and other items related to former Studebaker dealerships. Well worth a visit. If you have a Google account you can join the site through Google Friend Connect.
---
STUDE MISCELLANY
1948 M16 One Ton Flatbed


Another View

This great looking 1948 M16 One Ton Flatbed Truck belongs to Oscar Roberts of Cleveland Georgia. Oscar and his wife Bonita restored the truck between 1999 and 2002. This was a total frame off restoration which included steam cleaning and sand blasing the chassis. Here is Bonita working on one of the split rim wheels and here is Oscar and friend Brent Winman installing the rebuilt engine on the repainted chassis. Bonita did the body work and painting while Oscar did the disassembly and reassembly. Some work such as chrome plating was contracted out.
The truck was used as a farm truck by the previous owner who had repainted it a non-original metallic green at some point. During disassembly, Oscar was able to determine the original color which appears to be Forest Green with Velvet Black fenders and Forest Green wheels. Rough cut oak boards supplied by a friend were planed, cut to size, finished, and assembled. The result looks outstanding as seen above. This fine truck is currently on display at the National Automobile and Truck Museum in Auburn, Indiana.
Thanks to Oscar for sending the pictures and information about his really sharp Studebaker truck.
---
Did you know that Michael Kelly's New Avanti Motor Corporation signed a deal to produce the VW based Brazilian Puma Sports Car? I didn't think so! The deal fell through when Kelly ran out of money. To learn more about the Puma, visit my Puma Sports Cars Site.
---
Another Stude Model Collection
Custom M Series Box Truck Project


National Products 1947 Commander Coupe


Worlds Fair Studebaker Land Cruiser


1954 Commander Hardtop Promotional

This is the second round of pictures from Jim Amado's Studebaker toy and model collection. Starting from the top, the M Series Box Truck Project began life as an Ertl diecast 1947 pickup. The fender assembly and frame were cut, the chassis was lengthened, the cargo body was pirated from another diecast truck, plastic sheet was added as skirting below the box, and plastic strips were added to sides of box and around the rear wheel openings. It is still a work in progress. Jim intends to match the paint on the cab and box and is looking for find appropriate wheels with the correct number of slots and lug nuts.
The National Products 1947 Commander is a restoration with more appropriate larger diameter plaster cast tires added. The pot metal body was filed and filled where imperfections existed and the model was repainted.
The 1934 World's Fair Studebaker Land Cruiser is a rubber copy of the original National Products pot metal promotional down to the World's Fair lettering on the back. It was molded black which is has proven to be a challenge to piant. The wheels and tires are wood.
The 1954 Commander Starliner Hardtop is an AMT promotional model. The original celluloid windshield has been replaced with a plastic one from an AMT plastic model kit and the side window frame has been removed at the center to better represent the hardtop body style. Chrome trim and wheels have yet to be addressed.
Jim says that he has been a car nut ever since he can remember. He began tinkering with plastic models about fifty seven years ago and seriously building and collecting soon thereafter. Thirty eight years ago he opened a shop dealing in automotive related collectibles including scale models and automotive sales literature. It was a unique shop offering many unique products and services including custom built models of customer's vehicles. The shop closed in 2014 after 35 years in operation. Jim has published a number of articles in both scale model and automotive publications, the most recent appearing in the August 2017 issue of Toy Trucker & Contractor.
I'll be adding more models from Jim's collection to this page as space allows. More of Jim's collection can be seen here.
STUDE TOY OF THE MONTH
Solido Clockwork 1951 Studebaker Starlight Coupe







This rare diecast Solido Junior Series 1951 Studebaker Starlight Coupe with clockwork motor was recently acquired by Jeff Sion for his Studebaker toy car collection. Jeff lives in the U.K. but he found this example on the U.S. eBay site. It appears to be in excellent original condition with no signs of being repainted or restored. The clockwork motor is in perfect working order and runs strongly and the tires appear as new. Jeff was able to acquire the correct key to wind the motor on the French eBay site. Jeff took the pictures against a dark background to better show the detail on the car.
According to Jim Geary's Studebaker Toy Treasures book, this model was made in several colors and in chrome, usually with a red interior and white rubber tires. As with other models in the Junior Series, the 1951 Studebaker Starlight was produced both with the clockwork motor and without the motor. A motor hole cover was used on at least some models without a motor. Here is a picture of the bottom of the Jeff's model that shows the clockwork motor spring and gears.
The Solido brand of diecast toy cars has changed hands a number of times over the years. It is currently part of the Simba Dicke Group. Solido also issued a 1953 Studebaker Hardtop in the Junior Series an example of which Jeff also has in his collection. However, Solido is perhaps best known to U.S. collectors for its 1:43 scale 1957 Silver Hawk which has appeared in many variations both as a coupe and as a hardtop.
More of Jeff Sion's Studebaker toy collection including the Solido Junior 1953 Studebaker Hardtop can be seen here. Thanks to Jeff for sending the pictures and information on this rare model.
More toy Studes can be found in the Stude Stuff area of this page and on my Studebaker Toys Home Page.
Click here for information on ordering hard to find Studebaker toys made by manufacturers such as Johnny Lightning, Racing Champions, Hot Wheels, Matchbox, Muscle Machines, Maisto, and EKO.
Studebaker Toy Treasures Book

Jim Geary's book Studebaker Toy Treasures is the standard reference collectors of Studebaker Toys. This wonderful book has 294 pages of color pictures and details on hundreds of Studebaker toys. Publication date is 2004 and just about every Studebaker toy and model produced up to that time is pictured and cataloged. Jim is making the book available for $28 plus $10 for shipping. Jim will sign the book if requested. This is a must for the serious Studebaker toy vehicle collector. Jim can be contacted at sanjim76@live.com or send payment to Jim Geary, 181 Allendale Hills Road, Franklin, NC 28734.
---
---
---
---
* * * This Page On Line Since October 1995 * * *
---
Published 10/1/2017