---
BILL
JACKAMEIT'S
STUDEBAKER
PAGE
---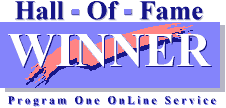 ---
---
Welcome fans of the pride of South Bend. I am a long-time Studebaker fan and Studebaker Driver's Club member, having owned a 1957 Silver Hawk in high school and a 1959 Lark Regal Hardtop in college. Since then, I have owned other Studes as hobby cars including a 1962 Champ Pickup, a 1964 Canadian Commander Special, a 1962 GT Hawk, a 1960 Lark Regal 4-door, and a 1957 Silver Hawk (not the same one I owned in high school -- that one I wrecked). My current Stude is a 1949 Champion Starlight Coupe. I will build this page as time allows. If you have any suggestions or comments, please send me a message. Both text and image contributions are welcome.
---
STUDE OF THE MONTH
OCTOBER 2009
1946 Studebaker Champion Street Rod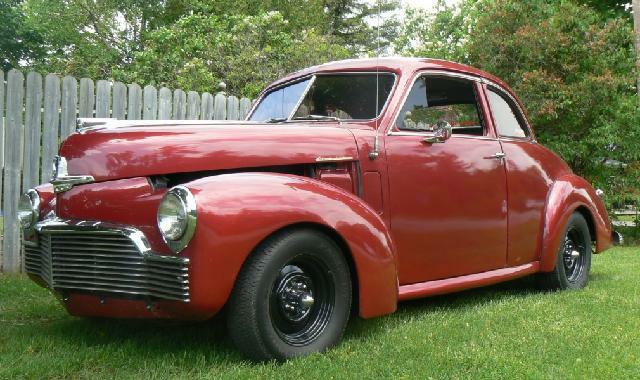 Rear Angle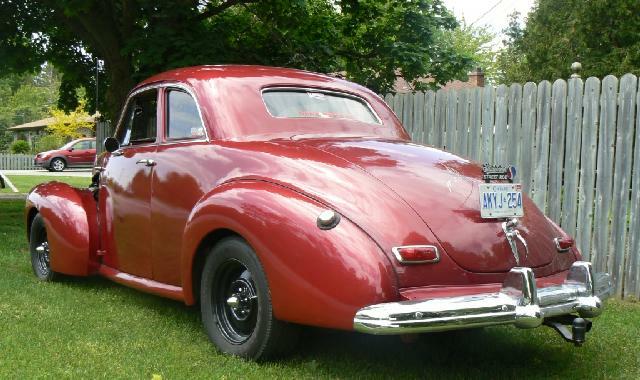 From the Rear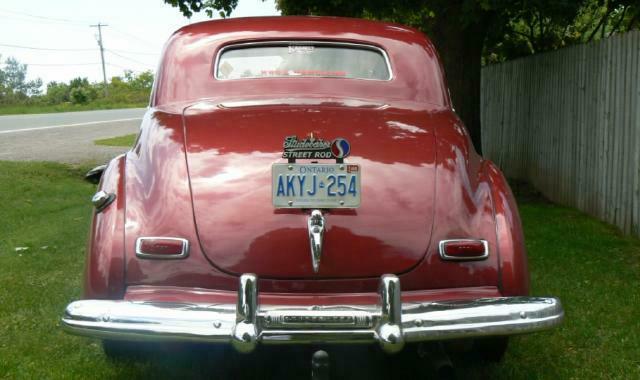 Interior and Dash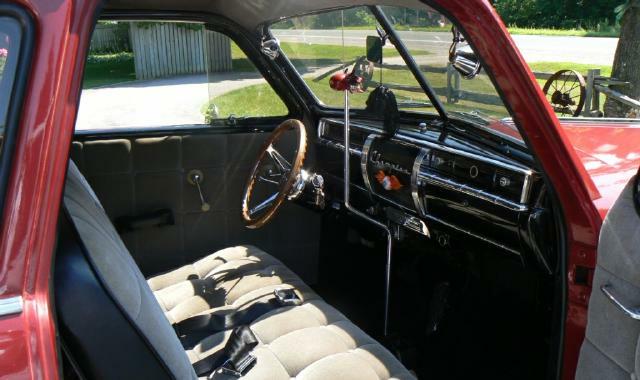 Under the Hood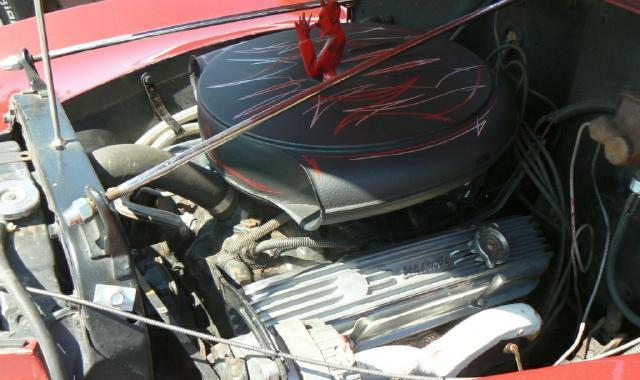 Darren Graham of Ontario, Canada sent in these pictures of his 1946 Studebaker Champion Coupe Street Rod. Darren's coupe is a "Double-Dater" because it came equipped with a factory bench rear seat. The 1946 Champion was an interim model produced only until Studebaker could get production of the all new 1947 model going. Total 1946 Champion production was 19,275 of which 3,750 were two-door coupes. Only 1,285 of the coupes the "Double-Dater" variety the remainder having only a front seat.
Ian Graham (Darren's dad) built the car in 1978 and it is basically the same today as when it was built. It is sitting on a 1965 Studebaker frame and retains the Chevrolet (McKinnon Industries) 283 V8 engine and Borg-Warner supplied automatic transmission from the 1965. Darren indicates that "the whole car is Studebaker in one shape or form" except for the steering column which came from a Ford. As a family the Grahams have put roughly 65,000 miles on the car since 1978. Here is a front view of this cool car.
Ian Graham owns and operates Graham's Garage which is located near Toronto. Graham's Garage was founded by Roy Graham (Ian's dad) in 1945 and served as a Studebaker dealership from 1958 to 1966. It continues in operation today as an automotive repair shop whose business includes repairing and servicing Studebakers. Ian's 1938 Studebaker Coupe Express was pictured on this page in February 2007.
Thanks to Darren for sending in the pictures and information about his neat car.
If you own or once owned a Studebaker or related vehicle and would like to see your car as "Stude of the Month" or in the "Cool Studes" section, or if you have other pictures or material that you would like to contribute to this page, please e-mail me here. I can accept either electronic or hard copy images. The Main Page is issued every other month so the next edition will be December 2009.
---
All of the Monthly Main Pages going back to October 1995 have been reposted. In the process of reposting the pages, I have made corrections and revisions as needed, and in some cases added material that was not used when a page was first posted due to download speed and file storage limitations. A complete list of Main Pages with links to each is located here.
If you have a particular interest in Bullet Nose Studebakers, visit Bill Junge's Bullet Nose Paradise which is dedicated to the 1950 and 1951 Bullet Nose models.
---
ANOTHER COOL STUDE
1957 Studebaker Golden Hawk


Rear Angle


Interior and Dash

This sharp 1957 Studebaker Golden Hawk Hardtop belongs to Jim and Mae Laird of Darlington, Maryland. The pictures were taken in June 2009 at the start of the 28th Veteran Motor Club of America Chrome Glidden Tour in Waynesboro, Virginia. This event ran down the Blue Ridge Parkway with side trips to places such as Bedford, Virginia site of the National D-Day Memorial, and Roanoke, Virginia home to the Virginia Museum of Transportation. Other stops included Mt. Airy and Asheville in North Carolina. The tour ended at Harrah's Casino Hotel in Cherokee, North Carolina. The 2010 Chrome Glidden Tour will be on August 8 through 14 starting in Taos, New Mexico. The tour is intended for original and restored cars built from 1934 to 1985. Information on the 2010 chrome glidden tour is available here. The Lairds are SDC members who also own two Studebaker trucks.
---
ATLANTIC ZONE MEET REPORT
CLICK HERE
---
STUDE MISCELLANY
Saving an Abandoned Studebaker US6


Will She Run?


YES!!!

T.J. Wheelman from Anchorage, Alaska sent in these pictures depicting the rescue of an abandoned Studebaker US6 military truck.
T.J. relates that there are many really good beer drinking stories about lost relics and abandoned treasures in the massive Alaskan wilderness. There are stories of lost gold mines and eccentric miners who vanished or died after burying a cache of gold just waiting for some lucky soul to stumble across. There are dozens stories of wrecked World War II aircraft and one in particular of a mostly intact Bell P-39 Air Cobra that is somewhere up around Eureka Summit. The locals, however, are pretty tight-lipped and don't give up their secrets very often, especially to city slickers. Most of these tales are just that, good stories, and are most likely based on a grain of truth and nothing more.
One story that has been around for many years years tells of a big game hunting guide who used a World War II vintage Studebaker US6 to haul supplies from an airfield about 75 miles outside of Eureka, Alaska. The truck was abandoned after the engine froze and broke the cylinder head. According to the story, the truck was "all there" and intact. The owner had passed away, so all a person would have to do is find a cylinder head for a 1940's Hercules JXD engine, fly up to the middle of nowhere, install the cylinder head, get the truck running, and drive the truck 75 miles back to civilization across an area with no roads but plenty of grizzly bears.
Well, that is exactly what happened in August of this year. T.J. is a Studebaker US6 enthusiast and he loaned the cylinder head that was used in the rescue. The primary players in this drama are identified only as Bob and Ray. Bob wanted the truck and Ray owns the airplane that was used to fly in people and supplies, including gas and beer. T.J. indicates that Bob, who is by profession a diesel mechanic, has serious plans for the old truck, not to restore to original condition, but to put it back into good operating order. Bob must be a really good diesel mechanic, as the truck sat for 20 years, and he was able to get it running and drive it out under its own power.
Pictures of T.J. Wheelman's flock of Studebaker US6 trucks appeared on this page in December 2008. Thanks to T.J. for sending the pictures and the great story.
Scratch Built Studebaker US6 Model

Given the story above, this just seemed to be the right place to put this. Ernie Loga of Eau Claire, Wisconsin made this balsa wood model of a Studebaker US6 military truck from scratch. The Studebaker US6 was a class of trucks manufactured by Studebaker during World War II. The US6 was powered by a Hercules JXD six-cylinder gasoline engine rated at 94 horsepower and was fitted with a five-speed manual transmission and two-speed transfer box. Studebaker built approximately 195,000 of these trucks and REO built another 22,000 under license. Large numbers of Studebaker US6 trucks were sent to the Soviet Union under the Lend-Lease program.
Ernie Loga is a SDC member who owns several Studes including a 1926 Big Six, a 1942 Commander, and a 1942 President. Thanks to Ernie for sending the pictures of this neat model.
1957 Silver Hawk Update

Derrick Bradley of Cleveland, Ohio sent in this picture of his 1957 Studebaker Silver Hawk with the front stainless steel trim installed. Derrick's Hawk appeared on this page in June 2009 but without the front trim installed. Now she is finished and she looks really great! The "V8 with flags" emblem on the front fender indicates that this is an eight cylinder car. Silver Hawks were also available with the 101 horsepower Champion flathead six but the vast majority of buyers opted for the V8.
Thanks to Derrick for sending the updated picture of his sharp Silver Hawk.
---
TEST YOUR STUDEBAKER KNOWLEDGE!
---
PROJECT CARS
Darrell Lawrence's 1950 Retro-Rod


Great Engine Access


Cool Interior and Dash

Darrell Lawrence of Barss Corner, Nova Scotia sent in several additional pictures of his 1950 Studebaker Retro-Rod project. He reports that the full set of VDO gauges are installed and the wiring is 90 percent complete with only a few minor items left to do. The front clip, trunk lid, and doors are on and full-length 4" side pipes have been installed. Darrel's rod is powered by a Chevy 355/350 equipped with a Weiand 144 blower and Holley 700 CFM four-barrel carburetor driving through a Turbo Hydramatic 350 racing transmission. He was originally planning completion for summer 2009, but he is now aiming for summer 2010. Here is another picture of this cool rod. Earlier pictures of Darrell's project appeared on this page in October 2008. Thanks to Darrell for sending the information and pictures.
Dennis Hill's 1949 Champion Convertible


Front View

Dennis Hill of Odessa, Texas sent in some additional pictures of the 1949 Champion Convertible that he is restoring. The car has now moved out of the shop under its own power. Work continues on the linkage and on fitting the body panels. Studebaker produced 7,035 Champion convertibles for the 1949 all with Regal Deluxe trim. The 170 cubic inch six Champion six was rated at 80 horsepower and an automatic transmission was introduced as an option in mid-1949. Here is a another picture with the bumpers and seats installed. Earlier pictures of this project appeared on this page in August 2009. Thanks to Dennis for sending the information and pictures.
---
STUDE TOY OF THE MONTH
AMT 1956 Studebaker Golden Hawk



This example of a 1:25 scale AMT 1956 Studebaker Golden Hawk is from a recent eBay auction. AMT was founded in 1948 as the "Aluminum Toy Company" and the earliest models issued were made of aluminum. AMT began producing lower cost plastic promotional models in the early 1950's and the aluminum models were soon dropped. When visiting an automobile dealer, children kids would be given the promotional models to play with while the parents and the salesman haggled over a new car. Eventually interest in dealer promotionals waned and the company switched most of its production to 1:25 scale plastic model kits for the hobbyist market. AMT was eventually absorbed into Ertl and is still cranking out 1:25 scale model kits. The AMT 1956 Golden Hawk is friction powered which improved its use as a toy.
More toy Studes can be found in the Stude Stuff area of this page and on my Studebaker Toys Home Page.

Click here for information on ordering hard to find Studebaker toys made by manufacturers such as Johnny Lightning, Racing Champions, Hot Wheels, Matchbox, Muscle Machines, Maisto, and EKO.
Studebaker Toy Treasures Book

Jim Geary's book Studebaker Toy Treasures is the standard reference for collectors of Studebaker Toys. This wonderful book has 294 pages of color pictures and details on hundreds of Studebaker toys. Publication date is 2004 and just about every Studebaker toy and model produced up to that time is pictured and cataloged. Jim is making the book available for $25 plus $14 for shipping. Jim will sign the book if requested. It also comes with a CD of more toys than what is in the book. This is a must for the serious Studebaker toy vehicle collector. Jim can be contacted at sanjim76@live.com or send payment to Jim Geary, 181 Allendale Hills Road, Franklin, NC 28734.
---
---
---
* * * This Page On Line Since October 1995 * * *
---
Published 10/1/2009