---
BILL
JACKAMEIT'S
STUDEBAKER
PAGE
---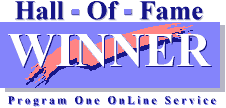 ---
---
Welcome fans of the pride of South Bend. I am a long-time Studebaker fan and Studebaker Driver's Club member, having owned a 1957 Silver Hawk in high school and a 1959 Lark Regal Hardtop in college. Since then, I have owned other Studes as hobby cars including a 1962 Champ Pickup, a 1964 Canadian Commander Special, a 1962 GT Hawk, a 1960 Lark Regal 4-door, a 1957 Silver Hawk (not the same one I owned in high school -- that one I wrecked) and a 1949 Champion Starlight Coupe. My current Stude is a 1964 Challenger Wagonaire sliding roof station wagon. I will build this page as time allows. If you have any suggestions or comments, please send me a message. Both text and image contributions are welcome.
---
STUDE OF THE MONTH
JUNE 2013
1960 Lark Regal Station Wagon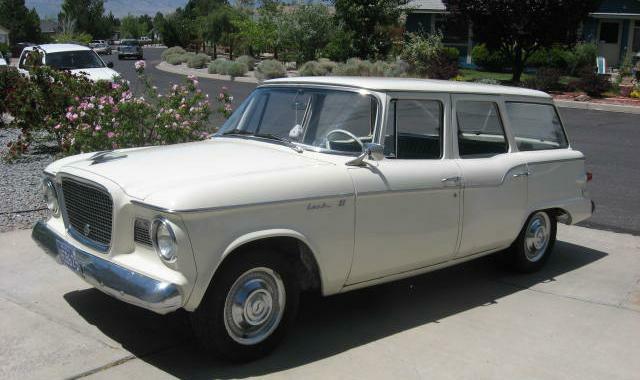 Rear Angle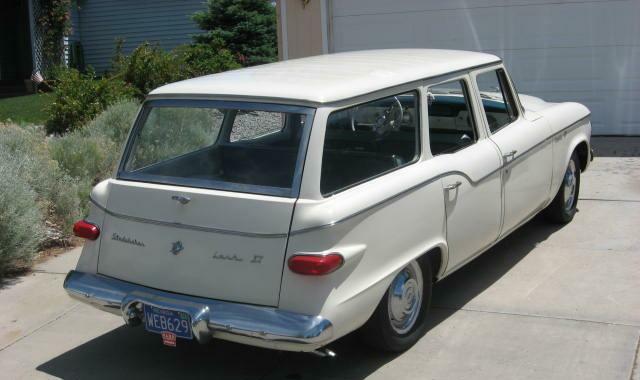 Passenger Side View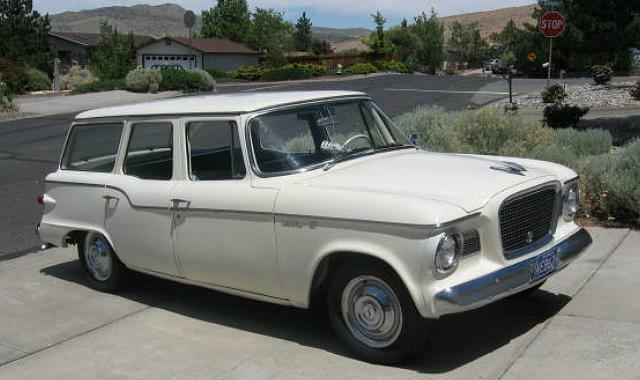 Interior and Dash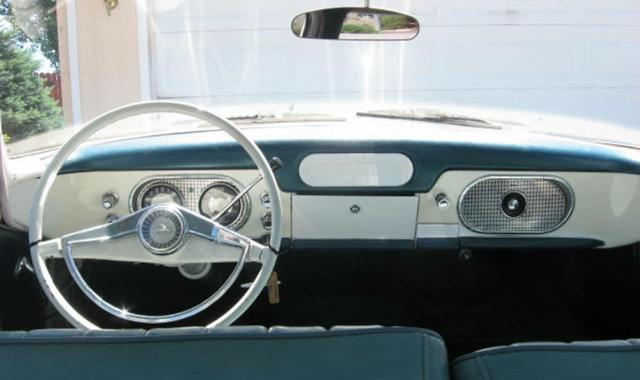 Under the Hood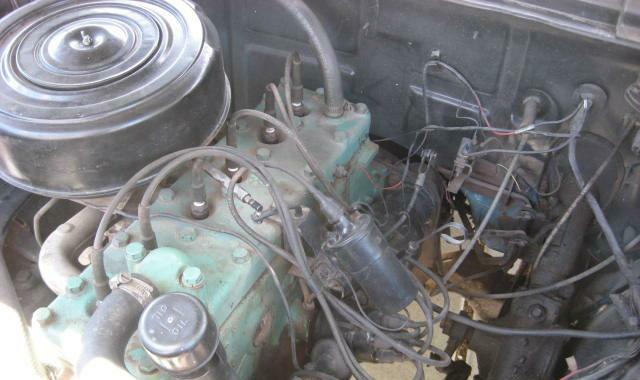 This great looking 1960 Studebaker Lark Regal 4-Door Station Wagon belongs to Leo Horishny of Sun Valley, Nevada. Leo recently acquired his wagon and is in the process of putting it in good order. The last owner had it for eight years but rarely drove it. Leo had the radiator recored, replaced the shocks, and has installed new wheel cylinder kits. The speedometer shows just over 57,500 miles. The wagon was originally Gulfstream Blue but was repainted white sometime back and the seats, headliner, and carpet were redone prior to Leo acquiring the car.
Leo sent a copy of the production order for his wagon. As can be seen, Leo's is equipped with overdrive and a Hill Holder. It also came with optional split front seats, right head rest, tinted windshield, Climatizer, cigar lighter, and undercoating. The head rest is no longer present but the Hill Holder is in working order. Accessories not on the production order but installed include a Lark hood ornament, side view mirror, seat belts, and chrome exhaust deflector. This picture of the wagon with the tail gate open was taken shortly after Leo acquired the wagon.
The 4-door wagon was a new body style for 1960. When the Lark was introduced for 1959, the only station wagon in the line was a 2-door. When the 4-door wagon became available in 1960, sales of the 4-door version quickly overtook the 2-door version. Total 1960 Lark wagon production included 18,797 4-door wagons and 5,201 2-door wagons. Of these, 1,925 were Regal six cylinder 4-door wagons. The 2-door wagon was not available in regal trim in 1960.
If you own or once owned a Studebaker or related vehicle and would like to see your car as "Stude of the Month" or in the "Cool Studes" section, or if you have other pictures or material that you would like to contribute to this page, please e-mail me here. I can accept either electronic or hard copy images. The Main Page is issued every other month so the next edition will be August 2013.
---
All of the previous editions of the Main Page going back to October 1995 have been reposted. In the process of reposting the pages, I have made corrections and revisions as needed, and in some cases added material that was not used when a page was first posted due to download speed and file storage limitations. A complete list of Main Pages and Studes of the Month with links to each is located here.
If you have a particular interest in Bullet Nose Studebakers, visit Bill Junge's Bullet Nose Paradise which is dedicated to the 1950 and 1951 Bullet Nose models.
---
OCTOBER 2011 BRIDGEWATER
STUDEBAKER MEET
STUDEBAKER SALT FLATS RACERS
2010 BONNEVILLE SPEED WEEK
STUDEBAKER NATIONAL MUSEUM
AUGUST 2010 VISIT
VIRGINIA MUSEUM OF
TRANSPORTATION STUDEBAKERS
---
More Cool Studes
Custom 1958 Scotsman Station Wagon


Rear Angle


Side View

James Sullens of Flora, Illinois sent these pictures of a 1958 Studebaker Scotsman Station Wagon that he started to build but had only partially completed when he sold it on eBay. James started the project in the late 1990's and installed the Scotsman body on a Chevy El Camino frame due to both having almost exactly the same wheelbase. James added a Buick V8 and Turbo 350 automatic transmission and drove the wagon all over with no hood and just a windshield while he was at School at LeTourneau University in Texas. After graduating from college, James took a job in Ohio and sold the Scotsman to help raise money to repair an old farm house.
The Scotsman was purchased on eBay by Brian Boulch of Ferguson, Missouri and Brian sent pictures of it in partially completed form that appeared on this page in December 2006. Brian owned the wagon for about three years and sold it to Rod Wracher of Crocker, Missouri. Rod completed the project and is the current owner. Rod sent the pictures to James who sent them to me to update the project. As noted back in December 2006, this is an example of a car that for practical purposes would most likely never be restored to stock form, but which has been given new life as a street rod. It is really great to see another Stude saved from an ignominious death. The end result is one sharp looking Studebaker wagon.
Thanks to James for sending the pictures and information on the project he started more than a decade ago.
1959 Lark VIII Hardtop


1961 Lark VIII Station Wagon

Bill Junge sent some pictures Studebakers spotted on the May 2013 Route 66 Fun Run out of Kingman, Arizona. The 1959 Lark VIII Hardtop belongs to Marla Sutcliffe and the 1961 Lark VIII 2-Door Station Wagon belongs to Gary Sutcliffe both of Rimrock, Arizona. What a great pair of "his and hers" matching color Studes! The Route 66 Fun Run is sponsored by the Historic Route 66 Associatuion of Arizona. This was the 26th running of this great event. Registration is already open for the 27th annual run in 2014.
Gary's 1961 Lark 2-Door Station Wagon is one of only 2,387 2-door wagons produced for 1961 of which 1,177 were eight cylinder and 1,210 were six cylinder. This was less than half of the previous year's production. Not surprisingly, the 2-door station wagon body style was dropped for 1962. This rare 1964 Studebaker Daytona Convertible owned by Bob and Mimi Halgren of Star Valley, Arizona also participated in the Fun Run. Only 703 Studebaker convertibles were produced for the 1964 model year.
Thanks to Bill Junge for sending the pictures and information.
---
DAN'S STUDEBAKER CROSSWORD PUZZLES
Dan Armstrong from Mansfield, Texas has created a number of crossword puzzles and games for car nuts. These are available on-line at Dan's Extreme Car Puzzles. Dan has a strong interest in Studebakers, particularly the 1956 Sky Hawk, the performance equipped 1963 Lark Daytona, and the performance equipped 1963 and 1964 GT Hawks. The Studebaker crosswords are copyright by Dan Armstrong and are used with his permission. Thanks to Dan for providing the link and the downloadable Studebaker crossword puzzles for readers of this page to enjoy.
---
TEST YOUR STUDEBAKER KNOWLEDGE!
---
PACKARD CORNER
1958 Packard Hardtop


Rear Angle

Bill Junge sent these pictures of Bill Brown's pristine 1958 Packard Hardtop. It is one of only 675 of this model produced for the 1958 model year which was Packard's last. The pictures were taken at the March 2013 Studebaker Vacation Car Show in Laughlin, Arizona. The Studebaker Vacation is a three day event sponsored by the Tumbleweeds Chapter of SDC and held at the Tropicana Express Hotel and Casino. The car show is heavy on Studebakers but is open to all makes.
The 1958 Packard Hardtop was basically a Studebaker President Starlight Hardtop and is powered by the same Studebaker 289 cubic inch V8 used in that model. The rear "fin on a fin" styling was flamboyant but looks good today as an example of late 1950's styling. The "cathedral" tail lamps are the same as used on 1956 and 1957 Packard Clippers. The front end features a fiberglass hood and a unique bumper with twin bullets. Total Packard production for 1958 was only 2,622 units including 588 Packard Hawks.
Thanks to Bill Junge for sending the pictures of Bill Brown's fine Packard.
---
Nick Bodemer's Studebaker Dealer Inventory Project was started in June 2011 and includes a growing number of pictures, articles, ads, and other items related to former Studebaker dealerships. Well worth a visit. If you have a Google account you can join the site through Google Friend Connect.
---
STUDE MISCELLANY
Electric Powered 1950 C Cab Pickup


Electric Motor and Charge Unit


Battery Box and Batteries

Richard Joslin sent several pictures of Gary Hansen's 1950 Studebaker C Cab Pickup that has been converted to elecric power. Richard spotted the truck while shopping in Seattle.
Gary installed an electric forklift motor and coupled it to the original Studebaker manual transmission. The battery charge unit is mounted under the hood and the batteries are located at the front of the cargo box in a specially fabricated aluminum box and covered with a hinged lid. The batteries are the lithium polymer type that is often used in electric vehicle conversions. This type battery has a high power density in a relatively light package compared to conventional lead-acid batteries.
Gary has done an excellent job with this conversion. It appears to be well thought out and the execution is first rate. The battery placement in a central location helps with weight distribution and allows for easy access. Gary indicated that the truck will do approximately 70 mph and run about 40 miles around town before charging. That is about the same top speed as a stock 1950 C Cab Pickup with the Champion flathead six. Here is another shot of Gary's electric Studebaker truck.
Thanks to Richard for sending the pictures and information about Gary's electric Studebaker.
Dinky Toys Studebaker M Series Semi-Tractor


With a Majorette Trailer


Fifth Wheel Coupling

Ernie Loga of Eau Claire, Wisconsin sent some pictures of a Dinky Toys M Series Truck that he converted into a semi-tractor. Ernie used a broken Dinky Toys cab and chassis and hand fabicated the fifth wheel coupling. The trailer is a three-axle Majorette unit Ernie found in his son's old toy box and the load is a Matchbox Toys Caterpillar Bulldozer.
Ernie operates Loga Enterprises which specializes in Studebaker interior panels and other Studebaker restoration parts. Thanks to Ernie for sending the pictures and information about this conversion.
---
Did you know that Michael Kelly's New Avanti Motor Corporation signed a deal to produce the VW based Brazilian Puma Sports Car? I didn't think so! The deal fell through when Kelly ran out of money. To learn more about the Puma, visit my Puma Sports Cars Site.
---
STUDE TOY OF THE MONTH
Racing Champions 1951 Studebaker South Bend Police



Racing Champions issued this 1:64 scale 1951 Studebaker Commander Starlight Coupe in the markings of the South Bend Police as Number 85 in the Police U.S.A. Series. The model comes packed in a hard plastic blister card and is billed as a limited edition of 9,999. The package date is 1999 and these are long gone from stores but appear on eBay from time to time. Racing Champions also issued the 1951 Starlight Coupe in stock form in various colors and also issued a hot rod version.
The "South Bend Police" door shield is accurate for the period as is solid black for South Bend Police vehicles. A 2-door police cruiser let alone a Starlight Coupe is questionable, although South Bend did use Studebakers of various years as patrol cars. A nice feature of this model is that the hood opens to reveal a detailed V8 engine. Here is a side view and as a load on a Maisto K Series COE.
More toy Studes can be found in the Stude Stuff area of this page and on my Studebaker Toys Home Page.
Click here for information on ordering hard to find Studebaker toys made by manufacturers such as Johnny Lightning, Racing Champions, Hot Wheels, Matchbox, Muscle Machines, Maisto, and EKO.
Studebaker Toy Treasures Book

Jim Geary's book Studebaker Toy Treasures is the standard reference collectors of Studebaker Toys. This wonderful book has 294 pages of color pictures and details on hundreds of Studebaker toys. Publication date is 2004 and just about every Studebaker toy and model produced up to that time is pictured and cataloged. Jim is making the book available for the reduced price of $28 including shipping. This is a great deal since most vendors sell this book for $39.95 plus shipping. Jim will sign the book if requested. Jim can be contacted at sanjim76@live.com or send payment to Jim Geary, 181 Allendale Hills Road, Franklin, NC 28734.
---
---
---
---
* * * This Page On Line Since October 1995 * * *
---
Published 6/1/2013