---
BILL
JACKAMEIT'S
STUDEBAKER
PAGE
---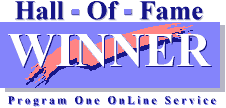 ---
---
Welcome fans of the pride of South Bend. I am a long-time Studebaker fan and Studebaker Driver's Club member, having owned a 1957 Silver Hawk in high school and a 1959 Lark Regal Hardtop in college. Since then, I have owned other Studes as hobby cars including a 1962 Champ Pickup, a 1964 Canadian Commander Special, a 1962 GT Hawk, a 1960 Lark Regal 4-door, a 1957 Silver Hawk (not the same one I owned in high school -- that one I wrecked) and a 1949 Champion Starlight Coupe. My current Stude is a 1964 Challenger Wagonaire sliding roof station wagon. I will build this page as time allows. If you have any suggestions or comments, please send me a message. Both text and image contributions are welcome.
---
STUDE OF THE MONTH
APRIL 2013
1964 Studebaker Challenger Wagonaire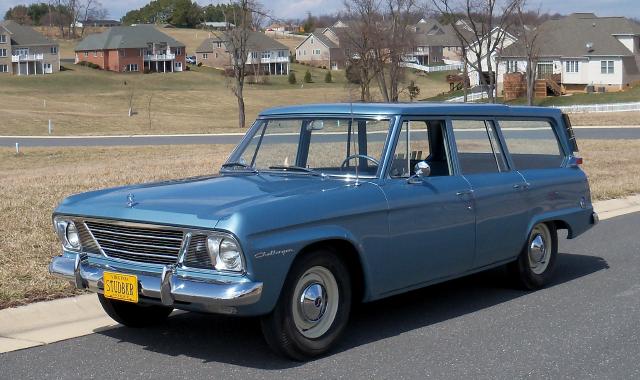 Rear Angle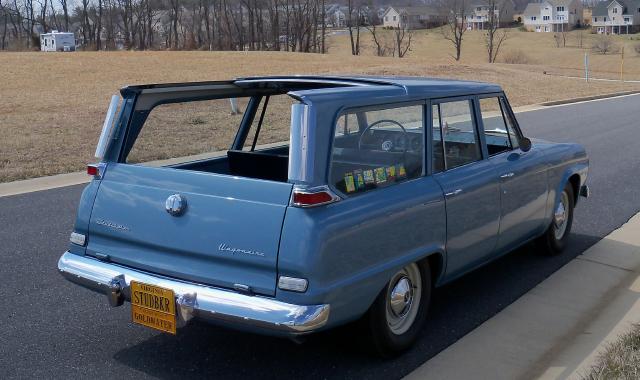 Rear View Roof Open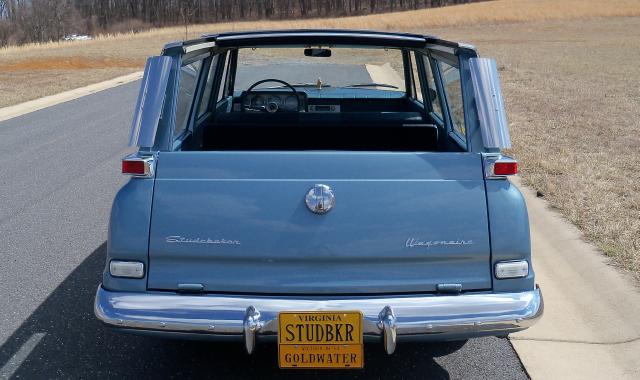 Interior and Dash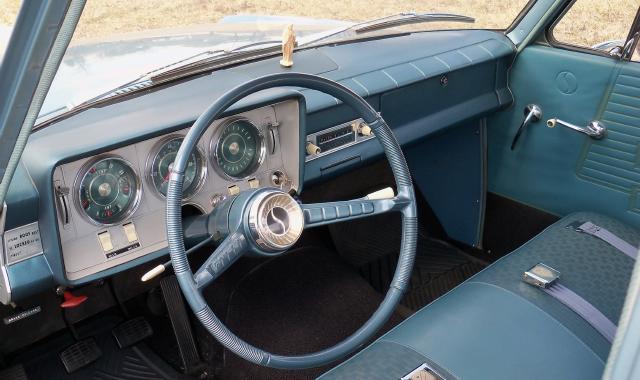 Original Headliner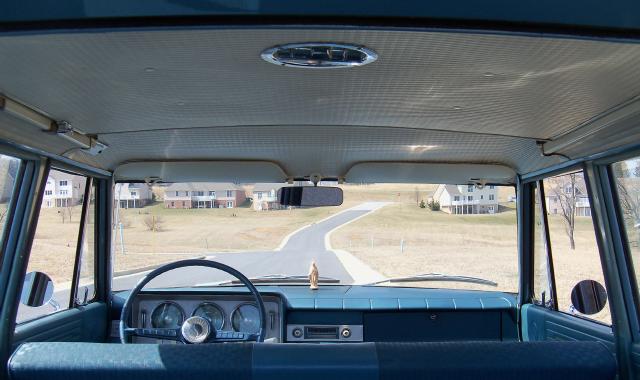 Under the Hood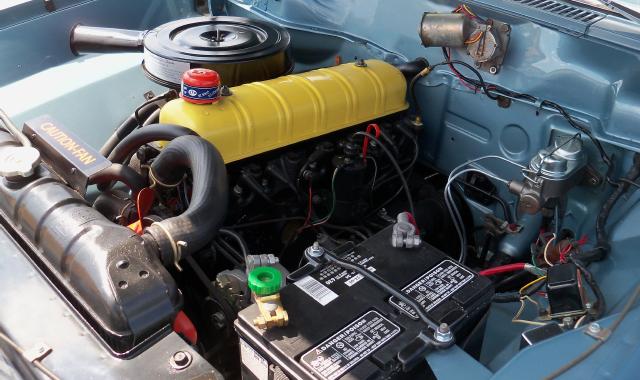 It has been a while since I featured one of my Studebakers as Stude of the Month but my 1964 Challenger Wagonaire is now ready for prime time. I acquired this car in March 2011 and drove it in original condition for several months before turning it over to Jay Hogston of J&J Group in Staunton, Virginia for its refurbishing and a repaint. Jay did an excellent job matching the original Laguna Blue. Hopefully the clear coat will keep the new paint from chalking and fading as is common with this color. Here is a front view and a rear view with the roof closed.
In addition to the repaint, the bumpers and bumper guards were taken to Hanlon Plating in Richmond, Virginia for rechroming. With the engine removed, the leaking rear main seal, the rusty freeze plugs, and the original timing gear were replaced. With the wheels off for painting, the very tired front and rear shocks were replaced. Most of the other trim including the tail light housings, door handles, hood ornament, script, grille, headlamp surrounds, etc. were replaced with NOS parts. The stainless steel trim around the windshield was sent to Starlight Stainless in Fayetteville, Georgia for repair and polishing.
The body was drilled to install NOS factory backup lights. I also added a second Stratovue rearview mirror and replaced a dented "poverty cap" hubcap with a new one. The sliding roof rubber seals and other rubber seals and weatherstrip were replaced as needed. The upolstery and headliner are original and no interior work was needed other than replacement cardboard kick panels and installation of reproduction factory style seat belts. A set of NOS stainless steel 1960's aftermarket air deflectors were added to the rear window area.
While a major undertaking, this project started with a 98 percent rust free car with only 38,000 original miles so major body and mechanical work was not needed. I say "98 percent rust free" because there was some rust in the floor boards and at the bottom of one rear quarter panel. Since they were solid it was decided to remediate rather than replace the floor boards and new metal was welded into the rear quarter panel. The roof drains were extended and re-routed out the frame side of the body to avoid future rust problems. It is unclear why Studebaker engineers elected to have the roof drains dump water into a closed area with no way to escape. Pictures of the car during its refurbishing appeared on this page in June 2012.
The Challenger has a final assembly date of August 29, 1963 and is body number 150. The production order lists factory undercoating, Climatizer, Appearance Group (bright windshield moldings and hood ornament), and Convenience Group (passenger side sun visor, arm rests, and glove box door lock). It also has front bumper guards, a Studebaker all transistor manual radio, two Strato-Vue rear view mirrors, a locking gas tank cap, and backup lights. The engine is a Skybolt Six with manual transmission. It is one of only 739 Challenger wagons (453 six cylinder and 286 eight cylinder) assembled before production of Challengers ended with the closing of the South Bend plant in Decmber 1963.
If you own or once owned a Studebaker or related vehicle and would like to see your car as "Stude of the Month" or in the "Cool Studes" section, or if you have other pictures or material that you would like to contribute to this page, please e-mail me here. I can accept either electronic or hard copy images. The Main Page is issued every other month so the next edition will be June 2013.
---
All of the previous editions of the Main Page going back to October 1995 have been reposted. In the process of reposting the pages, I have made corrections and revisions as needed, and in some cases added material that was not used when a page was first posted due to download speed and file storage limitations. A complete list of Main Pages and Studes of the Month with links to each is located here.
If you have a particular interest in Bullet Nose Studebakers, visit Bill Junge's Bullet Nose Paradise which is dedicated to the 1950 and 1951 Bullet Nose models.
---
OCTOBER 2011 BRIDGEWATER
STUDEBAKER MEET
STUDEBAKER SALT FLATS RACERS
2010 AND 2011 BONNEVILLE SPEED WEEK
STUDEBAKER NATIONAL MUSEUM
AUGUST 2010 VISIT
VIRGINIA MUSEUM OF
TRANSPORTATION STUDEBAKERS
---
Packard Corner
1955 Packard Hardtop


Rear Angle


Side View


Interior and Dash


Under The Hood

Bill Storr of Edmonton, Alberta sent pictures of his latest acquistion, a 1955 Packard Four Hundred Hardtop, one of 7,206 made for the 1955 model year and Bill owns two of them. This example is a rust free 78,000 mile California car that came to Canada by way of Arizona. The car is a very nice older restoration that had been in storage in Arizona since 2007. It was brought to Alberta approximately one year ago but never registered or driven until Bill purchased it. The car has many new parts installed and is in outstanding condition. It has been repainted the original colors of Fire Opal and White Jade.
The car is powered by Packard's 352 cubic inch V8 rated at 260 horsepower with the standard four-barrel carburator and is equipped with Packard's Twin Ultramatc automatic transmisssion. It is equipped with power steering, power brakes, power seat, and power antenna. The car has manual windows and a factory signal seeking push button radio. It has a black, white, and red pleated cloth interior that coordinates nicely with the exterior colors. The load leveler suspension has been completely rebuilt. Bill indicates that the original 352 V8 engine "purrs like a kitten."
The load leveler suspension is an intersting feature. The system uses torsion bars and a large electric motor. When the car senses load imbalances or road irregularities, it adjusts front and rear to keep the car level. For example, if the trunk is heavily loaded, the car will adjust the rear for the added weight and ride level. Fixing this system can be a challenge for Packard restorers if the system is worn out.
Bill Storr owns and operates Route 66 Appraisals located in Edmonton. His collector cars include a 1962 Gran Turismo Hawk that appeared as Stude of the Month on this page in August 2010 and a second 1955 Packard Four Hundred Hardtop that appeared on this page in December 2010. Here is a picture of Bill's other Packard Four Hundred taken in downtown Edmonton during the summer of 2012.
Thanks to Bill for sending the pictures and infomation about his "new" 1955 Packard Four Hundred Hardtop.
---
DAN'S STUDEBAKER CROSSWORD PUZZLES
Dan Armstrong from Mansfield, Texas has created a number of crossword puzzles and games for car nuts. These are available on-line at Dan's Extreme Car Puzzles. Dan has a strong interest in Studebakers, particularly the 1956 Sky Hawk, the performance equipped 1963 Lark Daytona, and the performance equipped 1963 and 1964 GT Hawks. The Studebaker crosswords are copyright by Dan Armstrong and are used with his permission. Thanks to Dan for providing the link and the downloadable Studebaker crossword puzzles for readers of this page to enjoy.
---
TEST YOUR STUDEBAKER KNOWLEDGE!
---
Nick Bodemer's Studebaker Dealer Inventory Project was started in June 2011 and includes a growing number of pictures, articles, ads, and other items related to former Studebaker dealerships. Well worth a visit. If you have a Google account you can join the site through Google Friend Connect.
---
SPOTTED AT YORK
Custom 1956 Packard Clipper Pickup


Rear Angle


Side View

Continuing on the Packard theme, this Custom 1956 Packard Clipper Pickup was spotted at the March 2013 Studebaker Swap Meet in York, Pennsylvania. Although I was not able to speak to the owner, my understanding is that it is one of several Packards of various years that have been converted to pickups by Speedwell Garage, a Packard service and restoration shop located in Parkton, Maryland. An interesting feature is that the rear doors have been retained and can be opened for access to storage space under the pickup bed. Mechanically it remains all Packard. The craftsmanship is such that it looks as if it could have been built by Packard or one of the major coachbuilders.
For model year 1956, Clipper was treated by Packard as a stand-alone make and Clippers received revised rear sheet metal and tail lamp treatments. The new tail lamps and some trim items were carried over to 1957 and used on the South Bend built 1957 Packard Clipper that in turn used the Studebaker President body shell. The 1956 Studebaker Golden Hawk was equipped with the 352 cubic inch 1956 Packard Clipper V8 engine rated at 275 horsepower. Further differentiating the senior Packards and Clippers, the 1956 senior cars were equipped with a 374 cubic inch version of the Packard V8 rated at 290 horsepower.
1949 Champion Starlight Coupe


1958 Silver Hawk


Fire Department Pickup


1962 Gran Turismo Hawk

The 1949 Studebaker Champion Starlight Coupe reminded me of a similiar car that I owned for about 10 years. The 1958 Silver Hawk is from a relatively low production year with only 7,274 produced. The large round grille emblem, egg crate side gilles, and small wings on the parking lamp housings identify it as a 1958 model. The Upper Saddle River Fire Department C Cab Pickup is equipped with heavy duty six lug wheels and a functional brush guard for off road use. More memories as I grew up in northern New Jersey about 20 miles from Upper Saddle River. And I once owned a white 1962 GT Hawk, but mine was not as nice as this one. Here is another view of this outstanding GT Hawk.
The York meet was well attended with many vendors and parts seekers on hand. Some of this may have been rebounding from the November 2012 Reedsville Parts Meet that was held shortly after Hurricane Sandy devastated the Northeast. York is a great location and as it happens there was a Doo Wop concert the same weekend at the American Music Theater in nearby Lancaster which also has two major outlet centers. So we made it a triple header and in all it was a great weekend.
---
Did you know that Michael Kelly's New Avanti Motor Corporation signed a deal to produce the VW based Brazilian Puma Sports Car? I didn't think so! The deal fell through when Kelly ran out of money. To learn more about the Puma, visit my Puma Sports Cars Site.
---
STUDE TOY OF THE MONTH
M2 Machines 1951 Studebaker 2R Stake Bed



M2 Machines has released yet another version of its 1:64 scale Studebaker C Cab truck. This one is a yellow stake bed truck with dual rear tires. As usual, the doors open to reveal a detailed interior and the hood opens to reavel a detailed engine. The model comes packed in a plastic display box and a cardboard outer box. It is also available in a hard plastic blister pack. This issue is part of Auto-Thentics Release 21A which also includes a black with red trim Taylor Street Rods 1951 Studebaker 2R Pickup.
More toy Studes can be found in the Stude Stuff area of this page and on my Studebaker Toys Home Page.
Click here for information on ordering hard to find Studebaker toys made by manufacturers such as Johnny Lightning, Racing Champions, Hot Wheels, Matchbox, Muscle Machines, Maisto, and EKO.
Studebaker Toy Treasures Book

Jim Geary's book Studebaker Toy Treasures is the standard reference collectors of Studebaker Toys. This wonderful book has 294 pages of color pictures and details on hundreds of Studebaker toys. Publication date is 2004 and just about every Studebaker toy and model produced up to that time is pictured and cataloged. Jim is making the book available for the reduced price of $28 including shipping. This is a great deal since most vendors sell this book for $39.95 plus shipping. Jim will sign the book if requested. Jim can be contacted at sanjim76@live.com or send payment to Jim Geary, 181 Allendale Hills Road, Franklin, NC 28734.
---
---
---
---
* * * This Page On Line Since October 1995 * * *
---
Published 4/1/2013