---
BILL
JACKAMEIT'S
STUDEBAKER
PAGE
---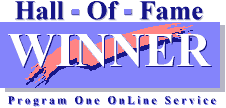 ---
---
Welcome fans of the pride of South Bend. I am a long-time Studebaker fan and Studebaker Driver's Club member, having owned a 1957 Silver Hawk in high school and a 1959 Lark Regal Hardtop in college. Since then, I have owned other Studes as hobby cars including a 1962 Champ Pickup, a 1964 Canadian Commander Special, a 1962 GT Hawk, a 1960 Lark Regal 4-door, a 1957 Silver Hawk (not the same one I owned in high school -- that one I wrecked) and a 1949 Champion Starlight Coupe. My current Stude is a 1964 Challenger Wagonaire sliding roof station wagon. I will build this page as time allows. If you have any suggestions or comments, please send me a message. Both text and image contributions are welcome.
---
STUDE OF THE MONTH
OCTOBER 2014
1953 Studebaker Starlight Coupe Street Rod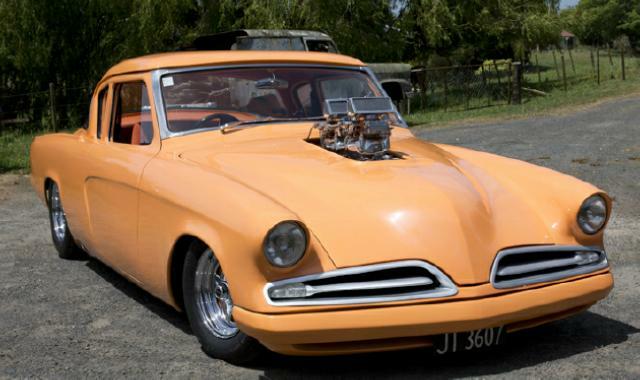 Rear Angle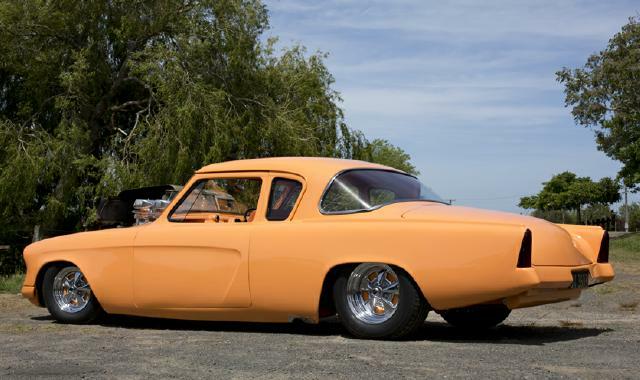 Front View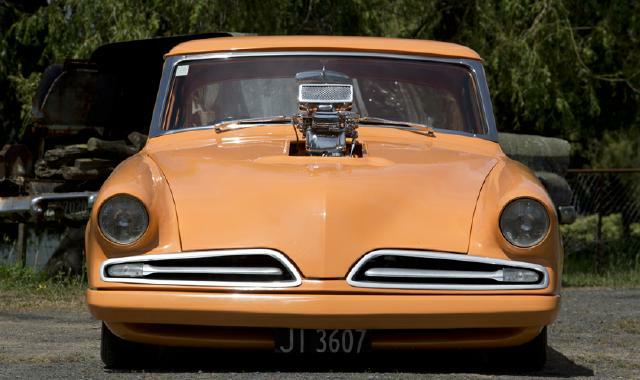 Rear View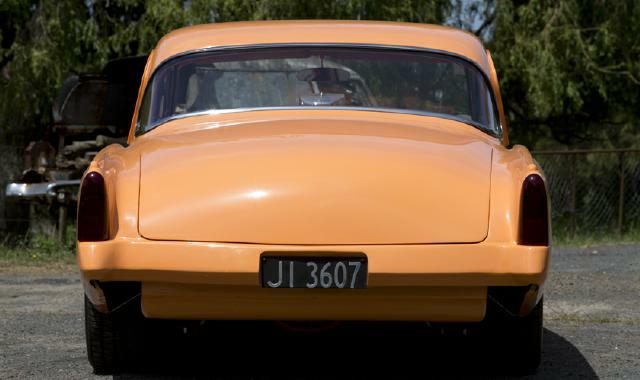 Interior and Dash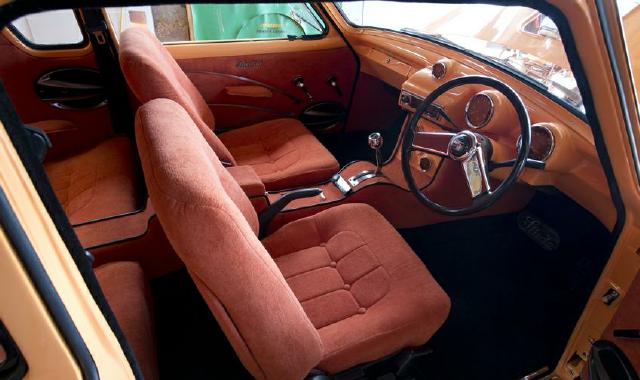 Under the Hood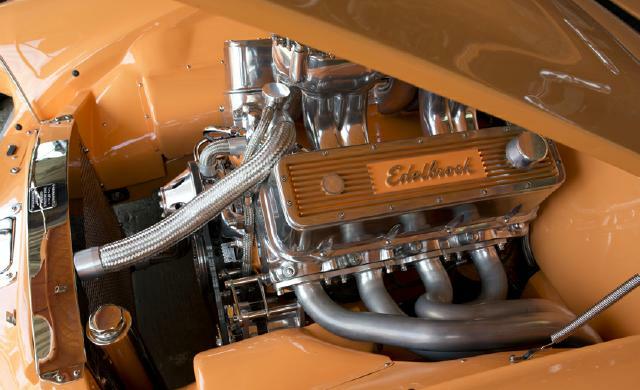 This sharp 1953 Studebaker Starlight Coupe Street Rod was built by Trevor Halstead of Hamilton, New Zealand. Information provided by Dianne Halstead indicates that it is the only 1953 Starlight Coupe in New Zealand. It was imported from the states in the early 1960ís and spent a lot of time backing a boat into the sea until the mid-1980ís. The body required extensive rebuilding during the process of its conversion into a street rod. In addition, the chassis was extensively modified and strenghtened using the center section from a 1961 Hawk and custom fabrication. The finished product exhibits outstanding craftsmanship as can be seen in the pictures above.
Trev's Starlight is powered by a stroked Big Block Chevy 454 with and Isky cam and twin Holley 600 CFM carburetors. The engine is fitted with custom headers and 3" lake pipes mounted outside the sills. The copper radiator has custom built brass tanks with a three row core and custom stalnless steel cover and electric cooliong fan. A GM Turbo 400 automatic transmission with a 2000 RPM converter and cooler connects to a narrowed 9" Ford rear with built-in lowering blocks and flat leaf springs. Front suspension is Holden LX Torana which I understand is popular in that part of the world. The front sway bar was custom made and the rear sway bar is from an Australian Ford EB Falcon.
Dupont custom mix 2K system orange paint was used on the chassis and running gear as well as the interior parts, dash, inner guards and firewall. The outer body is a 2K base preparation with acrylic lacquer finish. Iterior panels were made from Palight acrylic sheet covered with burnt orange velour. Front bucket seats are Mitsubishi and rear seats are modified originals. The right hand drive dash was custom built from the original left hand drive dash and a 1955 Champion dash. Instrument pods were formed from exhaust tube and the gauges are a mix of Smiths-Jaguar and VDO with chrome bezels and orange tinted glass and pointers. The center console was custom built and the Holden steering wheel is fitted with a 1956 Studebaker horn button.
Trev has built several Studebaker rods including two which appeared on this page in August 2008 in a piece on New Zealand Studebakers. He operates Custom & Classic Restorations which is a full-time business specializing in custom car building. His Starlight has been featured on-line in NZV8 Magazine and discussed in the Studebaker Drivers Club Forum. Thanks to Trev Halstead for sending the pictures to Bill Junge, to Bill Junge for forwarding the pictures to me, and to Dianne Halstead for providing detailed information about Trev's car.
If you own or once owned a Studebaker or related vehicle and would like to see your car as "Stude of the Month" or in the "Cool Studes" section, or if you have other pictures or material that you would like to contribute to this page, please e-mail me here. I can accept either electronic or hard copy images. The Main Page is issued every other month so the next edition will be December 2014.
---
All of the previous editions of the Main Page going back to October 1995 have been reposted. In the process of reposting the pages, I have made corrections and revisions as needed, and in some cases added material that was not used when a page was first posted due to download speed and file storage limitations. A complete list of Main Pages and Studes of the Month with links to each is located here.
If you have a particular interest in Bullet Nose Studebakers, visit Bill Junge's Bullet Nose Paradise which is dedicated to the 1950 and 1951 Bullet Nose models.
---
2014 INTERNATIONAL MEET
DOVER, DELAWARE
BONNEVILLE SPEED WEEK
STUDEBAKER SALT FLATS RACERS
ELECTRIC POWERED 1950
STUDEBAKER PICKUP TRUCK
STUDEBAKER NATIONAL MUSEUM
PICTURES FROM MY VISIT
VIRGINIA MUSEUM OF
TRANSPORTATION STUDEBAKERS
---
More International Meet Pictures
1958 Studebaker Commander Hardtop


Rear Angle View


Side Angle View


Interior and Dash

This sharp 1958 Commander Starlight Hardtop is owned by Robert Wilson of New Castle, Delaware. The Starlight Hardtop was a new body style for 1958 and it turned out to be a one year only model since this was the last year for the standard full-size Studebaker line. Starlights were available as Commanders and Presidents and only 3,726 were built of which 2,555 were Commanders. Most Starlights were two-toned but I did have a friend in high school whose father had an all white 1958 President Starlight. Robert's Starlight is equipped with air conditioning, factory push-button radio, overdrive, and dual exhausts. Studebaker's 259 cubic inch V8 was standard on 1958 Commanders.
Robert's Starlight took a first in Division 2, Early Postwar Sedans and Wagons, with 378 points.
1960 Studebaker Hawk Coupe


Rear Angle View


Interior and Dash

This beautiful 1960 Studebaker Hawk Coupe belongs to Malcom J. Stinson, Jr. of Showlow, Arizona. After a one year lapse during which the Studebaker 259 cubic inch V8 was the largest engine available, 1960 Hawks were equipped with the Studebaker 289 V8 as standard. Six cylinder Hawks were dropped from the domestic line but continued to be available in export markets. Production of 1960 Hawks was 4,507 units which was a drop from 7,788 in 1959. Malcom's Hawk is equipped with Flightomatic automatic transmission, Twin Traction limited slip differential, and a factory push-button radio. The color is Gulfstream blue which was the darker of the two blues available that year.
Malcom's Hawk took a first in Division 4, Coupes (C Body) and Hardtops (K Body), with 384 points.
1964 Daytona Convertible


Rear Angle View

This rare 1964 Studebaker Daytona Convertible in Bordeaux Red belongs to Ed and Laura Jones of Beachwood, New Jersey. According to its information card, it was shipped from the factory on the last day of automobile production in South Bend. It is one of only 703 convertibles produced for the 1964 model year of which 286 were assembled in Canada. This example is powered by a Studebaker 289 cubic inch V8 with automatic transmission and is somewhat unusual in that it equipped with bucket seats and tinted glass but no factory radio. Production of Studebaker convertibles ended with the 1964 model. Ed and Laura are Studebaker parts vendors and I have purchased parts for my 1964 Wagonaire from them.
This car was registered as concours display so it was not judged.
1962 Studebaker Transtar Motor Home


Rear Angle View

This neat 1962 Studebaker Transtar Motor Home style camper is owned by Robert and Debbie Dean of Albany, Ohio. It is built on a one-ton Transtar chassis and is powered by a Studebaker 289 cubic inch V8. Here is picture of the dash area. Apparently this vehicle gets around because according to its information card it has been to twenty-two SDC International Meets. Studebaker campers are rare but not unheard of as a Google image search for "Studebaker camper" brought back several others including a few similiar to this one as well as examples with M Series and Champ cabs. The Deans also own a 1964 Studebaker Daytona Convertible.
This vehicle was registered as concours display so it was not judged.
The pictures were taken at the Studebaker Drivers Club International Meet in Dover, Delaware in July of this year.
---
DAN'S STUDEBAKER CROSSWORD PUZZLES
Dan Armstrong from Mansfield, Texas has created a number of crossword puzzles and games for car nuts. These are available on-line at Dan's Extreme Car Puzzles. Dan has a strong interest in Studebakers, particularly the 1956 Sky Hawk, the performance equipped 1963 Lark Daytona, and the performance equipped 1963 and 1964 GT Hawks. The Studebaker crosswords are copyright by Dan Armstrong and are used with his permission. Thanks to Dan for providing the link and the downloadable Studebaker crossword puzzles for readers of this page to enjoy.
---
TEST YOUR STUDEBAKER KNOWLEDGE!
---
Nick Bodemer's Studebaker Dealer Inventory Project was started in June 2011 and includes a growing number of pictures, articles, ads, and other items related to former Studebaker dealerships. Well worth a visit. If you have a Google account you can join the site through Google Friend Connect.
---
PACKARD CORNER
1957 Packard Clipper Station Wagon


Front View


Side Angle View


Rear View

This outstanding 1957 Packard Clipper Station Wagon is owned by Chip Dayton of Cheshire, Connecticut. It is one of only 869 Clipper wagons produced for the 1957 model year. Basically it is a Studebaker President Broadmoor Station Wagon with revised front and rear ends, a revised dash, and more luxurious trim. Studebaker's 289 cubic inch V8 with supercharger rated at 275 horsepower as in the Golden Hawk was the standard engine for all 1957 Packard Clippers. The 1957 Clipper wagon was marketed as the "Country Sedan" while its companion 4-door sedan was marketed as the "Town Sedan" with fewer than 5,000 total being sold.
These pictures were also taken at the 2014 International Meet in Dover, Delaware. Chip's wagon took a first in Division 2 with 388 points.
---
Did you know that Michael Kelly's New Avanti Motor Corporation signed a deal to produce the VW based Brazilian Puma Sports Car? I didn't think so! The deal fell through when Kelly ran out of money. To learn more about the Puma, visit my Puma Sports Cars Site.
---
STUDE TOY OF THE MONTH
Muscle Machines 1953 Studebaker Street Rod



The Muscle Machines 1:64 scale 1953 Studebaker Starliner Hardtop Street Rod has been issued in several variations of which the blue over blue version is one of the most attractive. This version comes packed in a hard blister pack which can stand on its own for display. Other variations were packed roof facing out such as this silver with red flames example. Here is a side view of this model in red with a white roof which is also quite attractive. This model seemed to be a good choice for Stude Toy of the Month given its similiarity to the October Stude of the Month.
Examples of the Muscle Machines 1953 Studebaker Hardtop can be found on eBay with prices ranging from around $6 for common versions to around $20 for rare variations such as the special 2004 Las Vegas Hobby Show issue that was limited to 1,296 pieces.
More toy Studes can be found in the Stude Stuff area of this page and on my Studebaker Toys Home Page.
Click here for information on ordering hard to find Studebaker toys made by manufacturers such as Johnny Lightning, Racing Champions, Hot Wheels, Matchbox, Muscle Machines, Maisto, and EKO.
Studebaker Toy Treasures Book

Jim Geary's book Studebaker Toy Treasures is the standard reference collectors of Studebaker Toys. This wonderful book has 294 pages of color pictures and details on hundreds of Studebaker toys. Publication date is 2004 and just about every Studebaker toy and model produced up to that time is pictured and cataloged. Jim is making the book available for the reduced price of $28 including shipping. This is a great deal since most vendors sell this book for $39.95 plus shipping. Jim will sign the book if requested. Jim can be contacted at sanjim76@live.com or send payment to Jim Geary, 181 Allendale Hills Road, Franklin, NC 28734.
---
---
---
---
* * * This Page On Line Since October 1995 * * *
---
Published 10/1/2014