---
BILL
JACKAMEIT'S
STUDEBAKER
PAGE
---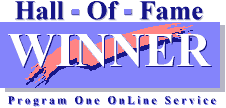 ---
---
Welcome fans of the pride of South Bend. I am a long-time Studebaker fan and Studebaker Driver's Club member, having owned a 1957 Silver Hawk in high school and a 1959 Lark Regal Hardtop in college. Since then, I have owned other Studes as hobby cars including a 1962 Champ Pickup, a 1964 Canadian Commander Special, a 1962 GT Hawk, a 1960 Lark Regal 4-door, a 1957 Silver Hawk (not the same one I owned in high school -- that one I wrecked) and a 1949 Champion Starlight Coupe. My current Stude is a 1964 Challenger Wagonaire sliding roof station wagon. I will build this page as time allows. If you have any suggestions or comments, please send me a message. If you expeience a problem with the e-mail link, the address is wj2d44@gmail.com. Both text and image contributions are welcome.
---
STUDE OF THE MONTH
OCTOBER 2016
1957 Studebaker Champion Sedan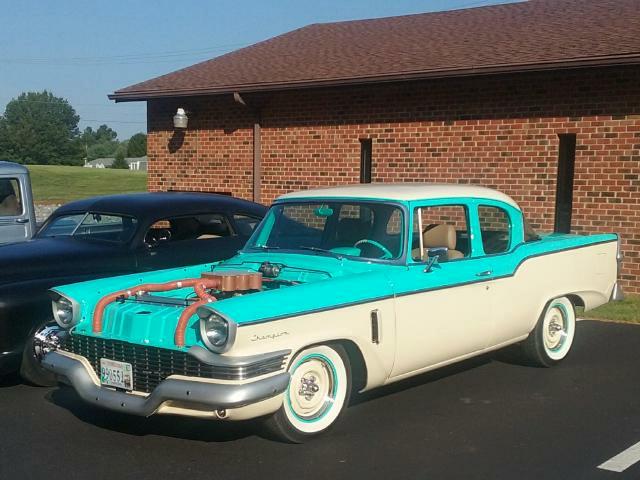 Front View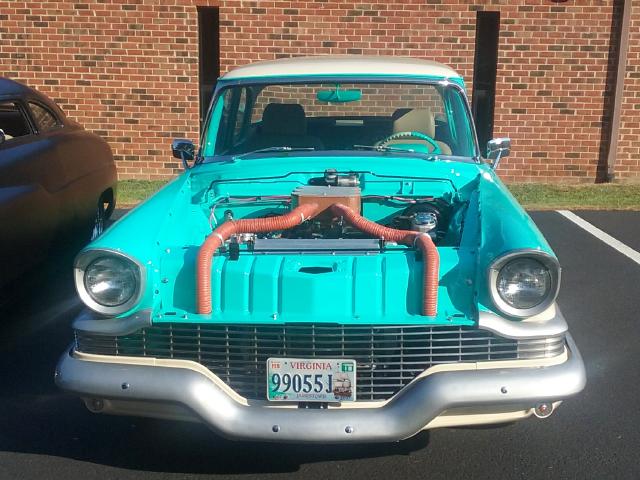 Rear Angle View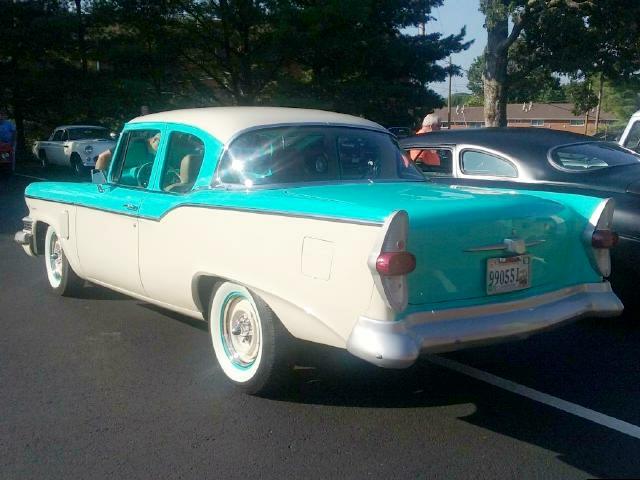 Interior and Dash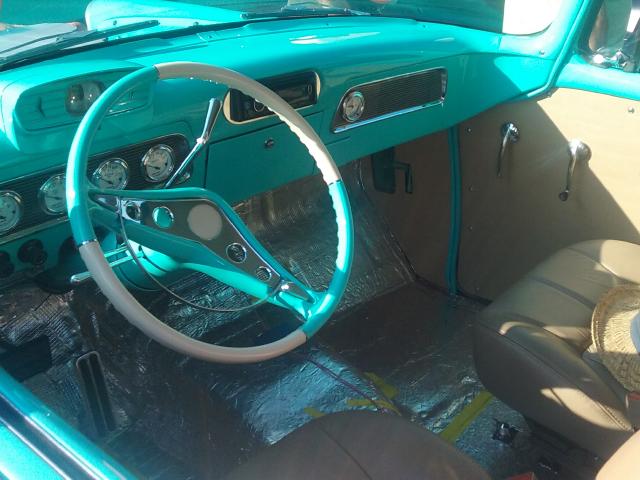 Under the Hood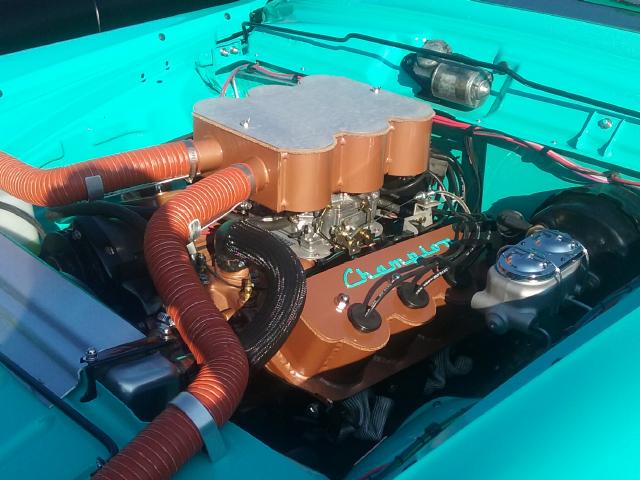 This 1957 Studebaker Champion Sedan owned by Donnie Seal was photographed in August of this year at a Cars and Coffee event at the Waynesboro Free Methodist Church in Waynesboro, Virginia. Donnie's car is a "work in progress" but is well along with a new turquoise and white two-tone paint job. It is powered by a small block Chevy V8 with added plumbing and what appears to be faux Hemi valve covers. Donnie's Champion retains the "Cyclops eye" speedometer but the subsidiary gauges have been replaced with white face Auto Meter Old Tyme analog gauges. Amenities include a Chevrolet tilt steering wheel, a modern stero unit with digital music capability, and bucket seats. The car also has an upgraded power braking system with a dual master cylinder and an aluminum radiator.
The 1957 model year was a down year for Studebaker particularly insofar as the Sedan line was concerned. This was in spite of an attractive facelift which included a full-width wraparound front grille and a restyled tail lamp cluster with integrated back-up lights in the lower section. Donnie's Champion is a Deluxe trim model which featured a full-length belt moulding that helped to define the two-tone piant scheme. Champions came equipped with Studebaker's 185 cubic inch flathead six rated at 101 horseporer. Particularly when combined with an automatic transmission, this made for leisurely motoring. The Champion six at this point simply was not competitive with Chevy, Ford, and Plymouth. On the other hand, the Commander V8 with 180 horsepower was quite competitive with its rivals.
Studebaker produced very attractive multipage color advertising publications for 1957. Sedans, station wagons, and Hawks each had their own comprehensive multipage brochures. Here is the cover of the Sedan Brochure and here is the cover of the Station Wagon Brochure. All three brochures pictured the full line of cars and station wagons on the back cover. Nevertheless, Studebaker car production fell to 63,101 units for 1957. The only bright spot for the 1957 sedan line was the mid-year introduction of the Scotsman economy model which was priced below the competition at $1,776.
The Waynesboro Free Methodist Church hosts a morning Cars and Coffee event on the third Saturday of the month from May through October. These are low key events that typically draw 30 to 40 cars and trucks, with people often stopping by before heading out to other events.
If you own or once owned a Studebaker or related vehicle and would like to see your car as "Stude of the Month" or in the "Cool Studes" section, or if you have other pictures or material that you would like to contribute to this page, please e-mail me here at wj2d44@gmail.com. I can accept either electronic or hard copy images. The Main Page is issued every other month so the next edition will be December 2016.
---
All of the previous editions of the Main Page going back to October 1995 have been reposted. In the process of reposting the pages, I have made corrections and revisions as needed, and in some cases added material that was not used when a page was first posted due to download speed and file storage limitations. A complete list of Main Pages and Studes of the Month with links to each is located here.
If you have a particular interest in Bullet Nose Studebakers, visit Bill Junge's Bullet Nose Paradise which is dedicated to the 1950 and 1951 Bullet Nose models.
---
2014 INTERNATIONAL MEET
DOVER, DELAWARE
BONNEVILLE SPEED WEEK
STUDEBAKER SALT FLATS RACERS
STUDEBAKER NATIONAL MUSEUM
PICTURES FROM MY VISIT
VIRGINIA MUSEUM OF
TRANSPORTATION STUDEBAKERS
---
TEST YOUR STUDEBAKER KNOWLEDGE!
---
Another Cool Stude
1963 Studebaker Avanti R3


Interior and Dash


Under the Hood

This 1963 Avanti owned by Richard Moore was photograhed in September of this year at the Crosswalk Adventures Cruise-in at the Harrisonburg First Church of the Nazarene in Harrisonburg, Virginia. Richard's car is unusual in that it has a supercharged engine and air conditioning, a combination that was not available from the factory. It also has two-tone paint that was not available from the factory. Richard's car is equipped with a a four-speed manual transmission and has an R3 air box although it is not one one the nine facory built R3 Avantis. Here is a close-up shot of the R3 air box.
The Crosswalk Adventures Cruise-in is a twice a year event in the spring and fall that attracts as many as 500 antique and special interest cars, trucks, and motorcycles according to the organizers. It is another example of the growing trend in this area of Virginia for church hosted car events.
---
DAN'S STUDEBAKER CROSSWORD PUZZLES
Dan Armstrong from Mansfield, Texas has created a number of crossword puzzles and games for car nuts. These are available on-line at Dan's Extreme Car Puzzles. Dan has a strong interest in Studebakers, particularly the 1956 Sky Hawk, the performance equipped 1963 Lark Daytona, and the performance equipped 1963 and 1964 GT Hawks. The Studebaker crosswords are copyright by Dan Armstrong and are used with his permission. Thanks to Dan for providing the link and the downloadable Studebaker crossword puzzles for readers of this page to enjoy.
---
Nick Bodemer's Studebaker Dealer Inventory Project was started in June 2011 and includes a growing number of pictures, articles, ads, and other items related to former Studebaker dealerships. Well worth a visit. If you have a Google account you can join the site through Google Friend Connect.
---
STUDE MISCELLANY
Another Avanti II from York

This really nice Avanti II with Maryland license plates was in the Car Coral for sale area at the March 2016 Studebaker York Swap Meet. It retains the original factory front bumper overrider that is often removed from these cars. It also is equipped with the factory optional Magnum 500 wheels that were very popular on the Avanti II. The auxiliary lights below the front bumper are not the type offered by the factory.
This is the last of my pictures from the 2016 York Meet. I have incorporated all of the pictures and information on the meet onto a new page that can be accessed here. The next Studebaker York Swap Meet will be held March 9, 10, and 11, 2017. The raffle car for 2017 is a 1957 Golden Hawk. Information on the meet can be found on the Keystone Region web site. My understanding is that 2017 will be the last year for the Studebaker York Swap Meet.
1963 Daytona Hardtop Project Car

Gary Goodson this picture of his 1963 Lark Daytona Hardtop project car in the rain. He says that the alloy wheels were installed just for fun. Gary has been making progress on the car as time and money allows. The 259 V8 engine now has a Carter WCFB four barrel carburetor that came off a 1955 President and the starter has been redone. The interior is very good except for some cracks in the dash and steering wheel and the factory push-button radio works as it should. This car first appeared on this page in February 2016.
Thanks to Gary for sending the pictures and update on his 1963 Daytona Hardtop.
---
Did you know that Michael Kelly's New Avanti Motor Corporation signed a deal to produce the VW based Brazilian Puma Sports Car? I didn't think so! The deal fell through when Kelly ran out of money. To learn more about the Puma, visit my Puma Sports Cars Site.
---
UK STUDE TOY COLLECTION
Minimarque 1963 Grand Turismo Hawk




Mikansue 1953 Studebaker




Milton 1957 Golden Hawk




Mercury 1956 Golden Hawk


Shrock Brothers 1955 President Speedster

Jeff Sion from the United Kingdon sent pictures and information about his Studebaker toy car collection. Jeff is particularly interested in 1:43 scale models of 1953 to 1964 Studebaker hardtops and coupes. Thus far he has collected 31 different models including some very rare items. I can't use all of the material he sent this month so more will appear in future editions of this page.
Starting from the top, the Minimarque 1963 GT Hawk in what Minimarque calls "Metallic Silver Mist" is one of four color variations of this model. It is also available in Metallic Rose Mist, Metallic Green Mist, and Ermine White. MiniMarque models are cast in white metal and hand finished to a very high standard. A complete listing of available models can be found on the Illustra Models web site.
The Mikansue 1953 Studebaker was sold as a kit. As purchased, it needed to be assembled and painted. Although "Mikansue" sounds Japanese, these models were made in England and the company name is a combination of the first names of Mike and Sue Richardson. Mikansue models were manufactured until the late 1980's and are relatively hard to find today. Here is a picture of an unbuilt example from a recent ebay auction.
The Milton 1957 Golden Hawk is a licensed version of the Corgi 1957 Golden Hawk made in India. Milton versions of Corgi Toys are generally less well made than the English originals. The castings are rougher and the details appear less sharp. The best explanation I have seen for this is that the dies used in their production were already well worn when sent to India but I don't know that for a fact.
The Mercury 1956 Golden Hawk was made in Italy and is a rare model particularly in excellent condition such as the example in Jeff's collection. This model has been copied by Scottoy and is currently available but not in the original colors of orange and green. Scottoy was founded in 1993 in Genoa, Italy to reissue models that Mercury had produced in the 1960's.
The Shrock Brothers 1955 Studebaker President Speedster in Jeff's collection is a very rare model. Jeff indicates that it is Number 21 of 21 made in the "lemon and lime" color combination. Shrock Brothers of Pennsylvania manufactures and markets a line of Studebaker models in various scales and also reproduces selected Studebaker parts.
Thanks to Jeff for sending the pictures and information about his great Studebaker toy collection. Jeff indicates that he is always looking for 1:43 scale models of Studebaker hardtops and coupes and would enjoy hearing from other collectors with similar interests. He can be contacted by e-mail at jeff@magnifeyes.co.uk.
---
STUDE TOY OF THE MONTH
Solido 1953 Studebaker Commander Hardtop




This beautifully restored Solido 1953 Studebaker Commander Hardtop is also part of Jeff Sion's Studebaker toy collection. It was restored from an example in poor condition that was purchased on eBay France. When purchased the plastic top was warped and cracked, the chassis was rusted, and the tires were rotted. Here is a picture of the model before restoration. Jeff cleaned the chassis, repainted the interior, and installed new tires. A new roof, metal finishing, and outstanding repaint were done by a professional model maker.
This model is catalogued in both Studebaker Toy Treasures by Jim Geary and in the Solido Toys Variation and Price Guide by Dr Edward Force. Jim Geary gives the scale as 1:43 and Ed Force gives the scale as 1:40. It was produced in a number of body colors including yellow, metallic blue, light green, light blue, red, orange, light tan, and black. The plastic roof which incorporates the windows could be either black or white depending upon the body color. The interior had only a front seat as shown in this picture of an example with the roof removed from a recent auction on eBay France. This model was available both as an assembled toy and as a boxed kit to be assembled.
The Solido brand of diecast toy cars has changed hands a number of times over the years. It is currently part of the Simba Dicke Group. Solido issued a 1951 Studebaker Starlight Coupe in several colors. The 1951 Starlight Coupe was Number 115 in the Junior series and the 1953 Studebaker Hardtop was Number 115 in the Junior Series. However, Solido is perhaps best known to U.S. collectors for its 1:43 scale 1957 Silver Hawk which has appeared in many variations both as a coupe and as a hardtop.
Thanks again to Jeff for sending the pictures and information about this and other toy Studes in his collection.
More toy Studes can be found in the Stude Stuff area of this page and on my Studebaker Toys Home Page.
Click here for information on ordering hard to find Studebaker toys made by manufacturers such as Johnny Lightning, Racing Champions, Hot Wheels, Matchbox, Muscle Machines, Maisto, and EKO.
Studebaker Toy Treasures Book

Jim Geary's book Studebaker Toy Treasures is the standard reference collectors of Studebaker Toys. This wonderful book has 294 pages of color pictures and details on hundreds of Studebaker toys. Publication date is 2004 and just about every Studebaker toy and model produced up to that time is pictured and cataloged. Jim is making the book available for the reduced price of $28 including shipping. This is a great deal since most vendors sell this book for $39.95 plus shipping. Jim will sign the book if requested. Jim can be contacted at sanjim76@live.com or send payment to Jim Geary, 181 Allendale Hills Road, Franklin, NC 28734.
---
---
---
---
* * * This Page On Line Since October 1995 * * *
---
Published 10/1/2016