---
BILL
JACKAMEIT'S
STUDEBAKER
PAGE
---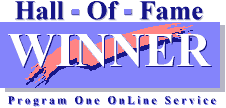 ---
---
Welcome fans of the pride of South Bend. I am a long-time Studebaker fan and Studebaker Drivers Club member, having owned a 1957 Silver Hawk in high school and a 1959 Lark Regal Hardtop in college. Since then, I have owned other Studes as hobby cars including a 1962 Champ Pickup, a 1964 Canadian Commander Special Sedan, a 1962 GT Hawk, a 1960 Lark Regal 4-door, a 1957 Silver Hawk (not the same one I owned in high school -- that one I wrecked) and a 1949 Champion Starlight Coupe. My current Studes are a 1964 Challenger Wagonaire Station Wagon with sliding roof and a 1964 Daytona Sedan. I will build this page as time allows. If you have any suggestions or comments, please send me a message. If you expeience a problem with the e-mail link, the address is wj2d44@gmail.com. Both text and image contributions are welcome.
---
STUDE OF THE MONTH
APRIL 2019
R1 Powered 1955 President Speedster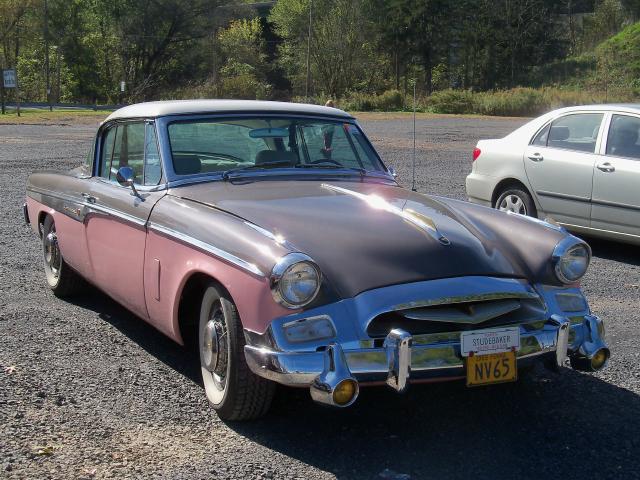 Front View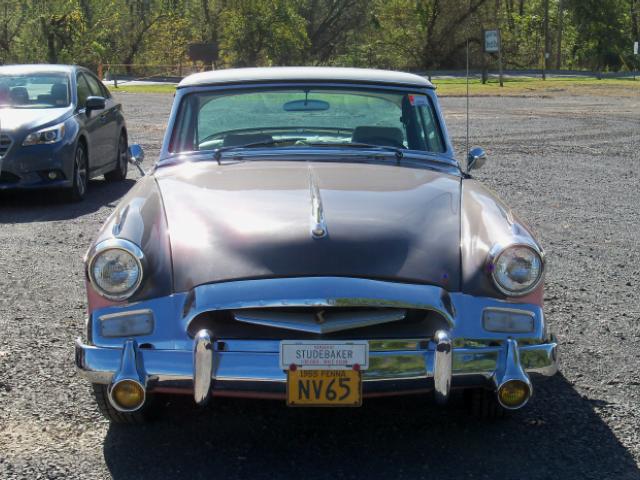 Rear Angle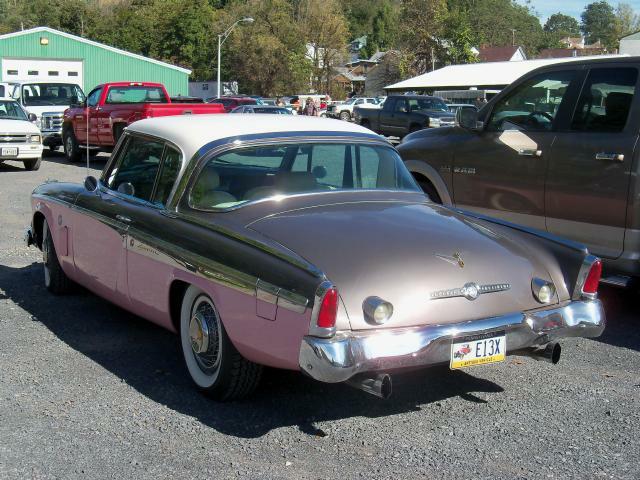 Side View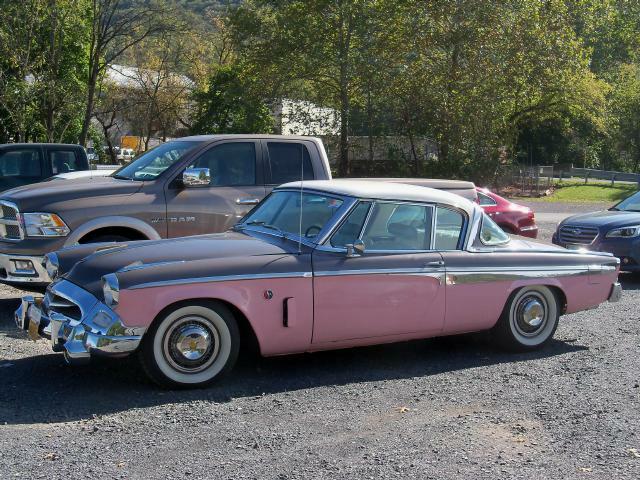 Rear View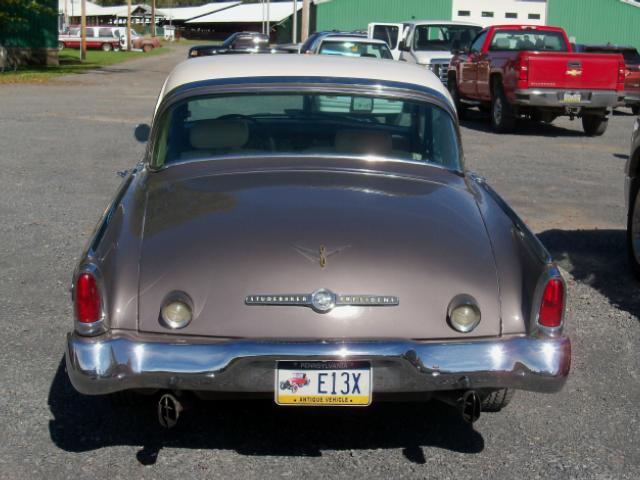 R1 Emblem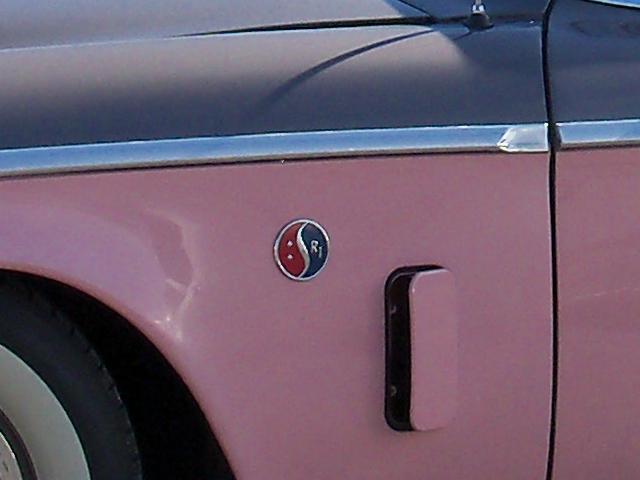 AC 2701 Exhaust Tip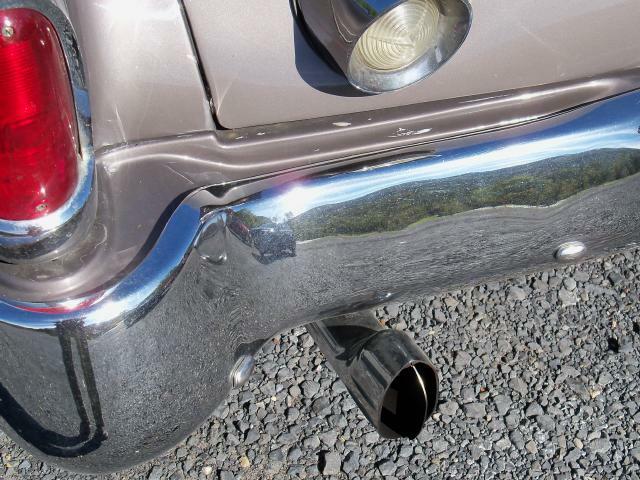 100,000 Mile Club Topper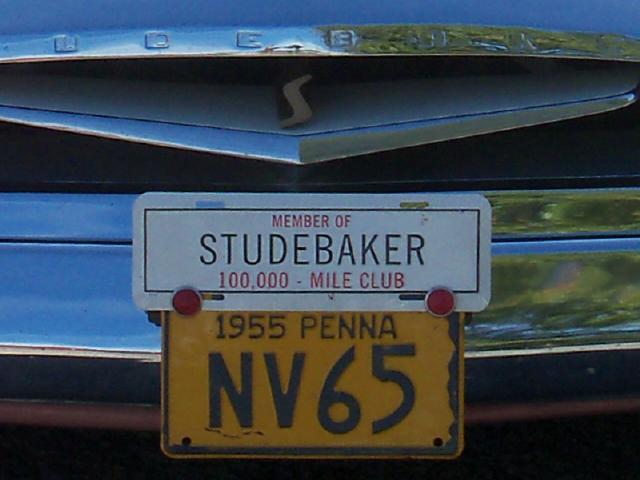 This sharp R1 powered 1955 President Speedster belongs to Jerry Kurtz of Dover, Pennsylvania. He has owned the car for about 15 years. Jerry says that when he bought the car it was in very poor condition. He decided to build a R1 engine and a three-speed Flightomatc automatic transmission with first gear start for the car. He changed the rear end to 3.08:1 which works well with a first gear start as opposed to a second gear start as is standard for V8 cars equipped with a Flightomatic transmission. The lower axle ratio also reduces rpm at highway speed and improves fuel mileage. As of this writing, the car has gone just over 100,000 miles.
Although the body looked straight, quite a bit on Bondo was found during restoration. The body issues were remediated and the car was repainted. The three-tone paint is top color Shasta White, middle color Pimlico Gray Metallic, and bottom color Coraltone. These are correct colors for a 1955 Speedster. Other than the R1 emblem on the side, Jerry's Speedster appears stock. The really cool exhaust tips on Jerry's car are Studebaker AC 2701 "Strat-O-Lined" Exhaust Deflectors. The car also has a 1955 Pennsylvania license plate and a reproduction Studebaker 100,000 Mile Club license plate topper on the front.
Studebaker had a 100,000 Mile Club for owners of its cars in the 1920's which was used in the company's print advertising. Original Studebaker 100,000 Club license plate toppers are very rare but reproductions were made a number of years ago. Studebaker of California Catalogs from the 1990's show the reproductions for $6 each and my understanding is that other vendors sold them as well. Unfortunately, the reproductions sold out some time back and are hard to find at this point.
The Speedster was a 1955 only model and only 2,215 were produced. Speedsters were priced $800 higher than a standard President Hardtop. As such, they were loaded with standard equipment including power steering, power brakes, four-barrel carburetor, dual exhaust, leather interior, push-button radio, unique dashboard with round Stewart-Warner gauges including a tachometer and clock, tinted glass, backup lights, triple horns, tubeless whitewall tires, fog-light bumperettes, and bolt on wire wheel covers as on Jerry's car.. Transmissions could be either automatic or manual with overdrive.
Jerry Kurtz is perhaps best known for his 1939 K15M COE Coca Cola Delivery Truck. A picture of that truck taken at the 2004 International Meet by Preston Young appeared on this page in September 2004. Jerry also owns a 1937 Coupe Express Pickup and a 1937 State President Coupe. He is active in the Antique Studebaker Club and is well-known as a rebuilder of prewar Studebaker transmissions.
The pictures of Jerry's Speedster were taken at the October 2018 Mifflin County Studebaker Swap Meet in Reedsville, Pennsylvania. Thanks to Jerry for providing information regarding his R1 powered 1955 Speedster.
If you own or once owned a Studebaker or related vehicle and would like to see your car as "Stude of the Month" or in the "Cool Studes" section, or if you have other pictures or material that you would like to contribute to this page, please e-mail me here at wj2d44@gmail.com. I can accept either electronic or hard copy images. The Main Page is issued every other month so the next edition will be June 2019.
---
All of the previous editions of the Main Page going back to October 1995 have been reposted. In the process of reposting the pages, I have made corrections and revisions as needed, and in some cases added material that was not used when a page was first posted due to download speed and file storage limitations. A complete list of Main Pages and Studes of the Month with links to each is located here.
If you have a particular interest in Bullet Nose Studebakers, visit Bill Junge's Bullet Nose Paradise which is dedicated to the 1950 and 1951 Bullet Nose models.
---
2014 INTERNATIONAL MEET
DOVER, DELAWARE
BONNEVILLE SPEED WEEK
STUDEBAKER SALT FLATS RACERS
STUDEBAKER NATIONAL MUSEUM
PICTURES FROM MY VISIT
VIRGINIA MUSEUM OF
TRANSPORTATION STUDEBAKERS
---
TEST YOUR STUDEBAKER KNOWLEDGE!
---
MORE FROM REEDSVILLE
1963 Studebaker GT Hawk


Rear Angle


Interior and Dash


1964 Studebaker GT Hawk


Rear Angle

The Champagne Gold 1963 GT Hawk is an interesting car in that it is equipped with the optional Borg-Warner T-10 four-speed manual transmission and dashboard clock but lacks a radio and a dashboard tachometer. The main styling changes for 1963 included new rectangular side grilles containing round parking lights, revised main grille mesh, new style painted headlamp rims, and a revised aluminum trunk inlay. GT Hawk production for 1963 dropped to 4,634 units compared to 9,335 units in 1962.
The Astra White 1964 GT Hawk is one of only 1,767 Hawks made before South Bend production ended in December 1963. The biggest styling change for 1964 was a revised trunk lid that elimated the aluminum overrlay. The main grille was revised once again with a Hawk emblem in the center. The "Circle S" hood emblen used on most 1964 Lark types was attached to the top of the grille shell on 1964 GT Hawks. New style full wheel covers as used on 1964 Lark types were also used on 1964 GT Hawks.
If someone can identify the owners of these two sharp GT Hawks I will update the page to reflect that information.
The 2018 Mifflin County Studebaker Swap Meet, formerly the Reedsville Studebaker Swap Meet, was held on Friday, October 19 and Saturday, October 20 at the Mifflin County Youth Park. The name change results from the fact that the event is no longer sponsored by the Manhattan Chapter of SDC. Thankfully the good folks at Corkins Auto Repair were able to keep the event going. I drove up on Friday and was pleased to see that there were quite a few Studebakers of various types parked on the grounds. The weather was not a problem with mostly sunny skies and mild temperatures. Additional pictures of interesting Studebakers at the event will appear in the next issue of this page.
This year's event will be held on October 25 and 26, 2019. Now that the Studebaker York Swap meet is no more, the event at Reedsville is my best chance to find parts without making an overnight trip.
---
DAN'S STUDEBAKER CROSSWORD PUZZLES
Dan Armstrong from Mansfield, Texas has created a number of crossword puzzles and games for car nuts. These are available on-line at Dan's Extreme Car Puzzles. Dan has a strong interest in Studebakers, particularly the 1956 Sky Hawk, the performance equipped 1963 Lark Daytona, and the performance equipped 1963 and 1964 GT Hawks. The Studebaker crosswords are copyright by Dan Armstrong and are used with his permission. Thanks to Dan for providing the link and the downloadable Studebaker crossword puzzles for readers of this page to enjoy.
---
Nick Bodemer's Studebaker Dealer Inventory Project was started in June 2011 and includes a growing number of pictures, articles, ads, and other items related to former Studebaker dealerships. Well worth a visit. If you have a Google account you can join the site through Google Friend Connect.
---
STUDE MISCELLANY
AMT 1955 Studebaker Hardtop Promo Repaints









Jim Amado of Utica, New York sent several pictures of two AMT 1955 Studebaker Hardtop promtional models that he repainted in different two-tone styles. These models are subject to warping but Jim was able to acquire two with only minimal warpage. The blue and white car is painted in a scheme that was for also used for three-tone combinations as on the 1955 President Speedster featured above as Stude of the Month. Jim acquired this model about a year ago but didn't like the original color plus it was scratched so he repainted and detailed it to match his tastes. The model now resides in Jim's display case.
The dark green over light green car with the roof, upper rear quarters, and trunk painted dark green is also a correct paint style that was used on 1955 two-tone sedans, hardtops, and coupes. This scheme required an additional bright trim piece below the rear window to provide a break point. When Jim acquired this model it had a scuffed and cracked roof which he repaired. He then added the appropriate additional bright trim and repainted the car. The whitewalls which give it a really classy look as shown in the last picture were added later.
More models from Jim's Studebaker toy and model collection can be see here here
Thanks to Jim for sending the pictures and information regarding these neat additions to his Studebaker toy and model collection.
---
---
STUDE TOY OF THE MONTH
Anson 1957 Studebaker Golden Hawk







This 1:18 scale Anson Classic 1957 Golden Hawk was part of a group of Studebaker Golden Hawk models in various scales that I recently purchased on eBay. All of the models had been in a display case and thus were in like new condition but they came without boxes or packaging so the winning bid was well below their original cost. I bought the group for two 1:43 scale Golden Hawks to add to a diorama I am working on so the 1:18 scale Anson model was a bonus.
Here are pictures of the engine and interior and here is a picture of the underside of the model. The hood and doors open as shown but the trunk does not open. Also, this model has exterior rear view mirrors but lacks a radio antenna which is an intersting oversight since there is a radio in the dash. Overall, the Anson model is nice but not as detailed as some 1:18 scale Golden Hawk models that have been issued by other makers such as Yat Ming and Motor City Classics.
The Anson 1:18 scale Golden Hawk has been issued in a number of colors including gold, white, red, black, and metallic grey. There is also a red version with a white roof. It comes mounted on a plastic display stand inside a window box with the hood and doors strapped closed as seen in this red example from my personal collection. The white version of this model also from my personal collection was the Stude Toy of the Month on this page in May 2000.
This model appears regularly on eBay with the gold and version seeming to be the most common. Prices vary widely but new boxed examples in gold or white can be had for around $30 to $40 with shipping. The red version with either a black or a white fender flash and the red version with a white roof seem to be less common and thus are usually more expensive.
More toy Studes can be found in the Stude Stuff area of this page and on my Studebaker Toys Home Page.
Click here for information on ordering hard to find Studebaker toys made by manufacturers such as Johnny Lightning, Racing Champions, Hot Wheels, Matchbox, Muscle Machines, Maisto, and EKO.
Studebaker Toy Treasures Book

Jim Geary's book Studebaker Toy Treasures is the standard reference collectors of Studebaker Toys. This wonderful book has 294 pages of color pictures and details on hundreds of Studebaker toys. Publication date is 2004 and just about every Studebaker toy and model produced up to that time is pictured and cataloged. Jim is making the book available for $28 plus $10 for shipping. Jim will sign the book if requested. This is a must for the serious Studebaker toy vehicle collector. Jim can be contacted at sanjim76@live.com or send payment to Jim Geary, 181 Allendale Hills Road, Franklin, NC 28734.
---
My Current 1964 Daytona Sedan on the
September 2018 Turning Wheels Back Cover.
---
---
---
* * * This Page On Line Since October 1995 * * *
---
Published 4/1/2019