---
BILL
JACKAMEIT'S
STUDEBAKER
PAGE
---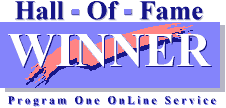 ---
---
Welcome fans of the pride of South Bend. I am a long-time Studebaker fan and Studebaker Driver's Club member, having owned a 1957 Silver Hawk in high school and a 1959 Lark Regal Hardtop in college. Since then, I have owned other Studes as hobby cars including a 1962 Champ Pickup, a 1964 Canadian Commander Special, a 1962 GT Hawk, a 1960 Lark Regal 4-door, a 1957 Silver Hawk (not the same one I owned in high school -- that one I wrecked) and a 1949 Champion Starlight Coupe. My current Stude is a 1964 Challenger Wagonaire sliding roof station wagon. I will build this page as time allows. If you have any suggestions or comments, please send me a message. Both text and image contributions are welcome.
---
STUDE OF THE MONTH
AUGUST 2012
Custom 1961 Champ Pickup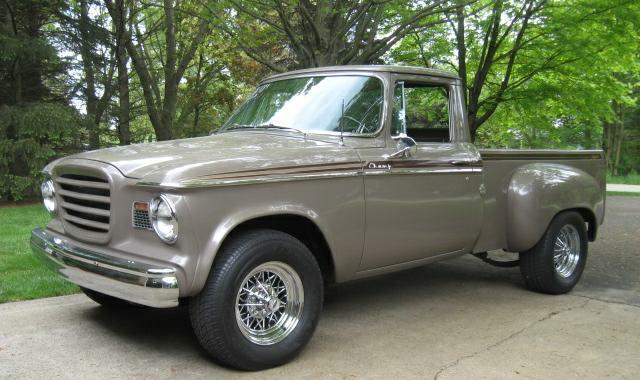 Rear Angle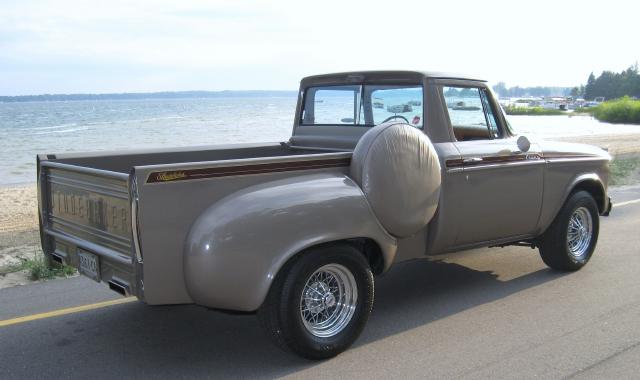 Side View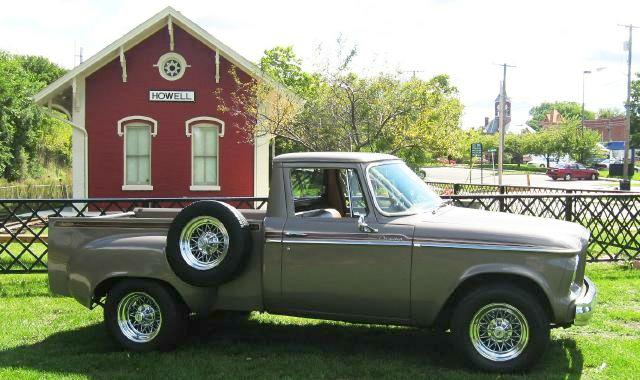 Cadillac Tail Lights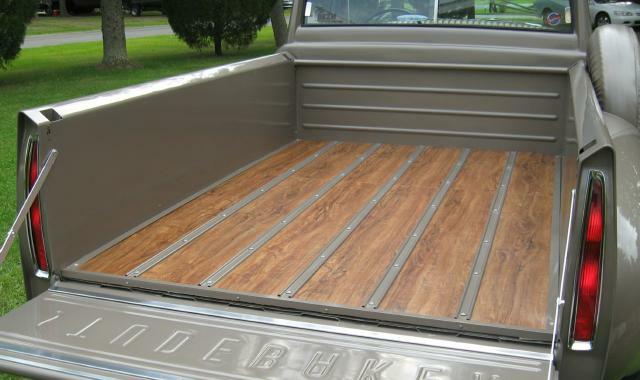 Interior and Dash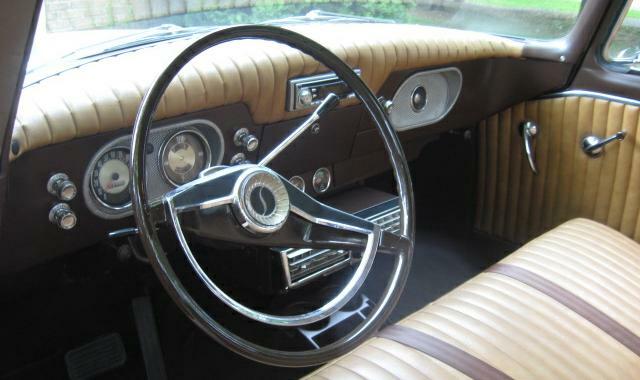 Under the Hood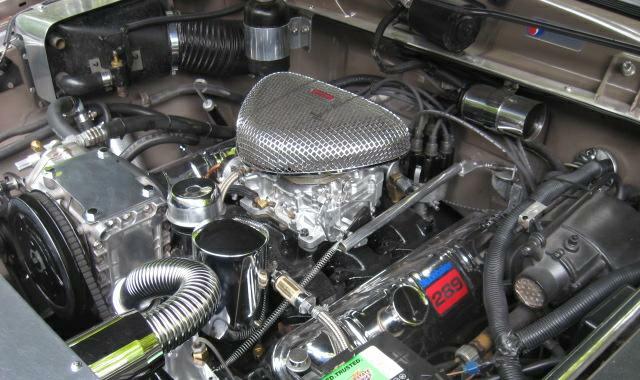 This cool Custom 1961 Studebaker Champ Pickup belongs to Keith Collins of Howell, Michigan. It was a former Florida Road Comission truck complete with beepers, big West Coast mirrors, clearence lights, side mount spare, and 14 leaf springs. Keith bought the truck nine years ago from a used car dealer in Howell. The truck had sat for some time and would not keep running which turned out to be a faulty ignition switch. When Keith got the truck it had a lot of dents and badly checkered paint. Keith did all of the body work and paint himself. The West Coast mirrors have been removed and 1994 Cadillac tail lights have been added at the rear. Here is work in progress picture of Keith's truck.
The previous owner replaced the original Studebaker overhead valve six with a Studebaker 289 cubic inch R1 V8. It has a custom dual exhaust system and Cragar chrome wire wheels. The very nice custom pleated interior is as it was when Keith acquired the truck. Sun gauges have been added to the dash for oil pressure, water temperature, and amp meter. Amenities include automatic transmission, air conditioning, and a Sony reciever and disc player. The bed is walnut and the paint is Studebaker Autumn Haze which was available on Studebakers cars (but not on trucks) in 1961. This rear view shows the custom dual exhaust cut-outs in the rear valance panel.
Keith's truck took a first place at the June 2012 Crossroads Zone Meet in Frankenmuth, Michigan which is otherwise known as Michigan's Little Bavaria.
Thanks to Keith for sending the pictures and information about his great looking Stude pickup.
If you own or once owned a Studebaker or related vehicle and would like to see your car as "Stude of the Month" or in the "Cool Studes" section, or if you have other pictures or material that you would like to contribute to this page, please e-mail me here. I can accept either electronic or hard copy images. The Main Page is issued every other month so the next edition will be October 2012.
---
All of the previous editions of the Main Page going back to October 1995 have been reposted. In the process of reposting the pages, I have made corrections and revisions as needed, and in some cases added material that was not used when a page was first posted due to download speed and file storage limitations. A complete list of Main Pages and Studes of the Month with links to each is located here.
If you have a particular interest in Bullet Nose Studebakers, visit Bill Junge's Bullet Nose Paradise which is dedicated to the 1950 and 1951 Bullet Nose models.
---
OCTOBER 2011 BRIDGEWATER
STUDEBAKER MEET
STUDEBAKER SALT FLATS RACERS
2010 BONNEVILLE SPEED WEEK
STUDEBAKER NATIONAL MUSEUM
AUGUST 2010 VISIT
VIRGINIA MUSEUM OF
TRANSPORTATION STUDEBAKERS
---
Another Cool Stude
1956 Flight Hawk Coupe


Rear Angle View


Side View


Before Restoration


Work in Progress


More Progress

Jeff Loehr of Battle Ground, Washington sent some "before" and "after" pictures of his 1956 Flight Hawk that was restored just in time for his daughter's wedding in August 2011. Jeff's father in law, Tom Hazzard of Boise, Idaho at one time had 110 Studebakers. Tom was lost to cancer in 2004. Tom was the Director and with his wife Barbara the founder of the Sun Valley Jazz Jamboree, an event that continues to this day. Jeff's Flight Hawk is one of the last remaining cars from Tom Hazzard's Studebaker herd and one of only two that is still on the road.
Jeff acquired the Flight Hawk about 18 years ago, and while he had good intentions, it ended up sitting indoors. At one point, Jeff decided it was time for the car to go, and it was listed on Craigslist for a time. There were some lookers but no buyers and so the car stayed put. As its turns out, Jeff's daughter Rachael was to marry in August 2011 and she says to Jeff in June (eyes batting appropriately) "Daddy, I wish I had a Studebaker to drive away in when we get married, it would be like having Grandpa there with us." This would be hard for any Studebaker loving father to resist.
Jeff and his wife discussed the matter and decided to dive in and restore the Flight Hawk in time for their daughter's wedding. Fortunately, with a new battery and a new electronic ignition, plugs, and wires the motor fired up and barely even smoked. The car had sat for so long that all the gas had evaporated. The clutch was rebuilt and the brakes and shocks were replaced. The hill holder proved to be tricky as the brakes were locking up but this was eventually sorted out. The chrome was sent to Pacific Northwest Plating and Jeff started on the body work.
Jeff did the body work including repair of the "usual places" and then trailered the car to a soda blasting shop to strip it down to bare metal. Soda blasting is a non-abrasive paint removal process that uses compressed air to deliver sodium bicarbonate (baking soda) directly to a painted surface without generating heat. The advantage of soda blasting is that it won't scratch any chrome or glass still on the car. With the car down to bare metal, Jeff applied a self-etching primer. Then off to the paint shop and back home just one week before the wedding.
With the car back home, the chrome was bolted on and the lights were made operational. Jeff's soon to be son-in-law Dan then had his first driving experience with a three on the tree. It was a little hard on the new clutch, but Studebaker clutches are pretty tough. The car still needs the radiator rebuilt and a water pump as it has a tendency to heat up but it is licensed and insured and once again back on the road. Jeff says this is one Studebaker that won't be seeing the scrap yard for a long time.
Dan and Rachael were married on August 20th, 2011 (the hottest day of the summer) and drove away in the Flight Hawk with the heater on full blast. Dan has since learned how to turn off the heater. Rachael is on the heart transplant list with the University of Washington. Here is a picture of the happy bride with the groom at the wheel. Jeff is sure that Tom Hazzard was looking on and was more than pleased to see this Flight Hawk soaring one again.
Thanks to Jeff for sending the pictures and for sharing this wonderful story about a father's love of both family and Studebakers.
---
DAN'S STUDEBAKER CROSSWORD PUZZLES
Dan Armstrong from Mansfield, Texas has created a number of crossword puzzles and games for car nuts. These are available on-line at Dan's Extreme Car Puzzles. Dan has a strong interest in Studebakers, particularly the 1956 Sky Hawk, the performance equipped 1963 Lark Daytona, and the performance equipped 1963 and 1964 GT Hawks. The Studebaker crosswords are copyright by Dan Armstrong and are used with his permission. Thanks to Dan for providing the link and the downloadable Studebaker crossword puzzles for readers of this page to enjoy.
---
TEST YOUR STUDEBAKER KNOWLEDGE!
---
STUDE MISCELLANY
French 1956 Flight Hawk Hardtop


Front Angle View


Engine During Restoration

Gerard Chapuis sent several pictures of his 1956 Flight Hawk Hardtop that has undergone a comprehensive restoration since it first appeared on this page in October 2011. The 170 cublic inch Champion flathead six was removed and rebuilt which allowed for the engine compartment to be painted. Note the unusual location of the coil on the inner fender. Here is a another work in progress picture. Gerard says that prior to being rebuilt the engine was consuming a liter of oil every 100 kilometers due to bad rings. Paint and chrome were redone but the interior is in good original condition and was retained. The exterior colors are 1956 correct Snowcap White and Glenbrook Green.
The pictures above show Gerard wearing a typical French hat with his Hawk parked outside of a typical French bar in order to get a 1956 period effect. Gerard is quick to point out that he does not smoke and that he does not often go to bars. This picture taken in June 2012 shows Gerard's Hawk with a modern as opposed to a period front license plate.
Flight Hawk Hardtops were not sold in the U.S. but were available in Canada and in export markets. All U.S. Flight Hawks were coupes like Jeff Loehr's Flight Hawk Coupe featured above. Export Flight Hawk Hardtops had a higher level interior similiar to that used on the U.S. market Sky Hawk V8.
Thanks to Gerard for sending the pictures and information on this great restoration.
1951 Champion Starlight Coupe


Rear Angle View


Interior and Dash

Walter Ready of Lake Havasu, Arizona sent several pictures of his re-engined 1951 Champion Starlight Coupe. The car looks stock but is a "drive anywhere car" with a Chevy V6, modern radial tires, and automatic transmission. Period accesstories include fender skirts, stainless steel rear fender stone guards, dual rearview mirriors, and an exterior windshield visor. The original dashboard instruments have been replaced with modern round gauges including a 120 mph speedometer. Otherwise the interior appears original. The car also has dual exhausts. This view clearly shows the silver plastic nose bullet that was used in 1951 replacing the larger chrome metal nose bullet used in 1950.
Studebaker rationalized the Champion and Commander lines in 1951 placing both on a 115" wheelbase. This allowed for more interchangeability of body panels. Prior to 1951, Commanders rode on a longer wheelbase than Champions.
Thanks to Walter for sending the pictures and information. Walter's Custom 1965 Studebaker Commander Wagonaire was Stude of the Month in June 2012.
---
Nick Bodemer's Studebaker Dealer Inventory Project was started in June 2011 and includes a growing number of pictures, articles, ads, and other items related to former Studebaker dealerships. Well worth a visit. If you have a Google account you can join the site through Google Friend Connect.
---
Did you know that Michael Kelly's New Avanti Motor Corporation signed a deal to produce the VW based Brazilian Puma Sports Car? I didn't think so! The deal fell through when Kelly ran out of money. To learn more about the Puma, visit my Puma Sports Cars Site.
---
STUDE TOY OF THE MONTH
Narrow Box Champ Pickup



Randy Griggs of Louisville, Kentucky sent several pictures of a 1:64 scale Studebaker Champ Pickup with the older style narrow box that he made using the bed and chassis from an M2Machines Studebaker 2R pickup and the cab and windows from a Hot Wheels Champ Pickup. Hot Wheels and Johnny Lightning both make 1:64 scale Champ Pickups but both have the newer style wide box. The Johnny Lightning Champ has an opening hood and engine but the vent windows are cast solid and it is a relatively expensive model compared to the Hot Wheels Champ. The Hot Wheels Champ has better windows but it has non-stock hood louvers and no door handles, grille, or front bumper. In the end, Randy decided to use the Hot Wheels Champ for this project mainly because of its much lower cost.
A number of modifications were made to to make the Hot Wheels cab appear factory stock. The hood louvers were eliminated and a grille and front bumper were added. Champs with narrow beds use basically the same box and rear fenders as the Studebaker 2R so no modifications were needed to the M2Machines chassis and pickup box. The model was painted a color that is very close to Studebaker Desert Sand which was a factory color on Studebaker Trucks from 1961 to 1963. Finally the missing door handles were painted on. The result is a model that looks very much like the Stude of the Month Champ Pickup.
Here is a side view of the narrow box Champ and a picture showing a Hot Wheels Champ, an M2Machines Studebaker 2R, and the narrow box Champ Randy made from the two donor models.
Randy's outstanding 1:64 scale C Cab Studebaker Transporter was featured on this page in April 2012. The M2Machines Studebaker 2R bed and chassis used to make the narrow box Champ were left over from that project. Thanks to Randy for sending the pictures and information about his latest project.
More toy Studes can be found in the Stude Stuff area of this page and on my Studebaker Toys Home Page.
Click here for information on ordering hard to find Studebaker toys made by manufacturers such as Johnny Lightning, Racing Champions, Hot Wheels, Matchbox, Muscle Machines, Maisto, and EKO.
Studebaker Toy Treasures Book

Jim Geary's book Studebaker Toy Treasures is the standard reference collectors of Studebaker Toys. This wonderful book has 294 pages of color pictures and details on hundreds of Studebaker toys. Publication date is 2004 and just about every Studebaker toy and model produced up to that time is pictured and cataloged. Jim is making the book available for the reduced price of $28 including shipping. This is a great deal since most vendors sell this book for $39.95 plus shipping. Jim will sign the book if requested. Jim can be contacted at sanjim76@live.com or send payment to Jim Geary, 181 Allendale Hills Road, Franklin, NC 28734.
---
---
---
---
* * * This Page On Line Since October 1995 * * *
---
Published 8/1/2012