---
BILL
JACKAMEIT'S
STUDEBAKER
PAGE
---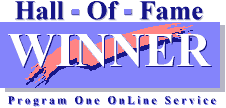 ---
---
Welcome fans of the pride of South Bend. I am a long-time Studebaker fan and Studebaker Driver's Club member, having owned a 1957 Silver Hawk in high school and a 1959 Lark Regal Hardtop in college. Since then, I have owned other Studes as hobby cars including a 1962 Champ Pickup, a 1964 Canadian Commander Special, a 1962 GT Hawk, a 1960 Lark Regal 4-door, a 1957 Silver Hawk (not the same one I owned in high school -- that one I wrecked) and a 1949 Champion Starlight Coupe. My current Stude is a 1964 Challenger Wagonaire sliding roof station wagon. I will build this page as time allows. If you have any suggestions or comments, please send me a message. Both text and image contributions are welcome.
---
STUDE OF THE MONTH
JUNE 2012
Custom 1965 Commander Wagonaire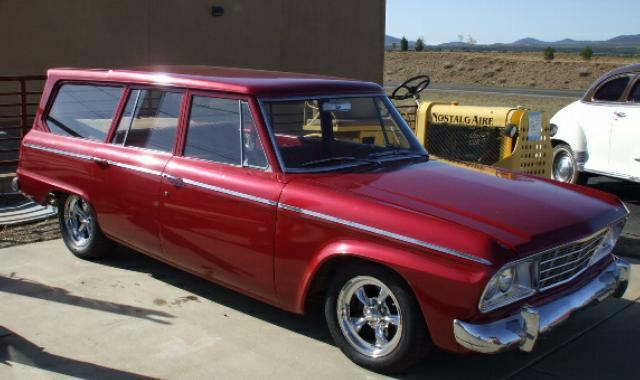 Rear Angle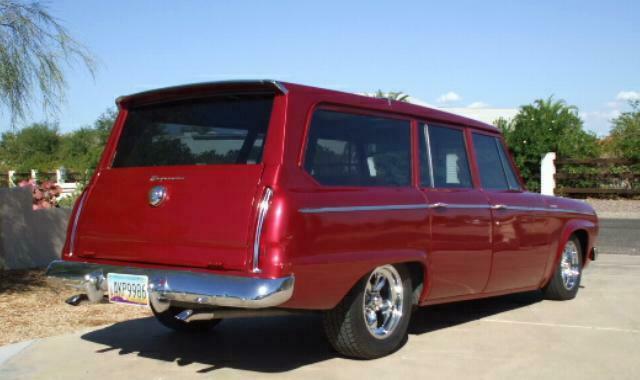 Cadillac Deville Tail Lights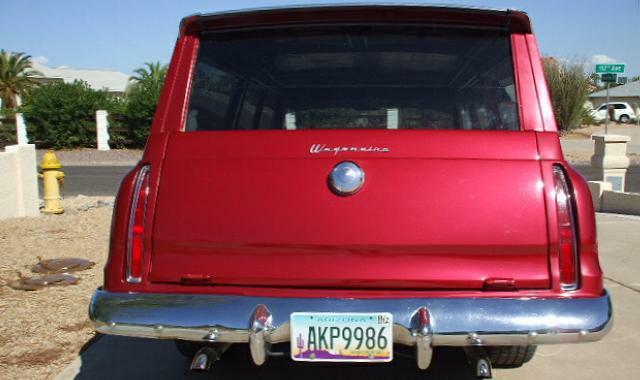 Interior and Dash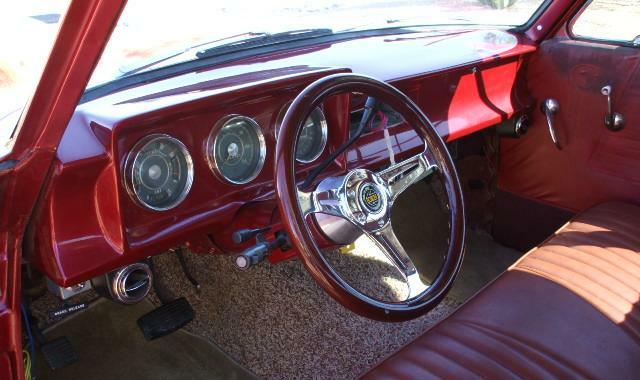 Under the Hood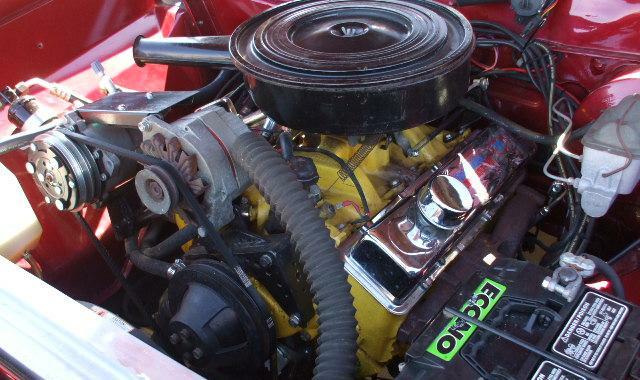 This Custom 1965 Studebaker Commander Wagonaire Station Wagon belongs to Walter Ready of Lake Havasu, Arizona. The tail lights are 1998 Cadillac Deville units that integrate nicely with the body design and present a much cleaner look than the stock lights. The engine is the orginal McKinnon 283 cubic inch V8 with 2 barrel carburator and nonstock dual exhausts. Other modifications include a tilt steering wheel, power front disc brakes, and American Racing wheels with modern radial tires that are larger in the rear which gives the wagon a pronounced forward rake that is visible in the pictures above. Walter has installed an aluminum radiator and electric fan along with add-on air conditioning from Vintage Air to cope with the Arizona heat.
One problem with Wagonaires is that the sliding roof can leak and ruin the headliner. Original style headliners are simply not available. Walter's Wagonaire has a skillfully crafted replacement headliner that was made by a local upolstery shop using door panel board and perforated headliner material. The result is quite attractive and would appear to be stock to anyone who is not familiar with Wagonaires.
The front fender chrome script and stand-up hood ornament have been removed and the Wagonaire script on the tail gate has been relocated to the center just below the rear window. Here is a picture with the sliding roof panel open but without the rear Wagonaire script installed.
Thanks to Rich Edwards for sending the pictures and to Walter for sending additional pictures and for the information about his neat Stude wagon. Walter also owns a 1951 Studebaker Champion Starlight Coupe and is selling a 1952 Commander Starliner Hardtop project car that appears in the Stude Miscellany section further down this page.
If you own or once owned a Studebaker or related vehicle and would like to see your car as "Stude of the Month" or in the "Cool Studes" section, or if you have other pictures or material that you would like to contribute to this page, please e-mail me here. I can accept either electronic or hard copy images. The Main Page is issued every other month so the next edition will be August 2012.
---
All of the previous editions of the Main Page going back to October 1995 have been reposted. In the process of reposting the pages, I have made corrections and revisions as needed, and in some cases added material that was not used when a page was first posted due to download speed and file storage limitations. A complete list of Main Pages and Studes of the Month with links to each is located here.
If you have a particular interest in Bullet Nose Studebakers, visit Bill Junge's Bullet Nose Paradise which is dedicated to the 1950 and 1951 Bullet Nose models.
---
OCTOBER 2011 BRIDGEWATER
STUDEBAKER MEET
STUDEBAKER SALT FLATS RACERS
2010 BONNEVILLE SPEED WEEK
STUDEBAKER NATIONAL MUSEUM
AUGUST 2010 VISIT
VIRGINIA MUSEUM OF
TRANSPORTATION STUDEBAKERS
---
Another Cool Stude
1947 Champion Sedan


Rear Angle View


Interior and Dash

This 1947 Studebaker Champion Sedan belongs the Gerry and Betty Early of Mount Sidney, Virginia. Gerry indicates that it is a very early 1947 model that was assembled in May of 1946, which was only the second week of production for the new models. It does not have a radio but it is equipped with a heater, defroster, and turn signals all of which may have been dealer installed. The car was sold new in Lancaster, Pennylvania and has only travelled 64,000 miles. The Early's purchased the car at the annual York All-Studebaker Parts Meet in York, Pennsylvania three years ago and are the third owners.
---
DAN'S STUDEBAKER CROSSWORD PUZZLES
Dan Armstrong from Mansfield, Texas has created a number of crossword puzzles and games for car nuts. These are available on-line at Dan's Extreme Car Puzzles. Dan has a strong interest in Studebakers, particularly the 1956 Sky Hawk, the performance equipped 1963 Lark Daytona, and the performance equipped 1963 and 1964 GT Hawks. The Studebaker crosswords are copyright by Dan Armstrong and are used with his permission. Thanks to Dan for providing the link and the downloadable Studebaker crossword puzzles for readers of this page to enjoy.
---
1964 WAGONAIRE PROJECT
Before Heading for the Paint Shop


Engine Out and Trim Removed


Body Drilled for Backup Lights


Sliding Roof and Front Valance


Engine Before Reinstallation

My 1964 Studebaker Challenger Wagonaire sliding roof station wagon has been at paint shop and is now close to being finished. The "before" picture was taken last fall shortly before turning it over to Jay Hogston of J&J Group in Staunton, Virginia for its repaint. In addition to repainting, the bumpers and bumper guards were taken to Hanlon Plating in Richmond, Virginia for rechroming. Most of the other trim including the tail light housings, door handles, hood ornament, script, grille, headlamp surrounds, etc. are being replaced with NOS parts. The stainless steel around the windshield was sent to Starlight Stainless in Fayetteville, Georgia for repair and polishing. Fortunately, Challengers do not have much in the way of brightwork compared to the higher priced models.
With the engine removed, it made sense to fix the leaking rear main seal and to replace the rusty freeze plugs and original timing gear. With the wheels off for painting, it also made sense to replace the front and rear shocks which were very tired. The body was drilled to install NOS factory backup lights purchased in accessory kit form at the November 2011 Reedsville Swap Meet. I also decided to add a second Stratovue rearview mirror and to replace a dented "poverty cap" hubcap with a new one. The sliding roof rubber seals and other rubber seals and weatherstrip are being replaced as needed. Here is Donna Hogston doing some prep work prior to the windshield and windshield trim being removed and here is the engine after being reinstalled. Note the new freeze plugs and the correct type radiator hose clamps.
While a major undertaking, this project started with a 98 percent rust free car with only 38,000 original miles so major body and mechanical work was not needed. I say "98 percent rust free" because there was some rust in the floor boards and at the bottom of one rear quarter panel. It was decided to remediate rather than replace the floor boards and new metal was welded into the rear quarter panel. The roof drains were extended and re-routed out the frame side of the body to avoid future rust problems. It is unclear why Studebaker engineers elected to have the roof drains dump water into a closed area with no way to escape. I expect to have the Wagonaire back soon and the finished product will appear on this page once detailing is done and the project is complete.
Thanks to Jay Hogston for sending pictures of the work in progress and for the great work he and Donna have done on the Wagonaire.
---
TEST YOUR STUDEBAKER KNOWLEDGE!
---
STUDE MISCELLANY
1953 Packard Clipper


With a 1958 Packard Station Wagon

These are additional pictures from the October 2011 Bridgewater Studebaker Meet. The 1953 Packard Clipper Sedan belongs to Wendell (Sonny) Henkel, who is the Pastor of the Victory Fellowship Church in Dayton, Virginia. In addition to being a fan of old cars, Pastor Henkel served as the Company Chaplain for Good Printers, which for many years was the printer for Turning Wheels, the Studebaker Drivers Club monthly publication. Here is a view of the interior and dash of this sharp Packard. The 1958 Packard Station Wagon belongs to Jim and Irene Shoul of Shippensburg, Pennsylvania. It is one of only 159 Packard wagons built for the 1958 model year. More pictures of the Shoul's rare wagon appeared on this page in December 2011.
1950 Studebaker Land Cruiser

This picture of Melvin Wampler's 1950 Commander Land Cruiser was taken in July 2011 at the annual Bridgewater Volunteer Fire Company Steam and Gas Meet. Melvin's car looked great having benefitted from a recent repaint by Bud Rodgers of Dayton, Virginia. Bud is known for quality work and had a hand in a number of projects for Chester Bradfield. Chester is a serious Studebaker collector and restorer and a number of his cars have appeared on this page over the years. Sonny Henkel's 1953 Packard Clipper Sedan is parked next to the Land Cruiser. Melvin's Land Cruiser was Stude of the Month on this page all the way back in February 1998.
1952 Starliner Hardtop Project Car


Under the Hood

This very desirable 1952 Commander Starliner Hardtop project car belongs to Walter Ready whose Custom 1965 Wagonaire is featured above. It has an automatic transmission and is complete and relatively rust free. The missing tail light assembly has been reinstalled with a new lens. The seats have covers on them and look good underneath and new tires were installed to get it out of the barn in which it was being stored. This was Studebaker's first hardtop and was replaced the following year by the all new 1953 model. The car is currently for sale at the very attractive price of $2,000. Interested parties can contact Walter at mynomad1956@hotmail.com.
---
Did you know that Michael Kelly's New Avanti Motor Corporation signed a deal to produce the VW based Brazilian Puma Sports Car? I didn't think so! The deal fell through when Kelly ran out of money. To learn more about the Puma, visit my Puma Sports Cars Site.
---
STUDE TOY OF THE MONTH
Atlas "Tintin" 1947 Studebaker Commander



This 1:43 scale Atlas of France Adventures of Tintin 1947 Studebaker Commander Starlight Coupe is from my personal collection. The Adventures of Tintin is a series of comic books created by Belgian artist Georges Remi. The series is one of the most popular European comics of the 20th century with translations published in over 50 languages. Tintin is a young newspaper reporter who has numerous adventures with his pet dog Snowy. The 2011 Steven Spielberg computer animated movie The Adventures of Tintin is based on three of the original comic books.
Here is a side view and a picture of the display box and insert included with the Atlas 1947 Commander. I purchased this example earlier this year from a vendor in China for about $29 including shipping. These were offered on eBay for a short time but I have not seen any listed of late.
Atlas previously issued a 1:43 scale 1953 Studebaker Starliner from the French language comic Spirou et Fantasio that was featured on this page as Stude Toy of the Month in December 2008.
More toy Studes can be found in the Stude Stuff area of this page and on my Studebaker Toys Home Page.
Click here for information on ordering hard to find Studebaker toys made by manufacturers such as Johnny Lightning, Racing Champions, Hot Wheels, Matchbox, Muscle Machines, Maisto, and EKO.
Studebaker Toy Treasures Book

Jim Geary's book Studebaker Toy Treasures is the standard reference collectors of Studebaker Toys. This wonderful book has 294 pages of color pictures and details on hundreds of Studebaker toys. Publication date is 2004 and just about every Studebaker toy and model produced up to that time is pictured and cataloged. Jim is making the book available for the reduced price of $28 including shipping. This is a great deal since most vendors sell this book for $39.95 plus shipping. Jim will sign the book if requested. Jim can be contacted at sanjim76@live.com or send payment to Jim Geary, 181 Allendale Hills Road, Franklin, NC 28734.
---
---
---
---
* * * This Page On Line Since October 1995 * * *
---
Published 6/1/2012