---
BILL
JACKAMEIT'S
STUDEBAKER
PAGE
---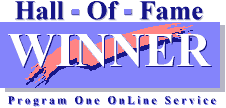 ---
---
Welcome fans of the pride of South Bend. I am a long-time Studebaker fan and Studebaker Driver's Club member, having owned a 1957 Silver Hawk in high school and a 1959 Lark Regal Hardtop in college. Since then, I have owned other Studes as hobby cars including a 1962 Champ Pickup, a 1964 Canadian Commander Special, a 1962 GT Hawk, a 1960 Lark Regal 4-door, a 1957 Silver Hawk (not the same one I owned in high school -- that one I wrecked) and a 1949 Champion Starlight Coupe. My current Stude is a 1964 Challenger Wagonaire sliding roof station wagon. I will build this page as time allows. If you have any suggestions or comments, please send me a message. Both text and image contributions are welcome.
---
STUDE OF THE MONTH
OCTOBER 2013
1947 Studebaker Pickup Street Rod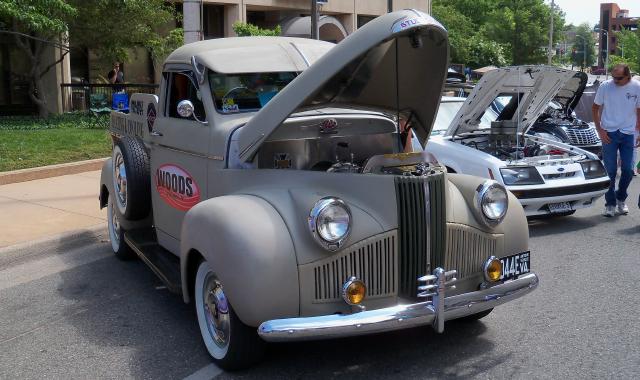 Side View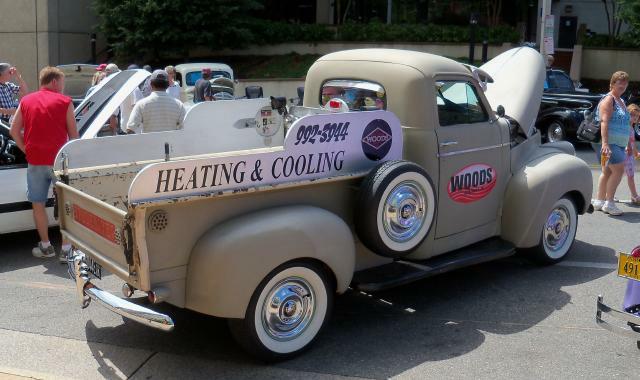 From the Rear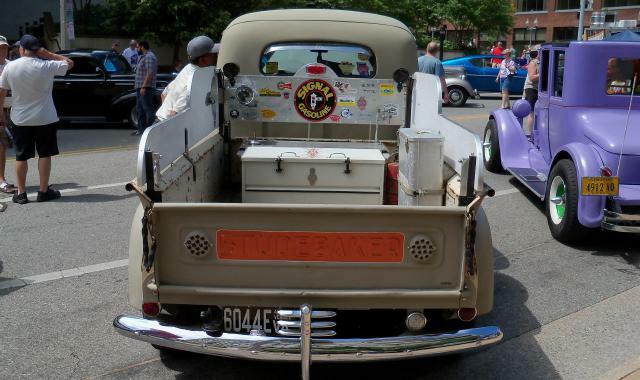 Interior and Dash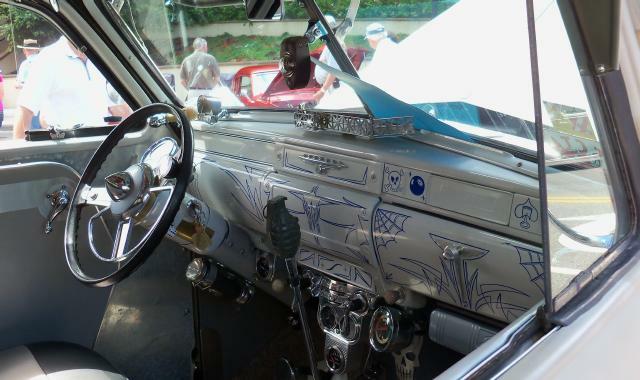 Under the Hood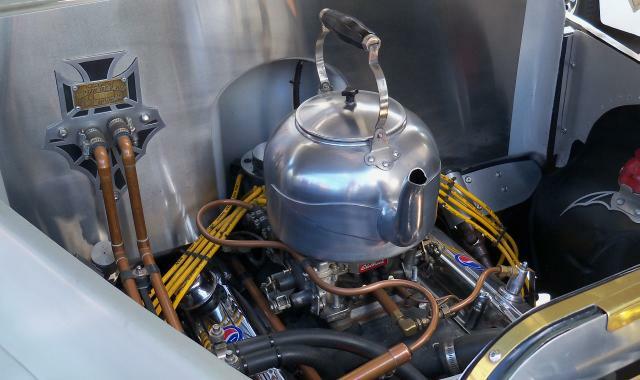 This cool 1947 Studebaker M Series Pickup belongs to the Woods Family of Roanoke, Virginia. It is finished in the livery of Woods Family Heating & Air Conditioning which has been in business for over 50 years. Power comes from a modified Studebaker R1 V8 complete with a tea kettle air cleaner. Copper supply line has been used in lieu of conventional rubber hoses as befits the nature of the Woods Family business. The truck has a number of period options including a full metal sun visor, chrome bumpers front and rear, center mounted bumper guards, and amber fog lights. There are plenty of extra gauges to monitor the engine and the hand grenade shift knob is a neat touch.
Here is a closeup of the AAA National Award badge that is fixed to the firewall. These chrome metal badges were intended as license plate toppers or for mounting on the bottom edge of a trunk lid. They were awarded to American Automobile Association members with safe driving records. They were not free. If you qualified for the award, you sent in a check, and the AAA sent you a badge. These attractive badges have become much sought after collector's items for vintage cars and can sell for upwards of $100 in mint condition.
The Studebaker M Series first appeared in 1940 as a 1941 model. Relatively few were built before civilian truck production was suspended in 1942. Civilian truck production was resumed in May 1945, and the M Series was produced until early 1948, at which time it was replaced by the familiar 2R (C Cab) Series. An unusual aspect of the M Series is that the front and rear fenders on each side were designed to be interchangable. Standard duty models used the Champion six, and the larger Commander six was installed in heavy duty models. Peak production year for the M Series was 1947 with 67,811 being built.
The pictures of the Woods Family M Series Pickup were taken at the June 2013 Star City Motor Madness Car Show in downtown Roanoke, Virginia. Star City Motor Madness is a celebration of America's passion for the automobile and the love of cruising. The event is a two day affair held annually on the last Friday and Saturday in June. The format is a cruise-in on Friday evening and a car show in downtown Roanoke on Saturday. With hundreds of cars and numerous vendors, it is well worth the trip and an overnight stay.
If you own or once owned a Studebaker or related vehicle and would like to see your car as "Stude of the Month" or in the "Cool Studes" section, or if you have other pictures or material that you would like to contribute to this page, please e-mail me here. I can accept either electronic or hard copy images. The Main Page is issued every other month so the next edition will be December 2013.
---
All of the previous editions of the Main Page going back to October 1995 have been reposted. In the process of reposting the pages, I have made corrections and revisions as needed, and in some cases added material that was not used when a page was first posted due to download speed and file storage limitations. A complete list of Main Pages and Studes of the Month with links to each is located here.
If you have a particular interest in Bullet Nose Studebakers, visit Bill Junge's Bullet Nose Paradise which is dedicated to the 1950 and 1951 Bullet Nose models.
---
BONNEVILLE SPEED WEEK
STUDEBAKER SALT FLATS RACERS
ELECTRIC POWERED 1950
STUDEBAKER PICKUP TRUCK
STUDEBAKER NATIONAL MUSEUM
PICTURES FROM MY VISIT
VIRGINIA MUSEUM OF
TRANSPORTATION STUDEBAKERS
---
Another Cool Stude
Custom 1959 Silver Hawk Coupe


Rear Angle


Interior and Dash


Trunk Area


Under the Hood

This Custom 1959 Studebaker Silver Hawk is owned by Jack Fulk. As documented in the restoration notebook seen in the picture of the trunk area, Jack's car underwent a two-year frame-off restoration. Starting with a sound but tired car, the body was removed from the frame and all rust was properly repaired. A modified Ford V8 replaced the Studebaker engine and front disc brakes and a dual master cylinder were added. Trim remains mostly stock except for a 1963 G.T. Hawk trunk lid insert, some dechoming, and painted headlight rims. The interior has been fitted with bucket seats, a tilt steering wheel, and a custom center console. Here is a driver side view of the center console and dash.
Studebaker dropped the Golden Hawk in 1959 but the Silver Hawk continued in both 6 cylinder and V8 forms. The V8 was reduced to 259 cubic inches rated at 180 horsepower with a two-barrel carburator. A power pack option added a four-barrel carburator and dual exhausts for 195 horsepower. Silver Hawk production for 1959 totaled 7,788 which was an increase of about 500 cars from the year before.
The pictures were taken at the August 2013 Factory Antique Mall Car Show in Verona, Virginia. With over 100,000 square feet of floor space, the Factory Antique Mall claims to be the largest mall of its type on the East Coast. This was their 8th annual car show which has grown into quite a large event.
---
DAN'S STUDEBAKER CROSSWORD PUZZLES
Dan Armstrong from Mansfield, Texas has created a number of crossword puzzles and games for car nuts. These are available on-line at Dan's Extreme Car Puzzles. Dan has a strong interest in Studebakers, particularly the 1956 Sky Hawk, the performance equipped 1963 Lark Daytona, and the performance equipped 1963 and 1964 GT Hawks. The Studebaker crosswords are copyright by Dan Armstrong and are used with his permission. Thanks to Dan for providing the link and the downloadable Studebaker crossword puzzles for readers of this page to enjoy.
---
TEST YOUR STUDEBAKER KNOWLEDGE!
---
PACKARD CORNER
Two 1955 Packard Hardtops


Cathedral Taillight


Another View

Bill Storr of Edmonton, Alberta sent these pictures of his two 1955 Packard Four Hundred Hardtops. Both of these cars have appeared on this page before but not together in one place. These are big cars weighing in at 4,250 pounds. Both are powered by Packard's 352 cubic inch V8 which is rated at 260 horsepower. Basically the same engine upgraded to 275 horspower was used in the 1956 Studebaker Golden Hawk. Styled by Richard Teague, the modernized 1955 Packard was intended to compete with Cadillac and Lincoln. Only 7,206 Packard Four Hundred Hardtops were built for the 1955 model year.
Bill Storr owns and operates Route 66 Appraisals located in Edmonton. His pristine 1962 Gran Turismo Hawk appeared as Stude of the Month on this page in August 2010. Thanks to Bill for sending the pictures of his Packard Four Hundred Hardtops.
---
Nick Bodemer's Studebaker Dealer Inventory Project was started in June 2011 and includes a growing number of pictures, articles, ads, and other items related to former Studebaker dealerships. Well worth a visit. If you have a Google account you can join the site through Google Friend Connect.
---
STUDE MISCELLANY
1935 Studebaker Project Car


Boxed and Drilled Frame

New Rear Suspension

After the Tornado Hit

Greg Satterlee of Moore, Oklahoma sent in several pictures of his 1935 Studebaker Dicatator project car including one taken after a devastating EF5 tornado leveled his house and garage in May of this year. Fortunately, Greg and his family are safe and sound and all of the family pets survived including one that was burried in the ruble for seven days. The Moore tornado killed 25 people, injured 377, destroyed 1,150 homes, and caused an estimated $2 billion in damages. Entire subdivisions were obliterated and two elementary schools and a hospital were severely damaged. The Studebaker can be seen surrounded by rubble in the picture above. Greg's car appeared on this page in January 2005 shortly after he purchased it as a street rod project.
Greg was working on the car as time and money allowed. He says that he never got in a hurry because for him, the journey of building the car was just as enjoyable as it would have been to drive it. The car was given a Fat Man Mustang II front clip and a Thunderbird rear suspension with air bags. Greg boxed the frame and frenched the exhaust through the transmission crossmember. He sectioned the rear doors, widened the B-Pillars, and fabricated hidden suicide hinges for all four doors. The car was given a brand new floor pan and Greg was planning to chop the top a very subtle 2.5 inches.
Then the tornado hit. A good bit of the garage including the door header beam came down on the rear of the car. As a result, the the body was bent over to the driver side and a four-inch gap was left from the top of the body to the driver side door. All four fenders, the running boards, window trim, hood, and side vents were off the car and were being stored in Greg's attic. The only piece that Greg was able to find was one of the running boards. Greg concluded that enough was left to make it into a decent rat rod but that it was too far gone to be street rod material.
In the end, Greg couldn't bring himself make the car into a rat rod. It has been sold to a new owner who is better equipped than Greg to repair the damage. The car is now in Chicago and Greg has been promised periodic updates on the car's progress.
Thanks to Greg for sending the pictures and report on his Stude project.
---
Did you know that Michael Kelly's New Avanti Motor Corporation signed a deal to produce the VW based Brazilian Puma Sports Car? I didn't think so! The deal fell through when Kelly ran out of money. To learn more about the Puma, visit my Puma Sports Cars Site.
---
STUDE TOY OF THE MONTH
Phoenix Mint 1937 Studebaker Army Ambulance





This 1:43 scale U.S. Army Ambulance is a recent issue in the Phoenix Mint Series made by Phoenix Toys. It is a good quality model that retails for $22. The hood opens to reveal a detailed engine and both side doors open to reveal a detailed interior. Somewhat disappointing for an ambulance model the back compartment door is fixed. Here is a picture with the hood and side doors open. The model comes packed in a plastic display case inside a cardboard outer box. Phoenix Toys also makes a hearse version of this casting which does have a back compartment door that opens as well as opening side doors. I purchased this example on eBay but it can also be ordred directly from Phoenix Toys.
During the 1920's and 1930's Studebaker produced cowl and chassis units to accept coach built bodies from companies such as Superior Body Company of Lima, Ohio and Bender Body Company of Cleveland and Elyria, Ohio. These "professional cars" included ambulances and hearses and were marketed through Studebaker dealers. I cannot confirm that any 1937 Studebaker ambulances were actually purchased for military use. In any event, this an interesting model for both Studebaker toy collectors and military toy collectors.
More toy Studes can be found in the Stude Stuff area of this page and on my Studebaker Toys Home Page.
Click here for information on ordering hard to find Studebaker toys made by manufacturers such as Johnny Lightning, Racing Champions, Hot Wheels, Matchbox, Muscle Machines, Maisto, and EKO.
Scratch Built Resin 1964 Studebaker Daytona

Tim Palmer of Fairbanks, Alaska made this scratch built 1964 Daytona Hardtop from a block of resin. Tim started making Bricklin models and has expanded into Studebakers. Tim has created a very nice 1964 Daytona Hardtop model and looking for Studebaker fans who might be interested in owning a copy for themselves. Tim carves the original from a block of resin, makes a rubber mold, and casts additional copies in resin. The models are then hand painted and detailed. Here are examples of this model in red and blue. Further information is available on Tim's Brickin Factory website or you can contact Tim directly at tdpalmer@gci.net.
Studebaker Toy Treasures Book

Jim Geary's book Studebaker Toy Treasures is the standard reference collectors of Studebaker Toys. This wonderful book has 294 pages of color pictures and details on hundreds of Studebaker toys. Publication date is 2004 and just about every Studebaker toy and model produced up to that time is pictured and cataloged. Jim is making the book available for the reduced price of $28 including shipping. This is a great deal since most vendors sell this book for $39.95 plus shipping. Jim will sign the book if requested. Jim can be contacted at sanjim76@live.com or send payment to Jim Geary, 181 Allendale Hills Road, Franklin, NC 28734.
---
---
---
---
* * * This Page On Line Since October 1995 * * *
---
Published 10/1/2013