---
BILL
JACKAMEIT'S
STUDEBAKER
PAGE
---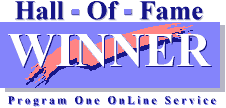 ---
---
Welcome fans of the pride of South Bend. I am a long-time Studebaker fan and Studebaker Driver's Club member, having owned a 1957 Silver Hawk in high school and a 1959 Lark Regal Hardtop in college. Since then, I have owned other Studes as hobby cars including a 1962 Champ Pickup, a 1964 Canadian Commander Special, a 1962 GT Hawk, a 1960 Lark Regal 4-door, a 1957 Silver Hawk (not the same one I owned in high school -- that one I wrecked) and a 1949 Champion Starlight Coupe. My current Stude is a 1964 Challenger Wagonaire sliding roof station wagon. I will build this page as time allows. If you have any suggestions or comments, please send me a message. Both text and image contributions are welcome.
---
STUDE OF THE MONTH
APRIL 2015
1961 Studebaker Lark Station Wagon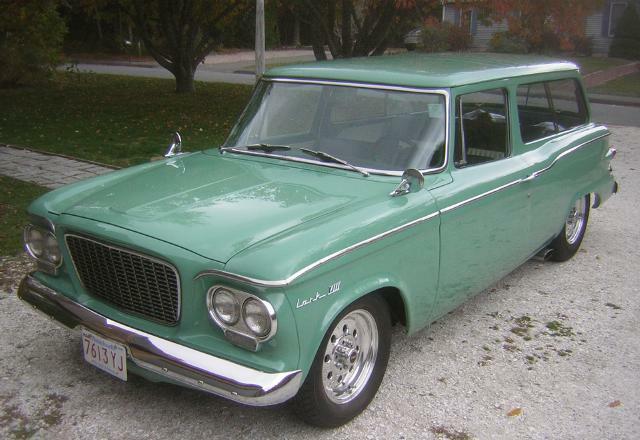 Rear Angle View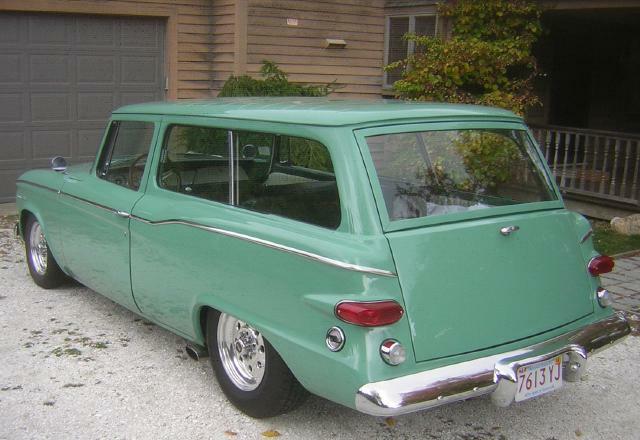 Rear View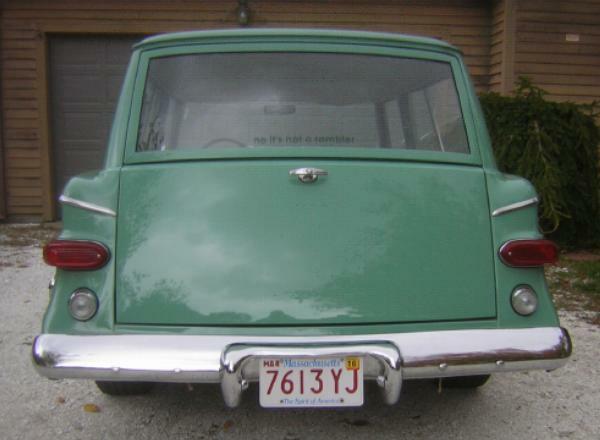 Front Angle View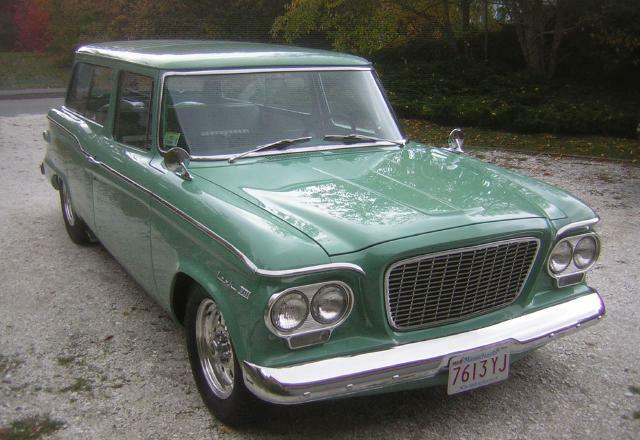 Dash and Instruments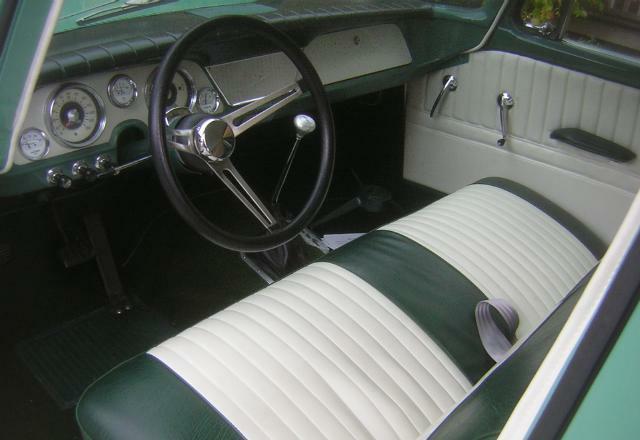 Under the Hood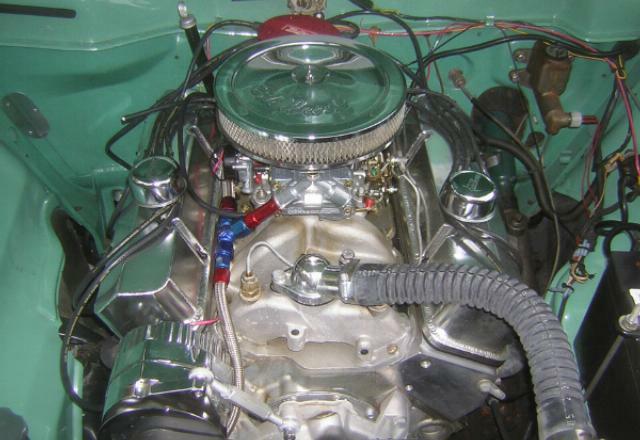 This sharp 1961 Studebaker Lark 2-Door Station Wagon belongs to Steve Geddis of Cape Cod, Massachusetts. Steve's wagon is fully restored with NOS sheet metal and is finished in Jade Green. It is powered by a 350 cubic inch Chevrolet small block engine with a GM Turbo-Hydramatic 350 three speed automatic transmission with floor mounted gear selector and Dana 44 Positraction rear axle. Upgrades include a Mallory ignition system, Edelbrock carburation, and a Turner Disc Brake conversion. It is mildly customized with chrome wheels, dual side exhaust pipes exiting just in front of the rear wheels, and 1960 Lark tail light lenses. Round analog gauges have been tastefully integrated into the dash. It does not have a factory radio but does have the optional factory backup lights.
When the Lark was introduced for the 1959 model year only a 2-door station wagon was available. A 4-door wagon was added in 1960 and quickly outsold the 2-door version. The 1961 model year was the last for the 2-door wagon and only 2,387 were produced of which 1,210 were equipped with the new Skybolt six and and 1,177 had V8 engines. All 1961 model year 2-door wagons had Deluxe level trim in that the fancier Regal level trim was only available on the 4-door wagon. This makes Steve's wagon a relatively rare car not often seen. The lettering on the rear glass of Steve's wagon reads "No it's not a Rambler." In fact, this is the first time since this page started over 19 years ago that a 1961 Lark has been featured as the Stude of the Month.
Thanks to Steve for sending the pictures and information about his very cool Studebaker Station Wagon.
If you own or once owned a Studebaker or related vehicle and would like to see your car as "Stude of the Month" or in the "Cool Studes" section, or if you have other pictures or material that you would like to contribute to this page, please e-mail me here. I can accept either electronic or hard copy images. The Main Page is issued every other month so the next edition will be June 2015.
---
All of the previous editions of the Main Page going back to October 1995 have been reposted. In the process of reposting the pages, I have made corrections and revisions as needed, and in some cases added material that was not used when a page was first posted due to download speed and file storage limitations. A complete list of Main Pages and Studes of the Month with links to each is located here.
If you have a particular interest in Bullet Nose Studebakers, visit Bill Junge's Bullet Nose Paradise which is dedicated to the 1950 and 1951 Bullet Nose models.
---
2014 INTERNATIONAL MEET
DOVER, DELAWARE
BONNEVILLE SPEED WEEK
STUDEBAKER SALT FLATS RACERS
ELECTRIC POWERED 1950
STUDEBAKER PICKUP TRUCK
STUDEBAKER NATIONAL MUSEUM
PICTURES FROM MY VISIT
VIRGINIA MUSEUM OF
TRANSPORTATION STUDEBAKERS
---
TEST YOUR STUDEBAKER KNOWLEDGE!
---
More International Meet Pictures
1963 Studebaker Super Lark Clone


Rear Angle


Side View


Interior with Avanti Steering Wheel

This 1963 Studebaker Super Lark 2-Door Sedan Clone belongs to Joe Flannery of Dumont, New Jersey. Joe's Lark was originally equipped with a 259 cubic inch V8 with Flightomatic automatic transmission and disc brakes and was off the road for several years. It now has a supercharged R2 engine from an Avanti along with an Avanti steering box, quick ratio steering arms, and a 4-speed manual transmission with a Centerforce performance clutch setup and correct shift handle and knob. Avanti sway bars are fitted front and rear and an Avanti steering column was shortened for use in the Lark.
Joe's Lark is the Custom trim level which was new for 1963 featuring bright side window trim and slotted above the Regal trim level. The interior has been upgraded with bucket seats, console, and a Cruiser style rear set with folding armrest. The front grill and fender emblems are as would be found on a Factory Super Lark.
1962 Gran Turismo Hawk


1956 President Classic


1956 Power Hawk Coupe

The 1962 Gran Turismo Hawk Hardtop from Maryland owned by Frank Philippi is an excellent example of a first year GT. Frank has owned this Hawk since 1979. It has been restored to original condition. Black was a popular color on first year GT Hawks and was used on the car pictured in the attractive double page side view artwork on the inside of the 1962 Gran Turismo Hawk dealer brochure.
The 1956 President Classic also from Maryland owned by Marty Long is finished in Tangerine and Snowcap White. The President Classic was a long wheel base model identified by the presence of rear door vent windows. The President Classic outsold the standard President 4-door 8,507 to 6,822 for the 1956 model year.
The 1956 Power Hawk Coupe from New York is finished in Yellowstone and Snowcap White. The Power Hawk was equipped with Studebaker's 259 cubic inch V8 and was a one year only model. Here is a close-up rear view of the Power Hawk that identifies it as such. The 1956 Flight Hawk six cylinder was identical outside except for the trunk lid script and optional dual exhaust system.
The pictures were taken at the Studebaker Drivers Club International Meet in Dover, Delaware in July of last year.
---
DAN'S STUDEBAKER CROSSWORD PUZZLES
Dan Armstrong from Mansfield, Texas has created a number of crossword puzzles and games for car nuts. These are available on-line at Dan's Extreme Car Puzzles. Dan has a strong interest in Studebakers, particularly the 1956 Sky Hawk, the performance equipped 1963 Lark Daytona, and the performance equipped 1963 and 1964 GT Hawks. The Studebaker crosswords are copyright by Dan Armstrong and are used with his permission. Thanks to Dan for providing the link and the downloadable Studebaker crossword puzzles for readers of this page to enjoy.
---
Nick Bodemer's Studebaker Dealer Inventory Project was started in June 2011 and includes a growing number of pictures, articles, ads, and other items related to former Studebaker dealerships. Well worth a visit. If you have a Google account you can join the site through Google Friend Connect.
---
STUDE MISCELLANY
Custom 1962 Lark Daytona Skytop Clone


Rear Angle View


Interior and Dashboard


Under the Hood

Fred Hall of Cambridge, Ontario sent pictures and information about a 1962 Studebaker Lark Daytona Skytop Clone that he owned until January of this year. The cloth sunroof is not factory but is the same type that was available from the factory. Studebaker sourced sunroof components from Golde of Germany. Golde also sold aftermarket sunroof kits that could be installed in almost any car with a flat or near flat metal roof. The Daytona is powered by a 259 cubic inch V8 with dual exhaust and Flightomatic automatic transmission. Other features include a chrome Studebaker Champ truck grill, 1957 Studebaker Sedan rotating speedometer, reversed Pontiac Trans Am hood scoop, 1500 watt stereo with DVD, and custom futuristic steering wheel. Here is a closeup view of the sunroof in the open position.
The current owner of this car is Paul Wismer of Kitchener, Ontario.
1941 Studebaker Commander Sedan

Fred Hall also sent this picture of a 1941 Studebaker Commander 4-Door Sedan that he purchased from SDC Member Brian Schuppert of Gibsons, British Columbia. New features on the 1941 Commander included a one piece windshield on coupe models only and the elimination of running boards. The 1941 Commander used a 226 cubic inch six cylinder engine rated at 96 horsepower. Studebaker offered two styles of Commander 4-door sedans in 1942. The Cruising Sedan featured suicide doors in the rear as on Fred's car and the Land Cruiser featured forward opening doors front and rear.
Thanks to Fred for sending in the pictures and information regarding his former Lark Daytona Skytop Clone and his 1941 Commander.
---
Did you know that Michael Kelly's New Avanti Motor Corporation signed a deal to produce the VW based Brazilian Puma Sports Car? I didn't think so! The deal fell through when Kelly ran out of money. To learn more about the Puma, visit my Puma Sports Cars Site.
---
STUDE TOY OF THE MONTH
Editions Atlas 1955 Studebaker Commander





This reproduction of the Dinky Toys 1955 Studebaker Commander Hardtop is a product of Editions Atlas which is based in Evreux, France. It is one of an extensive range of reproduction French Dinky Toys issued by Atlas. Here is a picture of an Atlas 1955 Commander and an original Dinky 1955 Commander together. The Atlas model comes packed in a very nice reproduction Dinky Toys box. The base of the Atlas model clearly indicates that it is made in China and is an Editions Atlas so there is no doubt that it is a reproduction. I purchased this example on eBay from a toy vendor in China for under $30 with shipping which is much less than the price asked by vendors in France.
Atlas Editions markets an extensive line of adult collectibles including a 1:43 scale "Spirou et Fantasio" 1953 Starliner Hardtop that was featured on this page in December 2008 and a 1:43 scale 1947 Studebaker Commander in the Tintin Series that was featured on this page in June 2012. The Atlas reproduction Dinky Toys line also includes several versions of the French Dinky Toys Studebaker M Series Truck including a stake bed, dump truck, and wrecker.
More toy Studes can be found in the Stude Stuff area of this page and on my Studebaker Toys Home Page.
Click here for information on ordering hard to find Studebaker toys made by manufacturers such as Johnny Lightning, Racing Champions, Hot Wheels, Matchbox, Muscle Machines, Maisto, and EKO.
Studebaker Toy Treasures Book

Jim Geary's book Studebaker Toy Treasures is the standard reference collectors of Studebaker Toys. This wonderful book has 294 pages of color pictures and details on hundreds of Studebaker toys. Publication date is 2004 and just about every Studebaker toy and model produced up to that time is pictured and cataloged. Jim is making the book available for the reduced price of $28 including shipping. This is a great deal since most vendors sell this book for $39.95 plus shipping. Jim will sign the book if requested. Jim can be contacted at sanjim76@live.com or send payment to Jim Geary, 181 Allendale Hills Road, Franklin, NC 28734.
---
---
---
---
* * * This Page On Line Since October 1995 * * *
---
Published 4/1/2015