---
BILL
JACKAMEIT'S
STUDEBAKER
PAGE
---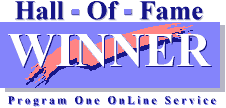 ---
---
Welcome fans of the pride of South Bend. I am a long-time Studebaker fan and Studebaker Drivers Club member, having owned a 1957 Silver Hawk in high school and a 1959 Lark Regal Hardtop in college. Since then, I have owned other Studes as hobby cars including a 1962 Champ Pickup, a 1964 Canadian Commander Special Sedan, a 1962 GT Hawk, a 1960 Lark Regal 4-door, a 1957 Silver Hawk (not the same one I owned in high school -- that one I wrecked) and a 1949 Champion Starlight Coupe. My current Studes are a 1964 Challenger Wagonaire Station Wagon with sliding roof and a 1964 Daytona Sedan. I will build this page as time allows. If you have any suggestions or comments, please send me a message. If you expeience a problem with the e-mail link, the address is wj2d44@gmail.com. Both text and image contributions are welcome.
---
STUDE OF THE MONTH
DECEMBER 2018
Custom 1948 Champion Convertible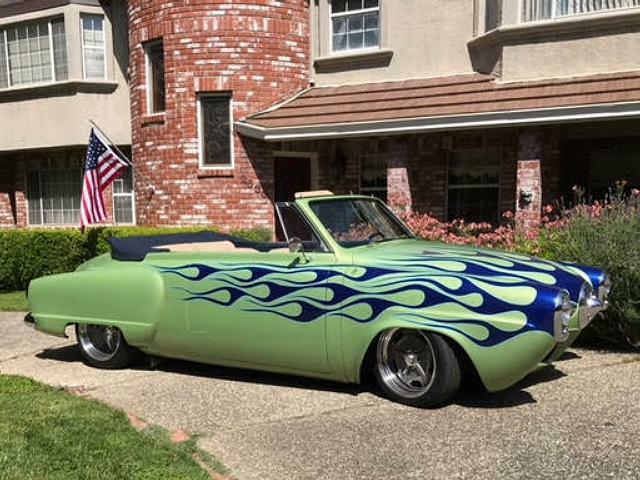 Convertible Top Raised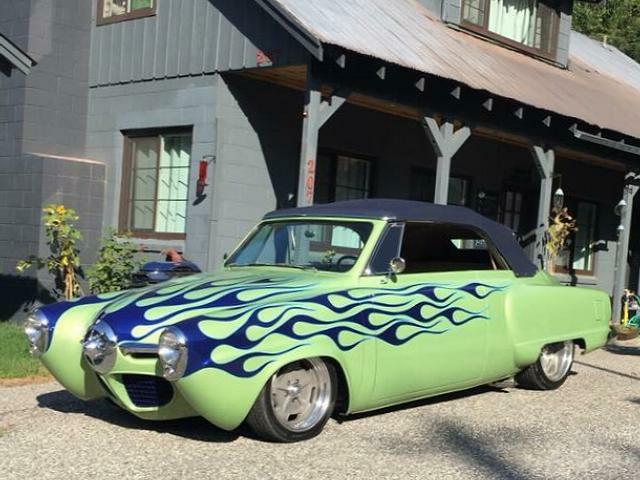 Flames on 1950 Front Clip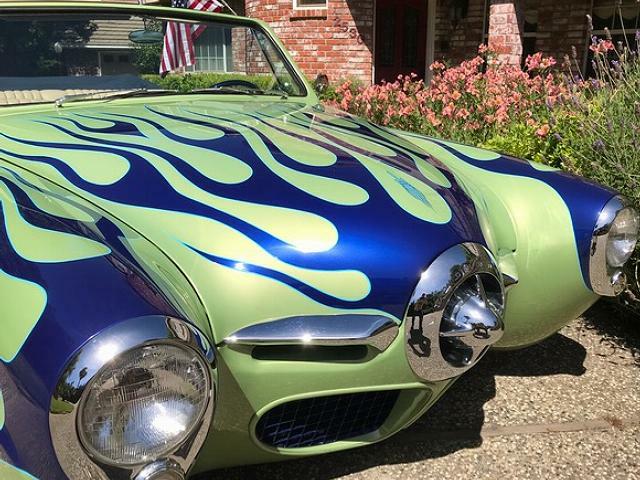 Rear Angle View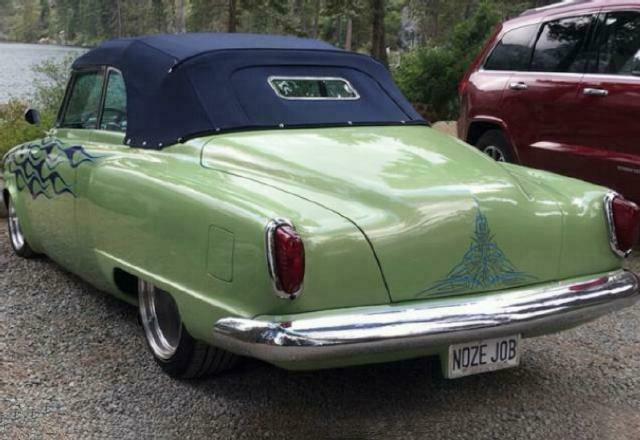 Dashboard and Instruments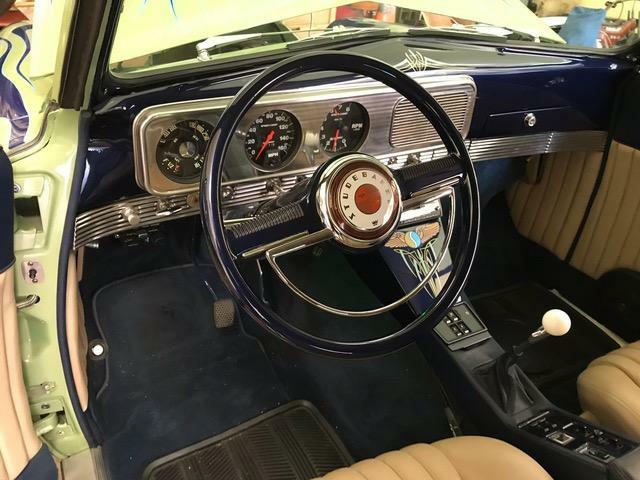 Bucket Seat Interior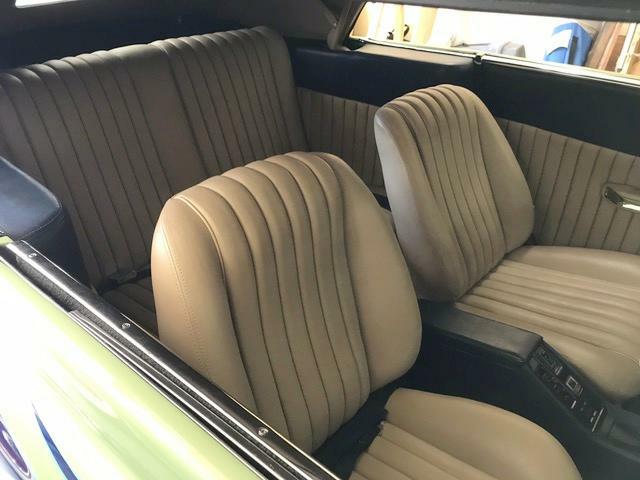 Under the Hood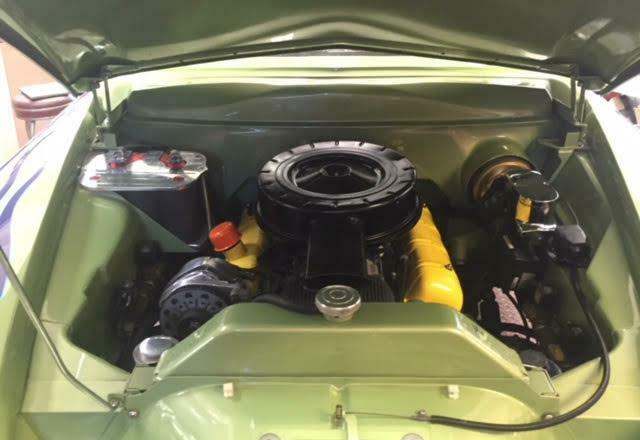 This very cool Custom 1948 Champion Convertible belongs to Gary and Nancy Pettigrew of Carnichael, California. The Pettigrew's car first appeared on this page back in January 2003. Power comes from a 1994 Chevrolet Corvette LT-1 V8 engine with a GM 4L60E performance automatic transmission and 9" Ford rear end. Modern upgrades include a dual master cylinder and an alternator. The car has air ride suspension which allows it to sit very low when parked. In addition, Gary has dressed and detailed the engine to appear more an engine in a late model Studebaker including yellow valve covers, black air cleaner, and red oil filler cap.
The car has front bucket seats, a pleated leather interior, and a custom center console with a stereo system, power window controls, and floor shifter for the transmission. It retains the original 1948 style dashboard with upgraded analog instruments including a 160 mph speedometer and 8,000 rpm tachometer. The black Lecarra steering wheel is fitted with a 1949 Ford horn ring and a vintage Studebaker button. The paint is Volkswagen Cyber Green Metallic and the convertible top is blue canvas. The front flames and rear pinstriping were added about two years ago. Gary also had the pinstriper add a winged "Lazy S" emblem to the console.
Pictures of the Build


Finished Frame


Custom Crossmember

These pictures were taken during the frame-off restoration and build. Gary did the build himself including the paint. The car as found was in terrible condition. Here is a picture of the car before work began. The front clip, rear fenders, and floor came from a donor 1950 Studebaker 2-door sedan. The front fenders were pie cut in order to to drop the nose 1 1/2". The doors came from a 1952 Studebaker hardtop and the tailights are 1951 Studebaker. The car was taken down to bare metal, all rust was repaired, and a custom crossmember was fabricated and installed. The front bumper and rear fender stone guards were eliminated as was much of the chrome trim.
Thanks to Gary for sending the pictures and information about this super cool Bullet Nose Stude Convertible.
If you own or once owned a Studebaker or related vehicle and would like to see your car as "Stude of the Month" or in the "Cool Studes" section, or if you have other pictures or material that you would like to contribute to this page, please e-mail me here at wj2d44@gmail.com. I can accept either electronic or hard copy images. The Main Page is issued every other month so the next edition will be February 2019.
---
All of the previous editions of the Main Page going back to October 1995 have been reposted. In the process of reposting the pages, I have made corrections and revisions as needed, and in some cases added material that was not used when a page was first posted due to download speed and file storage limitations. A complete list of Main Pages and Studes of the Month with links to each is located here.
If you have a particular interest in Bullet Nose Studebakers, visit Bill Junge's Bullet Nose Paradise which is dedicated to the 1950 and 1951 Bullet Nose models.
---
2014 INTERNATIONAL MEET
DOVER, DELAWARE
BONNEVILLE SPEED WEEK
STUDEBAKER SALT FLATS RACERS
STUDEBAKER NATIONAL MUSEUM
PICTURES FROM MY VISIT
VIRGINIA MUSEUM OF
TRANSPORTATION STUDEBAKERS
---
TEST YOUR STUDEBAKER KNOWLEDGE!
---
SEEN AT REEDSVILLE
1956 Studebaker Transtar Pickup


Another View

The 2018 Mifflin County Studebaker Swap Meet, formerly the Reedsville Studebaker Swap Meet, was held on Friday, October 19 and Saturday, October 20 at the Mifflin County Youth Park. The name change results from the fact that the event is no longer sponsored by the Manhattan Chapter of SDC. Thankfully the good folks at Corkins Auto Repair were able to keep the event going. I drove up on Friday and was pleased to see that there were quite a few Studebakers of various types parked on the grounds including this very nice 1956 Studebaker Transtar Pickup. The weather was not a problem with mostly sunny skies and mild temperatures.
Studebaker introduced the Transtar name for its line of trucks in 1956. The main styling changes for 1956 were a new higher hood with a secondary chrome grille and incorporation of turn signals into the lower portion of the front grille. The one piece windshield was a 1954 addition and the larger rear window appeared in 1955. Otherwise, the cab is essentially the same as introduced on the 2R Series in 1948 as a 1949 model. If anyone can identify the owner of the 1956 Transtar I will update the page to reflect that information. Additional pictures of interesting Studebakers at the event will appear in the next issue of this page.
Next year's event will be held on October 25 and 26, 2019. Now that the Studebaker York Swap meet is no more, the event at Reedsville is my best chance to find parts without making an overnight trip.
---
DAN'S STUDEBAKER CROSSWORD PUZZLES
Dan Armstrong from Mansfield, Texas has created a number of crossword puzzles and games for car nuts. These are available on-line at Dan's Extreme Car Puzzles. Dan has a strong interest in Studebakers, particularly the 1956 Sky Hawk, the performance equipped 1963 Lark Daytona, and the performance equipped 1963 and 1964 GT Hawks. The Studebaker crosswords are copyright by Dan Armstrong and are used with his permission. Thanks to Dan for providing the link and the downloadable Studebaker crossword puzzles for readers of this page to enjoy.
---
Nick Bodemer's Studebaker Dealer Inventory Project was started in June 2011 and includes a growing number of pictures, articles, ads, and other items related to former Studebaker dealerships. Well worth a visit. If you have a Google account you can join the site through Google Friend Connect.
---
STUDE MISCELLANY
1952 Studebaker Limousine


Driver Side Rear Angle


Passenger Side View

Steve DiPietro of Canton, Ohio sent these pictures of a 1952 Studebaker Commander 6-Door Limousine that he bought at an auction last year in Norwalk, Ohio. Two of the six doors are on the driver side and four are on the passenger side. The limo has its original Studebaker V8 with three-speed manual transmission and overdrive and has four drive shifts. The firewall tag indicates that it started life as a low trim 4-door sedan. It is believed that the conversion was done by Armbruster & Company of Fort Smith, Arkansas. Armbruster did limousine conversions on a number of makes including Chevrolet, Chrysler, Pontiac, and American Motors.
Steve currently has the Limo completely taken apart for a frame-off restoration. He intends to stay with the original Studebaker V8 and manual transmission but indicates that he will do a front disc brake conversion to improve stopping power since it is a very heavy car. Thanks to Steve for sending the pictures and information about his cool Studebaker Limousine.
Studebaker K20 Junkyard Find


Safely Home

John Richardson of Menomonie, Wiscinsin sent these pictures of a Studebaker K20 that he found in an old junkyard. John purchased the truck and brought it home. The truck has dual rear wheels and apparently was used as a dump truck as it has a St. Paul Hydraulic lift mechanism on the back. St. Paul Hydraulic was a manufacturer of heavy duty dump bodies, farm hoists, platform bodies, hydraulic tailgates, and refuse bodies. The K Series was introduced in 1938 and continued to 1940. The K20 was a 2-ton truck powered by a six cylinder side valve Hercules JKB engine.
John is trying to learn more about the truck and is not sure what he will do with it other than he wanted to save it from the crusher. Thanks to John for sending the pictures and information about his neat junkyard find.
1964 Daytona at Creative Works Farm

This picture was taken at the October 2018 Cruise-in at Creative Works Farm located just north of Waynesboro, Virginia. Creative Works Farm includes Camp Light which is a summer camp for special needs children ages 6 through 17. The grounds include a replica of a 1950's town featuring a service station, town hall, fire department, barber ship, general store, ice cream parlor, record shop, and pinball arcade. The cruise-in was to benefit Camp Light which is a summer program for special needs children. As often happens, the Daytona was the only Studebaker at the event.
---
Did you know that Michael Kelly's New Avanti Motor Corporation signed a deal to produce the VW based Brazilian Puma Sports Car? I didn't think so! The deal fell through when Kelly ran out of money. To learn more about the Puma, visit my Puma Sports Cars Site.
---
UK TOY COLLECTION UPDATE
Solido 1947 Studebaker Coupe



Jeff Sion from the United Kingdom sent some pictures of this rare Solido Studebaker Coupe. When Jeff purchased the Solido it was "a disaster" so he set about to completely restore it. Jeff did the chassis and interior and a model maker friend of his did the paint job. The car has new tires and the original windup motor works well. This view from underneath shows the spring driven motor and gears. Jim Geary's book Studebaker Toy Treasures has this model cataloged as a 1947 Studebaker Coupe. Dr. Edward Force's Solido Toys variation and Price Guide lists it as a 2-Door Coupe with windows in a Studebaker style. To me it looks like an early postwar Studebaker coupe with a sedan style split rear window.
Autocult 1:43 Scale Manta Ray



Jeff also sent pictures of an Autocult 1:43 Manta Ray Concept Car in gold metallic that he recently acquired. Autocult is a relatively new German company founded in 2015. The company offers a wide range of resin models with each issue limited to 333 pieces. The original Manta Ray Concept Car was built by Glenn Hire and Vernon Antoine of Whittier, California using a 1951 Studebaker Commander chassis. The Commander body was removed and a replaced with a custom fiberglass roadster body. The 1951 Studebaker V8 engine and drivetrain were retained. A plan to put the Manta Ray into limited production fell through and only one example was built. The car still exists and was shown at Amelia Island in 2016.
Thanks to Jeff for sending the pictures and information regarding these interesting additions to his 1:43 scale Studebaker toy and model collection.
---
---
STUDE TOY OF THE MONTH
Brooklin 1953 Studebaker Commander







This 1:43 scale Brooklin 1953 Studebaker Commander Starliner Hardtop is a recent addition to my personal collection. It is Number BRK 32 making it an older model with less detail than the more recent issues from this company. The model is painted an attractive pale green which approximates Studebaker Chippewa Green. The base of the model indicates the scale as 1:43 and that it was made in England. The model is quite heavy for its size weighing 10.5 ounces. It features clear plasic front and rear windows and a nicely detailed tan interior complete with steering wheel. I acquired this example on eBay complete with its original box and inner sleeve with protective foam packaging. This is a fairly common model which typically sells for about $60 give or take.
Brooklin Models was founded in 1974 by John Hall in Brooklin, Ontario. The company relocated from Canada to Bath, England in 1979. From its beginning, Brooklin has specialized in American cars including those from companies like Studebaker, Nash, Hudson, and Packard. Brooklins are cast in heavy white metal from hand crafted brass patterns. The models are hand spray painted and feature nickel plated bright work and rubber tires. Brooklin has issued a number of Studebaker models including a 1934 Commander Land Cruiser Sedan, 1935 Commander Convertible, 1950 Commander Land Cruiser, 1952 Champion Starlight Coupe, 1952 Commander Convertible, 1954 Conestoga Station Wagon, 1955 Champion Sedan, and 1959 Lark Sedan.
More toy Studes can be found in the Stude Stuff area of this page and on my Studebaker Toys Home Page.
Click here for information on ordering hard to find Studebaker toys made by manufacturers such as Johnny Lightning, Racing Champions, Hot Wheels, Matchbox, Muscle Machines, Maisto, and EKO.
Studebaker Toy Treasures Book

Jim Geary's book Studebaker Toy Treasures is the standard reference collectors of Studebaker Toys. This wonderful book has 294 pages of color pictures and details on hundreds of Studebaker toys. Publication date is 2004 and just about every Studebaker toy and model produced up to that time is pictured and cataloged. Jim is making the book available for $28 plus $10 for shipping. Jim will sign the book if requested. This is a must for the serious Studebaker toy vehicle collector. Jim can be contacted at sanjim76@live.com or send payment to Jim Geary, 181 Allendale Hills Road, Franklin, NC 28734.
---
My Current 1964 Daytona Sedan on the
September 2018 Turning Wheels Back Cover.
---
---
---
* * * This Page On Line Since October 1995 * * *
---
Published 12/1/2018