---
BILL
JACKAMEIT'S
STUDEBAKER
PAGE
---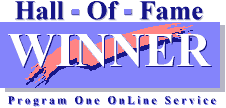 ---
---
Welcome fans of the pride of South Bend. I am a long-time Studebaker fan and Studebaker Drivers Club member, having owned a 1957 Silver Hawk in high school and a 1959 Lark Regal Hardtop in college. Since then, I have owned other Studes as hobby cars including a 1962 Champ Pickup, a 1964 Canadian Commander Special Sedan, a 1962 GT Hawk, a 1960 Lark Regal 4-door, a 1957 Silver Hawk (not the same one I owned in high school -- that one I wrecked) and a 1949 Champion Starlight Coupe. My current Studes are a 1964 Challenger Wagonaire Station Wagon with sliding roof and a 1964 Daytona Sedan. I will build this page as time allows. If you have any suggestions or comments, please send me a message. If you expeience a problem with the e-mail link, the address is wj2d44@gmail.com. Both text and image contributions are welcome.
---
STUDE OF THE MONTH
OCTOBER 2018
1966 Studebaker Daytona Sport Sedan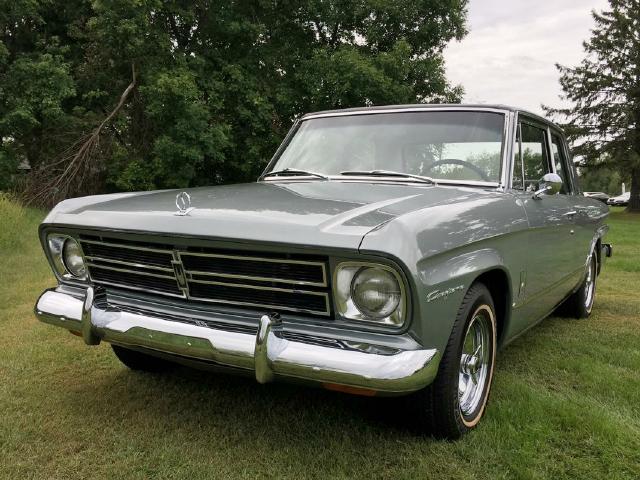 Rear View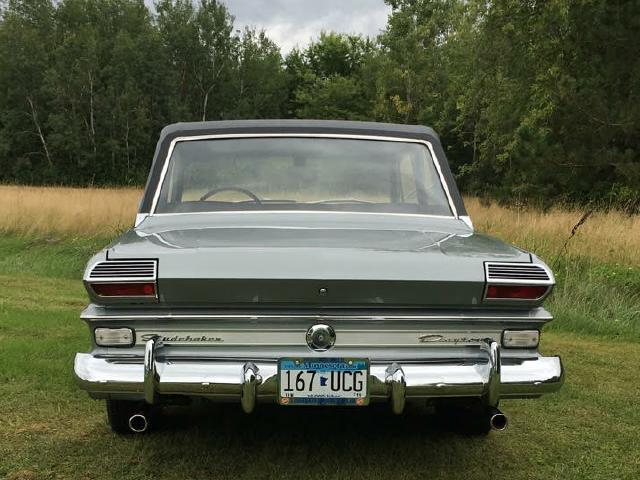 Rear Angle View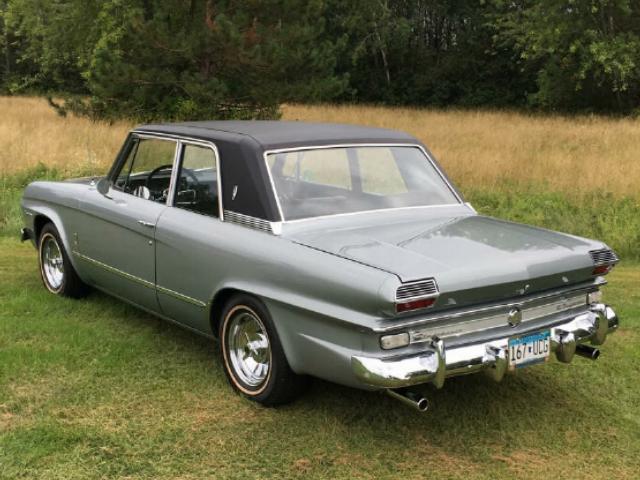 Side View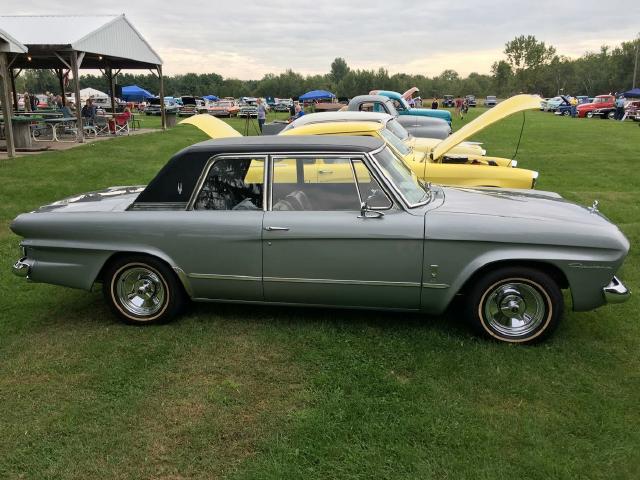 Dashboard and Instruments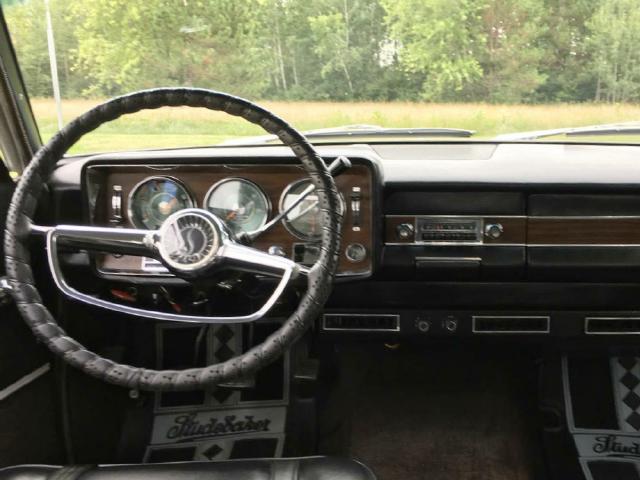 Bucket Seat Interior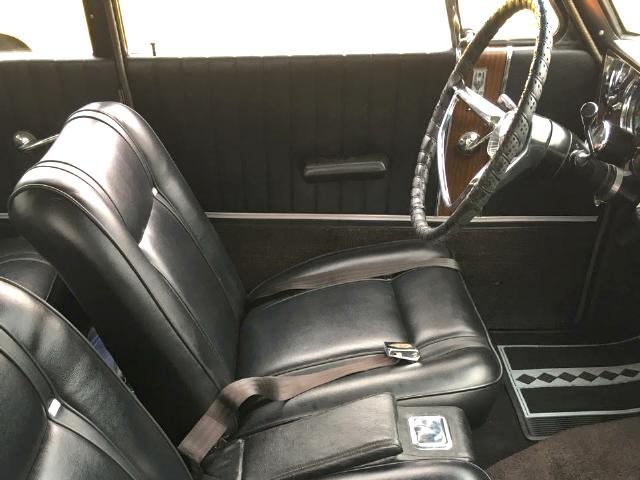 Under the Hood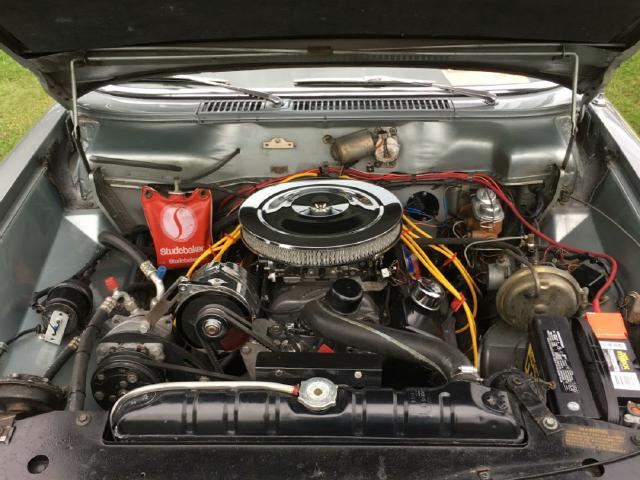 This sharp 1966 Studebaker Daytona Sport Sedan is owned by Mark Prazak of Fridley, Minnesota. Mark's Daytona is equipped with the GM of Canada McKinnon 283 cubic inch V8 and three-speed manual transmission with overdrive. The production order also shows a 3.73 Twin Traction axle, bucket seats and console, Climatizer, black vinyl roof, full wheel discs, and front and rear seat belts. The car has a correct for 1966 factory push-button radio with black knobs, front and rear bumper guards, and a nicely integrated aftermarket air conditioning system. It also has dual exhausts which were not available from the factory but are commonly added to these cars. Mark also added power steering and a rear anti-sway bar. Windsheld washers were standard on all 1966 Studebakers and transistorized igntion system was standard on Daytona Sport Sedans.
The first owner purchased the car from Burke's Studebaker in Anoka, Minnesota. Mark acquired the car in 2015 from its then current owner in Colorado Springs, Colorado. Although the trail is not complete, Mark is reasonably sure that he is the fourth owner. On the mechanical side, Mark replaced front end parts, various gaskets, the rear main seal, and the clutch. The car recently received a new windshield and a complete repaint in the original color of Niagra Blue Mist. The 14" wheels currently on the car were on it when Mark bought it but his intention is to replace these with original style 15" steel wheels and 1966 factory full wheel discs with the Hawk bird emblem in the center. Burke's Studebaker was owned by Lawrence Burke who continued on as a Studebaker parts vendor after the dealership closed. Mr Burke passed away in 2004 at the age of 96.
Designer Bob Marcks Brooks of the design firm of Marcks Hazelquist Powers was responsible for the restyled 1966 Studebakers. Changes for 1966 included a rectangular front grille, a return to single headlamps, shortened and lowered side trim, and tail light assemblies with exit vents for the new "Refreshaire" air circulating system on sedans. Interiors were upgraded with simulated wood on the dashboard of all models. Daytona Sport Sedans came with rich vinyl interiors and Cruisers came standard with attractive brocade nylon broadcloth. Sport Sedans and Cruisers featured a folding rear seat center armrest and wood grain to match the dash on the door and side panels. Here is a picture of the back seat area of Mark's Daytona. Sport Sedans came standard with a black or white vinyl roof which was optional on late production Cruisers.
Studebaker's advertising slogan for 1966 was "The Smart New Look." Nevertheless, the 1966 model year was to be the last. A total of 8.947 of the restyled 1966 Studebakers were produced before production ended in March 1966. Of these, only 870 were Daytona Sports Sedans of which 620 were V8's and 253 had 6 cylinder engines. Manual shift six cylinder cars used the 194 cubic inch Skybolt Six rated at 120 horsepower and automatic transmission six cylinder cars used the 230 cublic inch Skybolt Six rated at 140 horsepower. The 283 cubic inch V8 was rated at 195 horsepopwer with a two-barrel carburetor. As with the V8's, the six cylinder engines were purchased from McKinnon Industries. Mark says that he can't imagine ever parting with the Daytona because it is a blast to drive.
Mark also owns a 1963 Studebaker 8E7 Champ Pickup that was featured on this page in April 2018. Thanks to Mark for sending the pictures and information about his super 1966 Studebaker Daytona.
If you own or once owned a Studebaker or related vehicle and would like to see your car as "Stude of the Month" or in the "Cool Studes" section, or if you have other pictures or material that you would like to contribute to this page, please e-mail me here at wj2d44@gmail.com. I can accept either electronic or hard copy images. The Main Page is issued every other month so the next edition will be December 2018.
---
All of the previous editions of the Main Page going back to October 1995 have been reposted. In the process of reposting the pages, I have made corrections and revisions as needed, and in some cases added material that was not used when a page was first posted due to download speed and file storage limitations. A complete list of Main Pages and Studes of the Month with links to each is located here.
If you have a particular interest in Bullet Nose Studebakers, visit Bill Junge's Bullet Nose Paradise which is dedicated to the 1950 and 1951 Bullet Nose models.
---
2014 INTERNATIONAL MEET
DOVER, DELAWARE
BONNEVILLE SPEED WEEK
STUDEBAKER SALT FLATS RACERS
STUDEBAKER NATIONAL MUSEUM
PICTURES FROM MY VISIT
VIRGINIA MUSEUM OF
TRANSPORTATION STUDEBAKERS
---
TEST YOUR STUDEBAKER KNOWLEDGE!
---
ANOTHER COOL STUDE
1959 Studebaker Lark Hardtop


Interior and Dash


Under the Hood

This cool 1959 Lark Regal Hardtop belongs to John Caldwell of Victoria, British Columbia, Canada. John's Lark is powered by a 1955 Chrysler Hemi V8 with a Muncie four-speed manual tranmission. The motor has 11:1 Ross pistons, an Isky cam, and a Holley Quick Fuel 680 four-barrel carburetor. The ignition uses a Dodge 340 LA type distributor with an HEI kit and the oil pump is also Dodge 340. The rear is a Dana 44 with flanged axle kit using Moser axles and a Yukon locker with Yukon gears. John made his own disc brake system keeping the original through the floor pedal setup with Wilwood Engineering hydraulics. The car rides on American Racing 16" by 7" Torq Thrust mag wheels.
The interior has been tastefully redone with bucket seats and an Ididit tilt steering column with a custom steering wheel. Steering is assisted by a Cobalt electric power steering unit. The floor shift integrates nicely and looks as though it could have come from the factory but of course Studebaker did not offer a four-speed floor shift in 1959. Otherwise the interior appears as original with a correct factory radio in the dash. The front license plate is an original 1959 British Columbia plate. John's goal was to build a retro muscle car keeping it period correct as possible. I would say that John has achieved that goal without compromising on safety or funtionality.
Thanks to John Caldwell for sending the updated pictures and information about cool 1959 Lark.
---
DAN'S STUDEBAKER CROSSWORD PUZZLES
Dan Armstrong from Mansfield, Texas has created a number of crossword puzzles and games for car nuts. These are available on-line at Dan's Extreme Car Puzzles. Dan has a strong interest in Studebakers, particularly the 1956 Sky Hawk, the performance equipped 1963 Lark Daytona, and the performance equipped 1963 and 1964 GT Hawks. The Studebaker crosswords are copyright by Dan Armstrong and are used with his permission. Thanks to Dan for providing the link and the downloadable Studebaker crossword puzzles for readers of this page to enjoy.
---
Nick Bodemer's Studebaker Dealer Inventory Project was started in June 2011 and includes a growing number of pictures, articles, ads, and other items related to former Studebaker dealerships. Well worth a visit. If you have a Google account you can join the site through Google Friend Connect.
---
STUDE OF THE MONTH UPDATE
1948 M16 Pirsch Fire Truck


Driver Side View


Refurbished Wood Bed


Under the Hood

This 1948 Studebaker M16 Pirsch Fire Truck owned by Jerry Eisner and Jamie Seeburger of Columbus, Ohio was Stude of the Month in December 2013. Jerry writes that the truck has come a long way with his and Jamie's efforts and a lot of help from Michael Myer at Myer's Studebaker Parts in Duncan Falls, Ohio. Michael Myer is credited with getting the truck into safe operating condition. The engine was sound mechanically but needed a basic tune-up. A rebuilt master cylinder was installed for safe braking. The body and wheels were blasted before painting. The front fenders were changed to black and the original decking was taken down to bare wood and then refinished.
This particular truck has an interesting history. It was built on a Studebaker M16-28 cab and chassis by Peter Pirsch and Sons of Kenosha, Wisconsin. The M16 used the Commander 226 cubic inch engine rated at 94 horsepower. Pirsch built a variety of fire apparatus including aerial trucks and pumpers from the 1920's to the 1980's. Pirsch used their own chassis as well as chassis units from Dodge, General Motors, Mack, International, Diamond T, Ford, and Studebaker. When Jerry and Jamie acquired the truck, it had just 15,217 miles on the odometer. Here is a head-on front view of Jerry and Jamie's fire truck.
Jerry notes that the truck is currently for sale as it is time to move on to other projects. Thanks to Jerry Eisner for sending the updated pictures and information about this unique truck.
---
STUDE MISCELLANY
1964 Studebaker Challenger Wagonaire

This picture of my 1964 Studebaker Challenger Wagonaire was taken at the 2018 Wright's Dairy Rite Labor Day Cruise-in. Wright's sponsors two big cruise-ins each year at Memorial Day and Labor Day. These are well attended and the Staunton Police are there to help direct traffic since Wright's is located on U.S. 11 which is a major highway. The picture was taken from a hill that overlooks the road. Showing the Wagonaire with the roof open always draws questions and comments from participants and spectators. Typically I will get aked if it is some kind of custom job and how does the roof open and close. I recently added a pull-out glovebox vanity and a full horn ring both of which were special order items on lower trim models to the Wagonaire.
1964 Daytona Sedan

This is a cropped version of the picture of my 1964 Studebaker Daytona Sedan that was on the back cover of the September 2018 issue of Turning Wheels. Here is the full picture as it appeared on the back cover. I am continuing to improve this car and most recently I polished out some annoying wiper streaks and light scratches on the windshield using a cerium oxide kit. Somewhat to my surprise, the cerium oxide did an excellent job and the result exceeded my expectations. It is a messy job that takes patience but well worth the effort. I also replaced the generic wiper blades that were on the car with professionally refurbished U.S. made Trico shiny stainless steel wiper blades.
1959 Lark Hardtop Rally Car

I came across this picture on eBay while searching the "Collectibles" category for Studebaker items. What makes this picture notable, at least to me, is that the guy in the picture is me and that is my 1959 Lark Hardtop. I contacted the seller who deals in old photgraphs and he told me it was part of a group of pictures that he purchased some time back. The number on the side of the car is from the Matzner Holiday Rally which was a time-speed-distance event in New Jersey. The Lark was regularly used for TSD rallying between 1964 and 1966 with a degree of success. For those who were into such things, I still have my Stevens Rally Indicator and Heuer split 100ths of a minute stopwatch.
My 1959 Lark was a six cylinder with manual shift but no overdrive. It did have a very nice red pleated vinyl interior and a manual tune AM radio. It also had bumper guards front and rear and a 1964 style hood ornament. At one point, I needed to replace one of the rear quarter panels due to an accident that was not my fault. I was able to find a quarter panel on a wrecked 1960 Lark that was the correct color. It was simply a matter of unbolting the old quarter panel and bolting on the replacement quarter panel. No painting was required as the the color was just about a perfect match. Here is the Lark on the street at a Studebaker Drivers Club Meet on Long Island in 1965.
---
Did you know that Michael Kelly's New Avanti Motor Corporation signed a deal to produce the VW based Brazilian Puma Sports Car? I didn't think so! The deal fell through when Kelly ran out of money. To learn more about the Puma, visit my Puma Sports Cars Site.
---
---
STUDE TOY OF THE MONTH
Scottoy 1956 Studebaker Golden Hawk







This 1:43 scale white metal Scottoy 1956 Studebaker Golden Hawk is one of a series of reproductions of Mercury of Italy diecast toys. The Scottoy reproductions were also made in Italy and were marketed as collector models. Mercury was a pioneer in 1:43 scale diecast toys made in Europe. The company also made a smaller scale "Speedy" series that competed with Matchbox and Hot Wheels. Most Mercury toys were European cars the 1956 Studebaker Golden Hawk being a notable exception. Due to increasing costs and competition from mass producers Mercury went out of business in 1978. Scottoys were made from 1993 to about 2006 and were based mostly on 1950's and 1960's issue Mercury toys. Here is the base of the Scottoy Golden Hawk clearly marked Made in Italy.
I recently acquired this example from an eBay vendor in the United Kingdom. The model came packed in a nice plastic display box with a cardboard outer box. Scottoys appear with some regularity on eBay and generally run from about $50 on up in boxed condition depending on the model. As would be expected, Scottoys are more common on European eBay sites particularly on eBay Italy. The silver 1956 Golden Hawk was issued in 2001 and only 60 were made in that color according to information posted by a vendor on the eBay Italy site. The Scottoy 1956 Golden Hawk was also issued in solid red and solid blue. Here is a very nice example of a two-tone Mercury 1956 Golden Hawk from Jeff Sion's collection.
More toy Studes can be found in the Stude Stuff area of this page and on my Studebaker Toys Home Page.
Click here for information on ordering hard to find Studebaker toys made by manufacturers such as Johnny Lightning, Racing Champions, Hot Wheels, Matchbox, Muscle Machines, Maisto, and EKO.
Studebaker Toy Treasures Book

Jim Geary's book Studebaker Toy Treasures is the standard reference collectors of Studebaker Toys. This wonderful book has 294 pages of color pictures and details on hundreds of Studebaker toys. Publication date is 2004 and just about every Studebaker toy and model produced up to that time is pictured and cataloged. Jim is making the book available for $28 plus $10 for shipping. Jim will sign the book if requested. This is a must for the serious Studebaker toy vehicle collector. Jim can be contacted at sanjim76@live.com or send payment to Jim Geary, 181 Allendale Hills Road, Franklin, NC 28734.
---
---
---
---
* * * This Page On Line Since October 1995 * * *
---
Published 10/1/2018